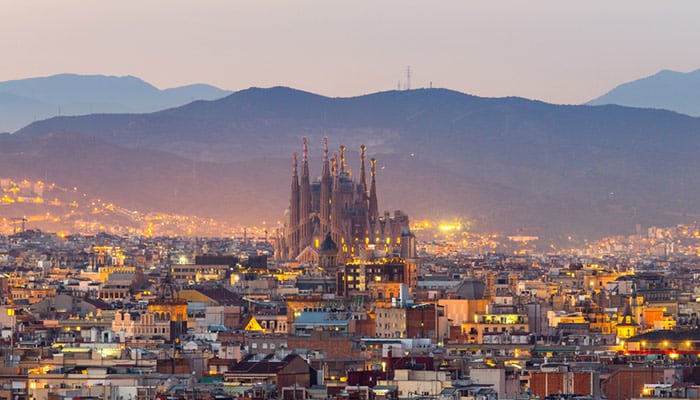 Fairy-tale architecture joins hands with a rambunctious nightlife scene right on the edge of the Mediterranean Sea to make Barcelona one of the most attractive city break destinations in the world. There's a little bit of everything here. Your culture comes from the glut of museums that showcase everything from Catalan painting to Picasso. Your hedonism is courtesy of the bohemian pubs of Raval and the clubs of La Rambla. Your taste buds will be satisfied by the tapas holes of the Gothic Quarter and seafood haunts of the beach, where deep-fried octopus mingles with patatas bravas and cold beer. Your eyes will be drawn to the strange and stunning creations of Antoni Gaudi, dotted throughout but hitting a high with the La Sagrada Familia – unquestionably one of the most impressive cathedrals on Earth.
Airbnb in Barcelona is a fantastic way to ferret out a place to stay in an enthralling part of the Catalan capital. Because there's a limit on the number of short-term rentals that can exist in BCN, most will be of uber-high standard just to compete. So, you're looking at luxurious penthouses with solariums and even swimming pools, along with contemporary flats with a hipster feel and comfy king beds. Let's take a look…
In this Airbnb guide to Barcelona: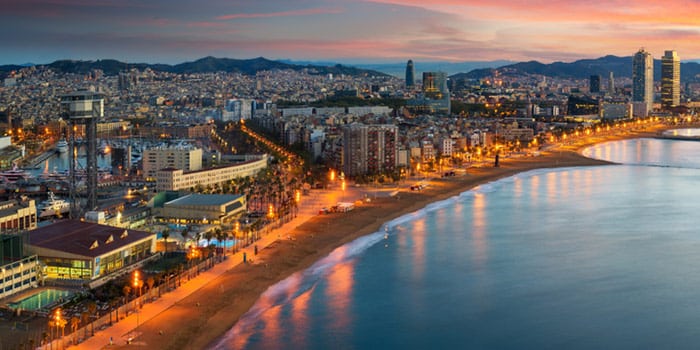 Is Airbnb legal in Barcelona?
There's been a lot of pressure from residents to regulate the short-term rentals market in Barcelona over fears locals are being priced out of their home neighbourhoods. Consequently, the city's authorities haven't issued a single new license for an Airbnb in Barcelona since 2014. There's still a cap on that, along with dedicated enforcement teams who scour the town for illegal listings. As a traveler, you're unlikely to get wrapped up in any of that. You're still free to browse and book as you would anywhere else, although it might be wise to double check with your prospective host that their place is above board and registered.
Where should I stay in Barcelona Airbnb?
Wedged between the Mediterranean Sea and the Spanish sierras, Barcelona really finds its heart on the tree-lined walks of Las Ramblas (1) – a district of buzzy nightlife and fantastic dining. The next-door Gothic Quarter (2) is for those who want to be immersed in the rich history of the town, while Eixample (3) sports most of the major landmarks, like La Sagrada Familia. Gràcia (4) is to the north of those, offering a cool and chilled escape with plenty of parks. El Raval (5), meanwhile, edges closer to the marina with its bohemian jazz dives, while Barceloneta (6) is the place to go to swim in the Med and get sand on your feet.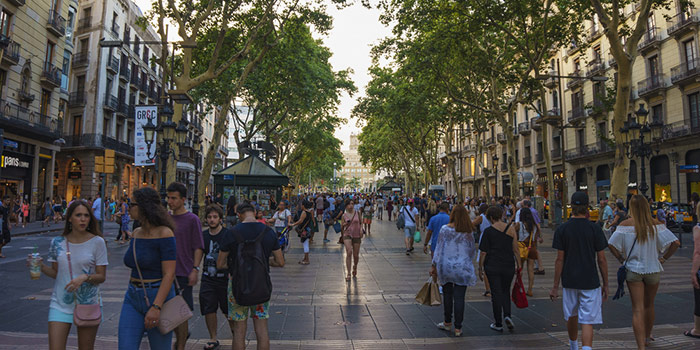 Las Ramblas
Pros
Loads of energy
Close to major sights and attractions
Very well connected
Cons
Always really busy
Very loud
The 1.2km of La Rambla is probably the closest you could get to the soul of the city. Famed around Spain for its buzzy character, it's a tree-speckled avenue that's adorned with gorgeous Art Deco playhouses and more pubs than you can shake a cerveza at. It's totally pedestrianised, but don't be fooled – it's busy here from midnight to midnight. Fountains and mosaics dress some of the corners, there are ample spots for people watching with a coffee, and it's where you'll catch Barcelona's famous flower kiosks.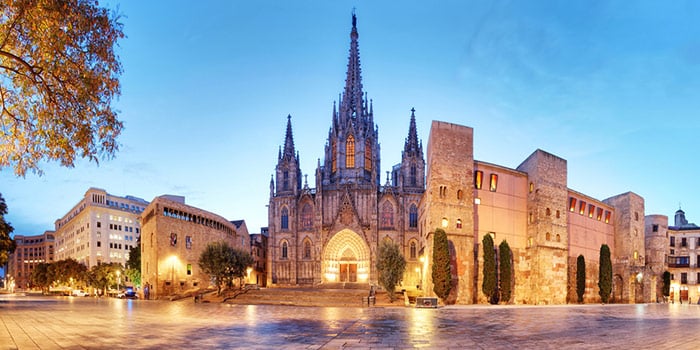 Gothic Quarter
Pros
Really atmospheric
History everywhere you look
Loads of dining and drinking establishments
More than two millennia of history converges on the haunting Gothic Quarter. Layers of Roman past are topped with mighty medieval-era churches and cloisters. It's a maze of a place, wreathed in cobbled alleys and shadowy side streets that suddenly emerge onto grand plazas topped by pretty palaces and striking ecclesiastical sights. There are sub sections within the Gothic Quarter itself. Check out the age-old synagogues of the stony El Call Jewish area. Or, head to the hipster enclave of El Born to the west, which has artisan coffee roasters and vintage boutiques between its tight-knit lanes.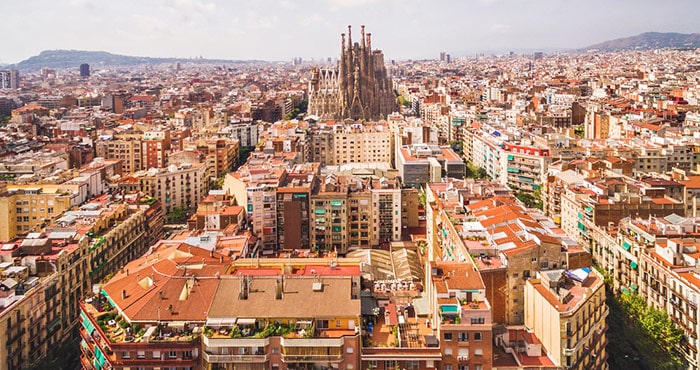 Eixample
Pros
Home to La Sagrada Familia
Lived-in and vibrant
Well connected
From the fountain-spurting Plaça de Catalunya all the way to the mind-boggling towers of La Sagrada Familia (by far Barcelona's most famous landmark), the district of Eixample is a chocolate box of treasures for the first-time visitor. It's busy, for sure. In fact, it's the busiest, most traffic-packed corner of town. But this is where local Barcelona life carries on in the streets, on rooftop terrace bars, in underground jazz dives, and in the sidewalk cafés. There's also a real abundance of Airbnbs tucked into the blocks of Eixample – you'll be spoiled for choice.