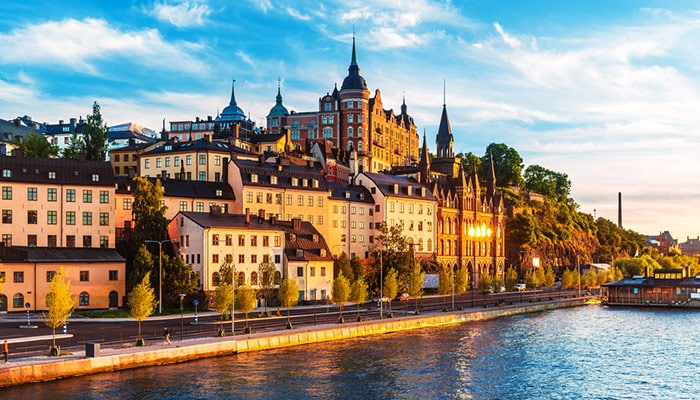 Hopping from island to island in the city centre of Stockolm is one of the most enthralling urban experiences in Europe. You'll be drawn first to the fairy-tale lanes and cobbled squares of the Gamla Stan, where crooked merchant's houses jumble down wonky streets before the great palaces of the Swedish royals. Next could be hipster Södermalm, where creative meatball kitchens rub shoulders with coffee roasters and tattoo parlours. Or maybe you'll be pulled to the wide shopping boulevards and grand opera houses of Norrmalm. Or perhaps the ABBA museum, the pretty parklands, and the legendary Vasa Museum (home to a fully reclaimed ship from the 17th century) will take you to Djurgården. And that's just scratching the surface.
Airbnb offers a chance to bag accommodation with a difference in this vibrant hub of Sweden. It's got all sorts of flats and houses on offer, ranging from cool penthouses in the historic centre to group pads near the main nightlife and gastronomy quarters. This guide is a great place to start if you're looking to book, what with insights on the city's best neighbourhoods and even some hot tips on the finest Airbnbs around.
In this Airbnb guide to Stockholm: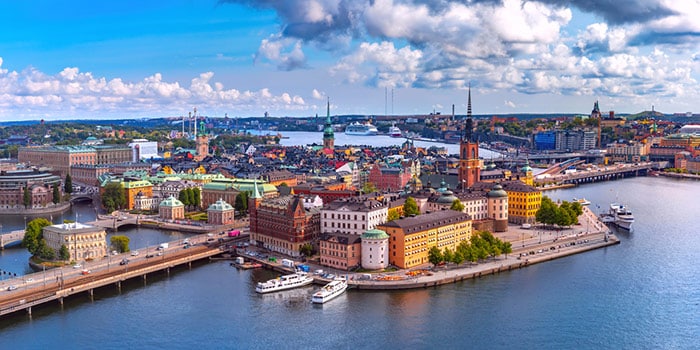 Is Airbnb legal in Stockholm?
It sure is. Despite some talk of placing regulations on future short-term lets in cities like Stockholm, Airbnb remains totally legal for travelers in Sweden. Legality aside, the nature of shared housing models in the capital can mean that there's a limited number of listings on offer via the platform. That's why we'd recommend trying to book as early as you can to get the best of the bunch, particularly if you're planning a trip in the popular summer months or around the Christmas holidays.
Where should I stay in Stockholm Airbnb?
Stockholm is a city spread over islands. The most famous of them is the Gamla Stan (1), which is the old heart of the town, where festive markets pop up on cobbled squares by gingerbread cafés. Modern life bustles over the water from that in Norrmalm (2) and Östermalm (3), both boroughs that strike a fine balance between high-class shopping and nightlife. SoFo (4), to the south, is the place for hipsters and coffee lovers. Quiet Vasastan (5) is perhaps best for budget travelers and families. Then you've got the greater Stockholm Archipelago (6) – a land of wind-lashed isles and cold seas.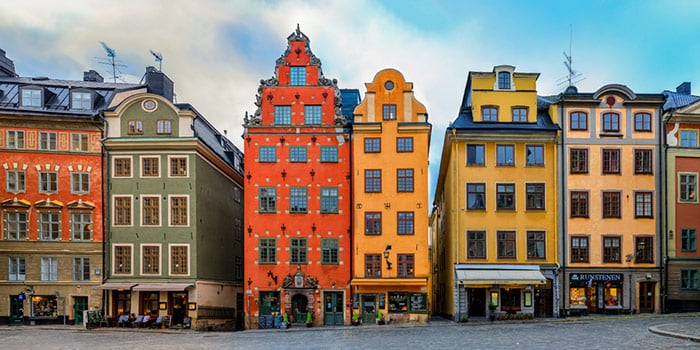 Gamla Stan
Pros
This is one darn beautiful area
Fantastic sights like the royal palace
Great fine dining and lively bars
Cons
Really, really touristy
Loud
The Gamla Stan is something truly special. One of the best-preserved historic districts in Scandinavia – nay, Europe as a whole – it rolls across a hill-topped island in the heart of the capital. Narrow cobbled lanes and small squares are hidden all over, and streets like Stora Nygatan and wiggling Österlånggatan are nothing short of a photographer's dream. But the Gamla is no museum piece. This is the most touristic part of the city, and it's lived in, too. You'll find souvenir boutiques, rambunctious beer bars, more cafés than you can shake a Swedish flag at, and fine-dining restaurants galore. Airbnbs near Stortorget square are the most central of the lot.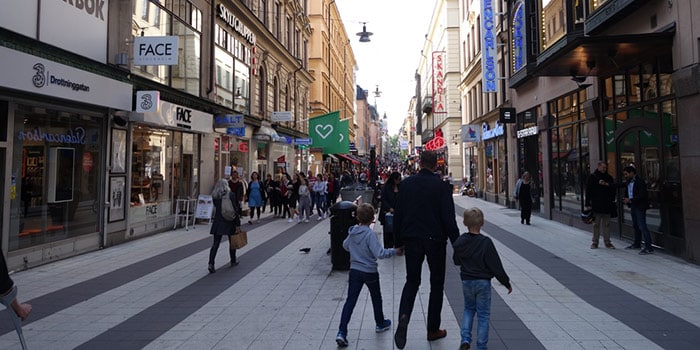 Norrmalm
Pros
Really well linked to the rest of the city
Food halls
Fantastic shopping
Cons
Very busy
Over commercialised
The beating heart of modern Stockholm sits on Norrmalm. It's a large wedge of the inner city, ranging for almost 2.5km from the edges of the Gamla Stan. But there's plenty to pack in. First off, the capital's bustling high-street shopping clusters around the drags of Drottninggatan and Klarabergsgatan. There's a duo of taste-bud-tempting food halls: Down-to-earth Kungshallen and hipster K25 with its multicultural eats. It's also the home of Stockholms Centralstation, from where it's possible to whizz out to all corners of the metropolis.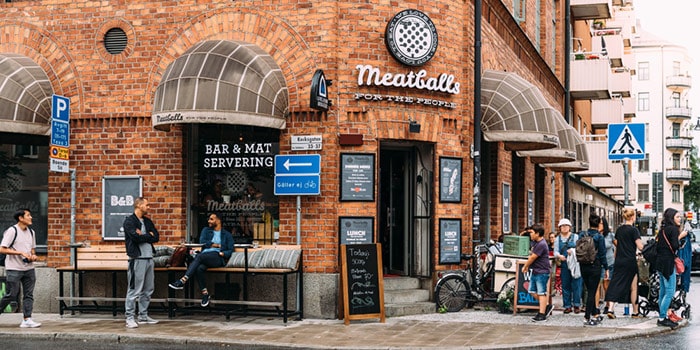 SoFo
Pros
Great bars and nightlife
Multicultural eating scene
Good boutique shops
Cons
A little cliquey
This is not an historic district
SoFo – short for the area south of Folkungagatan – is a cut-out of the island of Södermalm. It's on the south side of the Stockholm city centre and reigns as the town's coolest enclave. It's not much to look at. In fact, the area is a strikingly normal patchwork of tenement houses and parks. But all that conceals a mix of sophisticated breweries, roaster cafés, and art workshops. SoFo also boasts boutique craft shops and galleries along bustling Götgatan, while Thai noodle kitchens mingle with spicy masala menus on the food front. Come the evening, it's all about live jazz and indie amid the hipster bars around Stig Claessons Park.