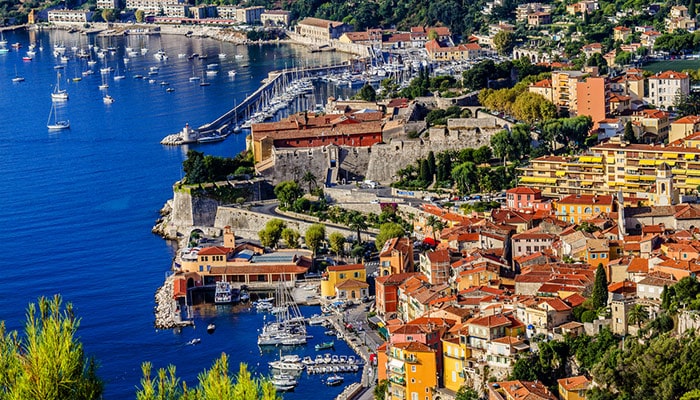 Nice is one of the jewels in the sparkling tiara of the Cote d'Azur; a town of beautiful people and beautiful places that strings along the glinting pebbles of the Med-washed French shoreline. Stylish and chic, yet also historic to its core, this gorgeous town attracts sun seekers, A-listers, and anyone else in search of a taste of R&R on the riviera. Life buzzes around the coffee-clinking cafés of the Promenade des Anglais by the beachfront, while markets tout Provençal soaps and lavender blooms in Vieux Nice – old Nice – just behind. Beyond are Roman ruins, museums packed with impressionist masterworks, and irresistible coves and pine-studded bays that go by names like Antibes and St Tropez. What are you waiting for?
Airbnb is now a fantastic option for discovering unique stays in this sun-kissed city of southern France. Everything from sea-view penthouses on the Promenade des Anglais to hidden boltholes in the romantic old quarter is on the menu via the sharing service. Tempted? Read on for a guide to the top Airbnb areas and tips on some of the hottest properties you can book right now.
In this Airbnb guide to Nice: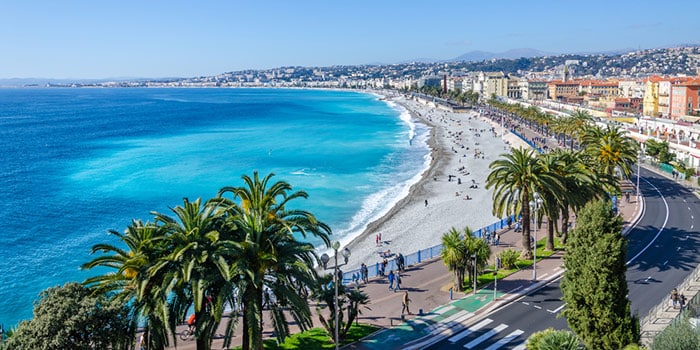 Is Airbnb legal in Nice?
There are no restrictions on what travelers can and can't book over the Airbnb platform in Nice. As a guest, you might be asked to provide your ID or passport upon check in, and could be liable to pay a tourist tax that's around a euro per person, per night. That's it. Easy.
Owners do have to register with the local authorities in France. You can usually check if they've done that by looking for the license number on the relevant Airbnb property page. If in doubt, you can always send them a private message using the contact host feature.
Where should I stay in Nice Airbnb?
The Promenade des Anglais (1) is the most iconic walkway in Nice, running all the way from east to west along the pebble beachfront past bars and cafés and boutiques. Behind that is atmospheric Vieux Nice (2) with its famous flower markets. Then comes Jean-Médecin (3), the stylish New Town and a hub for fashion shopping. Cimiez (4) is best for history buffs who want to trace the Roman past of the city. Le Port (5) is great for getting off the beaten path and watching the sailboats. Finally, further afield, the gorgeous inlets of Saint-Jean-Cap-Ferrat (6) offer swimming in the Med and romantic riviera villages.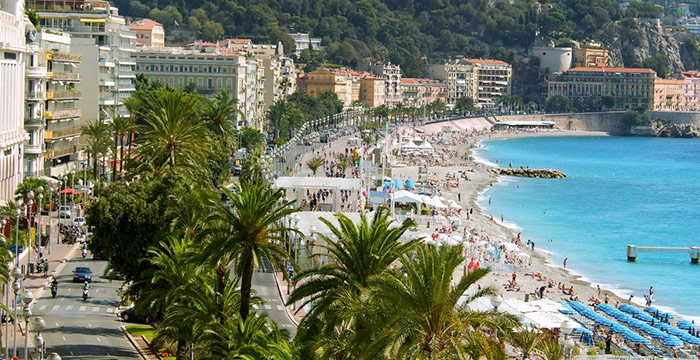 Promenade des Anglais
Pros
Sea views
Proximity to the beach
Lovely cocktail bars for the sunset
Cons
Expensive
Not too many Airbnbs to pick from
If you're willing to fork out a little extra on that Airbnb in Nice, you might be able to score a pad down on the Promenade des Anglais. This is the main artery of the town, running in a scythe along the seafront behind a sun-splashed pebble beach and crystal-clear Mediterranean waters. The treat here is an Airbnb that opens onto views of all that. But you'll also gain walking access to Vieux Nice, which is just a street back, and a whole strip of cafés and cocktail bars that are among the liveliest in the city.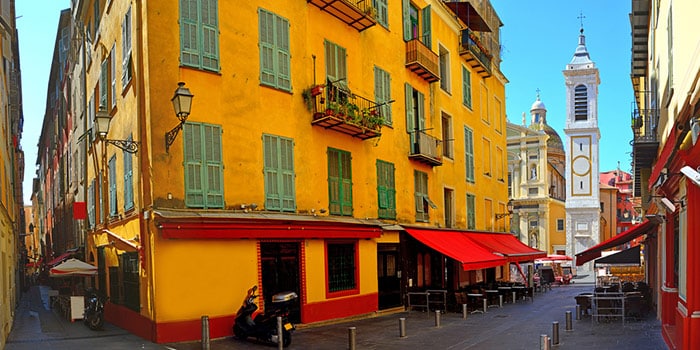 Vieux Nice
Pros
Enchanting street scenes
Beautiful flower markets
Café culture
Cons
Always really busy
Expensive
No trip to Nice could possibly be complete without a jaunt through Vieux Nice. This is the enchanting old town of the city. Awash with pastel-painted buildings and red-tiled roofs, it's the quintessence of southern France. Famous sights include the blooming and fragrant flower markets of Cours Saleya, and the daffodil-tinted frontages of the Baroque Nice Cathedral. However, more than anything, Vieux Nice is for settling in with a croissant and a coffee and watching the world go by.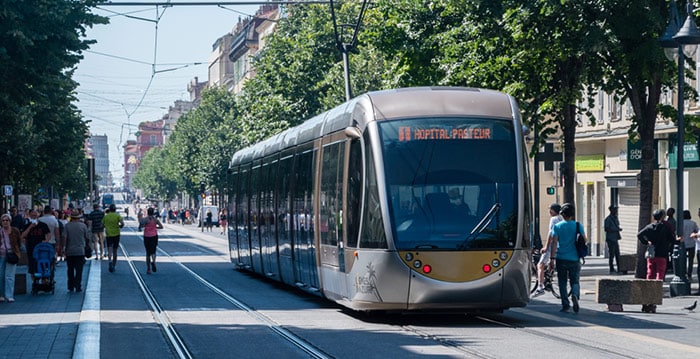 Jean-Médecin
Pros
Stylish shopping
Good transport links
Big, luxury Airbnbs
Jean-Médecin is the New Town of Nice. A grid of well-maintained and wide boulevards, it's upscale and smart to a fault. Come here to find the Louis Vuitton boutiques and the chic gallerias filled with designer handbags and jewels. Come here to sip Harvey Wallbangers in modish bars that spill out into the shade of plane trees. Expensive? Yes. Stylish? Exceptionally. On top of that, Jean-Médecin has good infrastructure, fantastic transport connections throughout the Cote d'Azur, and spacious Airbnbs.