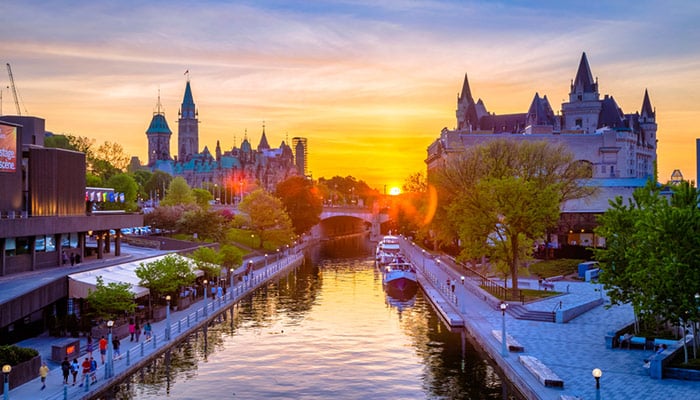 Straddling its namesake river on the cusp of the US border in the east of Ontario, Ottawa is often overlooked by travelers making their way through Canada. But those who do decide to linger a couple of days often stay for many more. They're beguiled by a surprisingly laid-back global capital that sports a majestic Gothic parliament building atop a forested hill. Below that are wiggling canals and riverways, fringed by blooming birch and cedar trees by summer, frozen and caked in ice sheets by winter. But if Ottawa is about one thing, it's culture. It's the perfect place to unravel the rich and multifaceted tale of Canadian life from its earliest days to its greatest innovations, with help from the likes of the Canadian Museum of History, the Science and Technology Museum, and the impressive Museum of Civilization to name just three.
Tempted? Alright then. Read on for a guide to Airbnbs in Ottawa, which can offer fantastic bang for your buck when compared to conventional hotels. They're private home rentals that often give more space and seclusion than a typical suite, while also whisking you away to some of the city's most immersive and local neighborhoods.
In this Airbnb guide to Ottawa: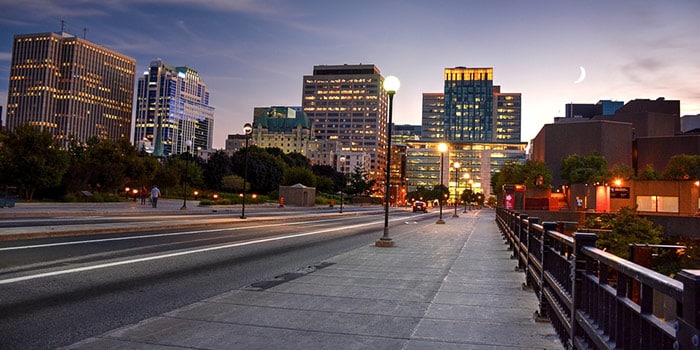 Is Airbnb legal in Ottawa?
Airbnb is legal in Ottawa. However, that doesn't mean it operates without restriction. Recent changes to the law mean that residents are only allowed to rent out their primary place of habitation. Otherwise, they'll need to register with the local tourism board and get the proper permissions. Thankfully, none of that is your responsibility as a traveler. You're still free to browse and book whatever grand Parliament Hill penthouse or leafy suburban home you like.
Where should I stay in Ottawa Airbnb?
Let's begin in Byward Market (1), where Ottawa's bohemians and hipsters share the streets with farmer's markets and maple syrup emporiums. It's the place to be if you're a first-time visitor and want dining, drinking, and attractions just outside the door. Parliament Hill (2) is up above, flaunting the Gothic spikes of its majestic landmark buildings, although it doesn't have a great selection of Airbnbs. Going southwards will bring you into the buzzing gastronomy hub of Golden Triangle (3), while north takes you to the Lower Town (4) and its famous museums and galleries. The city of Gatineau (5) is over in Quebec across the Ottawa River. It can be a good option if you're keen to get a taste of Canadian nature. Meanwhile, there's Hull (6), which is also Quebecois, but closer to Ottawa's downtown and famed for its mix of casinos, Francophone bistros, festival grounds, and one particularly fantastic museum.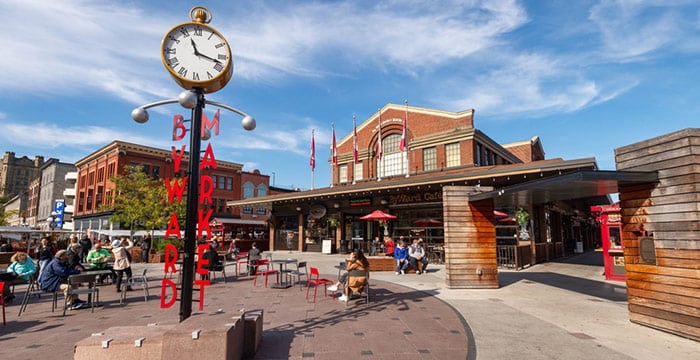 Byward Market
Pros
Very vibrant part of town
Loads of dining
Great nightlife
Cons
Busy
Airbnbs here are in high demand – book early!
Never visited Ottawa before? Byward Market is a sure-fire way to pack your trip with fun, frivolity, and flavor. Yep, this is the beating heart of Downtown Ottawa, and also the historic core of the city – the town actually started life as Bytown back in the early 1800s! These days it's fizzing with life, whether in the summertime farmer's markets (the best place to buy real maple syrup) or in the endless array of eateries up Murray and Clarence streets. When night sets in, things can get wild, with a welcoming set of LGBTQ+ venues and hearty pub-style taverns on the menu.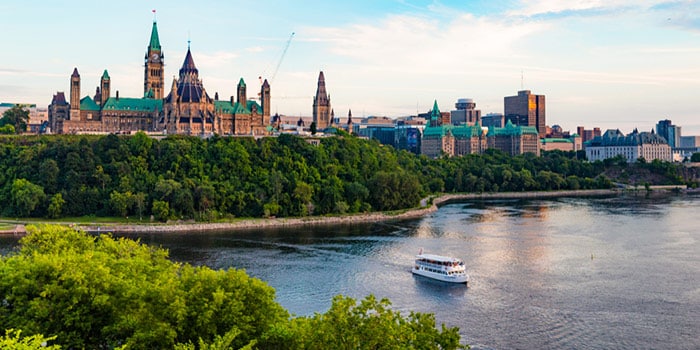 Parliament Hill
Pros
National monuments
The impressive parliament
Views of the city
Cons
Not many Airbnbs
No nightlife
You won't find too many Airbnbs up for grabs on Parliament Hill. Most of this prestigious district is given over to Canada's important state buildings and political institutions. It's like the Ontario answer to the Capitol Hill in DC, if you will. Of course, being in the vicinity means you'll be close to some of the town's top landmarks, not least of all the impressive legislature building with its soaring Gothic turrets and towers. You can do tours of that massive complex, or explore the grounds, which have unique monuments like the Centennial Flame and the Victoria Tower Bell – important sites of national interest both.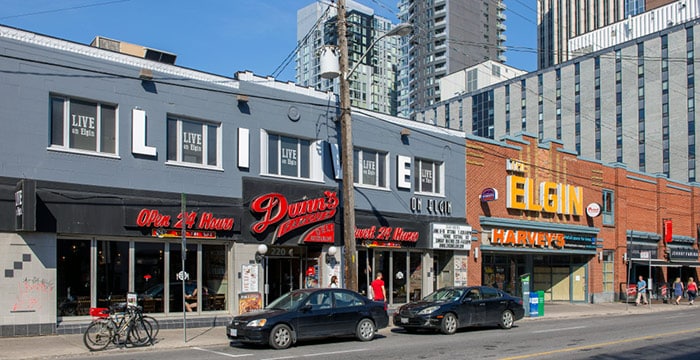 Golden Triangle
Pros
Nightlife
Loads of places to eat out
Canalside walking paths
Cons
Loud at night and on weekends
Lots of car traffic
The area of Golden Triangle is bisected by ever-bustling Elgin Street. That's one of Ottawa's top gastronomic hubs. Everything from hearty woodfired pizza spots to artisanal Japanese bakers make their home along its length. Things really get going in the evening, because Elgin is also a hodgepodge of vintage pubs and cocktail bars that's perfect for kicking off a night on the town. For something more relaxing, look east to the cycling paths of the Rideau Canal.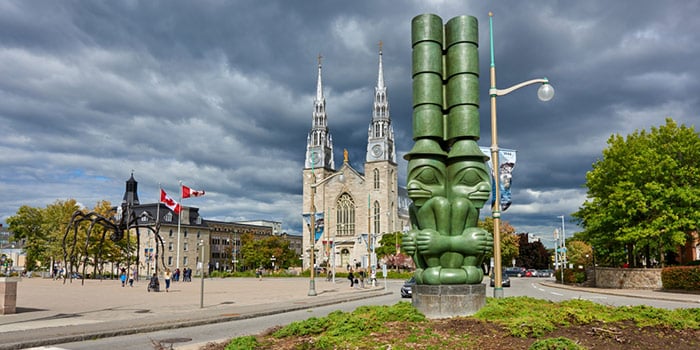 Lower Town
Pros
A sightseeing mecca
Museums and art galleries
Lots of cafés and eateries
Cons
The east half of Lower Town can be quiet
It's one of Ottawa's most touristic areas
Calling all culture vultures: The Ottawa Lower Town is the place to go for museums, galleries, concept shops, and more. It spreads between the Ottawa and the Rideau rivers on the north-eastern side of high Parliament Hill, starting with the 1908 headquarters of the Royal Canadian Mint. The western half of Lower Town is best for seeing the sights. It comes packed with national embassies, boasting the great collections of the National Gallery of Canada, and topped by the iconic Notre-Dame Cathedral Basilica. Enthralling stuff.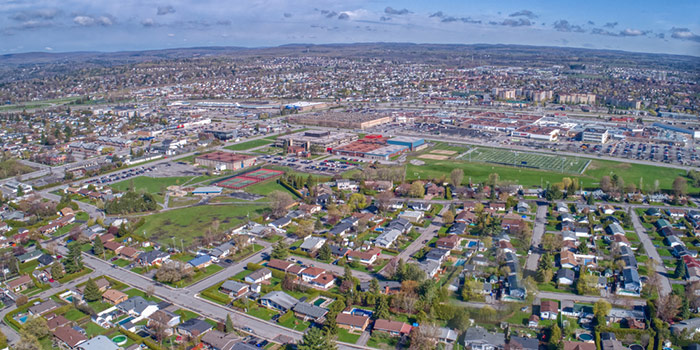 Gatineau
Pros
Relaxed part of the city
Affordable
Close to nature
Cons
Quite far from Downtown Ottawa
Not the prettiest part of town
Gatineau isn't strictly in Ottawa at all. It's a whole separate city that lies over the provincial border line in Quebec. That means it is French speaking and comes with a welcome dash of bouillabaisse and poutine taverns that will please the foodies out there. It's also a good option for Airbnb rentals if you want to escape the buzz of the Canadian capital for somewhere a little lower key. It's not the prettiest area, thanks mainly to the abundance of light industry. At least that's the case until you make it north to the sylvan hills of Gatineau Park, where the locals go to ski and hike at different times of the year.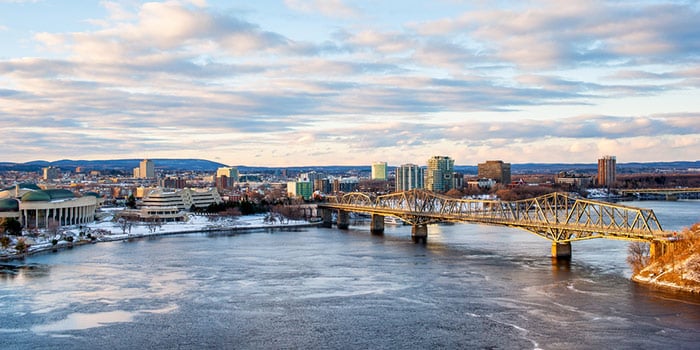 Hull
Pros
Affordable Airbnbs
The Canadian Museum of History
Events and festivals
Cons
You'll need to cross the river to reach the main sights
Hull is a big area, so be sure your accommodation is where you expect it to be!
Hull is another corner of Ottawa that's not officially in Ottawa at all. A part of Gatineau that lies directly opposite Parliament Hill across the river, it's really well linked up by both the Portage Bridge and the Chaudiere Bridge. The area is known for its epic summertime events – pop acts, Cirque du Soleil – that unfold on the Place des Festivals, along with the acclaimed Canadian Museum of History, one of the top-rated cultural institutions in the country. You should also find that Airbnbs come in a tad cheaper over this side of the Ottawa River.
Best Airbnbs in Ottawa
Best Airbnb apartment in Ottawa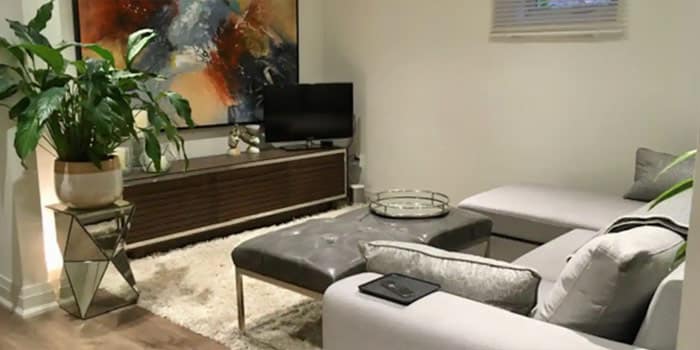 The Hideaway
The Hideaway is a charming one-bedroom flat hosted in a lovely redbrick building in the midst of the Golden Triangle dining and nightlife quarter. Only recently refurbished, it sports modern interiors with creative touches – exposed-brick walls, oil paintings, rich timber floors. With just a single bedroom, it's a top option for couples who want to be close to the action of central Ottawa.
Best Airbnb house in Ottawa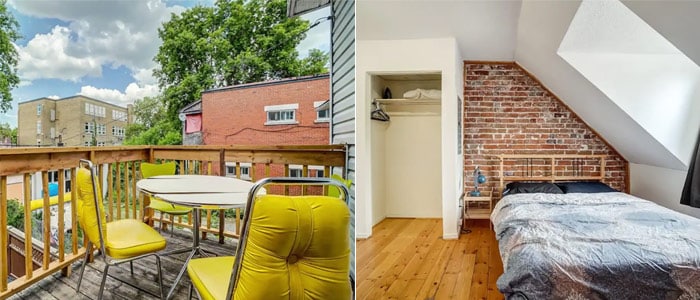 2ByWard Market with Parking
Nestled neatly between the happening walks of Byward Market and the museums of Lower Town, this pad has two floors of chic, modern interiors, all of which eventually filter out onto a breezy deck space with some pleasant views of the downtown. It's good for up to four guests, has a fitted kitchen, and a large walk-in shower in the communal bathroom.
Best Airbnb for families in Ottawa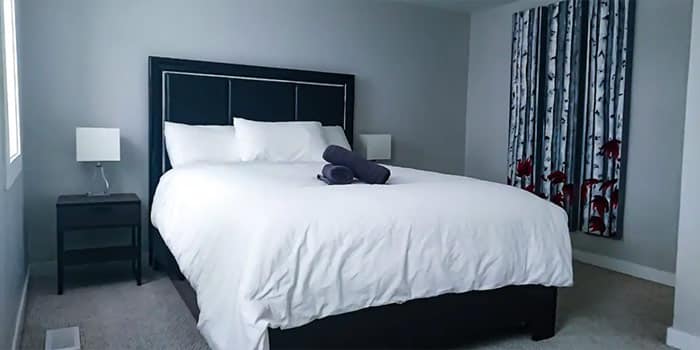 Three-bedroom Home Near Downtown Ottawa
In the pleasant area of Vanier on the north-east side of the city, this three-bedroom rental offers a real home-away-from-home sort of escape. It's both suburban but really close to the buzz of the downtown – the Golden Triangle is less than 10 minutes in a taxi! What's more, you get oodles of room, with a big lounge, a separate kitchen, and a dining space that's good for up to six people.
Best Airbnb for large groups in Ottawa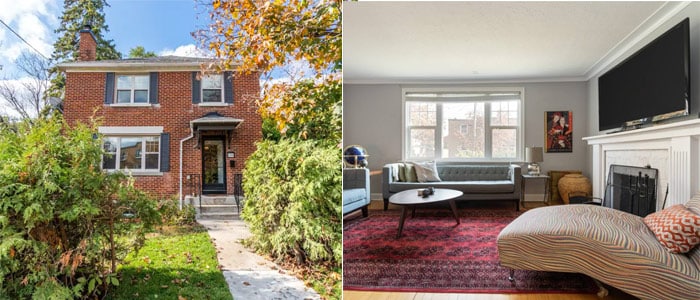 Large, Four-bedroom Home
This big house is actually made of two units joined together. They combine to give a sleeping capacity for a whopping 13 guests at any one time, all set across four bedrooms and a number of pull-out sleeping spaces. There's also a galley-style kitchen and a lounge area with a small office worked in. Location wise, you'll be just over the Rideau River, within a quick taxi to the Lower Town and buzzing Byward Market.
Is Airbnb cheaper than hotels in Ottawa?
We think that there's a very high chance that you'll score some good bargains by checking Airbnb in Ottawa instead of relying solely on hotels. These private rental stays often give good value, especially when you factor in the savings you could make by going self-catering and cooking for yourself (there are some cracking farmer's markets in Byward!). Airbnbs also tend to be the best option for long-term jaunts to the Canadian capital, because there are sometimes generous discounts up for grabs on trips of 28 days or more – even to the tune of 50%!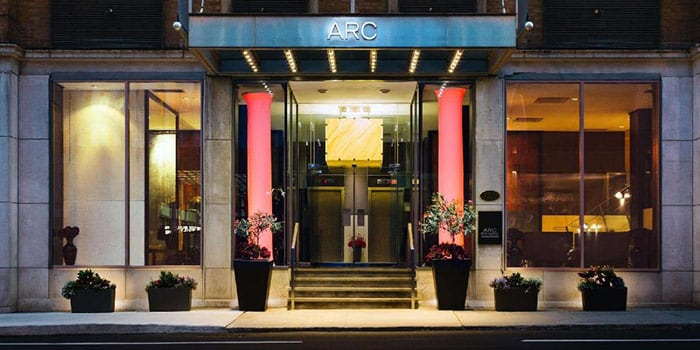 The major downside here is that Airbnbs aren't like a hotel at all. They don't come with the added frills of on-site room service, dedicated lobby bars, or a concierge. If that's the sort of thing you wanted, why not consider the ARC Hotel Downtown Boutique Ottawa. It's a highly rated establishment that has a fine location just beneath the sights of Parliament Hill. It also boasts packages that include breakfast and its very own private health club. Nice.
Book your Airbnb in Ottawa and then be ready to delve into one of Canada's most museum-rich destinations, where Francophone bistros rub shoulders with the mighty parliament buildings and lively nightlife streets alike.
How useful was this post?
Click on a star to rate it!
Average rating / 5. Vote count: