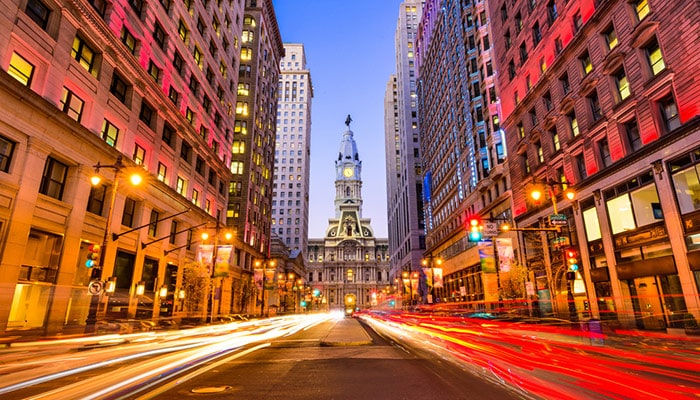 Welcoming yet wondrous, Philadelphia is the bright light of the inland Mid-Atlantic. Like the layers of a juicy Philly cheese steak, it manages to stack rich colonial history atop priceless art and vibrant, lived-in neighborhoods. Its people are at once down-to-earth working folk and dreamers who aren't afraid to innovate. Its gastronomy is both edgy and traditional, swinging from fusion tacos in the food stands to deep-pan Italiano pizza pies. More than that, it's a simply lovely city to explore, with redbrick architecture dating all the way back to the age of the Founding Fathers and oodles of urban parks, not to mention a location that's right on the edge of both Appalachia and New Jersey.
While the majority of Philly's 43.3 million annual visitors will choose to stay in a hotel, some are starting to appreciate the extra privacy that comes with a short-term apartment or home. They're the sort that's offered on Airbnb, ranging from cool inner-city penthouses to family-ready abodes in the suburbs. Tempted? This guide has you covered, with info on the top Airbnb neighborhoods and some of the best Airbnb lettings currently on offer in The City of Brotherly Love.
In this Airbnb guide to Philadelphia: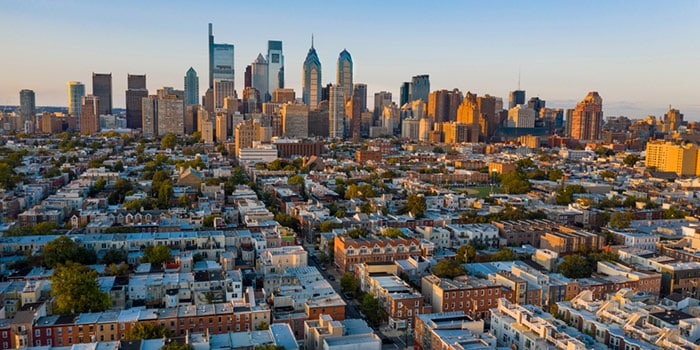 Is Airbnb legal in Philadelphia?
All short-term rentals, including those advertised on Airbnb, are totally legal in Philadelphia. There are some rules governing how long they can be rented (30 days maximum at any one time and no more than 180 days in any year), along with restrictions on renting out properties that aren't a primary place of residence. The good news is that you don't have to worry about any of that. You're the traveler. All you've got to do is get a-searching for the perfect Airbnb pad between the Delaware River and the iconic Rocky Steps. Let's get started…
Where should I stay in Philadelphia Airbnb?
Philadelphia has more enthralling hoods than you can shake your cheese steak at. Here, we take a look at just a handful that are worthy of note when you go a-searching for that Airbnb, starting with the energetic Center City West (1) – the home of Philly's most iconic museums and galleries. Next up is the nightlife area of the Midtown Village (2), followed by the uber-famous Old City (3), a land of cobbled lanes that's steeped in American history. North Philadelphia (4) gets a mention as an upcoming hipster area, while West Philadelphia (5) tends to be better for the younger crowd looking to drink and dine with the town's student population. The final pitstop is Point Breeze (6) to the south, where quieter streets are just about starting to see some gentrification.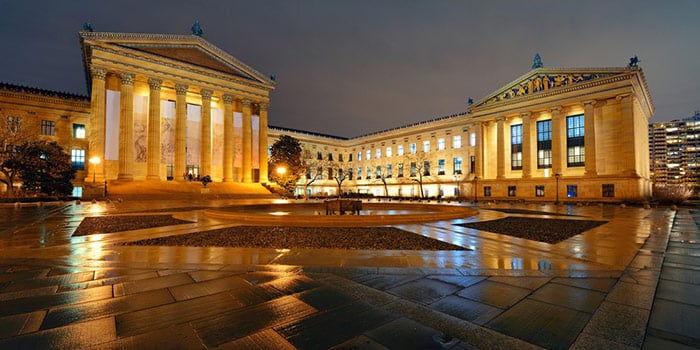 Center City West
Pros
Museums galore
Lots of shopping
Historic squares
Cons
Perhaps the busiest part of Philly
Very touristy
If you're looking to hit Philly's mainstay cultural sites, then the Center City West area is the perfect place to aim your Airbnb search. The uber-prestigious Philadelphia Museum of Art (complete with Impressionist paintings and oriental masterworks), the eccentric Mütter Museum, and the immersive Franklin Institute Science Museum all make their home here. It's also an old part of town, set around the lovely Rittenhouse Square that was laid out by the city's founder William Penn. The blocks to the north of that are where the action is, with Chestnut Street E offering shopping and 19th Street coming up trumps for Philly cheese steaks!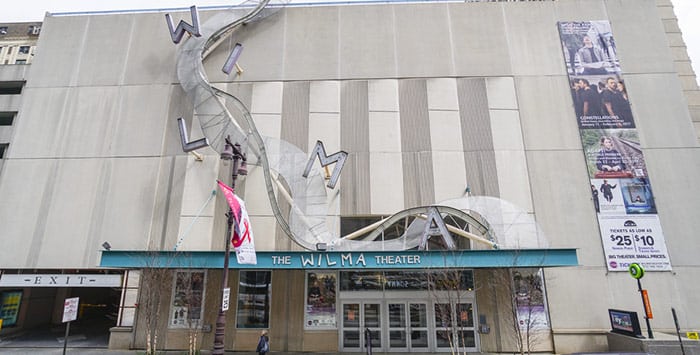 Midtown Village
Pros
The nightlife
Very eclectic dining options
Really close to the heart of the city
Cons
Loud in the nights
Very busy streets
There's a hedonistic little enclave of Stein-clinking brewhouse and LGBTQ+ bars to the east of the Center City West area. It's called the Midtown Village and it positively pumps with life in the evenings and on weekends. The gastronomy is very varied, so you can start the night with anything from pan-Asian fusion food to stacks of Americana pancakes. Further south at Locust Street is where the nocturnal entertainments start in earnest, in the form of the classic Wilma Theater and oodles of bars and speakeasies.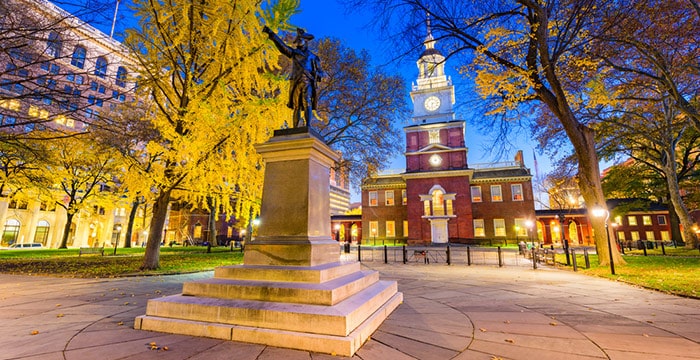 Old City
Pros
History is everywhere
Charming area of cobbled lanes and churches
Nice location on the Delaware River
Cons
Gets packed with tour groups in the summer
Not really a local's area

Calling all history lovers – the Old City is where the spirit of American revolution can still be felt in the streets. The whole of the revered Independence National Historical Park sits within the boundaries of this district on the side of the Delaware River. That includes the iconic site of Independence Hall (where the Declaration of Independence was adopted) and the cracked Liberty Bell. It's a joy to walk around, especially in the company of a tour guide, who can whisk you through the 17th-century buildings of Elfreth's Alley and around some of the most important political landmarks in the whole of the USA.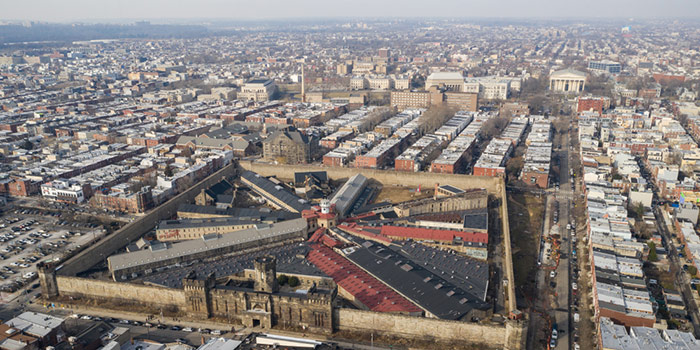 North Philadelphia
Pros
Creative arts areas
Alternative dining and café scene
The super cool Northern Liberties area
Cons
Some areas suffer with crime problems
It's a huge district, so pick wisely within
North Philadelphia has had its problems, but there are parts of this vast borough of the city that are now becoming bona fide hipster hubs. We're talking the likes of the uber-cool Northern Liberties, which runs along a meander of the Delaware River in a maze of crisscrossing streets filled with cherry trees and independent art galleries. You should also check out 2nd Street there, mainly for its range of edgy tattoo parlours, Vietnamese diners, and taco outlets. This is also the part of town to look to for a visit to the haunting Eastern State Penitentiary – the onetime jail of Al Capone!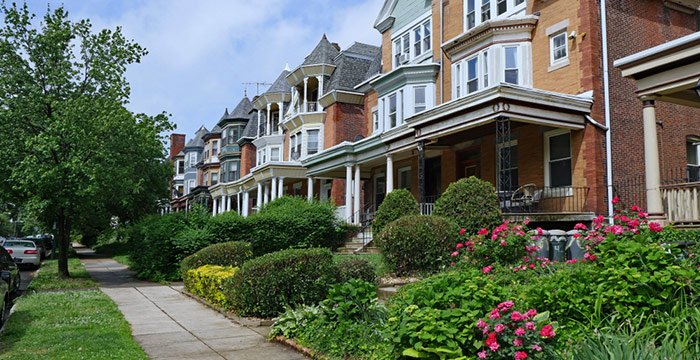 West Philadelphia
Pros
Lived-in, authentic vibe
Not so touristy as the eastern part of Philly
There's a youthful energy
Cons
It's quite far from the independence sites
West Philly is big and hard to navigate on foot
West Philly, as it's affectionately known to the locals, is a thriving bedroom district that lies on the far side of the Schuylkill River from the Center City. Being mostly residential, it gets just a fraction of the tourist crowds as, say, the Old City. But what you lose in famous landmarks you gain in energy and fun. Yep, this neighborhood is the home of choice for Philadelphia's young professional and student crowd. They breath life into distinct brew pubs around Cedar Park and hop cafes amid the old Victorian rowhouses of Spruce Hill.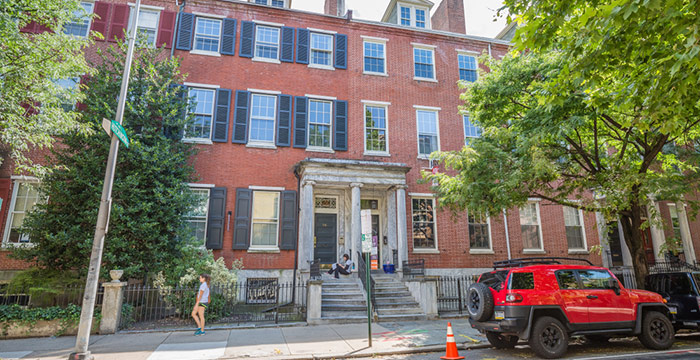 Point Breeze
Pros
Off-the-beaten-path charm
Multicultural area
Quiet, affordable Airbnbs
Cons
There aren't loads of short-term rentals
It's a tad too quiet for some visitors
Point Breeze remains off the radar of most fly-in tourists. It's located to the south of Philly's cultural districts and comes with a very diverse population of second- and third-generation people from all over the world. So, expect Mexican grills to mingle with Polish dumpling houses in these parts, especially on the main arteries of Reed Street and big Point Breeze Avenue. Gentrification is slowly creeping in, which adds a few roastery coffee houses and brewpubs into the mix, although it's predominantly residential, meaning quiet streets and Airbnbs that shouldn't' break the bank.
Best Airbnbs in Philadelphia
Best Airbnb apartment in Philadelphia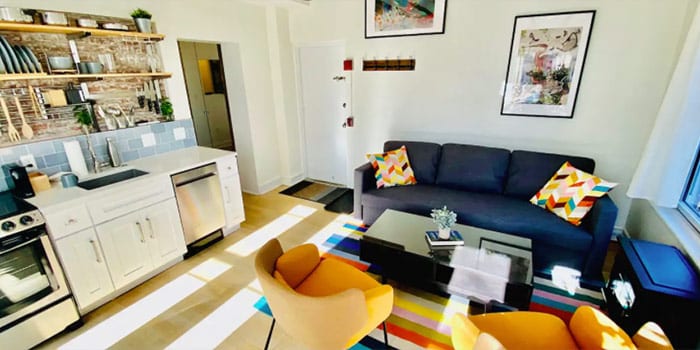 The Sunroom Loft
Go to West Philadelphia to find this sun-drenched loft apartment close to the happening bars and eateries of University City. It boasts some charming features that make it stand out from the crowd, including exposed beams and bare brick walls in the kitchen. The space is bright and airy, with a working desk, a fitted kitchen, and a large walk-in shower.
Best Airbnb house in Philadelphia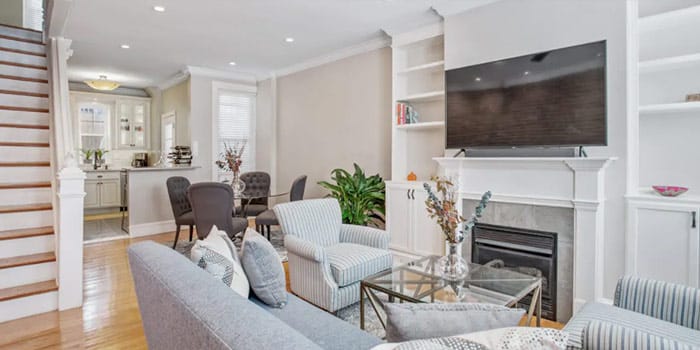 5-Star Charming Philly Townhouse in Museum Area
This top-end townhouse lives up to its name by offering some serious style inside. From the whitewashed kitchen with its double cooker to the open-plan lounge and its oversized TV, you'll enjoy bespoke and elegant fittings throughout. Being close to the zoo and the museums also adds to the draws, as does that small al fresco terrace area in the back.
Best Airbnb for families in Philadelphia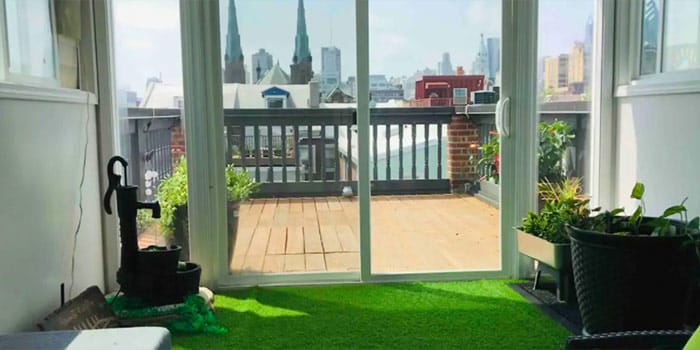 Nico's Penthouse
The playful spaces of Nico's Penthouse are a refreshing twist on the usual contemporary flat you get in the areas of Poplar just north of the Center City. Colorful and cozy, the loft opens onto a large balcony from a quirky lounge space and even includes some luxurious frills – most notably a dry sauna! There's also full Wi-Fi, cable TV, and some fantastic city views.
Best Airbnb for large groups in Philadelphia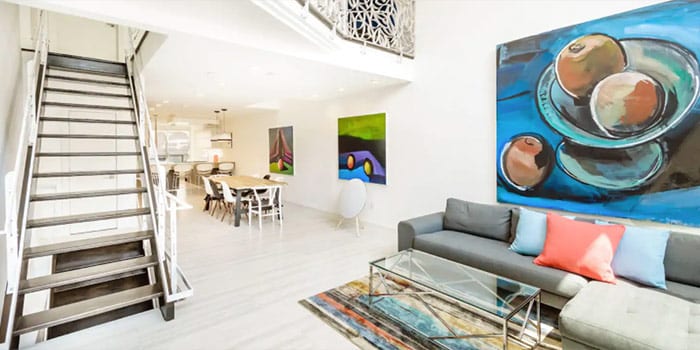 The Gallery
Any culture-vulture groups with their hearts set on visiting the Philadelphia Museum of Art should be sure to consider this gorgeous property. That's not just because it's located on the northern fringe of the Center City West (really close to the famous museum). It's also because the place is a bit of a work of art in its own right. Just check out those minimalist lounges with their splashes of eye-catching impressionism! Oh, and there's also a private spa inside to boot…
Best Airbnb for luxury stays in Philadelphia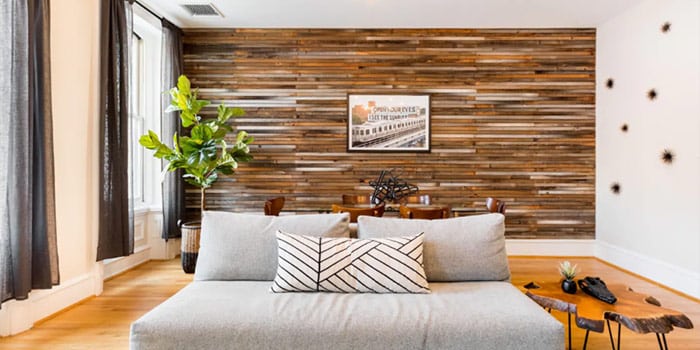 City Views from Rittenhouse Square
There's lots to love in this chic Plus-rated Airbnb. Let's start with the location. In the blocks around Rittenhouse Square, the pad is perfectly situated for enjoying the cultural draws and evening scene of Midtown and Center City. Then comes the interior. It's a doozy of a penthouse, set over two levels with sleek touches of Art Deco and Scandi design in abundance.
Is Airbnb cheaper than hotels in Philadelphia?
There's a really good chance that you'll be pleasantly surprised by the cost of Airbnbs in Philadelphia. They're often noticeably less than their hotel counterparts, and can be made even cheaper by opting for long-term stays (when there are sometimes discounts to the tune of 50% off) or going for bigger properties (to share with more travelers). There's also something to be said for the fact that Airbnbs are typically self-catering accommodations. That means you won't have so much to spend in the bars and eateries of Center City West on your nights out on the town…

One clear downside of picking an Airbnb is that there's not the same level of hotel service involved. You won't have a reception desk or on-demand room service. For those, there are options like the stunning Sonesta Philadelphia Downtown. It's right on bustling Rittenhouse Square, has suites with city views, an upscale bistro on site, and its own fitness center.
Much-loved Philly is up there with New York and LA on the list of America's most amazing metropolises. You're sure to fall in love with its edgy hoods and historical districts.
How useful was this post?
Click on a star to rate it!
Average rating / 5. Vote count: