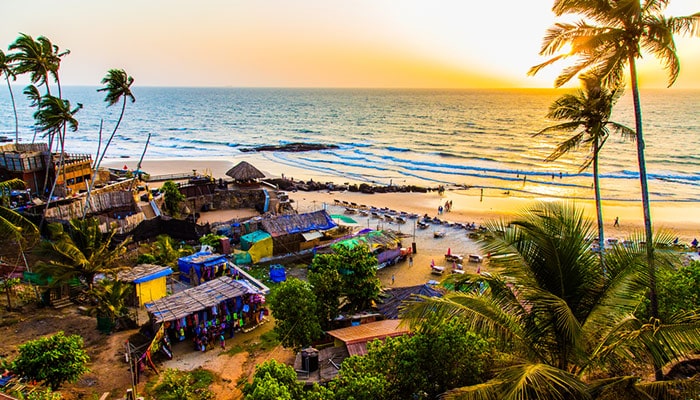 And breathe…Goa is where the pace of life slows down and the hubbub of India drops away behind the swaying palm trees and jungle-covered hills. It might be the smallest state in the country, but it pulls in a whopping 7.1 million visitors every year with its promise of R&R and good-time living on the Indian Ocean. Beaches are, of course, the main draw. From the backpacker hub of Arambol up north to the hippy enclave of Palolem down south, the whole coastline is a tiara of wonderful sands, all with their own unique character and vibe. Some pump with party nights that go on until the early hours. Others are about Ayurvedic yoga retreats and pulling downward dogs to the sunrise. And let's also not forget the enthralling tale of Portuguese explorers that awaits in places like Goa Velha, or the tiger-stalked retreats of the wild Western Ghats behind. Tempted? Of course you are…
Goa might be famous for its beach shacks and backpacker hotels, but there's also a whole load of Airbnbs on the menu these days. They tend to be a bit more private and spacious, and can often represent fantastic bang for your buck. This guide will help you seek out the one that's right for you in this state of stooping coconut palms and golden beaches.
In this Airbnb guide to Goa: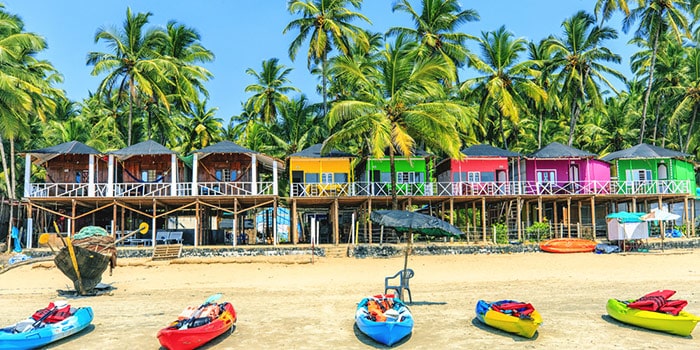 Is Airbnb legal in Goa?
Yep – it's legal. Although it's grown massively in recent years, Airbnb is still a relatively new idea in India. Hosts and properties on the platform are governed by tourism laws that have been in place for decades. That means that, for now, short-term rentals operate pretty smoothly across the country, not just in Goa.
No matter if you're after a salt-washed bungalow between the sea vines of Patnem beach or a slick party pad in North Goa, you shouldn't have to worry about running into trouble. It's just a case of browsing the thousands of listings online and picking out the one that you love the most.
Where should I stay in Goa Airbnb?
Most people look to North Goa, which is where the holidaying hub of Calangute (1) beckons with its wealth of deluxe hotels and enticing international restaurants. Past that is Baga (2), where watersports take over in the form of river kayaking and jet skiing, and there's a good mix of both international and Indian visitors. The upcoming Goan surf spot of Arambol (3) offers something more affordable – it still reigns as the backpacker haven of the state. Ravers and partiers should be sure to mark Anjuna (4) on the map, because it's known for its lunar blowouts and big DJ shows in the main season. Then comes altogether quieter South Goa, where serene beaches like Colva (5) and the bohemian area of Palolem (6) are for chilling to the max.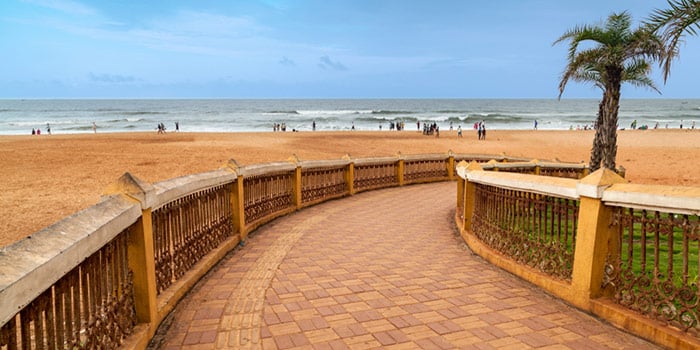 Calangute
Pros
Something for everyone
Close to Baga for watersports
A wide range of hotels and Airbnbs
Cons
Lacks a little authenticity
It's very developed these days
Calangute is arguably the single most popular beach in all of Goa. It all started when the first wandering hippies came down in the 60s. Since then, the shimmering length of Calangute Beach has been developed into an upmarket town that sprouts deluxe hotels and condo blocks, many with swimming pools looking straight out across the Arabian Sea. It's got an abundance of places to sample local Goan food, along with all sorts of international kitchens, is easy to reach from the airport, and feels like a bona fide tropical holiday resort.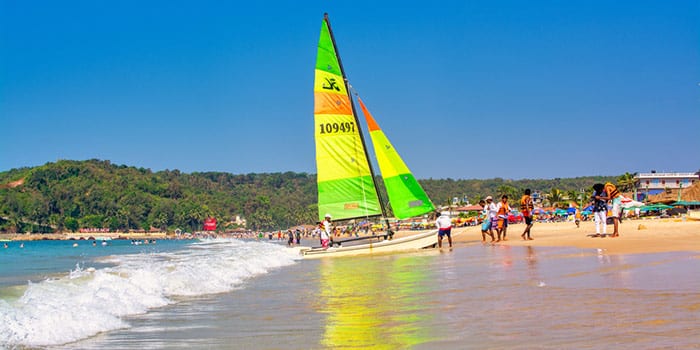 Baga
Pros
Lots of watersports
Good nightlife
Close to other nice beaches
Cons
A little trickier to get to than some other beaches in North Goa
Baga has proved hugely popular with domestic Indian vacationers in the last ten years. It's a North Goan beach with plenty of attitude – AKA the nightlife in places like Club Tito's can get pretty wild! But that's balanced out by lazy days on a lovely beachfront with clusters of palm groves and a framing of high hills. Baga is a bit of a watersports hub, too, which means it's the place to go if you want high-octane sessions on the jet skis.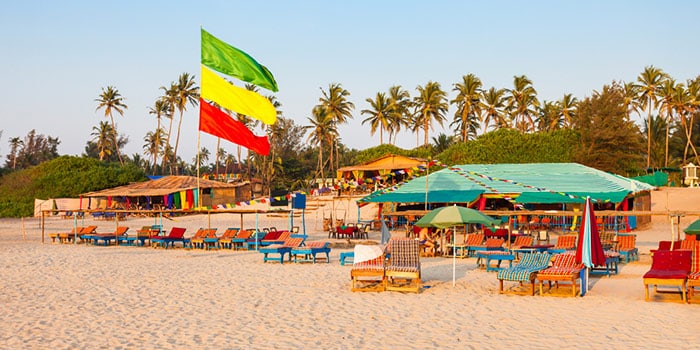 Arambol
Pros
Affordable
Backpacker vibe
Loads of cheap eats
Cons
Not Goa's nicest beach
Not great for families
Arambol is the backpacker haven of Goa. It has been for decades, so expect a well-developed budget accommodation scene that should help you stash a few more rupees for those spicy Goan fish curries in the evening. The beach is a nice stretch of turmeric-tinted sand that's got a backing of ramshackle cookhouses and hostels, though we'd say it's far from the best in the region. The vibe is fun for younger travelers, what with so many bars and eateries to get through. There's also a growing surf scene in Arambol, but the waves aren't that reliable.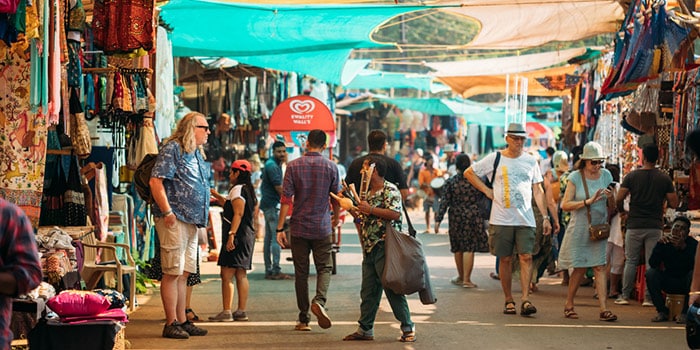 Anjuna
Pros
Those monthly trance parties are amazing
A great flea market
Some Portuguese colonial historical sites
Cons
Gets loud when there's an event on
Nothing to do in the wet season
Ready the neon face paint and the dancing shoes, because Anjuna is the trance capital of Goa. It's got some mega party nights to get stuck into during the high season months (November to March) that can give even Koh Phangan a run for its money – they're even timed to coincide with the full moon! But it's not all wild drinking sessions and hangovers. There's also a buzzing flea market that's bursting with spices and sarongs and craft wares from southern India, along with a speckling of Portuguese churches that date back all the way to the 16th century.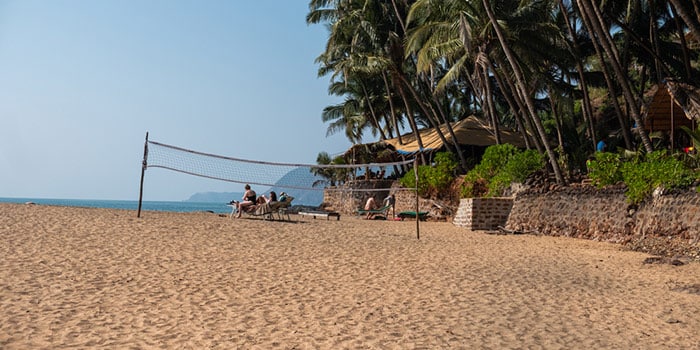 Colva
Pros
Fantastic beach
Very relaxed vibe
Close to interesting Margao
Cons
Not much nightlife
The road in is a little ugly
Colva Beach is a fine introduction to the quieter and more relaxed reaches of South Goa. Stretching from headland to headland across 1.5 miles of glorious sand, it lies at the end of the Colva Beach Road. That's a mecca for little Indian cafés and samosa stands, which feather out towards the coast and the lines of tall coconut palms trees. The waters are clean and lovely. The sand is powdery. It's an all-round top choice if you simply want to kick back and relax. What's more, Margao – the buzzing commercial hub of Goa, complete with Portuguese-era mansions and landmarks – is just up the road.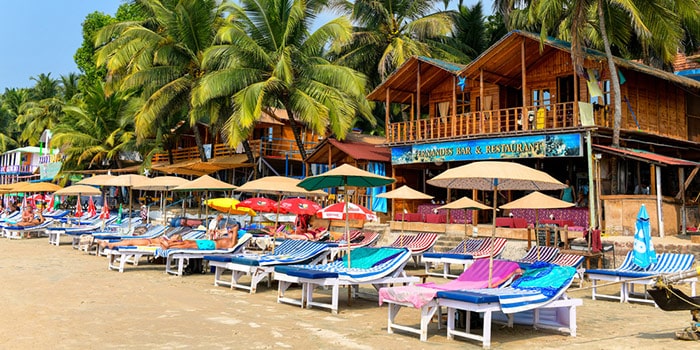 Palolem
Pros
Something for lots of different types of travelers
Beachside bungalows
Relaxed nightlife
Cons
Far from the airport and the train station
Gets really busy in December and January
Calling all meditators and yogis, all long-haired New Agers and sunbathing fanatics – Palolem has you covered. Part hippy enclave, part family holidaying mecca, this corner of South Goa is a long-time favourite with both the domestic Indian crowd and international visitors. It's amazing to watch the timber-built beach bungalows go up every year around October. They fringe the main Palolem Beach with accommodation options (some of them with fantastic views over the Arabian Sea) and come with little Goan curry houses on the side. There's a relaxed nightlife scene in Palolem that centers around a silent disco, while Patnem Beach to the south is better for eco hotels and yoga camps.
Best Airbnbs in Goa
Best Airbnb apartment in Goa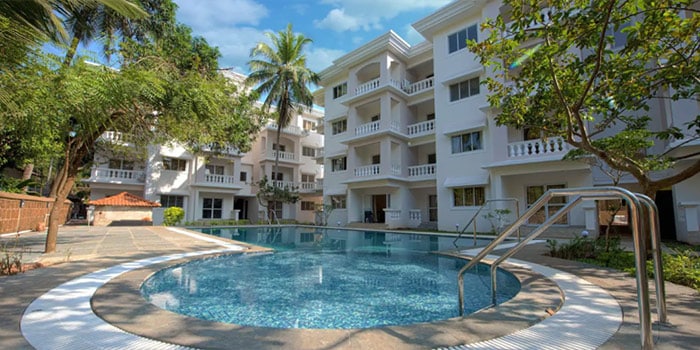 Comfortable 1 BHK Apartment
You'll have the all-round vacationing mecca of Colva Beach on the doorstep if you plump for this modern condo. It offers the conveniences of city living within easy striking distance of the Goan coast. There's a basic kitchen and a stripped-down lounge, along with a wet-room bathroom area. However, the real draw has to be the outdoor pool, surrounded by high palms and sun-splashed patios.
Best Airbnb house in Goa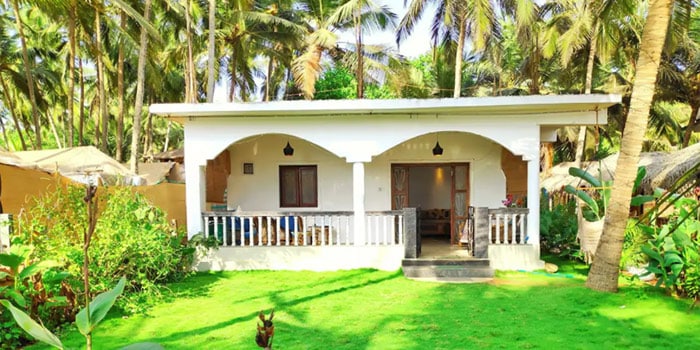 The Peaceful Home
Typically Goan with its mix of whitewashed Portuguese-style architecture and a lush garden filled with ferns and palms, this stoop bungalow villa offers a chilled retreat back from the sands of Agonda Beach. The inside is done out with reflective floor tiles and touches of interesting Indian Bollywood art, but it's really the porch and the exterior that catch the eye – you can even hear the waves!
Best Airbnb for families in Goa

Luxury Dream Penthouse With a Private Plunge Pool
You can reward the whole family with a touch of style and class at this penthouse property. It takes care of living space with its trio of bedrooms and huge lounge area. It also has a prime location for family travelers looking to hit the lively resort of Calangute and the watersports hub of Baga. However, there's a chance you won't want to leave, mainly thanks to that gorgeous infinity pool and outdoor patio area overlooking the coastal forests.
Best Airbnb for large groups in Goa

West Valley Villa
Hearkening back to the grand building styles of the Portuguese colonial era, this eye-wateringly wonderful house in Saligao could just be the perfect place to escape to with your travel crew this year. It can sleep 12 guests across four bedrooms, offers loads of space, and a sprawling set of grounds with a private swimming pool.
Best Airbnb for a beach bungalow in Goa

Cafe Blue Seafront Highrise
Staying in a timber-built beach bungalow is one of the joys of Palolem Beach, the relaxed resort of South Goa. That's precisely what's on offer at this pad. It's got a true Robinson Crusoe feel with its palm-topped setting, which is only a few meters back from the lapping Indian Ocean. Inside is rustic but cozy, and you'll be going to sleep to the sound of the waves. Nice.
Is Airbnb cheaper than hotels in Goa?
That really depends on what you want. Deluxe, five-star hotels in Goa will almost certainly cost more than a cool beach bungalow on the sands of Palolem. Then again, huge Airbnb homes with private pools and space for 15 guests will be more per night than a local guesthouse in a Goan village. The thing to remember is that you're free to share larger Airbnbs with more travelers, which can help bring down the overall price once it's divided up. What's more, Airbnbs don't have the same sort of hands-on service as hotels, so you'll usually pay less for something of comparable quality.

That last point is important. Honeymooners and luxury seekers who want to be pampered in this sun-kissed Indian state should think about whether they're happy with the privacy of an Airbnb. Or do the frills and extras of a real resort seem more tempting? If you want swimming pool areas, cooked breakfasts, room service and the like, you might be better off staying somewhere like the Beleza By The Beach Resort. It's down in relaxed Colva, has modern suites with views over the rice paddies and sands, and even an on-site spa.
Goa's a-calling with its palm-threaded beaches, mist-gathering mountains, spicy fish curries, and rambunctious party towns. What are you waiting for?
How useful was this post?
Click on a star to rate it!
Average rating / 5. Vote count: