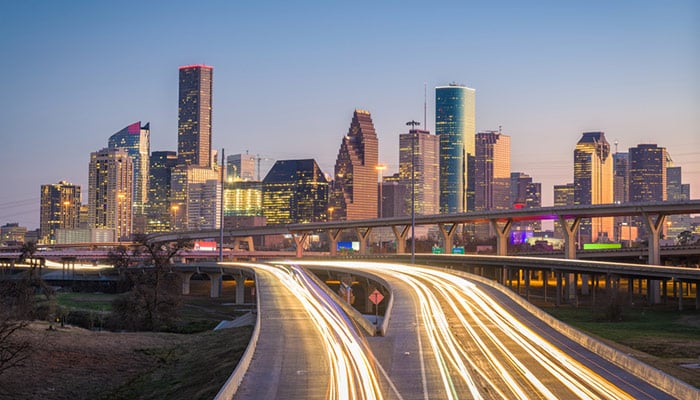 Houston is the energy capital of the United States. Built on oil and made famous as NASA's mission command, this town is one high-octane experience. With a spin of the cowboy spurs and a waft of Southern BBQ, it enthralls with the cosmic Space Center Houston, the shark-snapping Downtown Aquarium, tiger-stalked Houston Zoo – the list goes on! But it's not all about the headline attractions. You can also spend days soaking up the sun on Galveston Beach, searching for hidden Rothko paintings in serene churches, or shopping through the colossal malls. A word of warning: Houston is massive. It's more like 10 cities in one, with a UFO-like downtown edging up to historic pockets of Queen Anne homes. That's all waiting to be explored.
If you're keen to see Houston like a local, you could consider booking an Airbnb instead of a classic hotel. They're now all over the metropolis, offering private pads to call your own in the home of the NASA Space Center. This guide reveals some of the top neighborhoods for Airbnbs right now, and even showcases a few of the top-draw Airbnb rentals in Houston overall.
In this Airbnb guide to Houston: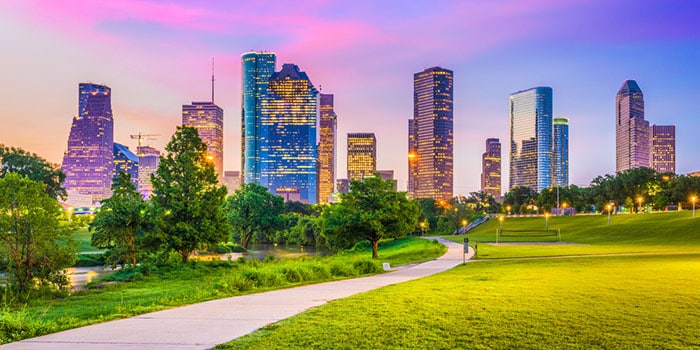 Is Airbnb legal in Houston?
Airbnb is 100% legal in the state of Texas, and, by extension, in the city of Houston. While many local authorities across the US have opted for tighter regulations around short-term lets, Space City has decided to welcome the platform. That's led to a huge growth in the number of available lettings, and some great variety in the places there are to stay between the NASA control rooms and the Buffalo Bayou. You might be asked to pay a small tourist tax of around 6% of the total price but that should be stipulated in the agreement when you come to book online. Happy travels!
Where should I stay in Houston Airbnb?
Wow – Houston is big! There are countless areas to get through when you come to choose that Airbnb. We'd recommend starting with the Downtown (1) core. It's the main entertainment area, replete with theaters and bars and nightlife. Close-by Midtown (2) is more chilled and down to earth; it's becoming a good spot for Millennials and travelers with an eye on the budget. Sightseers can't go wrong with the Museum District (3), which hosts the major art collections and Houston Zoo, while West University & Rice Village (4) offer something more refined and residential. The Heights (5) is for those who want to taste the historic charm of one of Space City's prettiest neighborhoods. Then there's River Oaks (6), which many consider to be the richest part of town. We've also included the popular coastal escape of Galveston (7) on this list – you know, in case that Lone Star summer gets just a little too hot! Oh, and then there's Montrose (8): Houston's hipster hub.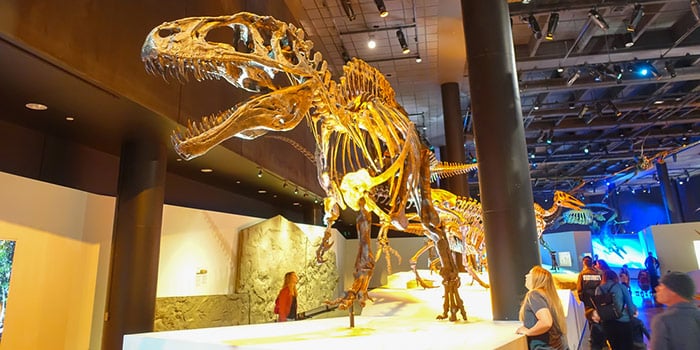 Museum District
Pros
The best museums in the city
Houston Zoo is here!
Great for families
Cons
There aren't many Airbnbs actually inside the Museum District
Houston Zoo is here! It's quite a touristy part of Houston
Houston's Museum District lives up to its name by hosting a clutch of Space City's top cultural institutions. The headline acts are the Houston Museum of Natural Science (home to huge dinosaur skeletons and ancient Egyptian relics) and the Museum of Fine Arts (a collection including Monet and van Gogh). You also get access to acclaimed Houston Zoo, which draws over 2.1 million visitors a year with its 6,000 animal species. The area might lack a little in local character, but it's a doozy of an option for families who want to be near the big-name sights.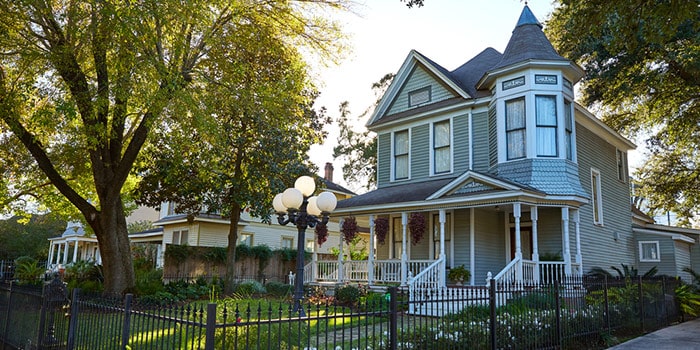 The Heights
Pros
A very attractive neighborhood
Historic architecture
There's some nice local eating options near W 20th Street
Cons
It's got quite a residential vibe
About 15 minutes' drive to the museums
The Heights was built way back in the late 19th and early 20th centuries as a planned residential area for folk who wanted to escape the mosquitoes closer to the bayous. And if that implies that they had money, it's because they did. The result is a clutch of gorgeous turn-of-the-century building work – think porch-fronted Queen Anne homes with filigreed balustrades and manicured front lawns. It's a handsome part of town that's serene and peaceful, although you can find craft beer joints and sourdough pizzerias along N Shepherd Drive and W 20th.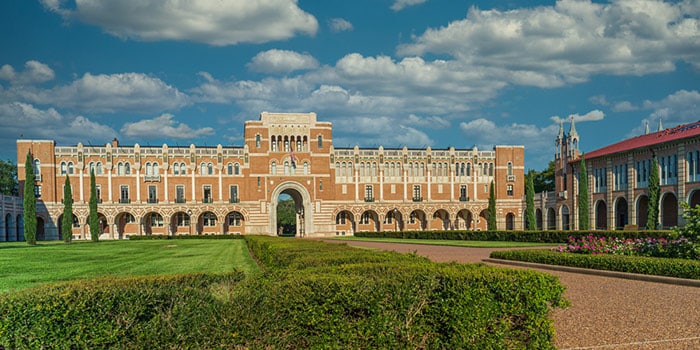 West University & Rice Village
Pros
Very attractive houses
Rice Village is filled with places to eat
Green streets that are lovely to wander
Cons
Most of the homes are residential, not Airbnbs
It can be a little too staid for some
West University is, technically, a different city to Houston. However, it's entirely surrounded by other neighborhoods on the south side of the metropolis, so is basically just another district. It's also a cracking place to be based for a jaunt to Space City. Known for its prestigious learning institutions, it's got an upscale charm and a small-town vibe. The streets are lined with grand mansions and faux-Victorian homes that offer oodles of space and character. On top of that, the whole area buts up to Rice Village, where there's a concentration of enticing restaurants and bars and high-class boutique shopping.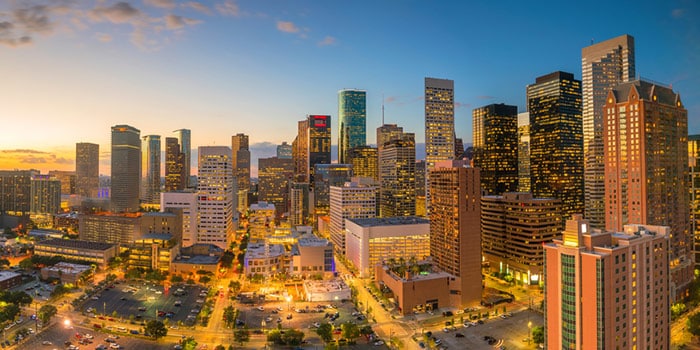 Downtown
Pros
Nightlife
Theaters
Always something going on
Occupying a great wedge between Interstate 10 and Interstate 69, with the wiggling waters of Buffalo Bayou to the north, Downtown is the fizzing epicenter of life in this Texan city. It's been called the Manhattan of the South, for the abundance of shopping down Main Street but also for the soaring skyscrapers. Entertainments come thick and fast in the Downtown, especially if you manage to score a place to stay near the Theater District in its north-west corner. That's dotted with flamboyant vaudeville playhouses and has more dining and drinking than you can possibly hope to get through in a week.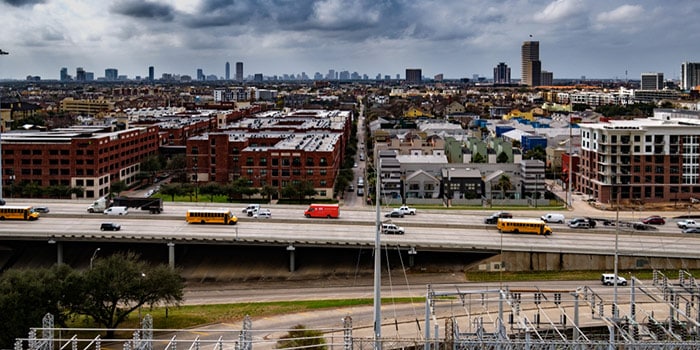 Midtown
Pros
Affordable Airbnbs
Easy to navigate
Local feel
Cons
You'll need to travel to get to the major sites
It's not the prettiest area of Houston
Midtown can often seem like something of a low-key continuation of Downtown. It has the same crisscrossing blocks and wide streets flanked by high-rise buildings. It's got the same sort of business buzz about it. There's also a touch of light industry and more workaday charm, which helps to bring down the cost of Airbnbs. You'll need to travel to other districts to catch the big sites and most buzzy nightlife, but this one does offer the people-watching haven of Midtown Park and plenty of earthy local kitchens along Main Street.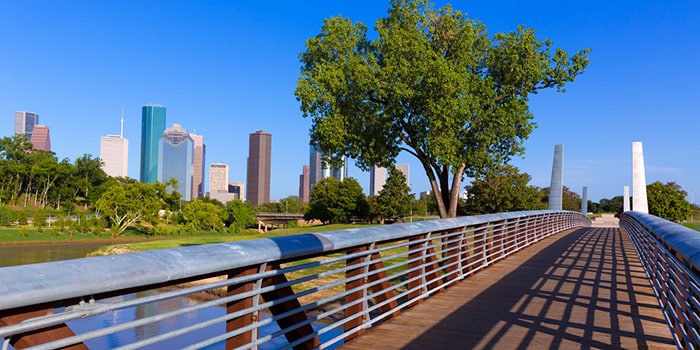 River Oaks
Pros
Really grand houses
Close to the city's best parks
Golf courses and theatres nearby
Cons
Very expensive
Hardly any Airbnbs in the area itself
The gardens get larger and the houses get bigger (in fact, scratch houses – these are mansions!) over in River Oaks. One of Houston's most upscale corners, it's all about living in luxury. Not many of the properties are available as short-term lets, but you can get Airbnbs in the vicinity that will let you explore the green and leavy avenues. They'll also put you within easy reach of sprawling Memorial Park, where the Houston Arboretum and winding hiking paths all abound – a welcome breath of fresh air.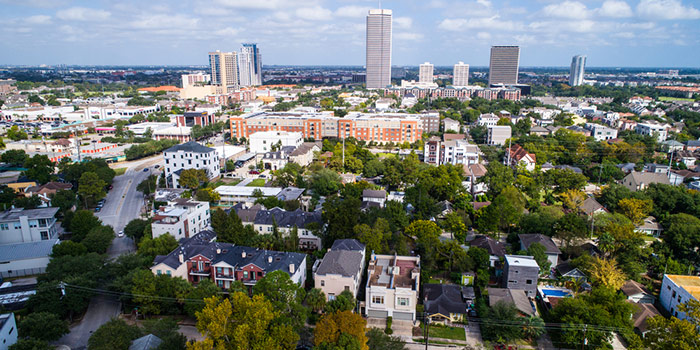 Montrose
Pros
Hipster area
LGBTQ+ scene
Nightlife
Cons
It's a large area, so hard to get around
Not the best for families
Montrose is the cool kid on the Houston block right now. It's a huge cut-out of the city to the north of the 69 Interstate, unfolding in block after block of graffiti-strewn brick buildings that host everything from roastery cafés to independent photography galleries. You're basically looking at Space City's hipster capital, and the main LGBTQ+ hub. There's great nightlife, eclectic dining, and loads of off-beat vintage shopping to be had.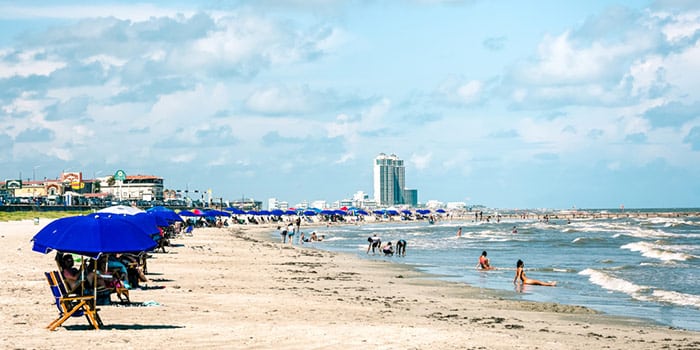 Galveston
Pros
There are beaches!
Cooler in the summer
Fun for the family
Cons
Busy in the summer – it's one of Texas's top seaside resorts!
At least an hour's drive from Downtown Houston
Galveston might be around an hour's drive southeast out of Houston's Downtown, but it's definitely worth considering if you're planning a Texan holiday in the balmy summer months. This barrier island on the Gulf of Mexico has long been the escape of choice for Houstonians when the temperature cranks up. It's got cinnamon-tinged beaches, a vintage pleasure pier, Victorian-era tram lines, and all sorts of Southern surf-turf grills. Daytrips to the NASA Space Center Houston and the center of the city are also easy to organize from this salt-washed corner of town.
Best Airbnbs in Houston
Best Airbnb apartment in Houston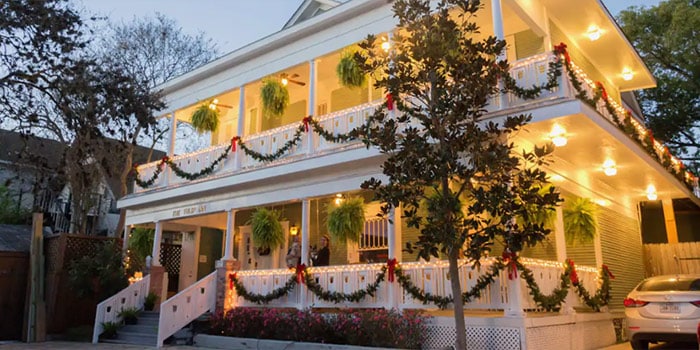 Montrose Studio #5
You'll feel the Southern charm the moment you lay eyes on this handsome Houstonian flat with its white-painted walls and porch-ringed façade. Then you delve inside, where the design is contemporary and cool. It's all pretty compact, with a loft-style sleeping area on a mezzanine and a walk-in shower. Location wise, you're close to hip Montrose, where LGBTQ+ bars and vintage shopping abounds!
Best Airbnb house in Houston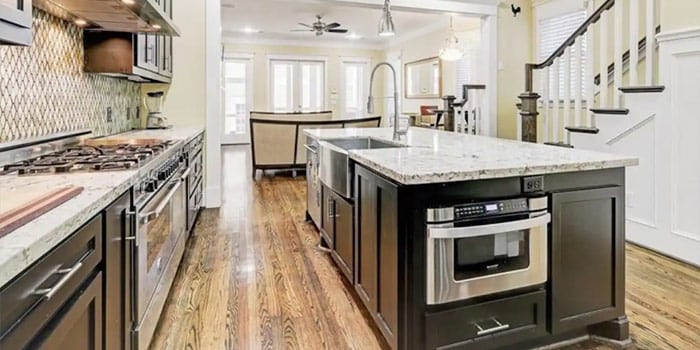 Entire House Including Garage Apartment
This two-story home oozes the style of The Heights neighborhood, offering wrap-around verandahs and a touch of Antebellum charm. It's got space enough for 10 guests across four bedrooms, along with a marble-topped kitchen with a huge breakfast island and a separate dining space. It's also done out with some convenient mod cons – think high-speed internet and dedicated workstations.
Best Airbnb for families in Houston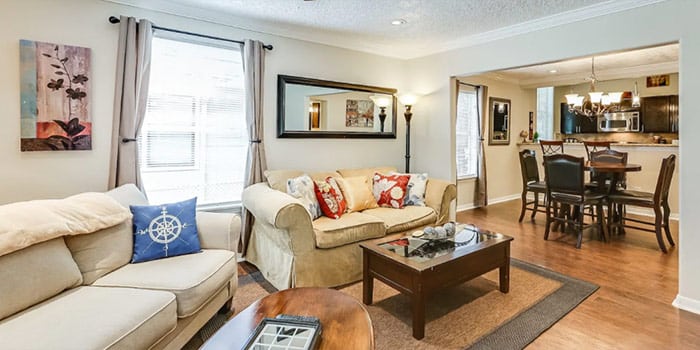 Eado House Jr
This handsome bungalow house sits just to the east of the Downtown, meaning you and the family can holiday only a short trip from the theaters and bars of Houston's most happening area. Inside, there are three bedrooms, some with bunks, and a cozy lounge space where you can all gather and share your stories of the NASA Space Center in comfort.
Best Airbnb for large groups in Houston

Dunlavy
Just like Texas itself, this house likes to do things big! There are a whopping seven individual bedrooms, each with their own adjoining bathroom. They're all linked up by modern hallways and converge on a big communal seating and dining area with a double fridge and a breakfast bar. The location could hardly be better, what with stylish River Oaks on the doorstep.
Best Airbnb for quirky stays in Houston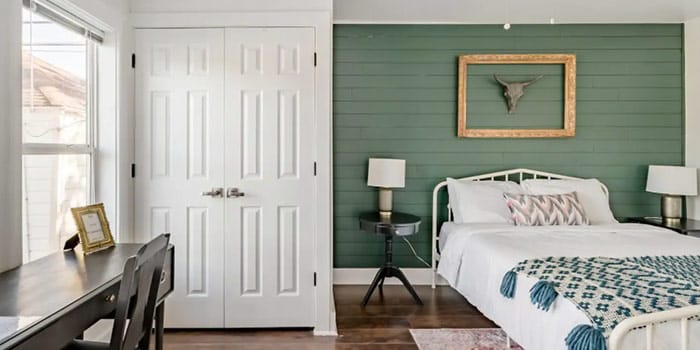 Ozone Sterile
This gorgeous Airbnb Plus has garnered great ratings for its attractive vintage style. It's filled with thought-provoking touches, like a noir button sofa and agricultural skeleton displays on the walls. The highlight for us is the lovely deck space, where you can kick back with an iced tea and watch the sunset over the Houston suburbs.
Is Airbnb cheaper than hotels in Houston?
There's a good chance that you'll find Airbnbs in Houston cost a whole packet less than hotels in the city. The reason? There's much more of a focus on privacy in these sorts of getaways. You won't have on-demand room service and frills like that, but you should pay less overall. In addition, you can often seek out Airbnbs in parts of Houston where the majority of travelers rarely even consider. So, instead of the Theater District, you could head to The Heights; instead of Downton you could base yourself in hipster Montrose. That all has an effect on the total cost of accommodation.

We've already touched on the downside of Houston Airbnbs: They aren't like a hotel in terms of service. If you're after pampering and luxury, want daily housekeeping, and a lobby bar, you might prefer something along the lines of the Club Quarters Hotel in Houston. It's a four-star establishment with gold-gilded staircases and suites that lookout over the happening Downtown of Space City.
Houston is a-calling with its star-spangled Space Center, its Southern BBQ kitchens, rich Texan museums, and enticing Airbnbs. What are you waiting for?
How useful was this post?
Click on a star to rate it!
Average rating / 5. Vote count: