New Orleans is a cocktail of hedonism, good-time living, and jazz, all topped with a sharp Sazerac. Be sure to pack the dancing shoes and bring an appetite, because this one's always rolling to a bopping beat. The French Quarter is where much of the action happens. Known as the Vieux Carre, it's all elegant ironwork arcades and clip-clopping horse and carts, gumbo shrimp outlets and big-band music venues. Resonating out from that is a city on the Louisiana lowlands; a town that oozes the Antebellum riches of The South, but also the earthy character of Creole culture. You'll party, you'll shop antiques, you'll unravel the mysteries of Voodoo and Carib cooking, all in a day's work.
To feel like a real local during your stay in the city known as The Big Easy, there's nothing for it but and Airbnb in New Orleans. There are plenty of choices, ranging from porch-fronted mansions in the chic Garden District to fly-in apartments in the rambunctious French Quarter. This guide can help you home in on the places that might just be the perfect pick for you…
In this Airbnb guide to New Orleans: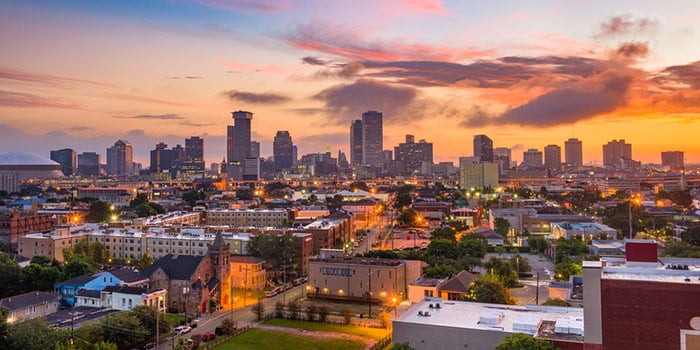 Is Airbnb legal in New Orleans?
The Big Easy isn't so easy when it comes to Airbnb restrictions. In fact, the city famed for Mardi Gras imposes some of the strictest regulations on short-term rents of anywhere in the United States. That's not to say the service is illegal. It's not. Travelers can still browse and book whatever Cajun character cottage or sleek new penthouse they like along the Mississippi. It's just that there are rigorous zoning laws that work to reduce the number of Airbnb options in hotspot areas like the French Quarter. In those, only primary residences can be let out and the owner must also be present at the property throughout the stay. That doesn't apply to other popular parts of town, though, so you should still find somewhere to suit if you're seeking a totally private pad to call your own.
Where should I stay in New Orleans Airbnb?
There's no doubt that most travelers will want to score an Airbnb in the French Quarter (1). That's the famed party and parade hub of New Orleans, with charming French-style architecture dating back centuries, and more jazz places than you can shake a gumbo shrimp at. Good alternatives lurk to the north, in the form of enthralling and earthy Faubourg Marigny (2), and the new hipster enclave of Bywater (3). The Garden District (4) occupies the land of an old planation to the south, offering bigger properties on streets overshadowed by lovely oaks. Further south again is the Irish Channel (5), an area known for its multiculturalism and eclectic eating scene. Then there's the Central City (6), which is more lived-in New Orleans; gritty, local.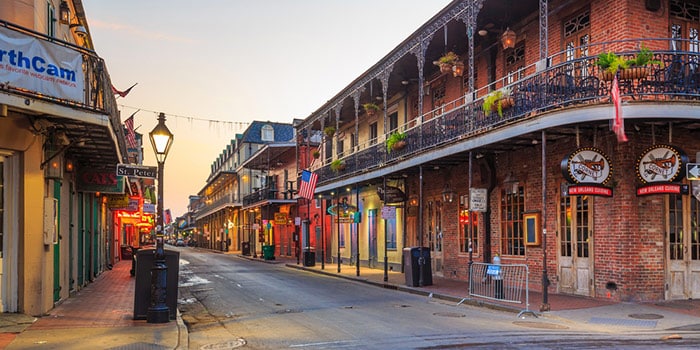 French Quarter
Pros
Seriously lively
Amazing nightlife
Handsome street scenes
Cons
Very touristy
Very few Airbnb rentals
Everyone heading to The Big Easy should know about the French Quarter. It's got to be up there with the most immersive neighborhoods in the whole of America. For one, it's gorgeous, gilded with filigreed buildings adorned with elaborate ironwork and overhanging balconies. For two, it's full of life. Jazz joints, honky-tonks, Mardi Gras parades – they all rock these streets in the same way they have for decades. Recent restrictions on short-term lettings mean there are fewer Airbnbs here than ever before, but you can still find options. Basically, it's the place to be based if you want to be in the thick of the action!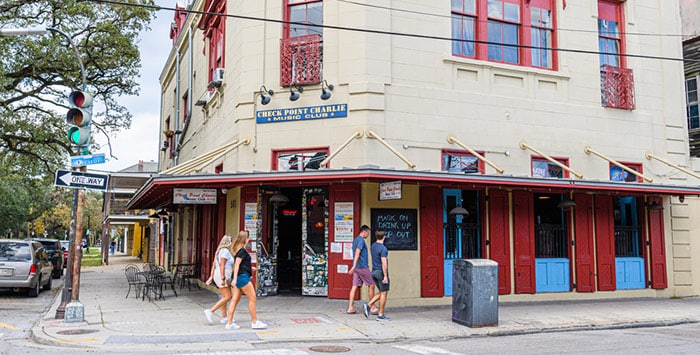 Faubourg Marigny
Pros
Pretty, historic cottages
Vibrant Frenchmen Street
Off-the-beaten-track
Cons
A little ramshackle
Can be loud close to the nightlife
Shh! Faubourg Marigny is one of the more off-the-beaten-track areas of central New Orleans. It's where the travelers who do their research go, usually on the hunt for quality gumbo subs and Creole food, but also bumping nightlife. The latter is focused on Frenchmen Street, a heady mix of jazz joints and skin-art emporiums. All around that is a village-style district with unique bungalow cottages painted in Neapolitan ice-cream colors and fronted with bursts of flowers and tropical palms. There's a chance you'll get an Airbnb with real character.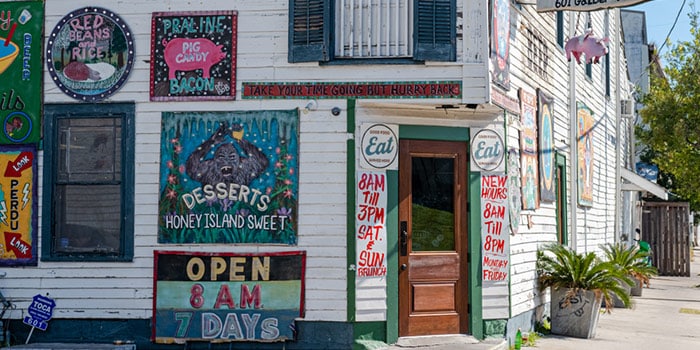 Bywater
Pros
Pretty darn cool area
Hipster bars
Late-night music
Cons
It's getting pricy
A little cliquey – the hipsters live here!
Bywater beckons you past the Marigny and out to the square blocks that but up to the Mississippi and the urban canals. If there's one word to sum it up: Bohemian. Yep, Bywater's been rolling with a wave of gentrification and new coolness in recent years. The intersections of Dauphine St and Lesseps St are where much of that manifests, with edgy microbreweries, grunge bars, and wine bistros. Property tends to be a bit more upmarket here, with extra space and style.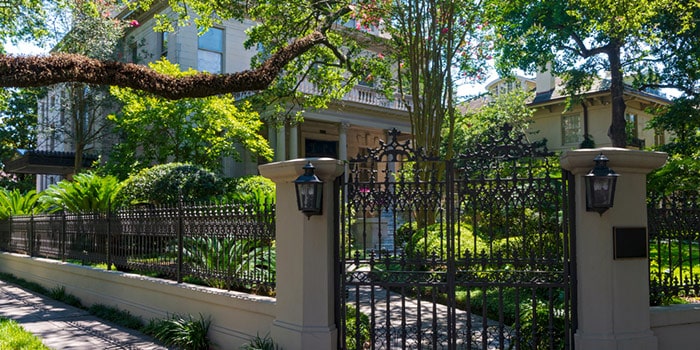 The Garden District
Pros
Luxury Airbnbs
Lots of space
Historic, leafy streets
Cons
Quite expensive
Too staid for some people
You'll be able to tell that the Garden District (often written as just GD for short) was once a vast plantation estate. Its streets are lined with grand and venerable oak trees and big cypresses sprout from the sidewalks. The houses are sprawling and proud, with Neo-Classical elements and imposing walled grounds. This area hosts sights like the haunting but beautiful Lafayette Cemetery, and figures in the famous Mardi Gras celebrations to boot. It's the place to look to if you have some cash to splash and want to live in luxury.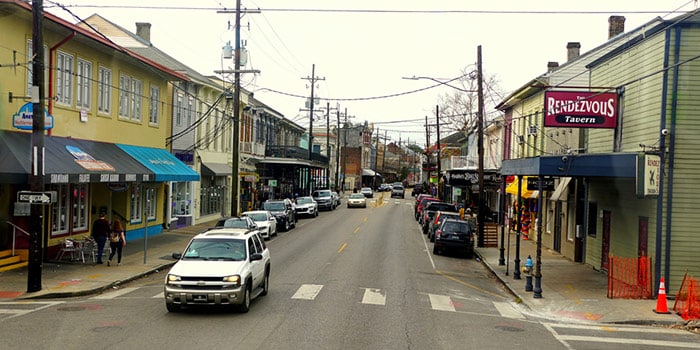 Irish Channel
Pros
Multicultural eateries
Good St Patrick's Day celebrations
Both lively and quiet streets
Cons
Not the most famous area
A bit of a trek from the French Quarter
The area of Irish Channel got its name from the thousands upon thousands of immigrants that came this way from the Emerald Isle during the 19th century. That multiculturalism is still very much in the fabric of the area. Not only does it rock around St Paddy's Day, but there's everything from Italian pizza houses to German-inspired breweries to get through. Magazine Street is the liveliest place of all, while the blocks south of that are more peaceful, residential, and closer to the Mississippi.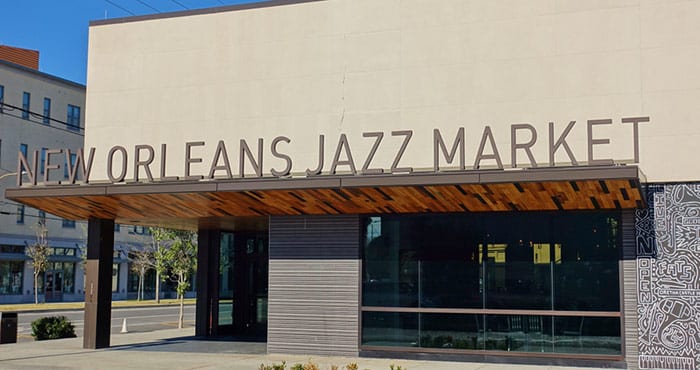 Central City
Pros
Jazz music heritage
There's a real edge to Central City
Southern comfort food
Cons
Not the safest part of town
It's a pretty big area, so can be hard to navigate
Central City is a huge wedge of a district that occupies a lot of the middle of New Orleans. It's historically been known for its working-class character and jazz history. That's breathed a gritty energy into it all. As you wander between the paint-peeling shotgun houses, you can look forward to encountering taste-bud-tingling gumbo kitchens and po'boy sub outlets that sell authentic Louisiana comfort food. Sadly, there are still a few issues with crime in the northern portions of the area, but you should be okay if you stick around popular Oretha Castle Haley Boulevard to the south.
Best Airbnbs in New Orleans
Best Airbnb apartment in New Orleans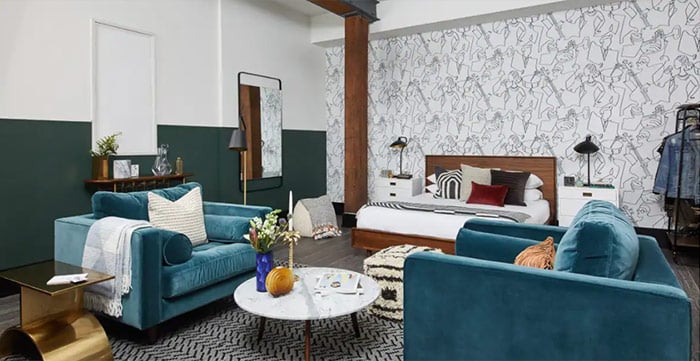 Sextant | The Brandywine
This flat almost gets you to the French Quarter. However, it's just shy, in the modern CBD to the south. That's not a bad location, and means there's more square meterage on offer. On top of that, the property is a work of true finesse. It's laced with elegant 18th-century touches but also oozes modernism. Essentially a studio, it's a single room that packs in a chic lounge and a full kitchen. A very comfy and convenient option.
Best Airbnb house in New Orleans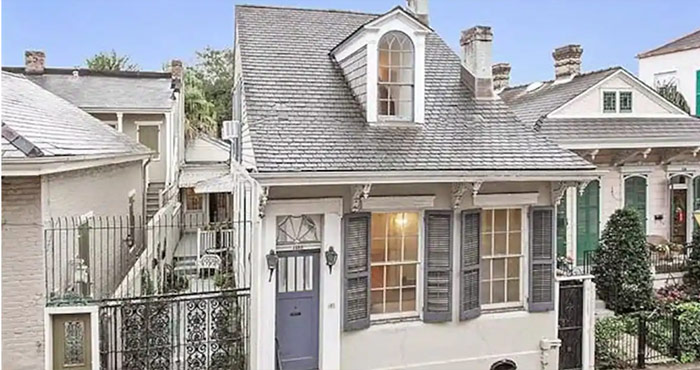 Quintessential French Quarter Cottage
This cute little house is wedged into the tight-knit streets of the happening French Quarter. It promises plenty in the way of real Louisiana charm. There's a shutter-covered façade that gives way to a stripped-down interior of timber floors and scruffy-chic exposed brick. There's also a small al fresco patio area strewn with hanging plants and dotted with sunbeds.
Best Airbnb for families in New Orleans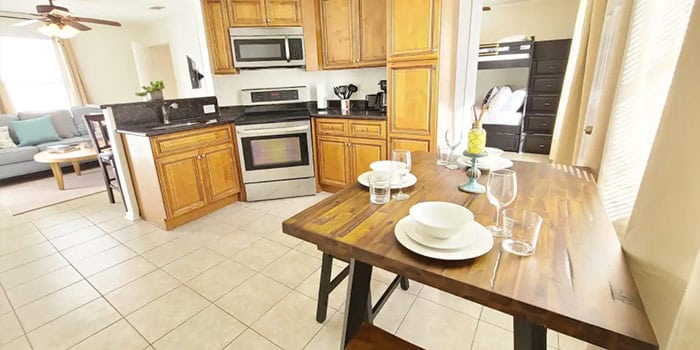 Uptown New Orleans Home
In the charming district of Uptown, close to stylish Garden District and the rollicking streets of Central City, this pad has enough room for families of up to eight people. There are just two bedrooms, but one's got bunk beds. You also get a light and bright living area, along with a large kitchen with its own breakfast bar.
Best Airbnb for large groups in New Orleans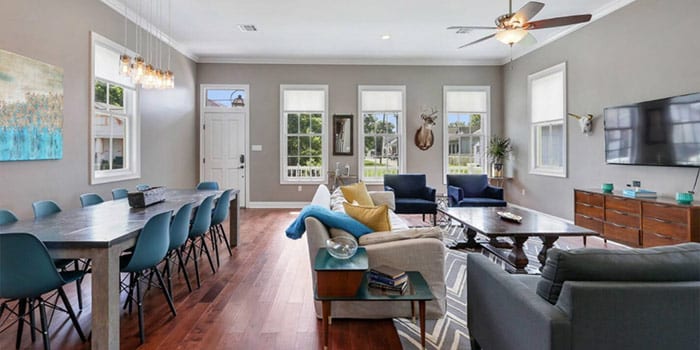 Bright Sapphire Luxury Oasis
Bring the group to happening Bywater this year by picking this lovely oasis in the midst of the northern part of New Orleans. There's space enough for 14 guests in all. That's thanks to four individual bedrooms and a sprawling lounge-kitchen space that's a joy to relax in after long days on the town. Highlights are the four-poster master bedroom and the massive family bathroom.
Best Airbnb for quirky stays in New Orleans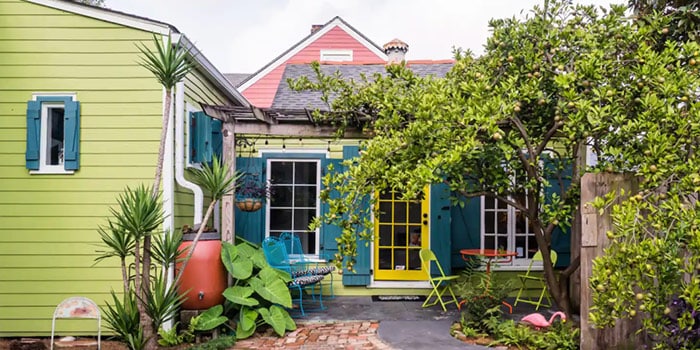 Bask in the Tranquil Courtyard of Bywater Guest House
If there's one thing that New Orleans does well, its color. Cue this historic shotgun home. It's got some serious moxie, blaring from behind the trees on its porch with lime-green and sky-blue hues. Inside, the vibrancy continues with modern art on the walls, antique displays, and a lush garden space that's positively bursting with foliage. It's an Airbnb Plus, so expect to pay a tad extra for this one's edgy style.
Is Airbnb cheaper than hotels in New Orleans?
That all depends entirely on what sort of rental you're after. Luxury will cost extra. However, average nightly rates in New Orleans Airbnbs will usually be pretty darn attractive, and that's before you factor in what you can save by getting somewhere with self-catering facilities to cook for yourself. Other ways to cut the outgoings in an Airbnb is to go for a pad that's large enough to share the price with your whole travel group, or to book for longer, when you could be in line for discounts of up to 50%.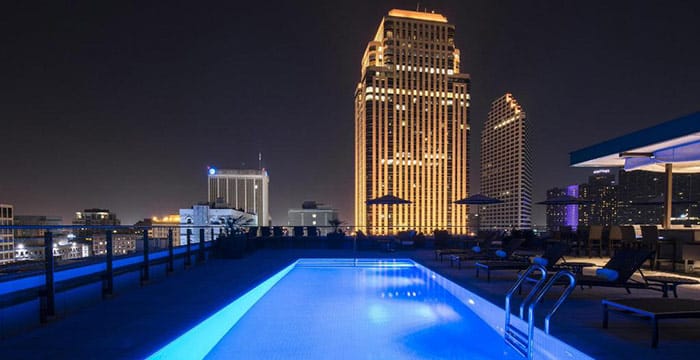 The one obvious downside of an Airbnb over a hotel in New Orleans is that you won't get the same hands-on hospitality. For that, somewhere like the NOPSI Hotel might be a better choice. It's a sumptuous four-star establishment with a rooftop pool, located in the lively CBD just to the south of the French Quarter.
Whether you're jetting into town to join the wild Mardi Gras parades or just want to sip Sazerac cocktails in the noir honky-tonks, this guide to Airbnbs in New Orleans should have you covered.
How useful was this post?
Click on a star to rate it!
Average rating / 5. Vote count: