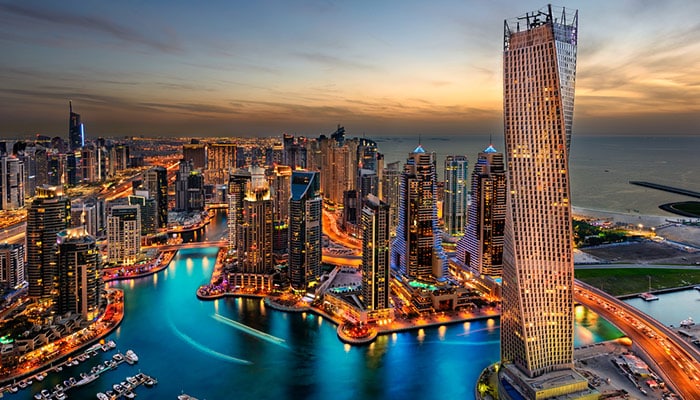 Dubai will wow you with its steel-dressed skyscrapers and soaring buildings, its dhow-dotted harbours and shimmering beaches, audacious shopping malls and bustling gold bazaars. Once a simple fishing port on the Persian Gulf, it's taken just a few decades to transform it into one of the world's most futuristic and fantastical metropolises. These days, it's a hubbub of Arabian culture that's enlivened with a huge expat population, fizzing with nightlife and sprawling souqs under the gaze of the great Burj Khalifa – the tallest tower on the planet. And when you're not shopping and partying? There are white-sand beaches and the shifting Arabian Desert to explore.
There's now upwards of 5,000 listings on offer via Airbnb in Dubai. Among them are enticing luxury condos with access to pools and gyms and high-perched rooftop terraces. But you'll also find beachfront pads near the soft sands of the Persian Gulf, and minimalist apartments with enough space to fit the whole family. This guide can help you home in on the areas and individual rentals that are perfect for your break to the biggest city of the UAE this year…
In this Airbnb guide to Dubai: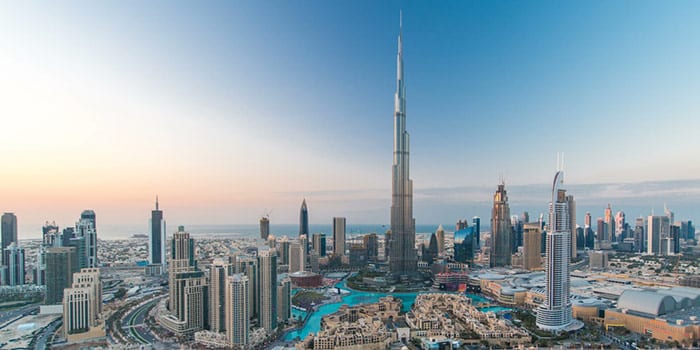 Is Airbnb legal in Dubai?
Airbnb and the tourism board of Dubai signed an agreement back in 2016 that ended years of uncertainty about the platform in the city. It made short-term rentals totally legal and allowed, so long as owners registered their properties with local authorities and paid the correct tourist taxes. As a traveler, that means you don't have to worry one iota when it comes to staying in an Airbnb in Dubai. You're free to book whatever condo or penthouse overlooking the Persian Gulf you wish, and can even double check your host has all the necessary documents by dropping them a quick message.
Where should I stay in Dubai Airbnb?
Where to begin? How about the glinting shoreline of Jumeirah Beach (1), which melds nightlife and chic living by the sands? Or, maybe you'd prefer the beguiling maze of alleys and souq bazaars that is Old Dubai (2)? Elsewhere in this town is the upcoming Dubai Design District (3) and its cutting-edge galleries, along with Downtown Dubai (4), the stomping ground of major shopping malls and soaring skyscrapers like the Burj. To be nearer the salt water and have luxury Airbnbs with fantastic views, you might want to consider Dubai Marina (5) or the manmade archipelago of the Palm Jumeirah (6).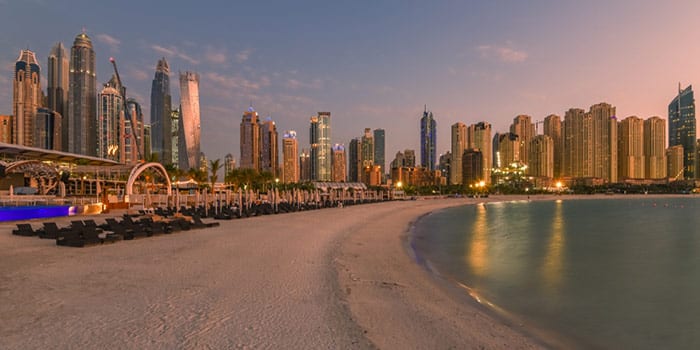 Jumeirah Beach
Pros
Proximity to the beaches
Sea-view Airbnbs
Luxury condos with shared pools
Cons
Very expensive
Always busy
Jumeirah Beach might just be the most coveted postcode in all of Dubai. It marks the point where the metropolis meets the turquoise waters of the Persian Gulf in a sliver of shimmering sands dotted with more bars and deluxe hotels than you can shake a shisha pipe at. The prestigious forest of skyscrapers that is the Jumeirah Beach Residences (known as JBR for short) is the place to go hunting for those Airbnbs – a lot of the pads within have alluring features like shared swimming pools and views over the coast.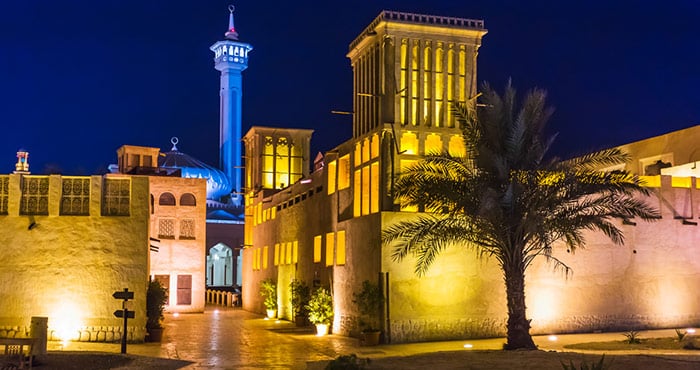 Old Dubai
Pros
Loads of culture and history
Picturesque street scenes
Enthralling souq markets and shops
Cons
Quite far from the glitz of modern Dubai
Can feel a little fake at times
If you're after a more authentic glimpse of day-to-day Dubai life, the dusty and venerable quarter of Old Dubai could be the perfect place to bag an Airbnb. Spreading off the sloshing waters of Dubai Creek, it's a maze of stone-covered alleys and gypsum buildings dashed in beige. It's here that you'll get to see the oldest building in the metropolis (the Al Fahidi Fort) and delve into UAE heritage at the Sheikh Mohammed Centre for Cultural Understanding. It's perfect for culture buffs and history lovers alike.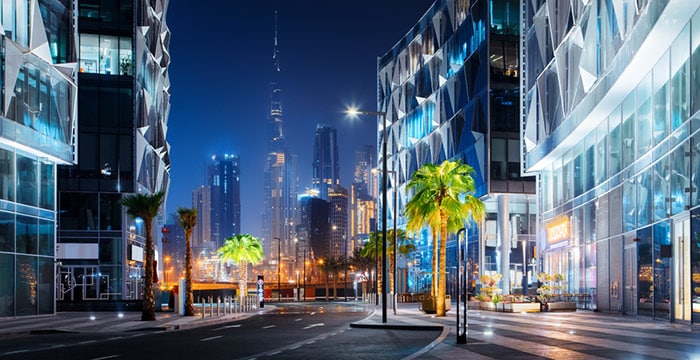 Dubai Design District
Pros
Loads going on
Great for art lovers
Fantastic coffee scene
Cons
Far from the beaches
It's a little cliquey for some
The Dubai Design District is a relative newcomer to the list of top neighbourhoods in this sprawling city. Known to the locals as, simply, D3, it's been making waves with its cutting-edge public art installations. You'll find them spreading out along the main walkways by Dubai Creek, punctuated by plenty of European-style cafés and coffee roasters. D3 is also a major hotspot for upcoming independent galleries, which have regularly-changing exhibits showcasing the finest Arabian artists of the day.