Melbourne is considered to be the coolest city in Oz. The capital of the state of Victoria, it hugs wide Port Philip Bay with its vast patchwork of districts and neighborhoods. Together, they form a metropolis that's electrifyingly cosmopolitan but also endearingly laid back. Individually, they have charms and styles and quirks that remain hidden to the traveler who never strays from the CBD. From hostel-packed St Kilda with its hedonistic Esplanade to the hipster hubs of the Inner East, the biking trails along the Yarra River to the prestigious playhouses of the Southbank, there's all sorts to discover. Of course, cutting-edge microbreweries, AFL sports stadiums, art galleries, and arguably Australia's best café culture come part and parcel to boot.
One sure way to get into the neighborhood vibe of Melbourne is to pick an Airbnb over a conventional hotel. These are pads that offer a local's view of the city, in areas that you might not have otherwise considered visiting. They come in all shapes and sizes, from chic penthouses to outdoorsy cabins in the Victorian wilds. Let's take a look at the lot…
In this Airbnb guide to Melbourne: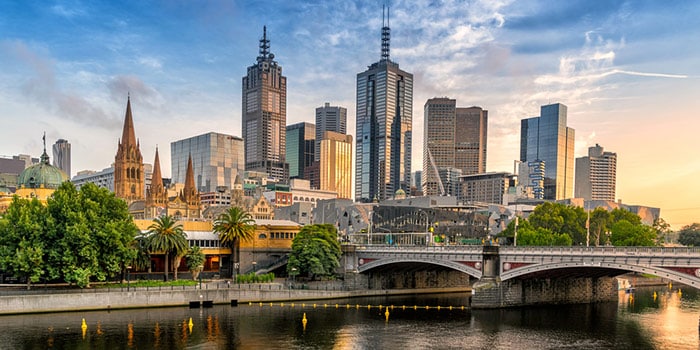 Is Airbnb legal in Melbourne?
Airbnb remains totally legal in Melbourne, although recent restrictions on letting periods in the neighboring state of New South Wales hint that the authorities in Victoria might soon follow suit. Still, they haven't outlawed the service. They just limit the number of nights each property can be rented for per year. On top of that, there are a few zoning restrictions that prevent hosts from offering Airbnbs in areas that are short on housing for locals. As a traveler, you won't have to worry about any of the above. Just keep dreaming about your jaunt to this vibrant metropolis on the south coast of Oz!
Where should I stay in Melbourne Airbnb?
There are loads of options when it comes to choosing a neighborhood to bed down in in Melbourne. Top of the list for most is that high-rise CBD (1), which beckons with cracking art galleries and the main landmarks of the town. Backpackers are usually drawn to the hostel scene at St Kilda (2). Otherwise, you can pick from the hodgepodge of cool and hipster-driven nightlife quarters – Brunswick (3), Collingwood (4), Fitzroy (5). South Yarra (6) is best for those who hit the Victorian capital to shop till they drop. Then you've got Richmond's (7) sports bars and AFL arenas.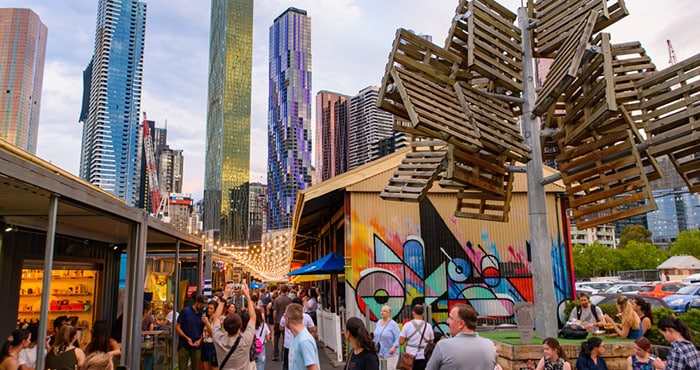 CBD
Pros
Right in the thick of the action
Handsome area with Victorian-style architecture
Good transport links
Cons
Some think it's a tad too touristy
Busy with crowds and traffic
The CBD of Melbourne is probably the part of the town that you've seen in the travel brochures. It's the place with the traces of eye-catching Victorian architecture – Queen Vic Market, the daffodil-yellow Flinders Street Railway Station. It's home to the mainstay cultural attractions – the prestigious National Gallery of Victoria, most notably. It's also a hubbub of activity both day and night. Trams rattle this way and that past all sorts of bars, pubs, and cafes within its boundaries. So, it's a good place to be based if you want fast links to the whole town or just want to feel the beating pulse of modern Melbourne.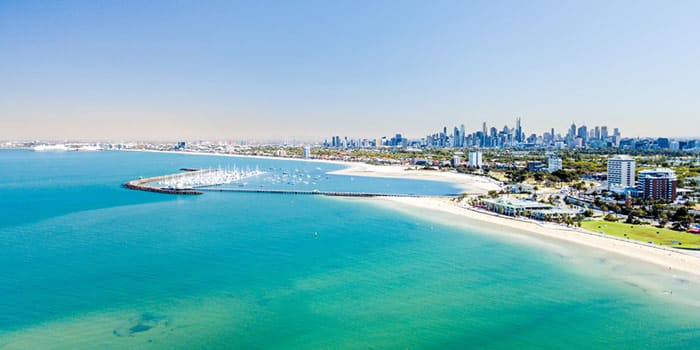 St Kilda
Pros
Perfect for warm-weather visits
Backpacker crowd
It has a beach
Cons
Summer can be packed
Sometimes a rowdy atmosphere
The cool brother of the straight-up CBD is St Kilda. Once a multicultural hub for Eastern European, Jewish, and immigrant settlers, it soon realized the potential of that long, gold-tinged beachfront. These days, it's transformed into Melbourne's answer to Sydney's Bondi Beach, with countless party hostels and backpacker bars fringing the promenade. We recommend it as the place to be during the Australian summer, mainly because you're never too far from the cooling Indian Ocean in this corner of town.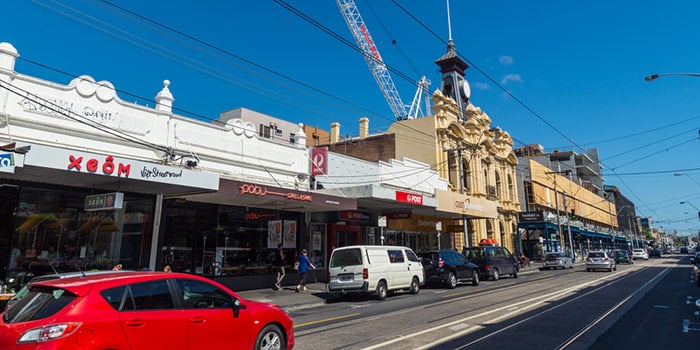 Collingwood
Pros
Great nightlife scene
Excellent multicultural dining
Nice in the summertime
Once a gritty area of industrial workers, Collingwood is now reaping the benefits of the new, cool Melbourne. Everything takes the lead of Smith Street. It's a chic and sleek area for nightlife and dining – all speakeasy style cocktail bars and gastropubs with refined fare. Live music abounds. Summer afternoons are great in the beer gardens. The creative pizza places are second to none and the kebabs are famed all over Australia. It's perfect for seeking out Airbnbs in the middle of a buzzy party quarter.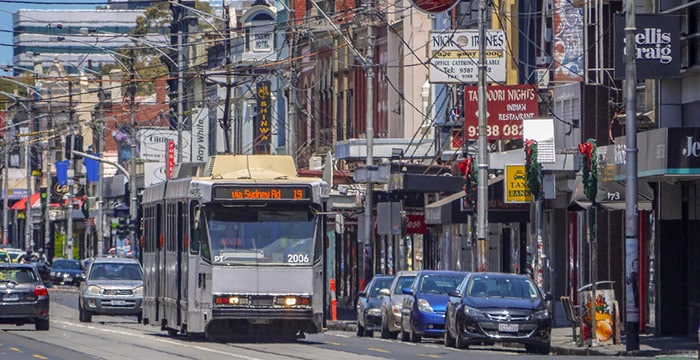 Brunswick
Pros
Very vibrant after dark
Nice parks
Charming cottages line the eastern streets
Cons
Loud if you stay near Sydney Road
Not too close to the CBD
Brunswick is yet another lively nightlife area (this is Melbourne, remember?), only this one beats to a more bohemian vibe. Its western end is dotted with little urban parks. Its eastern side is more lived in, coming threaded with stoop cottages that have flower-strewn porches. The real place to be is Sydney Road. That's a whole 1.5 miles of pure fun – cocktail joints, rollicking sports pubs, and more live music than you can shake your cricket bat at!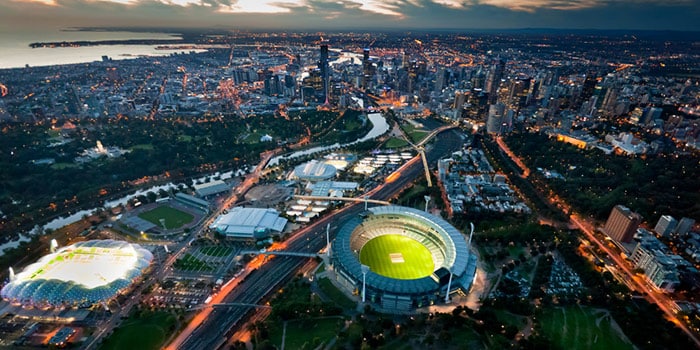 Richmond
Pros
Great for seeing the AFL
Fun bars
Upcoming area
Cons
It can be a bit too gritty for some
Packed to bursting if there's a game on
Sports buffs on the hunt for some raucous AFL showdowns might want to put the inner-city suburb of Richmond right up there at the top of their list. When the local team takes to the turf of the Melbourne Cricket Ground, this part of the Victorian capital goes wild! But it's not just about the footie. You can also come to explore an area that was once workaday and gritty. Riddled with old industrial complexes, it's slowly being revitalized with gastropubs and bars, especially along Swan Street.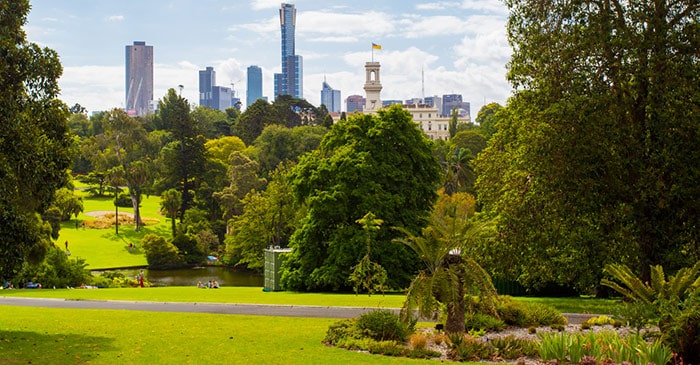 South Yarra
Pros
The shopping
Good places to eat while you shop
Real close to the CBD
Cons
Can be quite busy
It's not cheap
Green and leafy South Yarra starts in grand style at the Royal Botanic Gardens Victoria before stretching along the meanders of the Yarra River. It's known for its lovely urban parks and broad avenues, but also because it's a veritable shopping haven. The retail therapy goes on down Chapel Street. Everything from classy wine cellars to second-hand vintage stores threads that bustling boulevard, while the nearby blocks have lots of al fresco beer gardens and gastropubs.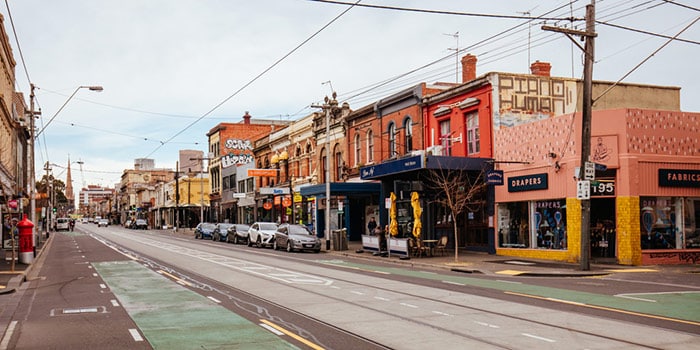 Fitzroy
Pros
Fitzroy is uber cool
Quirky places to dine and drink
Great street art
Cons
Some say it's pretentious
Getting more expensive every year
It doesn't get much more hipster than Fitzroy. Wedged between Carlton and Collingwood, this rectangular slab of central Melbourne is riddled with street art and artisanal coffee houses from the sidewalks up. Veggie joints and American-style food trucks are everywhere. Al fresco beer halls strewn with cabbage palms and gushing with local microbrews abound. Lively on the weekends and oozing a youthful energy, you can't go wrong here if you're on the hunt for nightlife and eclectic dining.
Best Airbnbs in Melbourne
Best Airbnb apartment in Melbourne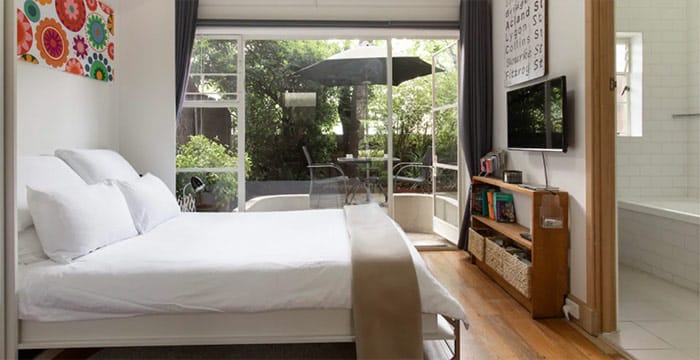 Fantastic Fitzroy Garden Apartment
This lovely apartment gets you into the vibrant area of Fitzroy, where hipster breweries and roastery cafés are plentiful. It also offers a rare bout of garden space in the midst of the city, with a bedroom that opens straight onto a private terrace where you can sit and sip your morning brew to the sound of the town waking up. It's got a coveted Airbnb Plus rating, so expect to pay a tad more to stay here. Worth it though!
Best Airbnb house in Melbourne

Charming Classic Old World Cottage with Garden Patio
There's something undeniably charming about this timber-built cottage in the blocks to the south of the CBD. Painted white and with a creaky porch that leads to a cozy living area and three separate sleeping quarters, it traces its style to the Edwardian period. Location wise, you'll be close to the main boulevards, malls, and fashion shops of loveable South Yarra. It's a great spot for families and friends alike.
Best Airbnb for families in Melbourne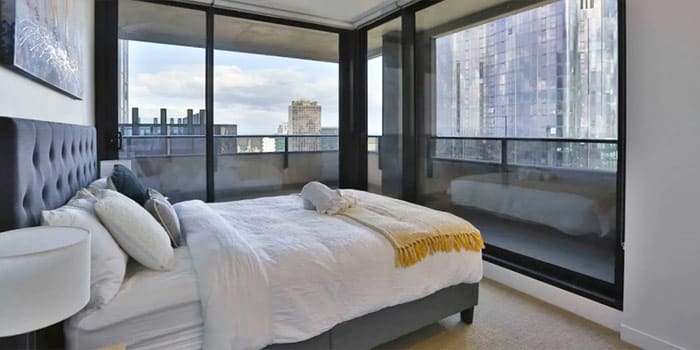 Beating heart CBD Melbourne apartment 3B2B * 51A
Clean, stylish, and contemporary through and through, this seven-person flat has three individual bedrooms and a modern lounge area with a flat-screen TV and WiFi. It ticks all the boxes for traveling families on the convenience front, and also manages a location in the heart of the city. You should find it a cinch to plan museum outings or shopping trips from here.
Best Airbnb for large groups in Melbourne

CBD Designer skyhigh 3B2B Apartment
Up to 14 guests can stay at this soaring apartment in the Melbourne CBD. High in a skyscraper close to the bustling Southern Cross Station, it offers a pad right on the edge of the town's most central of neighborhoods. You can explore them if you can pull yourself away from the luxury that's inside. We're talking floor-to-ceiling windows, a modern kitchen with a breakfast bar, and a terrace that's got some of the best panoramas around!
Best Airbnb for budget stays in Melbourne

6-person Dorm With en-suite in a Quirky Building
A mere 600 meters back from the sands of St Kilda beach, amid the town's most popular backpacker area, this six-bed dorm promises to be easy on the travel budget but generous with the fun. It's in Nomad St Kilda, a hostel that comes highly rated for its social atmosphere – regular pub crawls and BBQ nights are on the calendar – and amenities – there's even an onsite cinema screen!
Is Airbnb cheaper than hotels in Melbourne?
Some Airbnbs in Melbourne will be cheaper than hotels. Some will be more expensive. However, we often find that short-term apartment and house lets take less of a toll on the travel budget than classic hotel stays. That's probably because they don't come with the same high level of service (more on that below). But it's also because you can divide up the cost of an Airbnb with all the other people you'll be staying with. And it's because most will have self-catering facilities, which means saving on breakfasts, lunches, and dinners out.

The downside of an Airbnb in Melbourne is that you don't have the same sort of pampering that a hotel is all about. Somewhere like the award-winning Batman's Hill on Collins is better if you want to be looked after from the moment you check in. It's got contemporary suites with marble-dressed bathrooms and a lovely breakfast area inspired by the jazzy 1930s.
There are loads of reasons why you should have Melbourne towards the top of your Aussie bucket list. First off, it's the coolest city in Oz (sorry, Sydney), with microbreweries and boho music venues galore. Second, it's a vibrant culture hub with some of Victoria's top museums. Third, it's a gateway to the wild coast and world-class surf beaches of southern Australia. This guide can help you score the accommodation that's right for you.
How useful was this post?
Click on a star to rate it!
Average rating / 5. Vote count: