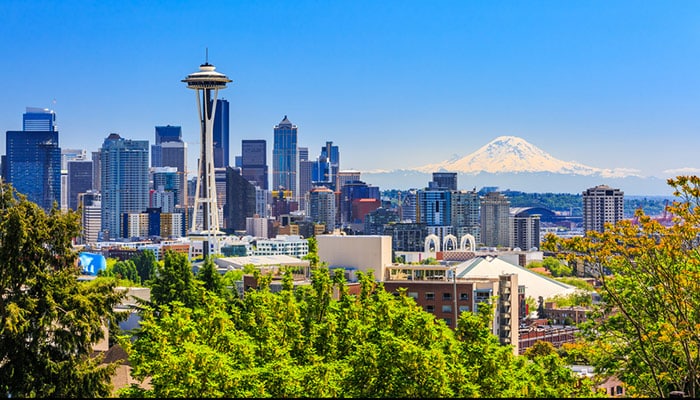 Seattle spreads under the gaze of the Washington Cascades before the icy blue waters of the Puget Sound. It's a city at the mercy of the elements, with storm clouds and rains rushing over from the Pacific Ocean every month of the year. But it's also a steadfast metropolis that oozes energy and culture despite the weather. You'll see the Space Needle spiking overhead and the bustle of Pike Place Market carrying on. You'll be able to trace the story of grunge ground breakers Nirvana and global megacompanies like Amazon. There are enthralling urban hipster districts and big museums to boot, while the raw nature of snow-capped Mount Rainier and the lush Olympic National Park are just on the doorstep.
If all that's fired up the wanderlust and you're already planning a trip to the Pacific Northwest's biggest town, be sure to check out this guide. It runs through all the ins and outs of booking an Airbnb in Seattle, details the best neighborhoods for visitors to the city, and even offers tips on individual rentals that we think stand out from the crowd.
In this Airbnb guide to Seattle: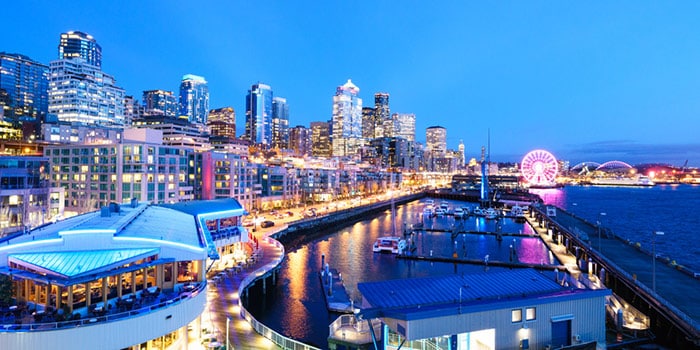 Is Airbnb legal in Seattle?
Airbnb is legal in Seattle. However, restrictions on new Airbnbs have been tightened in recent years. These days, hosts are only allowed to rent out a maximum of two properties each, and everyone needs to apply for a special permit. Thankfully, these rules apply to owners, not travelers. You're still free to scroll through all the condos in cool Belltown and the historic Scandi cottages of Ballard. It should also be easy to check if hosts have got all the proper registrations – you can either send them a direct message or look for the registration number on the online listing.
Where should I stay in Seattle Airbnb?
Pike Place Market & Belltown (1) are the epicentre of Seattle. They combine to give trendy nightlife spaces and huge entertainment complexes, making them a doozy of a choice if you've not been to this part of the US before. A touch to the south is historic Pioneer Square (2), an older corner of downtown with historic plazas and redbrick architecture. To the north, Queen Anne (3) is the charmer of the city's neighborhood scene, offering leafy streets and views across to the Space Needle. Next up is Capitol Hill (4), a bouncing nightlife area with boho character. Then you've got Fremont (5), the home of Google's main Seattle offices and a place with some serious quirk to it. Finally, Ballard (6) takes you to the edge of the Puget Sound, to a district with edgy bars that's been heavily influenced by Scandinavian culture over the decades.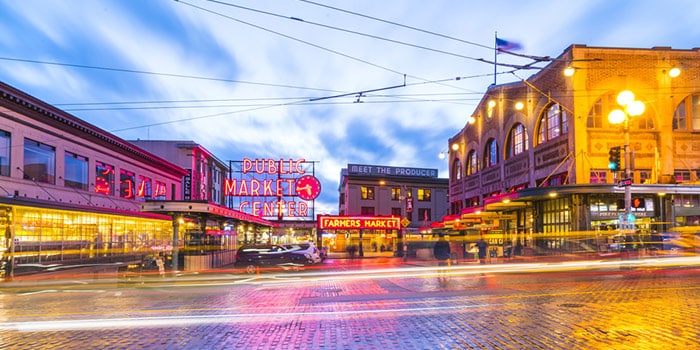 Pike Place Market & Belltown
Pros
Really lively areas
Great shopping – mainly thanks to Pike Place Market!
The nightlife
Cons
Very busy
Expensive and short on Airbnbs
The very core of Seattle is shared between Pike Place Market – a sprawling food hall that's the gastronomic heart of the city – and the area of Belltown – a bustling, happening set of blocks that sprouts big condo buildings and endless entertainments. This is the natural place to consider if you want to be in the thick of the action. The shopping is second to none. The nightlife is wild, especially if you manage to get onto one of the bar hops that go down in Belltown on a weekend! Just be ready to pay more and put up with some crowds.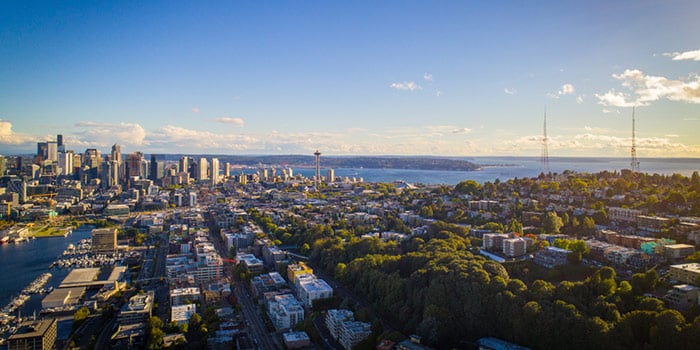 Queen Anne
Pros
Very pretty residential parts
Home to the iconic Space Needle
Cultural pursuits
Cons
It's a huge area that varies in character
Can be pricy
There are really two sides to Queen Anne. The first is the laid-back residential part that creeps up the hillsides to the north. That's what gave the area its moniker, on account of the gorgeous Queen Anne-style homes and their leafy lawn frontages. The second part of the district edges into downtown. You'll know you're there because the mighty Space Needle shoots up to the clouds and you get prestigious institutions like the Pacific Science Center and the Seattle Opera.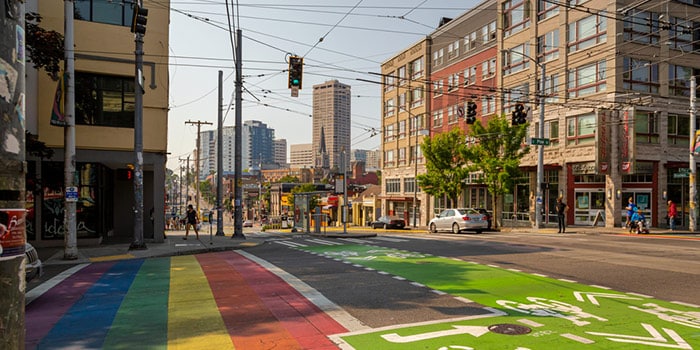 Capitol Hill
Pros
A lovely all-round neighborhood
LGBTQ scene
Eclectic sights
Cons
There isn't many Airbnbs
Large area that's not really walkable
Capitol Hill is unquestionably one of the most welcoming neighborhoods in all of Seattle. It reigns as the city's LGBTQ+ hub and has a diverse range of attractions, from Asian art museums to the grave site of martial arts hero Bruce Lee. Popular spots are Broadway E, 15th Avenue, and Pine Street. Stay close to those and you'll have Mexicana taquerias, West Coast oyster bars, and arty coffee houses right on the doorstep. Generally speaking, it's an all-round lovely place to be based, no matter what sort of traveler you are!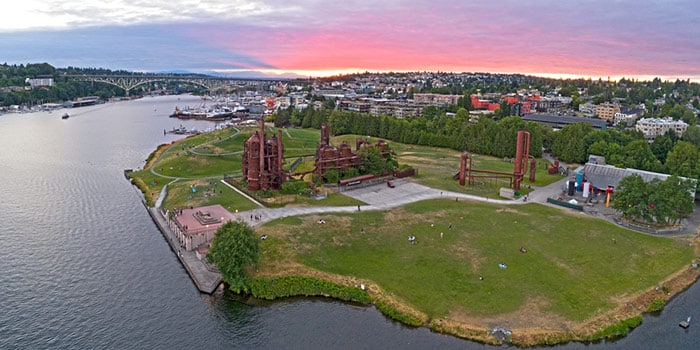 Fremont
Pros
Creative spirit
Big area for business
Unique street art and parks
Cons
Quite far from Pike Place Market
A little cliquey for some
There are lots of reasons why Fremont can justify its self-proclaimed title of the 'Center of the Universe'. Mainly, though, this important part of Seattle is where you get the big names of Google and other multi-million-dollar companies. They might not be of much interest to the traveler, but the vibrant mix of quirky parks (check out Gas Works Park on the lakeside), off-beat boutiques, and bohemian drinkeries (look to 36th Street for those) that's grown up in the surrounding area most certainly is!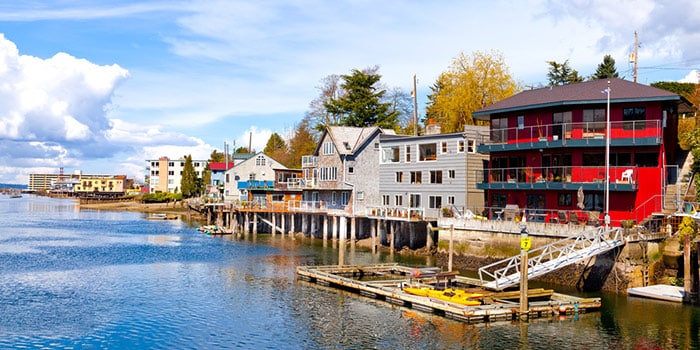 Ballard
Pros
Quaint Scandinavian-style buildings on the water
Ballard Avenue is pumping these days
An excellent farmer's market
Cons
A little far out from the center
Getting pricier every year
You could be forgiven for thinking that you'd been whisked across the Atlantic to the historic coast towns of Scandinavia when you set foot in Ballard. Yep, the waterside parts of this upcoming area look more like a Norwegian fishing village than a Pacific Northwest metropolis, with timber-painted frontages and rickety jetties poking out this way and that. You can put your finger on the pulse of the new energy down Ballard Avenue. It's brimming with artisan pizza makers and Mexican kitchens, but also has a fantastic farmer's market.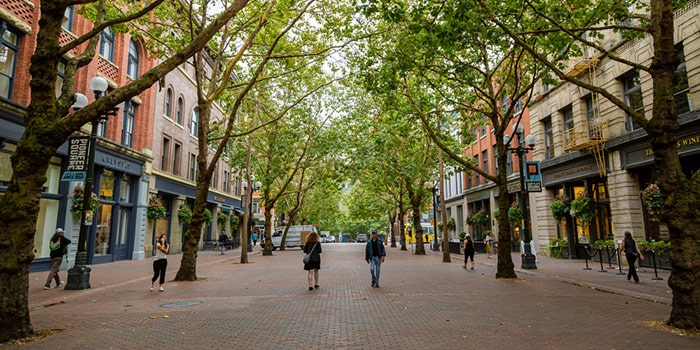 Pioneer Square
Pros
Historic area
Nice café scene
Photogenic squares
Cons
A bit calm for some people
It's small, so Airbnb choices are limited
Pioneer Square is a small enclave of the Seattle downtown core that's a joy for first-time visitors to explore. It can trace its roots all the way back to the 1850s, when it was chosen as the site for a lumber mill by city founder Henry Yesler. Fast forward to today and you can delve into a patchwork of weathered streets flanked by handsome redbrick buildings dating to the 19th century. Proud skyscrapers like the Smith Tower keep watch to the north, while venerable tearooms and coffee stops dot the sidewalks below.
Best Airbnbs in Seattle
Best Airbnb apartment in Seattle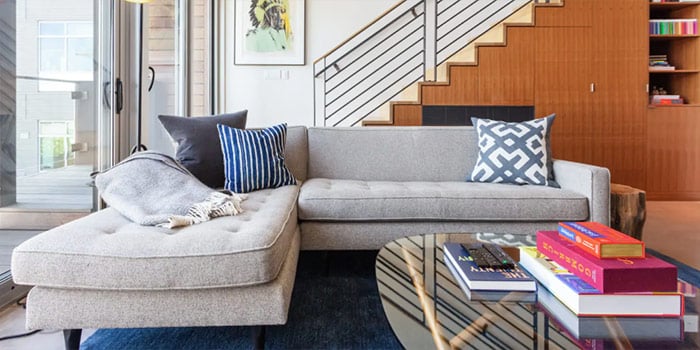 Art-Filled Industrial Loft in South Lake Union
Enfolded in the lovely streets between Queen Anne and busy Belltown, this loft apartment is a serious contender for the best Airbnb in all of Seattle if you ask us. It sports a chic, understated interior that draws on simple Scandi design – think low-rise sofas, reflective coffee tables, and pine-dashed walls. We especially love the open glass frontage, which brings in oodles of light from morning until night.
Best Airbnb house in Seattle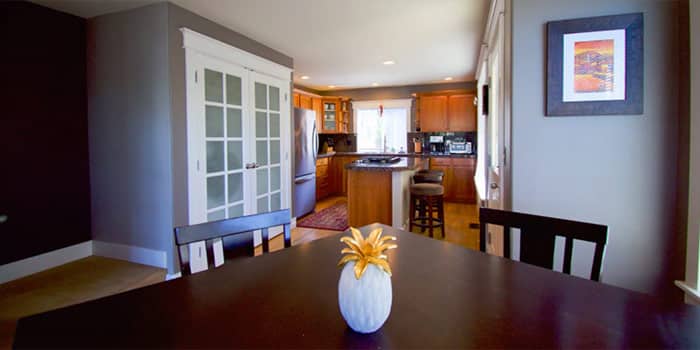 Comfort and Grace Perched on Queen Anne Hill
You can score a pad on the heights of prestigious Queen Anne hill by opting for this complete home rental on Airbnb. A true West Coast abode, it spreads over several storeys behind a timber-clad façade. Within, you get a flowing kitchen-diner space with its own breakfast island, along with a master suite that boasts a balcony with views over Lake Union.
Best Airbnb for families in Seattle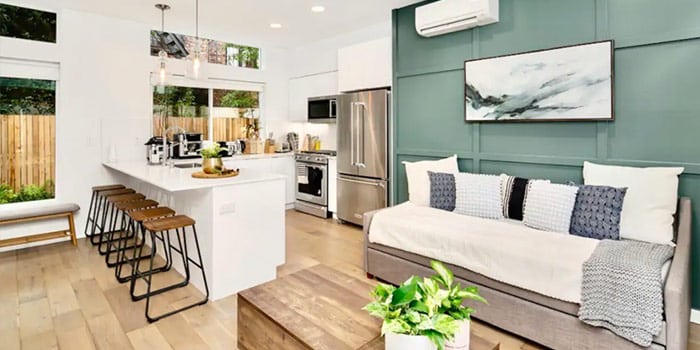 In the heart of Capitol Hill | Quiet & Peaceful
The sleek simplicity of this compact family home in the very middle of the welcoming Capitol Hill neighborhood makes it a fantastic choice for groups of up to six guests. Highlights include the walk-in rain shower and the retro-styled kitchen, which includes a huge breakfast bar that's perfect for planning your sightseeing for the rest of the day.
Best Airbnb for large groups in Seattle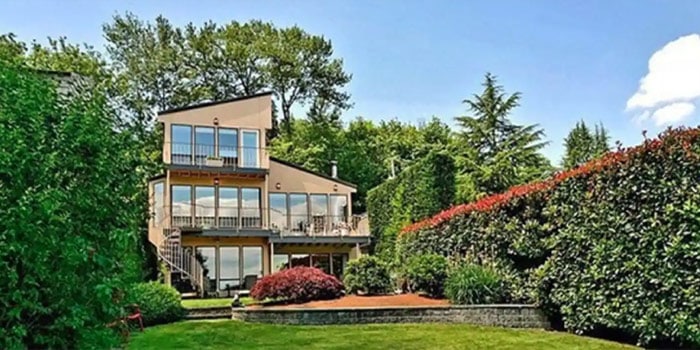 10 beds on Waterfront of Downtown
Treat your travel group to something a little fancy by picking this colossal mansion house on the edge of the Seattle waterfront. The views arguably take center stage – they encompass the sloshing waters of Lake Washington on the eastern edge of the city. Then you delve inside, where there's a UFO-like log burner from the 60s and a deluxe kitchen space. Oh, and have we mentioned that there's a bubbling hot tub in the garden?
Best Airbnb for romantic stays in Seattle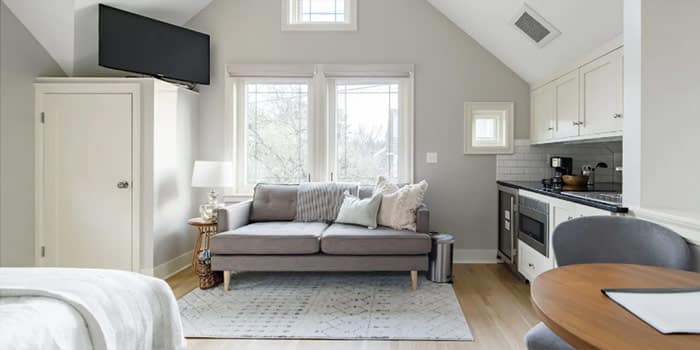 New Build Montlake Studio near University of Washington
This Plus-rated Airbnb is big enough for just the two of you. It sits close to the waterside in the well-to-do suburb of Montlake. There, you get a compact lounge and a mini kitchenette, along with an open-plan bedroom space that's illuminated by countless skylights in the eves.
Is Airbnb cheaper than hotels in Seattle?
It's not unusual to find that Airbnbs in Seattle are cheaper than traditional hotels. That's not just down to nightly rates. These short-term lettings can help cut the cost of a trip to the Pacific Northwest by giving multiple bedrooms, which means you can share the price of a stay between more travelers. A lot of them are also self-catering, reducing the outgoings you'll have in the Seattle bars and restaurants. In addition, you can find some pretty enticing reductions on longer-term Airbnb stays, sometimes to the tune of 50% off per week!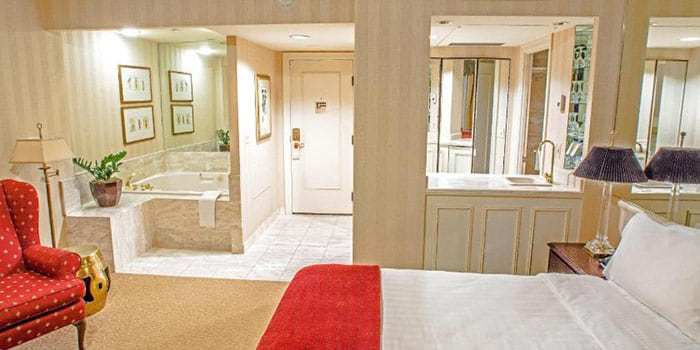 On the other hand, you are going to be sacrificing the high level of service that's associated with a hotel. For room service, in-house concierges, room cleaning, and the like, you'll need to consider somewhere like the Mayflower Park Hotel. It's got four stars, an enviable location in the Seattle CBD, and grand suites that fuse the modern and the Victorian styles.
Come to wonder at the soaring Space Needle and shop your way through Pike Place Market, delve into rollicking grunge bars and see the snow-capped tops of the Washington Cascades, all with help from this guide to Airbnbs in Seattle.
How useful was this post?
Click on a star to rate it!
Average rating / 5. Vote count: