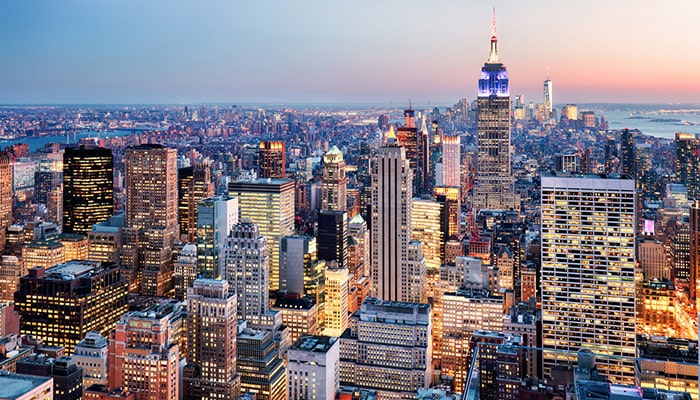 Ah, New York. This land of bright lights and Broadway, of bagels and beeping taxis, has long inspired travelers to city breaks in the USA. Whether you come for a quick bout of shopping down 5th Avenue or a longer sojourn to explore the crevices of Midtown Manhattan and the beaches of Long Island, you're sure to be wowed by the sheer scale and audacity of it all. Yep, this is where soaring skyscrapers mingle with gritty districts, where the Hudson Valley gives way to the gleaming green Statue of Liberty. Bucket-list sights are everywhere, and so are uplifting moments whizzing on the ice rinks of Central Park or gazing at the priceless works of MoMa. You'll love it.
If all that's stoked the wanderlust for a Big Apple outing this year, be sure to check out the offering over on Airbnb. The metropolis is home to a whopping number of individual apartments and home rentals, which range from jet-setter pads amid the skyscrapers of Midtown to cosy homes on the leafy outskirts. This guide has all the info you need to get started…
In this Airbnb guide to New York: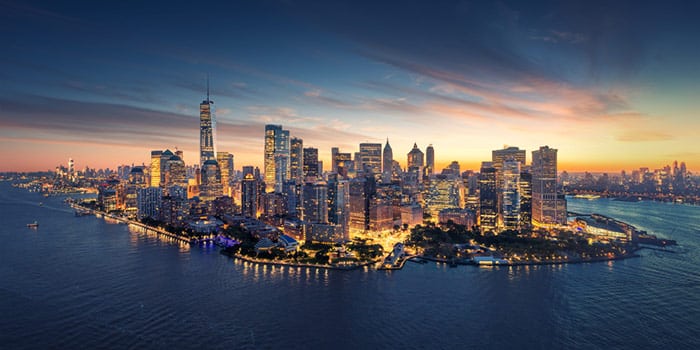 Is Airbnb legal in New York?
Although Airbnbs pepper all corners of NYC, there are actually some pretty strict laws governing short-term rentals in the Big Apple. Technically speaking, it's illegal to rent out any property that's in a multi-unit building for less than 30 days at a time. What's more, local authorities have been getting tougher on hosts in recent years, and there's been a noticeable drop in the number of places available via the platform. As a traveler, you might want to double-check that everything's above board before you book. You can do that using the 'contact host' feature. Alternatively, consider choosing long-term stays (which often bring hefty discounts with them) or go for a private room that's already part of an established hotel. 
Where should I stay in New York Airbnb?
New York is one of the largest cities in the USA. Its heart is Midtown (1) Manhattan, where skyscrapers loom high and Times Square flashes with lights. Close to that come the subculture hub of Greenwich Village (2), the trendy retail and dining mecca of Chelsea (3), and the cultural mainstay of Tribeca (4). Across the East River in more lived-in Brooklyn is where you can find the upcoming hipster hoods of Greenpoint (5) and Williamsburg (6). To the north is the more intrepid Bronx (7), where tenements drop down to the pizza joints of Little Italy. For something totally different, you could also ride the ferries out to Staten Island (8) – a rare haven of green and relaxation in the confines of the Big Apple.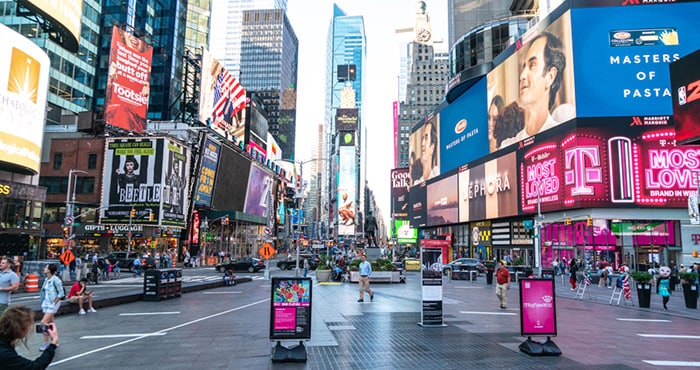 Midtown
Pros
NYC's most iconic attractions
World-class shopping on 5th Avenue
Home to MoMa – arguably the city's best art gallery
Cons
Always, super, super busy
It's a pricy place to be
Anchored on the legendary spire of the Empire State Building, Midtown is the Manhattan you've seen on the postcards. It's shiny and steel-clad, covered in a forest of skyscrapers that pierce the clouds. Top-draw attractions like the Rockefeller Center (fantastic for an ice skate at Christmas) and the neon haze of Times Square (the place to be on New Year's Eve) all reside within, along with the major transport hub of Grand Central Station and the shopping mecca of 5th Avenue. You certainly won't get bored.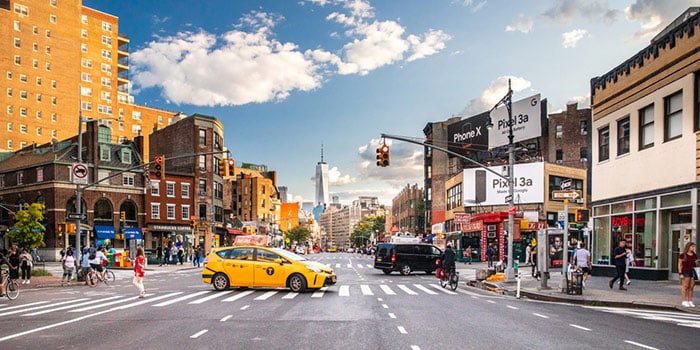 Greenwich Village
Pros
Literary history
Café culture
Great LGBTQ scene
Cons
Very gentrified
Quite expensive
There was a time when Greenwich Village was the hipster hub of New York. It bred the beatnik movement of the 50s and the 60s, and saw poets and painters flock to its charming brownstone townhouses and smoky cafes. These days, there's a distinct note of gentrification in the air, with modish clothes outlets and creative restaurants that serve fusion food in abundance. There's still a taste of the old subculture to be had between the side streets, though, where jazz bars swing with music and underground pubs host slam poetry contests after dark.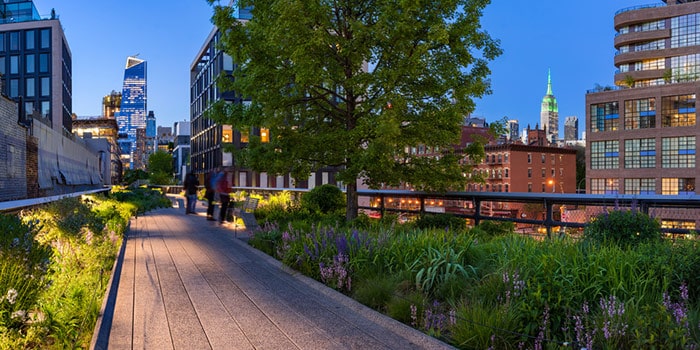 Chelsea
Pros
Classic New York feel
The High Line park is wonderful
Home to the Meatpacking District – for luxe shopping and eating
Cons
Gets very touristy
Isn't cheap
The curiously named Meatpacking District sums up the draws of the Chelsea neighbourhood. Formerly full of abattoirs, it's now the stomping ground of independent ateliers and cool roaster cafés, all linked by the High Line (an old train track turned urban garden). Chelsea also sports New York's characteristic redbrick architecture, which you'll see on full display at the Chelsea Market – a place to shop for organic food sourced from Upstate and the Hudson Valley.