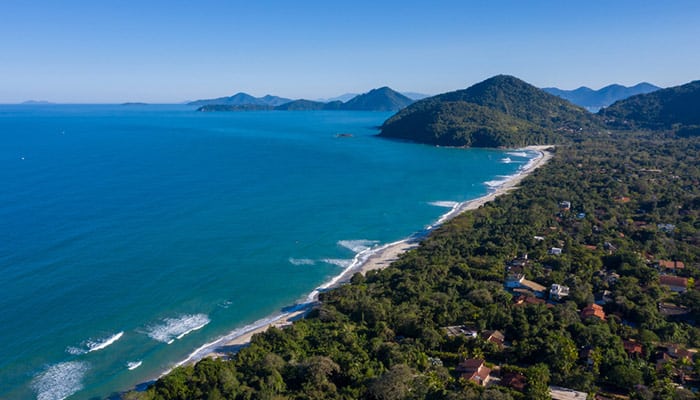 The Ubatuba coast is a higgledy-piggledy run of some of Brazil's most fantabulous beaches. From Praia do Puruba in the north to Praia Da Lagoinha in the south, the whole area is a masterclass in what tropical sands should look like – a touch of white, a dash of gold, plenty of palm trees, and Atlantic waters than shimmer a mossy blue. Couple that with balmy year-round temperatures and chic ocean-side mansions, then it's hardly a surprise that the area is a favorite escape for São Paulo city slickers when the temperatures get high. Pro surfers and pro sunbathers alike choose to whiz the 2.5 hours down the highway to crank up the chill factor between the lush rainforests and the sea. You should join them. It's pretty awesome.
There are also some awesome Airbnbs up for grabs in the area. They include salt-washed surf shacks built from bamboo and handsome posada stays in the jungle, along with modern condos with swimming pools and sunning terraces. This guide can help you decide on where to book yours, and offers some tips on the hottest properties currently on the menu in Ubatuba. Let's go…
In this Airbnb guide to Ubatuba: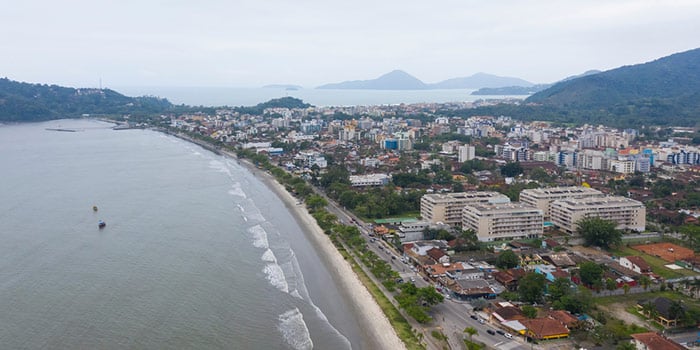 Is Airbnb legal in Ubatuba?
Yep, Airbnb is alive and kicking Brazil. In fact, it's fast becoming one of the most popular accommodation platforms in the country, used by both international and domestic travelers alike. The right to sub-let homes here is actually guaranteed in federal law. Of course, that could change in the future, but, for now, you can click over and start searching through all those enticing coastal pads by the glinting beaches of Ubatuba to your heart's content. One thing to note: You might be asked to pay a small city tax on top of the price of your stay. It's nothing big and is usually collected in cash at the time of arrival.
Where should I stay in Ubatuba Airbnb?
The Itagua (1) district is probably the most popular for visitors to Ubatuba's town center. It doesn't have the swimming (it's used by fishermen) but does have wild nightlife and loads of gastronomy. To dive into the ocean, you might want to venture out to Praia Vermelha (2) or choose lovely Praia do Tenrio (3) – both relaxed bays to the west. There tends to be some more affordable accommodation in Praia do Pereque Acu (4) up north, but it's not the prettiest part of Ubatuba by any stretch. In the height of the summer months, there's hardly anywhere livelier than Praia Grande (5), where endless cocktail joints but up to sculpted Atlantic surf breaks. Finally, Itamambuca (6) is a more secluded beachfront to the north of the town that has wild jungles, waterfalls, and pirate caves to explore.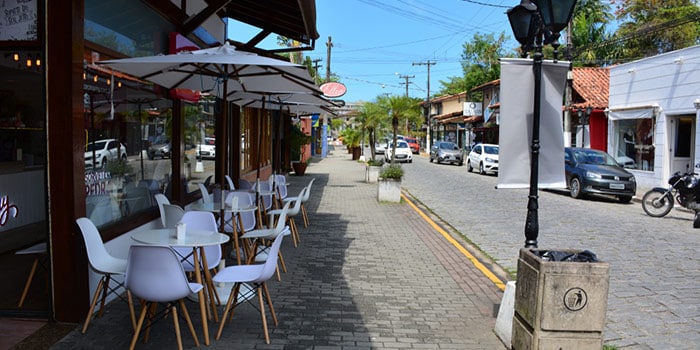 Itagua
Pros
Plenty of family attractions
Great dining
Nightlife
Cons
Water isn't the best for swimming
Great dining It's not the best beach in the area by a long stretch!
Forget Centro, Itagua is the real heart of Ubatuba town. Anchored on a buzzy promenade, it curves north along the edge of the city in a string of vibrant bars and restaurants, ice-cream vendors and cafés. From the early hours when the breakfast crowd come to the nocturnal nightlife scene, there's always something happening here. The seafood is particularly famous on account of the local fishing fleet that come in and out of Itagua. Get your fill of that and then move onto the cycle paths up the promenade, the acclaimed Ubatuba Aquarium, or the scenic Comodoro Magalhães Pier.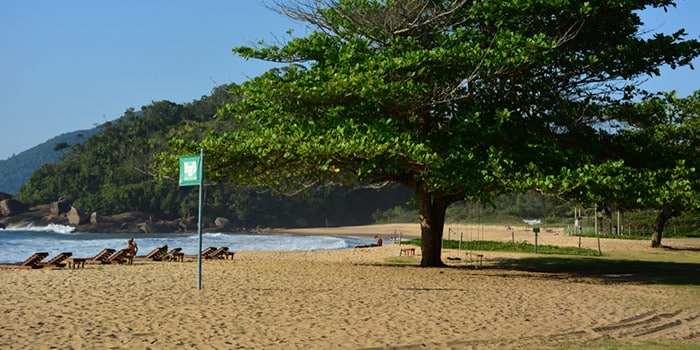 Praia Vermelha
Pros
Accessible beach
Rarely really busy
Decent waves for surfers
Cons
Does get crowds because it's walkable to Ubatuba town
The roads in are winding
Close to the city center yet still secluded and secret, Praia Vermelha (Red Beach) is named for the slight rust tint in its sand. It's a gorgeous bay that spreads between two rocky headlands, giving way to pockets of mango trees that conceal laid-back beach shacks – well stocked with cold coconuts, of course. The water is wavy but usually glowing blue. There are some decent waves for the surfers here, though the whole place is often way less busy than the sands nearer to town. Airbnbs are quiet little posada homes in the forests just behind.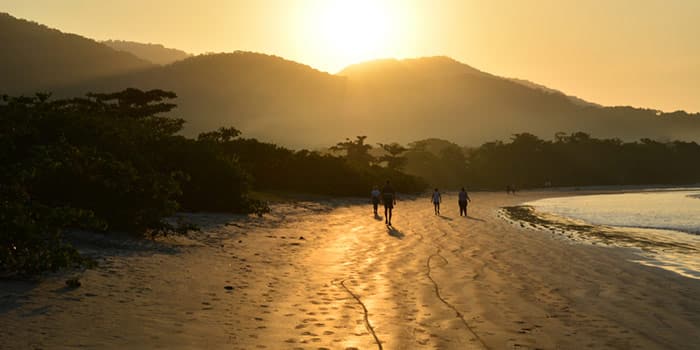 Praia do Pereque Acu
Pros
More room on the beach to deal with crowds
Good surf
Affordability
Cons
The area is a little run down
There are better beaches in Ubatuba
Praia do Pereque Acu takes you north of Ubatuba's Centro and into a protected bay that faces due south across the town. It's not the prettiest part of the resort by any stretch – the streets behind are dotted with concrete-built homes and there's a little urban sprawl. That's why you'll want to focus on the Airbnbs that are closer to the shoreline. They often open onto great surf breaks, and sit just steps from a horseshoe bay that has extra square meterage to absorb the high-season crowds. The other great thing about Praia do Pereque Acu? It's one of the more affordable corners of the city.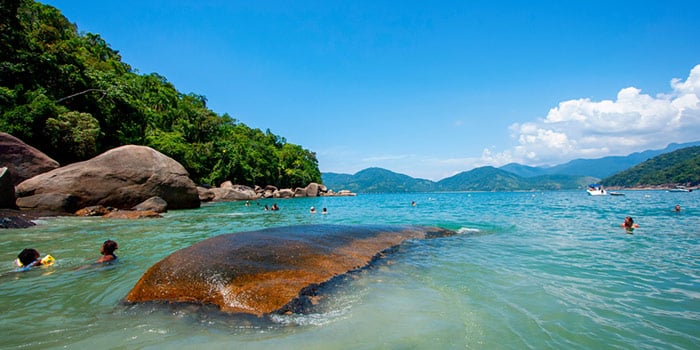 Praia do Tenrio
Pros
Pristine sands
Deluxe Airbnbs with pools
Good for swimming – it's protected from the swells to the west
Cons
Can be pricy
Gets super busy in the summer months (November-March)
The paradise bay of Praia do Tenrio is just south of Praia Vermelha. It's got all the ingredients you'd expect of one of Ubatuba's top beaches: High coast mountains clad in jungle crashing into a sky-blue Atlantic, and powdery sands washed by light waves. Tenrio is usually great for swimming on account of the protection that comes with the western headland. The east end of the bay will sometimes have good surf, but it's mainly about chilling in these parts, which is why the accommodation of choice is a deluxe coastal mansion with a swimming pool just a few steps from the shore. See if you can score one of those!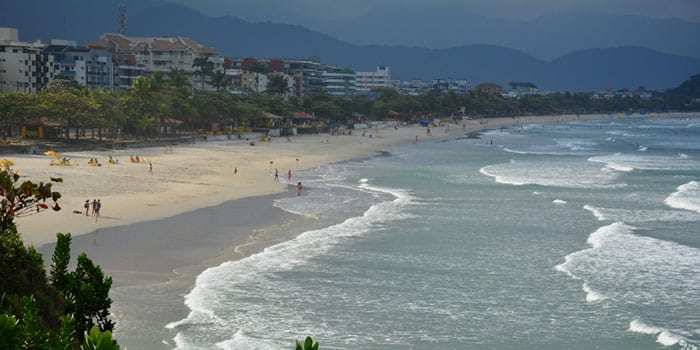 Praia Grande
Pros
Very energetic
Great beach bars
Epic surf
Cons
Really busy in the high season
There's high demand for Airbnbs – be sure to book early!
Praia Grande is like Ubatuba's answer to Copacabana beach down in Rio. A hubbub of life throughout the whole of the summer season, it actually stays pretty busy into the winter, too. The whole stretch – which is a whopping 2.2 miles from end to end – is backed by cocktail bars and clubs aplenty. The beach itself is filled with rows of sunbeds and alive with volleyball players and swimmers. Thanks to the westerly exposure, Praia Grande is also one of the top surf spots in the area – it's even hosted national competitions in the sport. The south end of the bay is known as Toninhas Beach and is generally much quieter and has more boutique-style accommodations.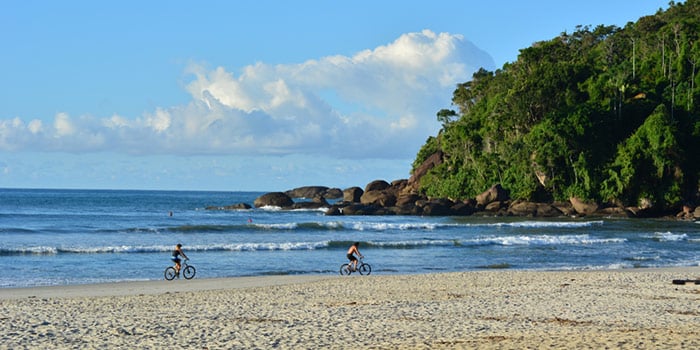 Itamambuca Beach
Pros
Good outdoors adventures
Surf schools
Surrounded by nature
Cons
A little harder to get to than the beaches near Ubatuba's center
Not an overload of Airbnbs
Shh! Itamambuca Beach is one Ubatuba's best-kept secrets. It lies north of the resort proper, behind two rugged ridges in the Serra do Mar mountains. There, it runs for about 1.2 miles across a wave-bashed section of the coast. There's the usual mix of surf schools and watersports outfitters on the southwestern end of the bay. Heading away from those sees the sand widen and the crowds thin out. Alternatively, you can launch some fun adventures from Itamambuca. For example, the winding Rio Itamambuca can take you up a lush valley to waterfalls and ancient caves where pirates are once thought to have hidden their treasure.
Best Airbnbs in Ubatuba
Best Airbnb apartment in Ubatuba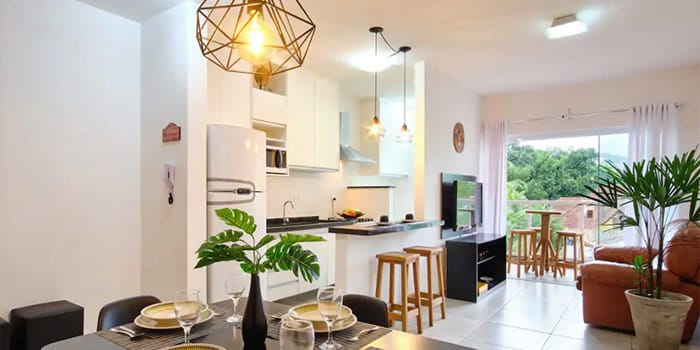 Bh5: Piscina, Varanda
A sleek and modern apartment that was totally refurbished in 2020, the BH5 suite is a fine option for those looking to be based in the heart of Ubatuba itself. It's got a flowing, open-plan interior that merges a breakfast bar with a lounge. The highlight, however, has to be the shared pool in the central courtyard.
Best Airbnb house in Ubatuba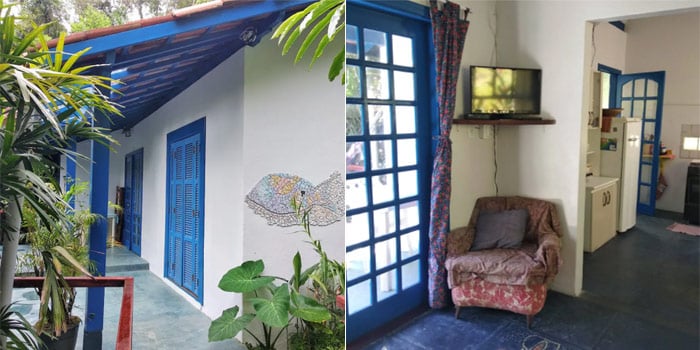 Caiçara Style House at Vermelhinha Beach
This charming little Brazilian coast cottage is precisely the sort of tropical-chill accommodation you can expect to find around the palm-dotted bay of Vermelhinha Beach. You'll navigate pockets of orchids and bird-filled trees to get to the house itself, which has a small double bedroom, a bijou kitchen, and a lovely veranda overlooking the shoreline woods.
Best Airbnb for families in Ubatuba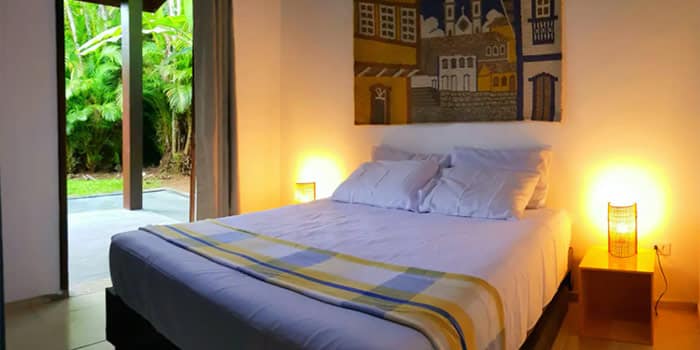 Casa Tropical no Itaguá
There's something different on offer from this traditional Brazilian home, located just a little north of the fun-filled area of Itagua in the heart of the resort. Its lush tropical gardens and hammock-strung porches set it apart from the usual condo building, while the interiors are infused with a dash of that Latin pizzazz – they're colorful and furnished with local pieces.
Best Airbnb for large groups in Ubatuba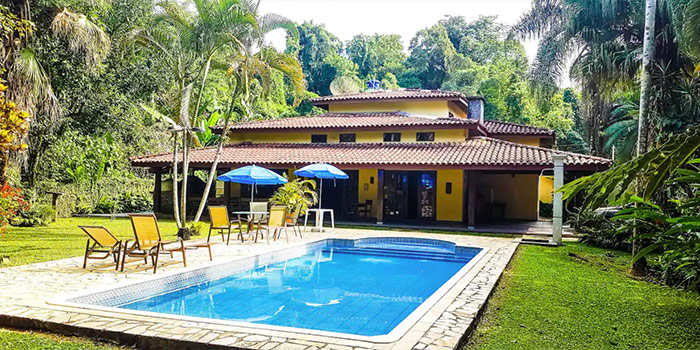 Relaxante, Piscina, Coqueiros
A mere 100 meters from the beachfront of lovely Itamambuca, this stunning house has plenty of space across its six bedrooms. In fact, it can host parties of up to 16 people at any time. There are outdoor BBQ grills and bread ovens, a huge garden, and a big private pool to ensure it's a luxury stay. One warning: It fills up fast in the summer, so book as early as you can!
Best Airbnb for quirky stays in Ubatuba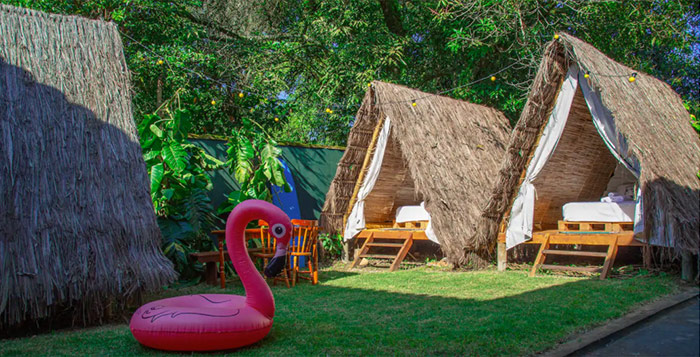 Cabana • Tipi II
Chasing real immersion in nature? You could hardly do better than this palm-thatched tipi. It's a quirky glamping option just back from Ubatuba Bay. It won't break the bank and there will be just a curtain of canvas between you and the lush coast sierras and sands. Just be sure to pack the mozzie spray!
Is Airbnb cheaper than hotels in Ubatuba?
There's a good chance that you'll find something to get excited about on the price front when it comes to Airbnbs in Ubatuba. These sorts of stays are often way better bang for buck than traditional hotels, especially in the summer season, when the major resorts fill to bursting with wave seekers from São Paulo. Of course, you can still spend lots on the most luxurious Airbnb rentals, but there's also potential to cut costs by going for self-catering accommodation or larger pads that let you share the price between more people.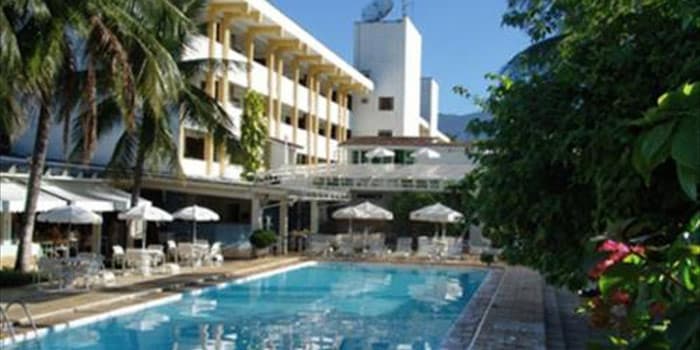 It's not all about the money though, right? Picking an Airbnb can mean ditching some luxuries, like on-site pools or on-demand room service. To get those, consider booking somewhere like the Ubatuba Palace Hotel instead. It's a highly rated place with four stars and a great location in the beating heart of the resort.
Paradise beaches abound in the surf-washed lands of Ubatuba, a mere 2.5 hours' driving from the urban energy of the Brazil's most populous city, São Paulo.
How useful was this post?
Click on a star to rate it!
Average rating / 5. Vote count: