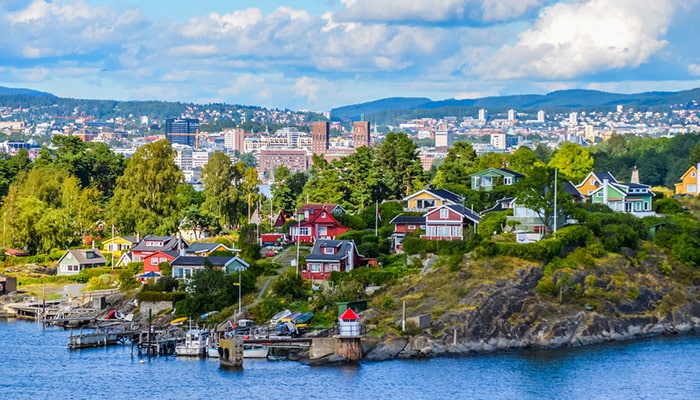 Tucked deep into the base of its very own fjord at the southern end of Norway, Oslo is an astounding city that oozes Scandinavian culture and real urban cool. Sleek, steel-dressed buildings crowd its harbour. A cutting-edge opera house that mimics an iceberg glows in Carrara marble on the seafront. There's even a ski jump whizzing down the hills of Holmenkollbakken on the north side of town. Once you're done gasping as the sheer audacity of it all, get ready to delve into the history and culture. That means unravelling the brooding plays of Henrik Ibsen and the haunting art of Edvard Munch, along with sightings of the Norwegian Royal Palace and even Viking warships.
From modern studios with all the comforts of home to sleek penthouses with views over the Oslo Fjord, Airbnb in the Norwegian capital has all sorts of tempting stays up its sleeve. This guide can help you hit upon the most enticing neighbourhoods in the town. It also gives some hot tips on the very best Airbnbs that Oslo has to offer. Let's take a look…
In this Airbnb guide to Oslo: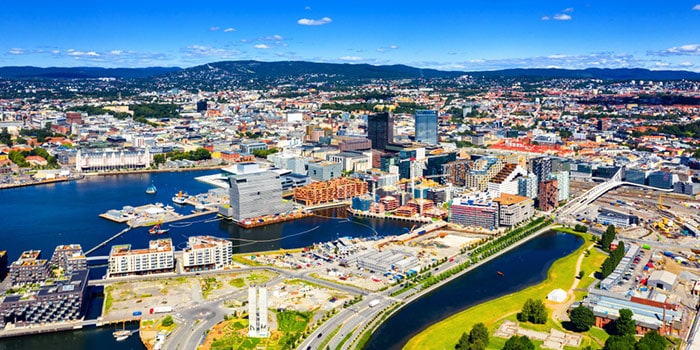 Is Airbnb legal in Oslo?
Yes. Airbnb operates just like any other traveler accommodation portal in Norway. It's totally legal and allowed. You can book your hip pad with a balcony overlooking the fish markets of Aker Brygge or boho bolthole in artsy Grünerløkka and not worry about falling foul of local authorities. As it stands, there's not even a tourist tax to pay for nightly stays in the capital. You might just be asked to present your passport either before or upon arrival, but that's the same as in a conventional hotel.
Where should I stay in Oslo Airbnb?
Most travelers will start their Oslo journey in the retail mecca of the Sentrum (1) district, or pick a marina-side pad between the fish eateries of Aker Brygge (2). Little Vika (3) is close to both of those, but has more cultural leanings thanks to its concert halls and museums. Young folk looking to hang with Norway's hipsters should head straight for Grünerløkka (4). Quieter streets and good Airbnb bargains can be had east in Gamle Oslo (5). Finally, there's wonderful Holmenkollen (6), stringing through the hills and woodlands to the north with its forest hikes and groomed ski pistes.
Sentrum (City Centre)
Pros
Something for everyone
Very central – just as the name implies
Great shopping
Cons
Can be expensive
Busy all the time
The heart of Oslo and the most-visited corner of the city is the Sentrum. It bustles and hustles with life, especially around the main shopping drag of Karl Johans – a montage of street entertainers, high-street fashion shopping and chain coffee brands that comes alive in the warmer summer months. A few historic landmarks like the lovely Oslo Cathedral and the grand Stortinget buildings of the Norwegian parliament can keep the sightseers busy. In addition, there's dining, cafés, bowling alleys, and multicultural foods galore in the fun-filled precinct of Torggata.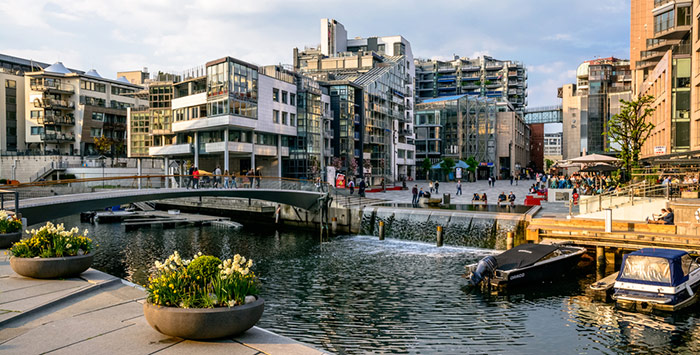 Aker Brygge
Pros
The best seafood in town!
Great views of the Oslo Fjord
Eye-catching architecture
Cons
Very expensive
No major historical sights
Aker Brygge usually has pride of place on lists of Oslo's very best neighbourhoods. It's come full circle since its days as a gritty fishing port. Now, it's gilded with shiny new apartment blocks, dotted with creative galleries, and has a reputation for holding some of the best seafood gastronomy in the city. Yep, staying here means having fantastic open-air restaurants right by the water's edge on the doorstep, serving up the crème-de-la-crème of Nordic fish. It's also the place to be if you're keen to take boat trips down the Oslo Fjord.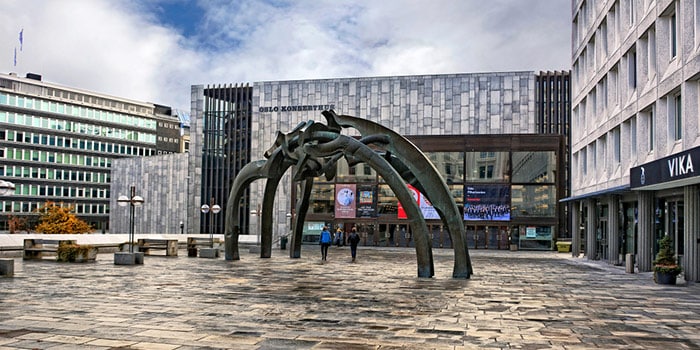 Vika
Pros
Oodles of culture
Art museums
World-famous music venues
Cons
Can feel a little stale
Not much nightlife
Culture vultures should feel right at home in the central district of Vika. It's small but it's packed with things to do. The vast National Museum of Art, Architecture and Design arguably leads the way, especially for its collection Edvard Munch paintings. The huge Oslo Concert Hall is also here, offering regular philharmonic orchestras, jazz gigs and more. Then comes the Nobel Peace Center, which chronicles the philosophy and history of the Nobel Peace Prize. Checked them all off? The salt-washed marina, with its fantastic fish kitchens, and Sentrum, with its shopping strips, are only a short walk away.