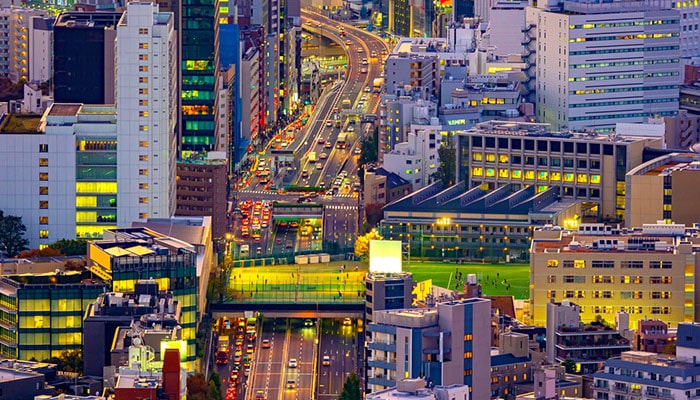 Tokyo is the sprawling, seething, neon-hazed capital of Japan. A megacity of more than 37 million people, it's a heady overload of ramen stalls and sizzling BBQ kitchens, manga emporiums and steel-dressed skyscrapers that sprout like a forest of trees across the midriff of Honshu Island. At least it's a heady overload until you discover those gingko-peppered, cherry-blossoming Shinto shrines and the lovely serene interiors of the traditional ryokan inns. Party nights, Michelin-starred food, East Asian art collections, sumo showdowns – there's all sorts awaiting in this fantastic capital. It's not one to miss out on.
Airbnb is a major source of private rooms and short-term property rentals in Tokyo. Check out the thousands of listings across the vast cityscape to discover everything from cheap and cheerful box rooms with comfy double beds to grand penthouses with their own terraces that gaze over the skyline. This guide can help you home in on the perfect pad in the Japanese metropolis, and offers insights into the parts of the city that will stoke your wanderlust the most.
In this Airbnb guide to Tokyo: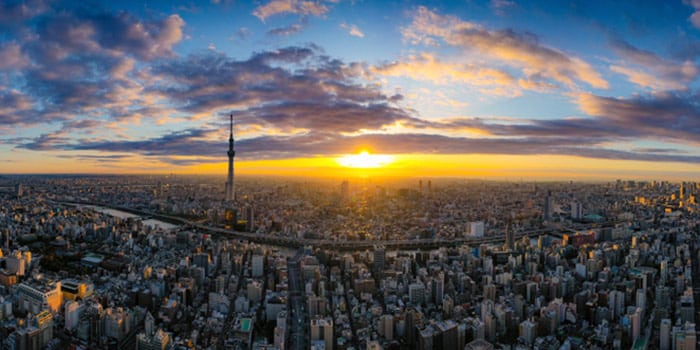 Is Airbnb legal in Tokyo?
Yep. Airbnb in Tokyo is all perfectly legal. The government did impose a few extra rules for hosts back in 2018, but it simply asked for renters to register their properties with local authorities. That seems to have caused a temporary dip in the number of listings in the capital that are available on the platform, but things are slowly creeping back to normal. As a guest, you will be asked to present your passport upon check-in (or even before) and might have to pay a small tourist tax to boot.
Where should I stay in Tokyo Airbnb?
Tokyo is such a vast and seemingly endless metropolis that it can be a real chore getting your head around the wealth of neighbourhoods that are on the Airbnb menu. Perhaps you could start with the bright lights and buzz of Shibuya (1), before moving to the chic shopping strips of Ginza (2). Then, the strange and wonderful teen fashion enclave of Harajuku (3) makes an appearance, soon giving way to the tech-heavy hub of Akihabara (4). Further out is the burgeoning hipster hood of Koenji (5) and the chilled local area of Shimokitazawa (6), while Asakusa (7) sports rich history and uplifting Shinto shrines nearer to the capital's beating heart.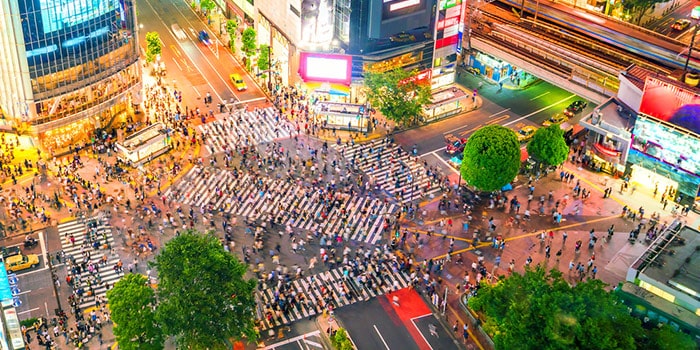 Shibuya
Pros
This is iconic Tokyo
The sight of Shibuya crossing
Excellent dining and drinking
Cons
Super busy
Loads of traffic
Shibuya centres on one of the busiest crossroads on planet Earth. Bustling and packed with people, it's perhaps Tokyo's most iconic quarter. Bright lights and neon ads rear up on all sides. Cars whiz this way and that between tall skyscrapers. And while you simply have to see the amazing flow of humans at the Shibuya Crossing, the real life of this area resides in its backstreets. They brim with rowdy izakaya pubs and noodle kitchens that go on until sunup.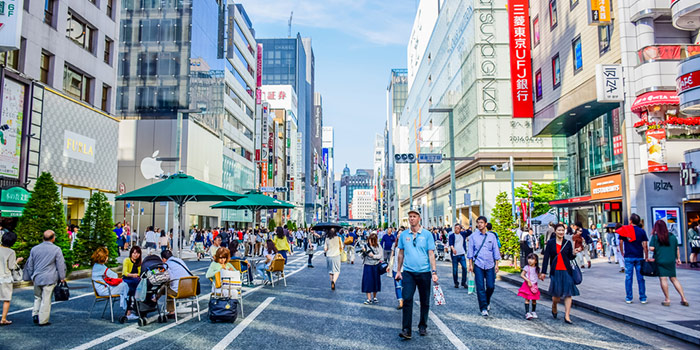 Ginza
Pros
Fantastic high-class shopping
Upscale Airbnbs
The fine dining
Cons
It's expensive!
Too international to be the real Tokyo
Treat yourself to a taste of luxury in the Japanese capital by hopping over to Ginza. Boulevards and blocks laden with department stores and fashion brands and home furnishings outlets unfold throughout the district, which spreads north from the peaceful Hamarikyu Gardens down the shopping mecca of Chuo Dori. When it comes to dining and drinking out, you'll have an overload of cocktail bars and fine-dining eateries on the doorstep, not to mention some of Japan's most prestigious theatre houses for later in the evening.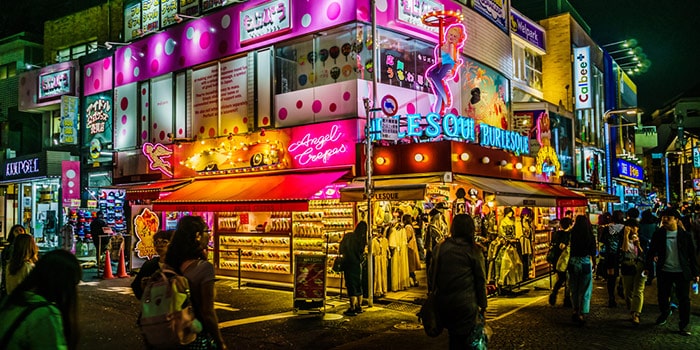 Harajuku
Pros
Fun for families
Great people watching
Unique shopping scene
Cons
Super busy
A little tacky for some
Technically speaking, Harajuku is an enclave within the electrifying area of Shibuya. But it's worth a mention on its own because it's the epicentre of Japan's unique teenybopper subculture. Delve in to find crazy fashion outlets selling pink-rimmed dresses and pop-punk clothes, backed up by all manner of anime and manga fan stores. Takeshita Street is the hub of the lot, but the alleys around that burst with strange comic emporiums and unique coffee bars and bubble tea shops galore.