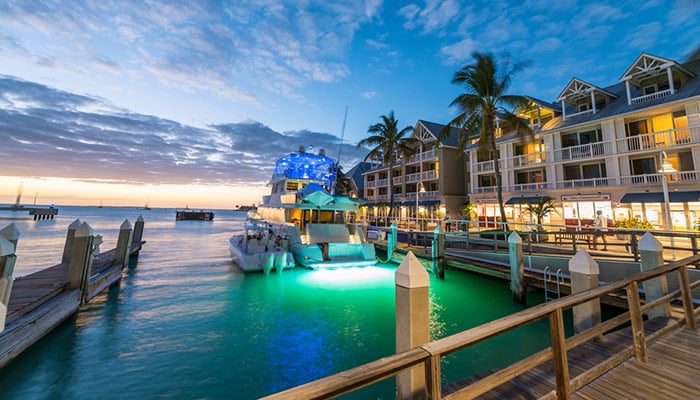 Unscrew the rum and don the straw hat…Key West is beckoning. Right at the tip of the Florida Keys, this sun-kissed isle is more Bahamas than USA. This is a place where the streets rumble with the bouncing rhythms of steel drums and handsome colonial-styled mansions hide between the palms. There's energy and action down vibrant Duval Street – a spring break favorite – and surf-turf eateries that blaze in the sunset on Mallory Square. When it's time to take a moment out, you can hit the enthralling bulwarks of the Civil War-era Fort Zachary Taylor or dive underwater to seek out dolphins and manatees in the coral gardens of the Gulf of Mexico. It's hardly a wonder that it's one of America's top vacation hotspots!
Although Key West has just 25,000 permanent inhabitants, it draws in a whopping 5.1 million visitors each year. These days, a great many of them choose to stay in an Airbnb over a classic hotel. They tend to offer extra square meterage and frills like self-catering kitchens. They can also be pretty darn good bargains. This guide can help you seek out the top Airbnbs Key West has to offer and reveals the areas you'll want to be based in for that trip of a lifetime to the very end of the Sunshine State.
In this Airbnb guide to Key West: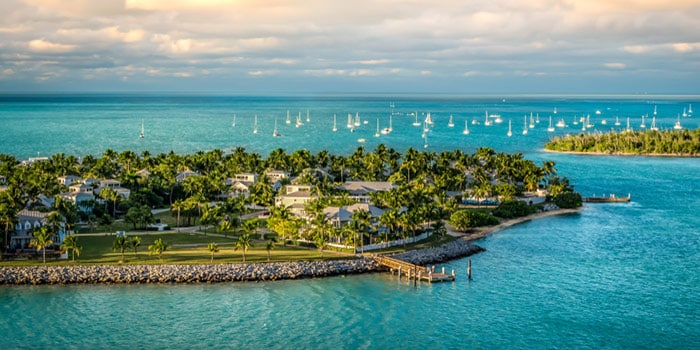 Is Airbnb legal in Key West?
Airbnb is legal in Key West, although Florida's homeowner's association has some strict limits on lots of properties that mean they can only be rented out for a minimum of 28 days. You'll need to check that in the online listing. There are some local restrictions on what properties qualify to be used as short-term lettings, too. However, those shouldn't impact you too much as a traveler. Still, a simple message to your host to check that everything's in order before you book can't hurt if you're worried. Then, you can concentrate on planning those outings to swim with dolphins or nights between the rum bars of Duval Street.
Where should I stay in Key West Airbnb?
You'll smell the rum in the mojitos and party the night away if you manage to score anywhere near the vibrant drag of Duval Street (1), or even the sunset-viewing hotspot of Mallory Square (2). Those are both iconic parts of town, butting right up to the vast historic core of Key West, known today as, simply, the Old Town (3). Bahama Village (4) is to the southwest of that, touting timber shacks and shotgun houses that ooze authentic Caribbean charms. Then there's Casa Marina (5) on the other side of town, boasting its sleek condos and five-star hotels. You can also consider a stay in the White Street Gallery District (6) if you don't mind being further out but want to save cash. Finally, there's New Town (7), where you'll be kicking it with the locals in a true Floridian suburb.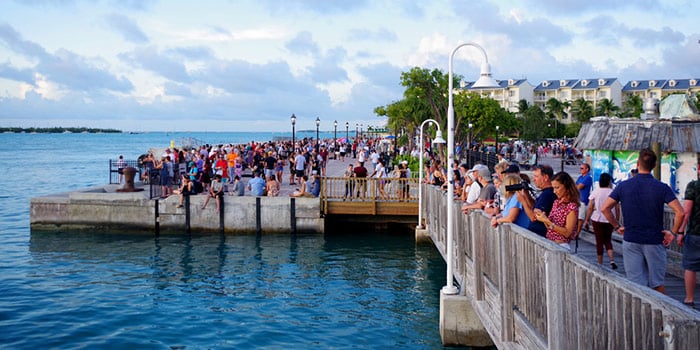 Mallory Square
Pros
Fantastic sunset shows!
Great vibes
Fantastic place to organize tours
Cons
Super touristy
Cruise ships can ruin the view
Mallory Square is the center of celebrations and festivities in this colorful Carib-flavored town. It's on the north site of the city, close to the cruise port, neatly wedged between the shimmering Gulf of Mexico and the vibrant bars of Duval Street. First-time visitors are likely to love the buzz of it all, especially as many of the top tourist attractions meet here, from the Old Town trolley tours to the Key West Aquarium. Things get busy at night with the Sunset Celebration – Mallory Square is famous for its views come the golden hour!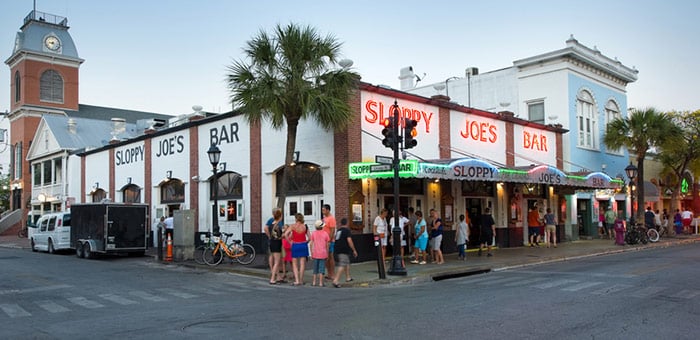 Duval Street
Pros
The best nightlife in the keys!
Loads of interesting bars
Holiday vibes all the time
If you're coming to Key West to party and let lose, there's nowhere better to go a-searching for that Airbnb than Duval Street. It's the beating artery of the Old Town area, running north to south from the Atlantic Ocean to the Gulf of Mexico. As it goes, it hosts famous bars by the bucket load – there's even one that claims to be the smallest bar in the world, and another where Hemingway drunk back in the day. There's a real carnivalesque vibe going on down here, especially during spring break and major holidays. It's loud, but boy is it fun!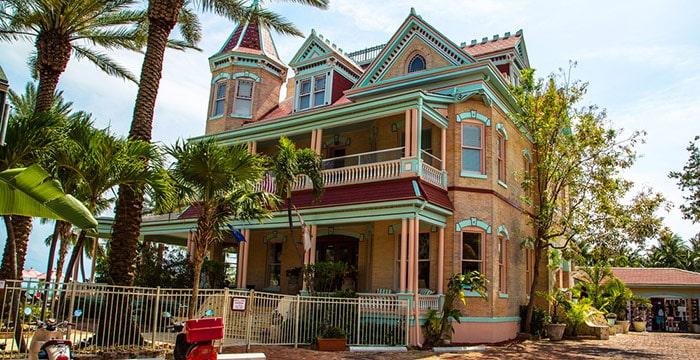 Old Town
Pros
Charming historical sights
Lovely architecture
Covers the heart of Key West
Cons
It's a huge area – you'll need a map to get around!
Can be quite touristy
Contrary to the name, Old Town isn't actually the oldest part of Key West (that honor goes to Bahama Village). Still, it's pretty darn venerable, and reigns as one of the largest designated historic districts in the whole the United States – it covers a whopping 4,000 acres! The whole thing is an immersive hit of Caribbean-inspired building work that dates back to the mid-1800s. Keep the eyes peeled for lovely architectural pieces like the Southernmost House and the erstwhile homes of Ernest Hemingway and Robert Frost. The streets are generally lovely for strolling, coming with a threading of banyan trees and palms.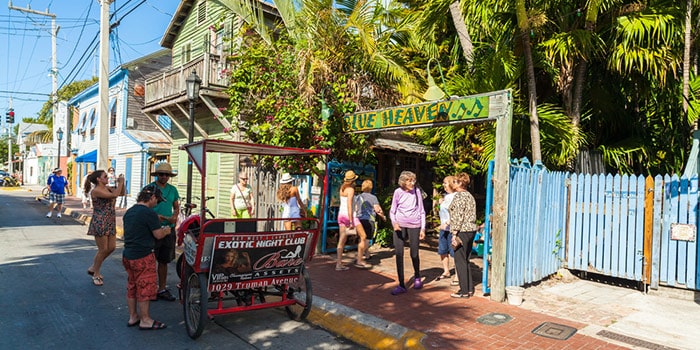 Bahama Village
Pros
Steeped in fun Caribbean culture
Fantastic eating
Close to beaches and history sites
Cons
Some issues with crime
Just a handful of Airbnbs
Bahama Village is steeped in history and heritage. It can trace its origins all the way back to a mass settling of Bahamian émigrés back in the 1800s. And it's not shy of flaunting all that either – just cruise in for the May Goombay Festival and you'll be bopping to samba and tasting spicy jerk with the carnival goers in no time! Foodies often find their way to the surf-turf Bajan food kitchens and the tasty Creole bars that serve spicy Carib fare galore. Finally, there's also good access to the history sites of Fort Zachary Taylor and the local beaches on the south side of Key West.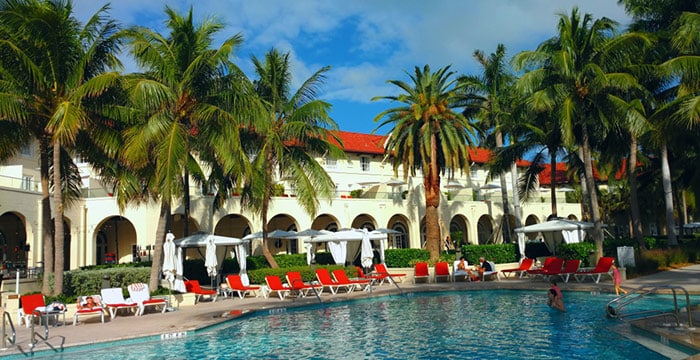 Casa Marina
Pros
Luxurious Airbnbs
It's quiet
There's a good neighborhood market
Cons
Can be pricy
Big hotels dominate the shoreline
Fronted by the huge Casa Marina Key West resort as it spills straight into the pearly blue Atlantic Ocean, the Casa Marina neighborhood is the place to go for a touch of style and class. It's a totally redeveloped part of town, offering slick new condos and standalone villas with pools and lush tropical gardens. They all front quiet, leafy streets topped by gnarled mahogany trees and banana bushes, and often ooze the charms of the Carib-colonial style of building. The nearby park at Higgs Beach has lots for swimmers and dog walkers, not to mention its own bi-weekly artisan marketplace.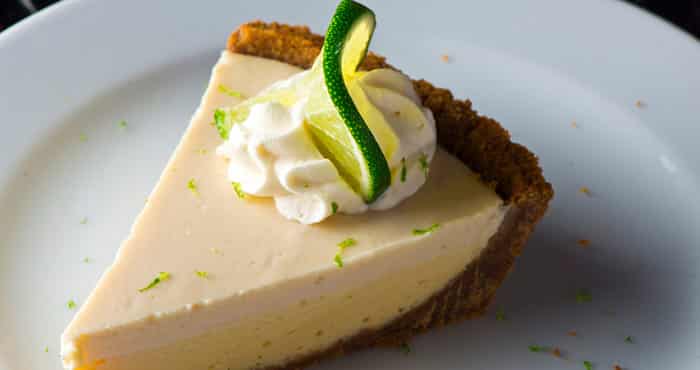 White Street Gallery District
Pros
Quiet streets
Spacious Airbnbs
White Street is fun
Cons
It's a bit of a trek to Duval Street
Far from the Key West beaches
There's still plenty of life in the White Street Gallery District, it just ticks over to a slower pace than on Duval Street. Check out White Street itself. That's the main thoroughfare, hosting Mo's Creole take out and some charming bakeries that do arguably the finest Key lime pie on the planet. There's only a smattering of Airbnbs in this part of town. They can be affordable and relaxed, with a little extra room than their Old Town compadres. You'll need to be ready to walk a lot to get to the main action, though.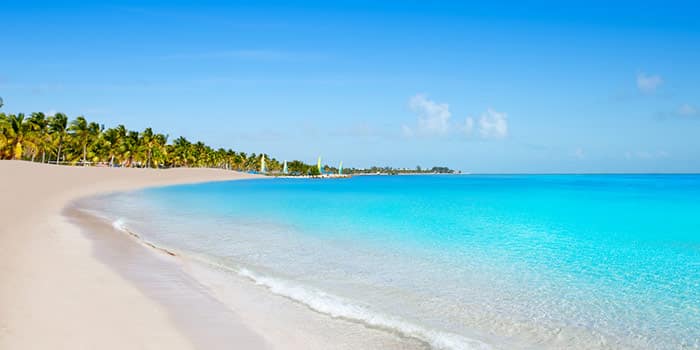 New Town
Pros
Very peaceful
Very local
Cheaper Airbnbs
Cons
Very far from the main sites
Hardly any Airbnbs
East of First Street, the New Town area is a large portion of Key West that remains well and truly out of the spotlight. Most visitors will probably want to leave it that way. That's not because it's bad or boring, but because it's quite far from all the major POIs. It's essentially the suburban sprawl of the city and where the vast majority of the regular inhabitants live. You might find one or two Airbnbs at bargain rates, but you will need a car to get around.
Best Airbnbs in Key West
Best Airbnb apartment in Key West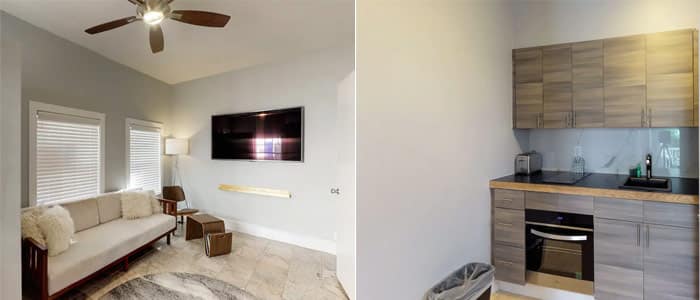 Cozy Cottage Apartment
Simply done but uber stylish, this cozy ground-floor flat is the perfect Key West pad for a couple or a solo traveler who wants to enjoy all the delights of the Old Town and sleepless Duval Street. The place itself spreads through a small lounge with a flat-screen TV, into a kitchenette with a full cooker and hob, and even out onto an al fresco porch where you can sit and watch the world go by.
Best Airbnb house in Key West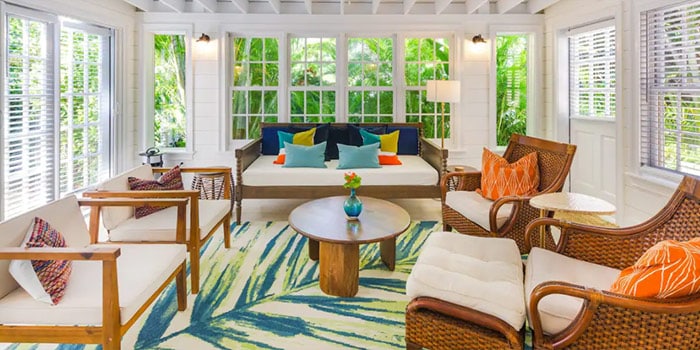 Dog-friendly Getaway
This managed property channels the whitewashed look of a Caribbean beach shack and combines it with real quality and class inside. It's done out with elegant wicker furnishings and seagrass rugs, and also spills onto a breezy deck area with plenty of space for those morning coffees under the Key West sun. Talking of sun…when things get too hot, you've always got that huge, shared pool to dive into!
Best Airbnb for families in Key West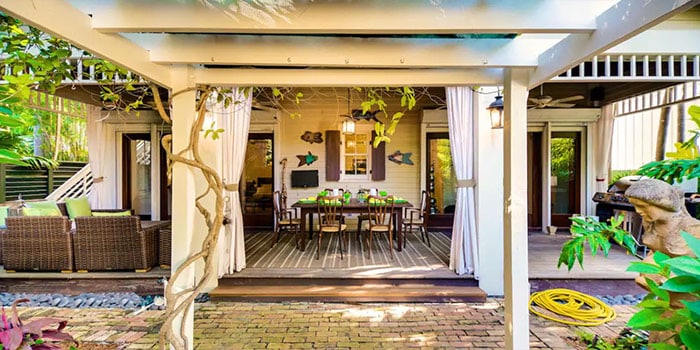 Beyond Bali
This gorgeous villa rental comes draped in tropical vines out on the north-eastern edge of the Key West Old Town. It's still within walking distance of Duval Street but far enough away for the noise to drop and let the whole family get a good night's sleep. The interiors are perfect for a trip to the Sunshine State with the kids in tow, especially that oversized kitchen and dining space. However, it's the breezy porch and pool that really take the biscuit if you ask us.
Best Airbnb for large groups in Key West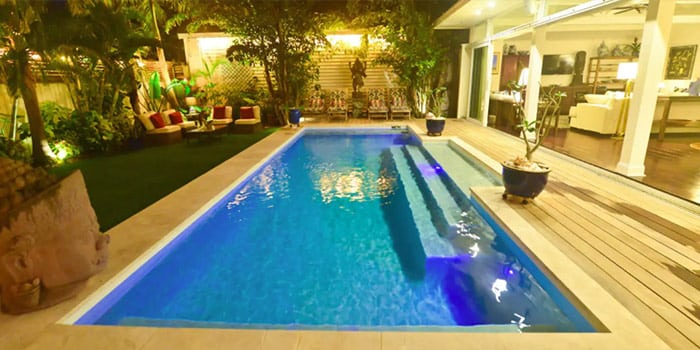 Big Blu
There are five bedrooms and four bathrooms in this huge shotgun house between the White Street Gallery District and the Old Town. That means space enough for up to 12 guests at once. Parties enjoy a big and luxurious kitchen with a double fridge and double cooker, along with a garden that contains a heated pool and its own Jacuzzi. What are you waiting for?
Best Airbnb for romantic stays in Key West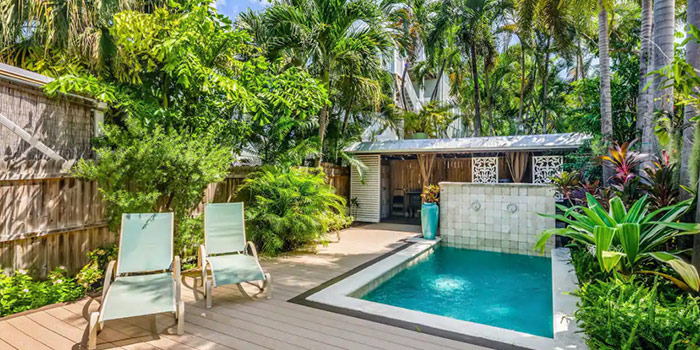 Ground Level Cottage
You can whisk your other half away to a pearly blue cottage in the Old Town area, where the gardens are shaded by lanky coconut palms and there's a small plunge pool for just the two of you. All it takes is a booking at this charming abode. It can actually sleep four in all, although it's tailor-made for couples thanks to a single bedroom and its queen-sized bed.
Is Airbnb cheaper than hotels in Key West?
Everyone from snowbirds to rum lovers to retiree R&R seekers heads to Key West to get their dose of Florida sun. That's made this one of the pricier corners for the USA for a vacation. However, Airbnbs can often be pleasant surprises when it comes to outgoings. They're regularly cheaper than their hotel counterparts, but also help you save by offering self-catering facilities and extra bedrooms (no need to book multiple suites here, folks!). You will also find that there are often big discounts on long-term stays of 28 days and more. That's a real gift in Key West, where many of the listings have minimum limits on booking periods because of local regulations anyhow.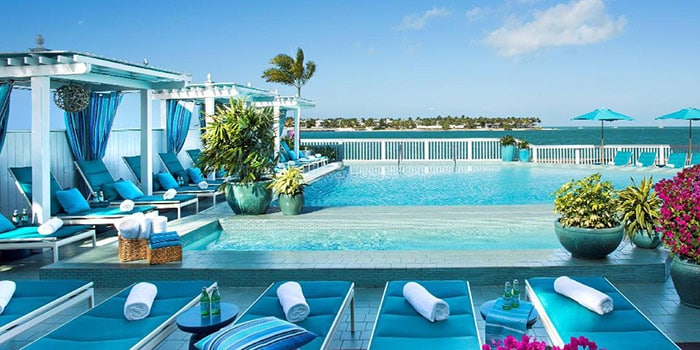 On the flip side, you probably won't have the same sort of luxury service in an Airbnb as you would in a hotel. Things like on-site receptionists and concierges, regular room cleaning and in-house tour booking are typically reserved for establishments like the Ocean Key Resort & Spa. That's a classic Key West stay, with a prime location on the Gulf of Mexico near Mallory Square, along with its own pool and health facility.
Mosey down south to taste the Key lime pie and snorkel in coral reefs, to party the night away on Duval Street and see where Hemingway once lived, all with help from this guide to the Airbnbs in Key West.
How useful was this post?
Click on a star to rate it!
Average rating / 5. Vote count: