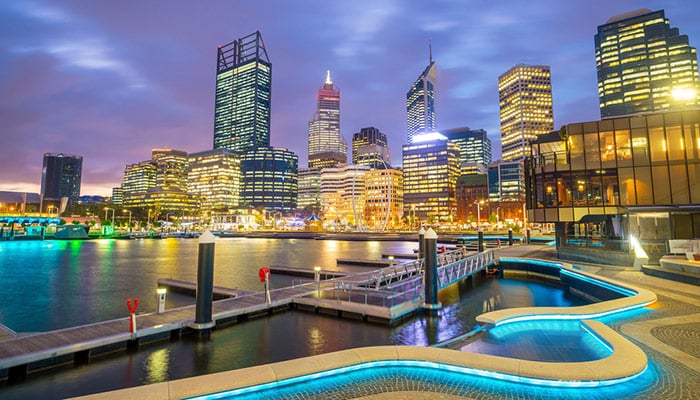 Perth might be isolated out on the windy shores of Western Australia, but it doesn't seem to mind all that much. A city at once chilled and bold, buzzy and creative, it's a whopping 2,000 miles from Sydney, out where the turquoise waters of the Indian Ocean roll past the quokka-stalked beaches of Rottnest Island. There, it unfolds in a patchwork of come-explore-me neighborhoods, from chic Cottesloe and its salt-washed promenades to happening Northbridge on the bends of the Swan River. The locals spend their time swimming and surfing, wine tasting in the Swan Valley and devouring surf-turf in Fremantle. There's also culture thanks to the AGWA gallery and the WA Maritime Museum, but, really, it's all about soaking up the good vibes of one of Oz's most liveable cities.
Tempted? We would be too. This guide can help you seek out some of the best Airbnbs in Perth. It delves into the city to reveal the coolest neighborhoods and most vibrant quarters, from the wave-lapped coast to the café-filled downtown. It's also got some hot tips on what could just be the very best individual Airbnbs in the area.
In this Airbnb guide to Perth: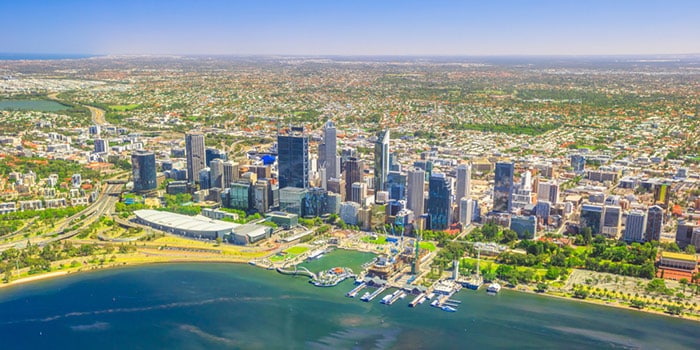 Is Airbnb legal in Perth?
Airbnb is legal in Perth. There has been some talk of tightening up restrictions on short-term lettings all across Western Australia. However, that's still in the works. What's more, it should only affect property hosts and owners, not travelers. That leaves you free to browse and book all of the uber-cool beach pads in Fremantle or backpacker dorm rooms in Northbridge without having to worry. Let's get started…
Where should I stay in Perth Airbnb?
The heart of the WA capital is the so-called Perth City (1). It's another word for the CBD, and it offers all sorts for first-time visitors, from mainstay museums to oodles of dining and drinking. Fremantle (2) is the famous suburb by the shore, where historic architecture meets white-sand beaches. Cottesloe (3) is to the north of that across the Swan River, a precinct of relaxed coffee bars and affluent housing with its own top-notch beaches. Partiers might want to stick to gritter Northbridge (4), a backpacker favorite, or chase the cool street parties down in Subiaco (5). Finally, there's Leederville (6), which is set to become the bohemian hub of Perth in the not-too-distant future.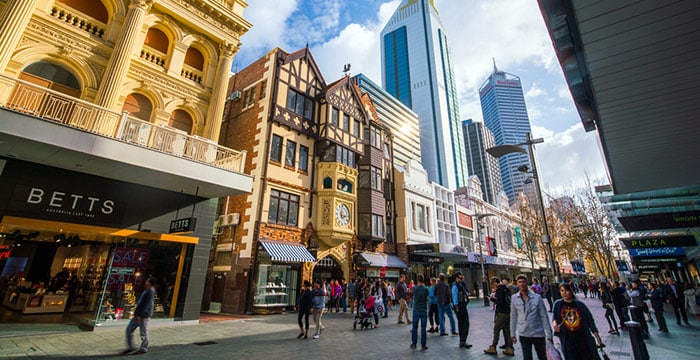 Perth City
Pros
Lots of shopping
Lots of dining
Cultural attractions
Cons
Can be a little businesslike
Some traffic
Perth City is the local name for the CBD. The area marks itself out above the meanders of the Swan River with a symphony of shimmering skyscrapers. Within, you'll find much of Perth's important businesses, high-streets banks, and oodles of shopping, the best of which stretches down the pedestrianized quarters of Hay Street, Murray Street, and the gastronomy hub of Elizabeth Quay. Aside from a touch of retail therapy, visitors who stay here will enjoy some of the most iconic cultural draws in WA, from the Western Australian Museum to the Perth Institute of Contemporary Arts. There are also some lovely, leafy parks and walking routes down on the riverside.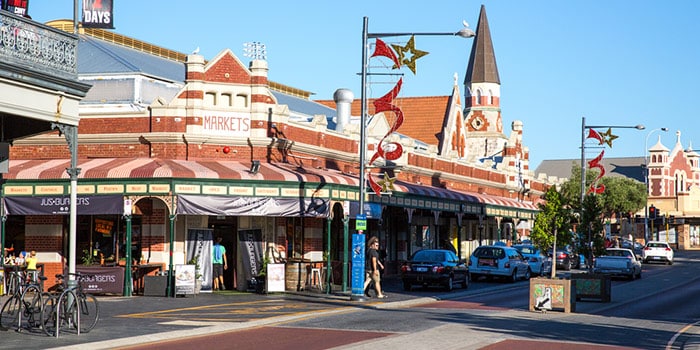 Fremantle
Pros
Colonial architecture
Lively bar scene by the marina
There's a beach
Cons
Gets pretty touristy in summer
Airbnbs tend to cost a tad more in Fremantle
The locals call Fremantle just Freo for short. It's a nickname of affection, which Perthites have by the bucket load for their historic port town on the edge of the Indian Ocean. First settled by the Dutch in the 1600s then built up by the British in the 19th century, it's the oldest urban district in the city. You'll see that in the handsome colonial-era architecture, the Victorian-style pubs, and at the muscular fort atop Arthur Head. Supposedly-haunted Fremantle Prison is one of the major attractions, but we think the brew houses and bars around the harbor and sparkling South Beach are better reasons to come.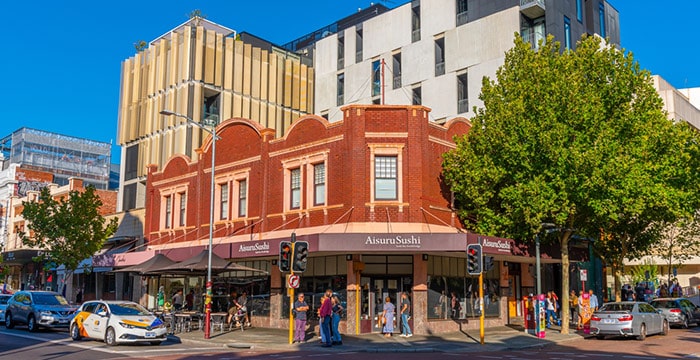 Northbridge
Pros
Great for the younger crowd
The nightlife
Eclectic eating
Cons
Loud in the evenings
A little gritty for some – families might want to look elsewhere
Northbridge is the noir counterweight to the buzzy area of Perth City. It's officially a part of the downtown, but prefers alt coffee houses, roastery cafés, and independent photography galleries to cloud-splintering skyscrapers. Yep, this is the place to come to feel the creative energy of Perth. It hosts legendary comedy clubs like the Brass Monkey and futuristic dance venues like Tetsuo NC, which is just a taste of the amazing nightlife scene. The dining is also varied and unique, with Japanese dumpling houses rubbing shoulders with moody teppanyaki kitchens.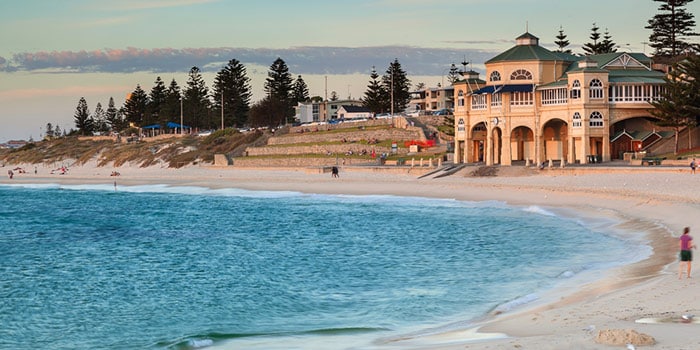 Cottesloe
Pros
A gorgeous beach
Young and friendly residents
Good café culture
Cons
Quite far from the CBD of Perth
It's a bit too posh for some
Hop the mouth of the Swan River up from Fremantle and you'll hit the laid-back, uber-cool area of Cottesloe. It's something of a family favorite but is also becoming rife with young professionals. The keyword is money, because this district is one of the most affluent in coastal Perth. Marine Parade shows that off with a medley of cozy teahouses, artisan gelato stores, and bespoke coffee stops. The nightlife, meanwhile, is chilled and mainly about live music. But it's the beach – gorgeous, silky, Cottesloe Beach – that really takes center stage.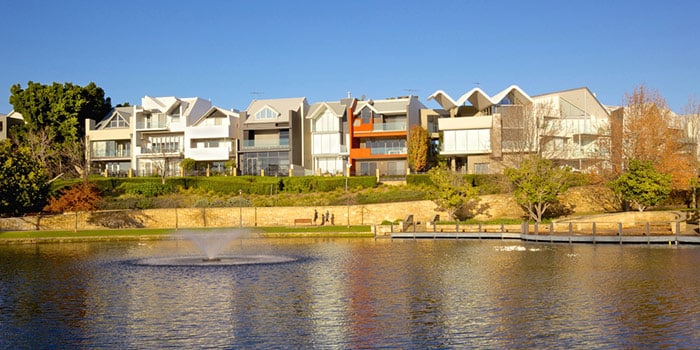 Subiaco
Pros
Subiaco has its own street party!
Good nightlife
Efficient links to both the beaches and the CBD
Cons
Not loads of Airbnbs
It's getting more popular every year
Subiaco is one of the inner-city stars of Perth. Artsy and cool, it spreads out from Rokeby Road between the CBD and the sparkling beaches of the coast. There are some cultural highlights, like the Art Deco Regal Theatre and the local cultural center (great for touring exhibits by Perth-born artists). There's also a rollicking festival every year known as the Subiaco Street Party, which sees live music and open-air food markets take over. The nightlife is swinging, the Airbnbs are spacious and affordable, and there are efficient links to the rest of the city and the shoreline. It's an all-round good balance in these parts.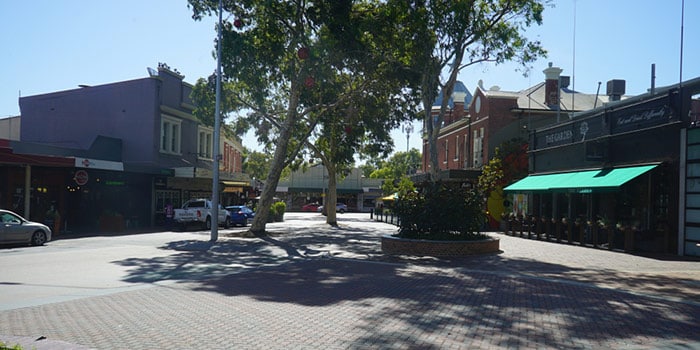 Leederville
Pros
Really creative area
Very young crowd
Good road links to the coast of WA up north
Cons
It's getting more popular all the time
Some busy roads
Leederville wedges up to the CBD of Perth highway 2 and 61, both of which can whisk you out to the wild Gnangara-moore River reserves or the beaches. But the area isn't just about having good road links to the WA outback. It's also an upcoming quarter of microbrew bars and ethnic eats that's fast becoming the stomping ground of choice for Perth's younger crowd. The streets are filled with vintage clothes stores, vinyl emporiums, art-house cinemas – you get the idea!
Best Airbnbs in Perth
Best Airbnb apartment in Perth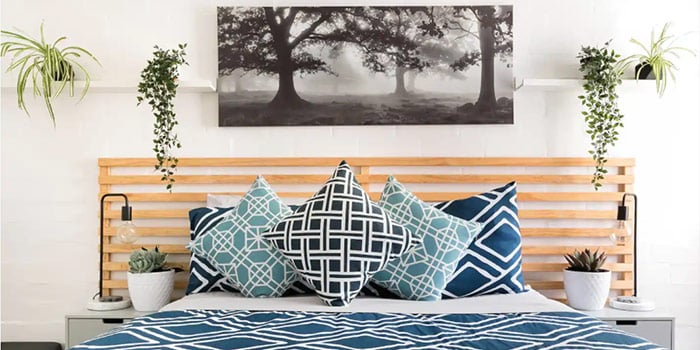 Modern Riverside Apartment With Pool
At once striking and soothing, this Plus-rated Airbnb pad near the banks of the Swan River in South Perth could be the place you've been looking for. Its standout features include stainless steel-clad kitchen spaces and an on-site pool. We also like the art-filled bedroom and its elegantly understated interior design.
Best Airbnb house in Perth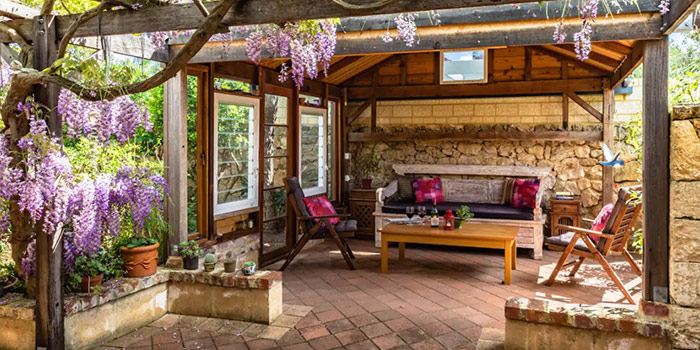 Cosy Lodge Palmyra
Cozy Lodge Palmyra has a touch of the Tuscan farmhouse about it, with gardens strewn in magenta and pink flowers that really come alive in the Perth summertime. There's a fantastic balance between indoor and outdoor living here, what with two separate bedrooms and a lounge opening onto a covered patio with shaded gazebo seating. The place sleeps four in total.
Best Airbnb for families in Perth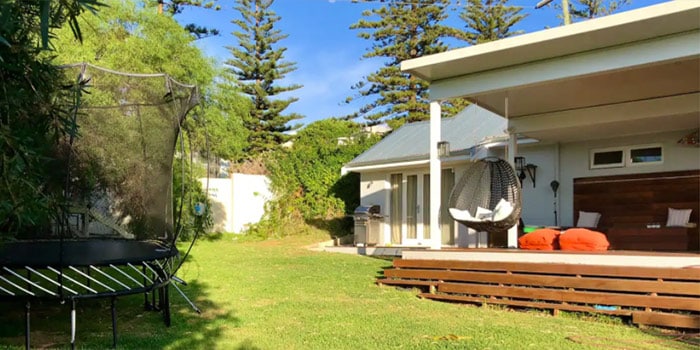 Cottesloe Family Escape
Purposely designed with families in mind, this getaway sits close to the bright beaches of Cottesloe, which boasts some of the prime beach territory in the city of Perth. The little ones are sure to love the on-site swimming pool and playground area, while mum and dad can look forward to a luxurious kitchen and a cozy cinema room in the back.
Best Airbnb for large groups in Perth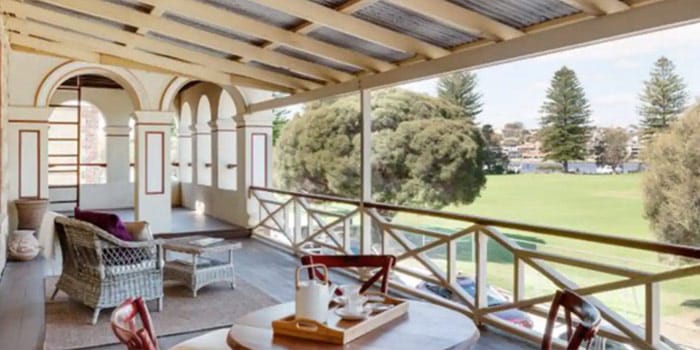 Historic Freo Riverside House
Prepare to be charmed by this majestic property on the fringes of much-loved Fremantle. It looks a little like an Italian farmhouse with its rough-stone exterior and lush garden with swimming pool. But this is no Tuscan villa. It's a big Aussie mansion with original Victorian fireplaces in the bedrooms and a series of decks that look over the meanders of the Swan River. Very nice indeed.
Best Airbnb for romantic stays in Perth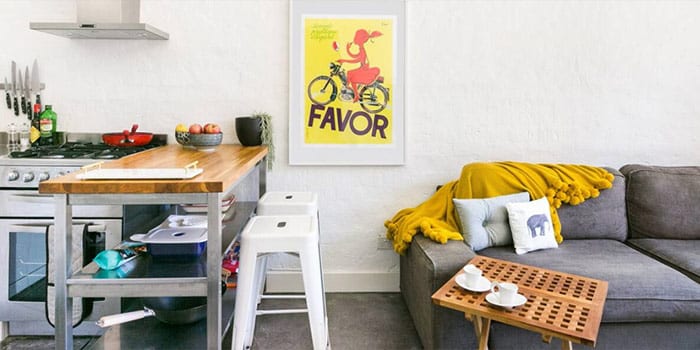 Tudor Lodge Garage Heritage Cottage
A converted garage with the flamboyant touches of an age-old English country house? You bet. That's what this quirky Plus Airbnb can offer. It's perfect for two guests and comes with a cozy al fresco terrace and tight-knit interior that's always filled with light. Location wise, it puts you out by Hyde Park on the north-east end of Perth City.
Is Airbnb cheaper than hotels in Perth?
Perth isn't as pricy as Sydney or Melbourne, but it's far from being the cheapest destination in Oz. You might be able to mitigate the costs a little by ditching a conventional hotel and picking an Airbnb in the WA capital instead. They can often have lower nightly rates than in comparable hotel establishments, while hosts sometimes give very generous discounts on stays of over a week (you're looking at 15-50% on occasion!). More than that, there's scope to bag bigger Airbnbs with multiple rooms, which lets you cut the cost of a Perth holiday by bringing along more travelers and sharing the total.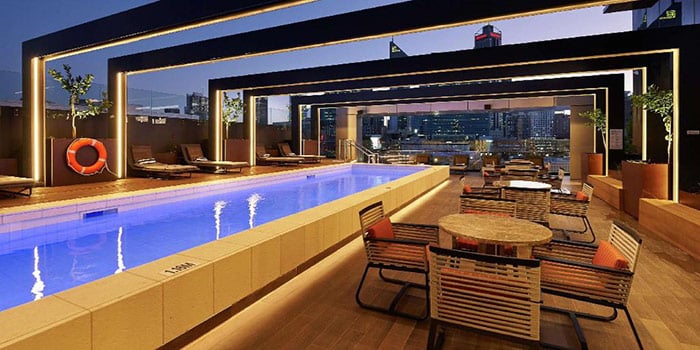 Of course, the downside is that you won't get to enjoy the frills that come with staying at a hotel. Those aren't to be ignored – daily housekeeping, on-demand room service, and a dedicated reception desk for booking all your travels around Western Australia are things that can really send your vacation into the stratosphere. The DoubleTree by Hilton Perth Northbridge can offer all that and more. It's got four stars and enjoys a location in the heart of happening Northbridge, close to the CBD and some of the town's best nightlife strips.
The bath-warm seas of the Indian Ocean combine with winelands and Western Australia's biggest cultural draws in Perth. Jet over now to start enjoying a vibrant, modern, and off-beat cityscape that's filled with surprises.
How useful was this post?
Click on a star to rate it!
Average rating / 5. Vote count: