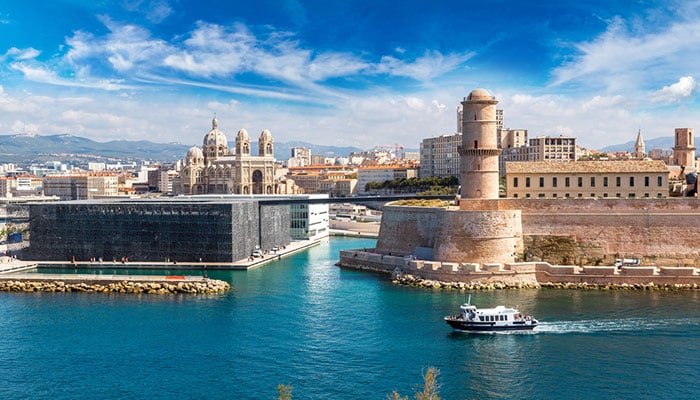 With more than 3,000 years of trading history to its back and a story that includes everyone from the Romans to the Phoenician Greeks to Napoleon's imperial armies, Marseille is one enthralling French metropolis. The grit and energy of the Vieux Port belies the A-list grandeur of the Cote d'Azur, but comes with other pleasures – salt-washed cafés, salty boats and jostling sails. Beyond that is the ancient quarter of Le Panier and the looming hills crowned by the proud Notre Dame de la Garde basilica, all fizzing with life and oozing Provencal charm. There's also the indelible pull of the Mediterranean to factor in. Leave town for just a day and you can be lost in the rugged lagoons of the Calanques and explore pine-studded shores that drop to idyllic pebble coves.
Airbnb in Marseille is a ticket to seeing this wonderful destination like a local. You'll have a place to call your own between the historic Roman roads and Greek-era docks. This guide runs through the most immersive neighborhoods that Marseille can muster, and even offers some hints on the best individual Airbnb rentals across the city.
In this Airbnb guide to Marseille: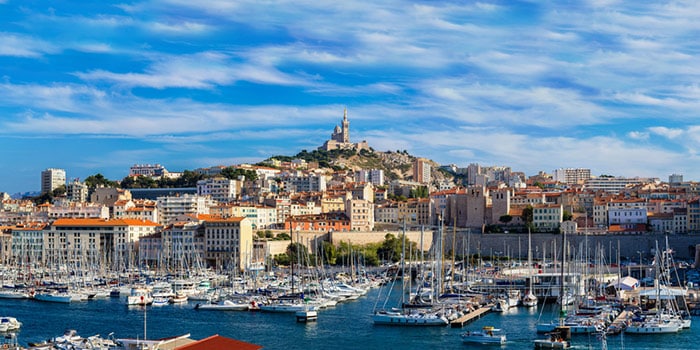 Is Airbnb legal in Marseille?
There are a few local regulations when it comes to Airbnb in Marseille. However, they're all to do with the owners of properties, never the guest. That means you can feel free to look for whatever port-side penthouse or quaint Provencal cottage you like in the vicinity of this Mediterranean town. It's all totally legal and allowed. One thing you might be asked to pay is the city tax – known locally as the taxe de séjour. That's often collected in cash upon arrival.
Where should I stay in Marseille Airbnb?
Marseille has grown and sprawled over the last few millennia into a diverse mass of different neighborhoods. For visitors, there are some that really stand out from the crowd. They include the enthralling Vieux Port (the Old Port, 1), where yachters now moor up where Greek traders once did. Near to that is the romantic and atmospheric quarter of Le Panier (2), filled with bistros and scented with lavender. To the south comes La Corniche (3). That's where Marseille makes the most of its location on the Med, with coves and seafood restaurants galore. The neighborhood of Cours Julien (4) is now a gentrified mass of arty cafés that's for the hipsters among us. La Canebière (5) is the main urban thoroughfare – perfect for shopping. Finally, you'll find sleepy Château-Gombert (6) far out on the north-eastern outskirts, offering a taste of rustic French life.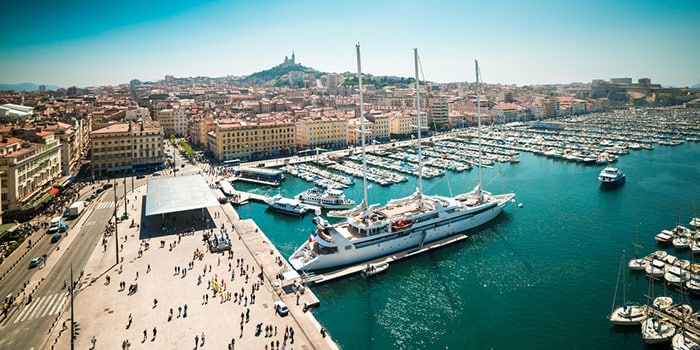 Vieux Port
Pros
Historic area
Lots of places to eat
Vibrant nightlife in the summer
Cons
It's a long walk from end to end
Loud at night
The Vieux Port – also known as the Old Port – is one of Marseille's most characterful quarters. It's been the focal point of the city ever since the first Greek colonists came around 600 BC. Today, the focus has shifted to pleasure yachts and fishing boats, and there's a real hubbub of both seafood eateries and cocktail bars. There's lots of history too, with a duo of mighty fortresses keeping watch across the quaysides. Don't underestimate the size of the port. The area can take upwards of 30 minutes to walk from end to end.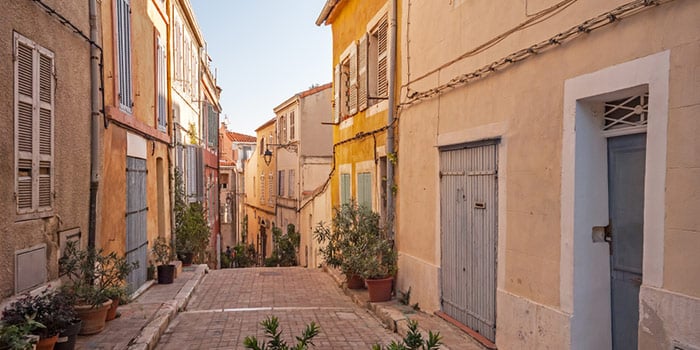 Le Panier
Pros
Really immersive and pretty area
Lovely souvenir shopping
Atmospheric streets
Cons
Don't even think about driving the car here!
Touristy in the summer months
Draped over a hillside to the north of the Old Port, Le Panier is considered the most venerable part of the city. Its narrow, criss-crossing lanes are testimony to times long gone, when the area was energised with multiculturalism courtesy of immigrants from across Corsica and North Africa and the Near East. Today, it retains a moody and nostalgic edge, but also brings the charm of rustic Provence, offering up artisan French bakers and lavender-scented soap shops. If you're a first-time visitor to Marseille, you really can't go wrong with an Airbnb in these parts!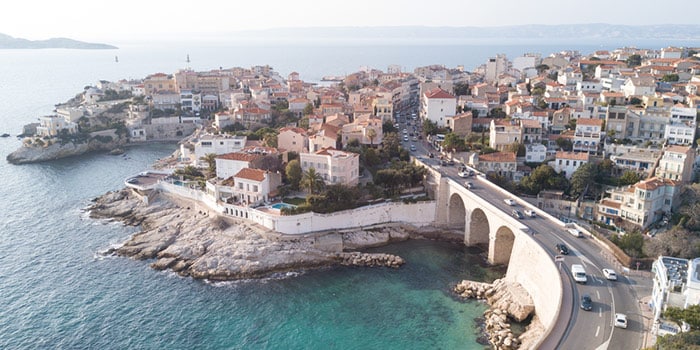 La Corniche
Pros
Places to swim
Nice seaside eateries
Great views
Cons
Very busy in the summer
Narrow and windy roads that are hard to drive
Pining for a taste of the turquoise Mediterranean Sea? Want to feel the glitz and glamour of the Cote d'Azur? Hit La Corniche. It stretches around three miles south from the Old Port as it twists and wiggles around the craggy French coast. As it goes, it passes grand mansions and little coves where you can indulge in some urban swimming. Naturally, the area really comes alive in the summer with strollers and sunset watchers. We like it at any time of the year, though, mainly for escaping the hubbub of Marseille's core and getting sweeping views of the water and the wild Château d'If fortress in the distance.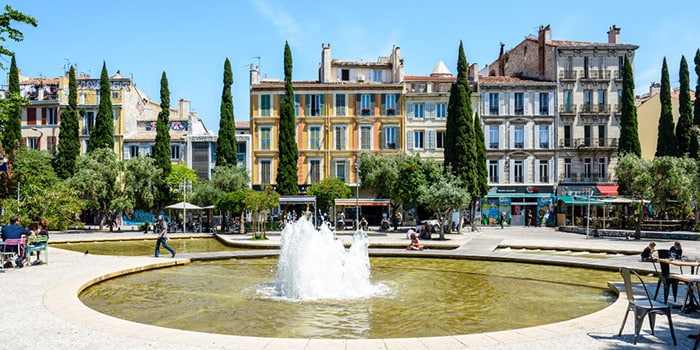 Cours Julien
Pros
Super-cool area
Great alternative cafés
Top place for a cold beer outside
Cons
A little ramshackle for some people
Not ideal for families
Calling all hipsters – Cours Julien is where you're going to want to be. A land of street art and al fresco cafés where smoking thinkers chat philosophy over strong coffees, it's laced with that legendary French bohemian spirit. There's just so much to keep you going on the gastronomy front: Everything from Spanish tapas bars to fair-trade roasteries finds a home here. They come backed up by art-house cinemas that thread down alleys strewn with graffiti murals, dotted with tattoo parlors, and alive with a palpable youthful energy until late at night.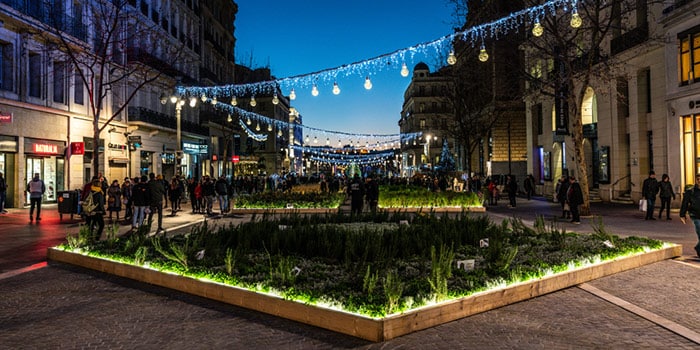 La Canebière
Pros
Fantastic shopping
Well connected to most of the city's historic areas
Handsome and grand appearance
Cons
Not loads of Airbnb
Not the same old atmosphere as some areas
La Canebière is the main boulevard that cuts through the beating heart of Marseille. It runs from pretty Parc Longchamp to the Vieux Port and hosts some of the most important business and banking buildings in the town. It's also a veritable shopping mecca. Everything from jewelers to sports shops to health and beauty emporiums makes and appearance, and there are long stretches that are now 100% pedestrianized to make those retail outings all the more pleasant.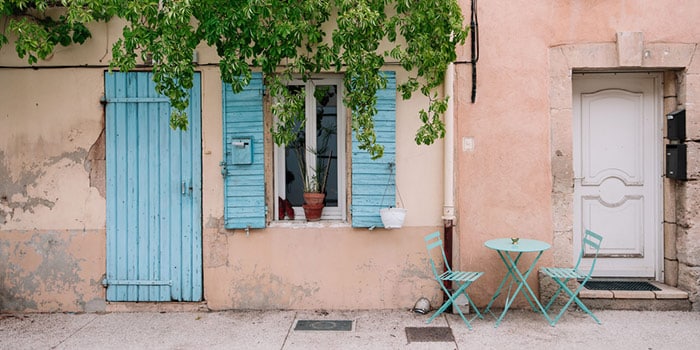 Château-Gombert
Pros
Relaxed
Authentic
Off-the-beaten-path
Cons
Far away from the main sights of the city
No nightlife to speak of
Under the coastal ridges of the Massif de l'Étoile mountains and far away from the hubbub of central Marseille, off-the-beaten-track Château-Gombert offers something very different to many of the neighborhoods on this list. Here, you'll feel the laid-back vibes of a true Provencal village. There are squares with babbling fountains. There are honey-tinged houses with paint-peeling walls and blue shutters over their windows. It's the area to aim for if you want sleepy, people-watching trips but don't have time to venture further into the countryside.
Best Airbnbs in Marseille
Best Airbnb apartment in Marseille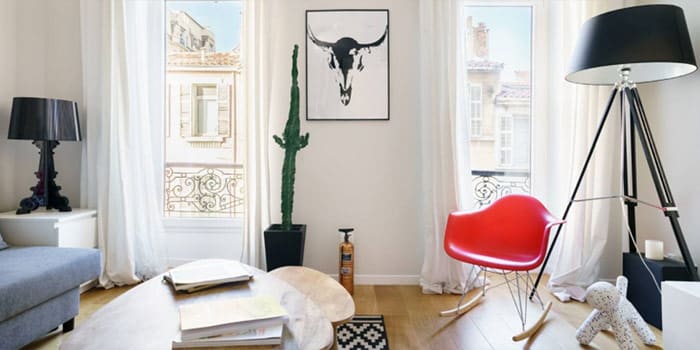 Appartement Contemporain Au Cœur De Marseille
Perched on the hills above the Old Port near the great basilica that keeps watch over historic Marseille, this Plus-rated Airbnb is a fine option for city explorers. It's both cozy and contemporary, with a parquet floors leading to tall windows that flood the living space with light. There's a narrow kitchen with a full cooker and a walk-in shower finished in retro metro tiles. Lovely.
Best Airbnb house in Marseille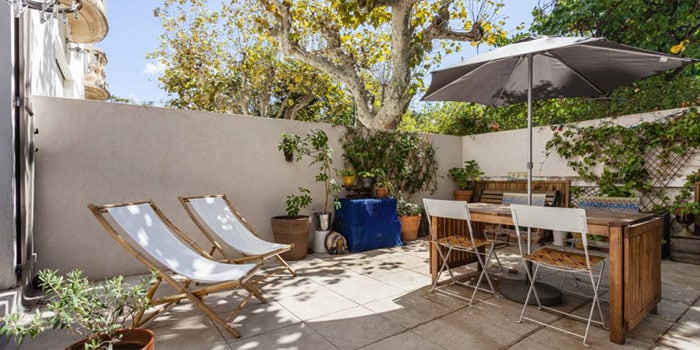 Maison De Charme Au Pied Des Calanques
One of the joys of Marseille is the proximity of the Massif des Calanques – a long stretch of wild, pine-scented coastline that offers glimmering beaches and stunning hiking paths. This charming house puts you between the buzz of the city and all that outdoorsy fun. Other highlights include a fitted kitchen, a family lounge, and a sun-splashed patio with its own BBQ grill.
Best Airbnb for families in Marseille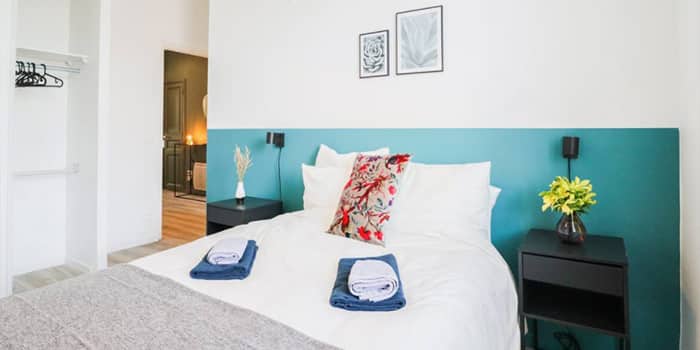 Superbe T4 Joliette
This inviting flat on the northern side of the Le Panier area (the most historic part of Marseille) deserves plaudits for its quirky dashes of interior artwork and touches of retro furnishings. They make it an interesting place to bring the family, especially as the basics are taken care of so well – three bedrooms, space for up to eight people, and multiple washrooms.
Best Airbnb for large groups in Marseille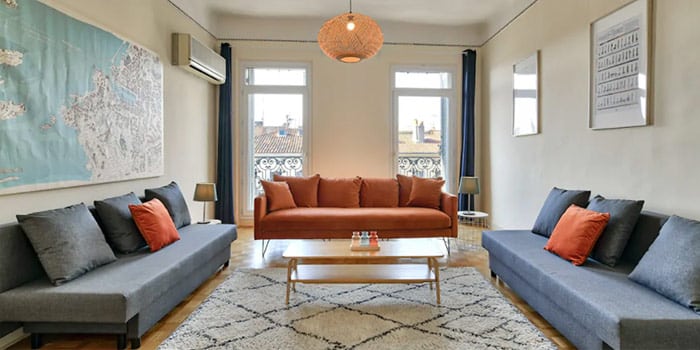 Nocnoc -l'olympe
Covering a whopping 155 square meters of space in a block that's under a mile from the Old Port, this 15-person flat could be just what you've been searching for. There are four separate bedrooms that join with sofa beds to create the capacity. However, the real pulls for us are the big dining room and the large lounge, which has a trio of sofas and views over Marseille's red-tiled roofs.
Best Airbnb for romantic stays in Marseille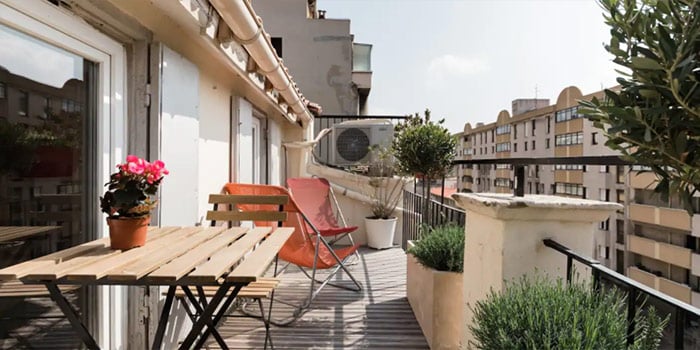 Studio Avec Terrasse À Deux Pas Du Vieux-port
If it's just the two of you exploring this fantastic French coast city, you could splash out for this charming Plus Airbnb. It has only one sumptuous double bedroom and spills onto a gorgeous terrace filled with herb bushes – the perfect place to share a white wine together before heading out to a romantic bistro!
Is Airbnb cheaper than hotels in Marseille?
We think that you'll be pleasantly surprised by the price of Airbnbs in Marseille. It's pretty common for these short-term lets to trump traditional hotels when it comes to cost. They also leave way more scope to bolster the budget. That's mainly thanks to self-catering facilities, which mean you won't have to spend so much eating out when you're actually in Marseille. On top of that, it's normal for hosts to offer tempting discounts for stays of over a week, ranging from 10% to nearly 50% off the total price!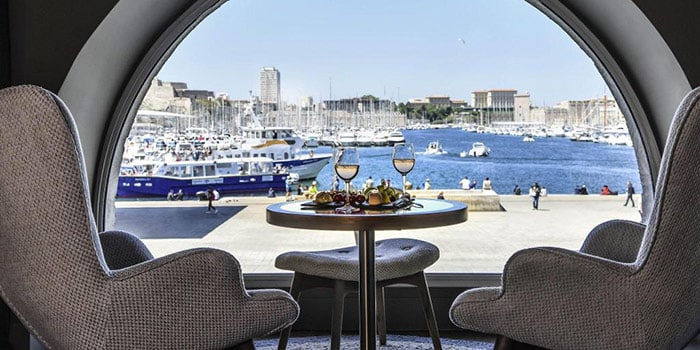 One downside is you won't get the same pampering and service as in a boutique hotel or resort. That's a bit of a shame because the French Riviera is known for its rich hospitality. If that's what you're after, the Grand Hôtel Beauvau is certainly worth a look in. It's laced with touches of retro, 1920s design and has an irresistible location right on the historic Vieux Port of Marseille.
Jet into Marseille to discover one of France's oldest cities, with its weathered port area, Provencal charm, and fantastic location on the sparkling Mediterranean Sea. This guide has all the information you need to get a top-quality Airbnb for your stay.
How useful was this post?
Click on a star to rate it!
Average rating / 5. Vote count: