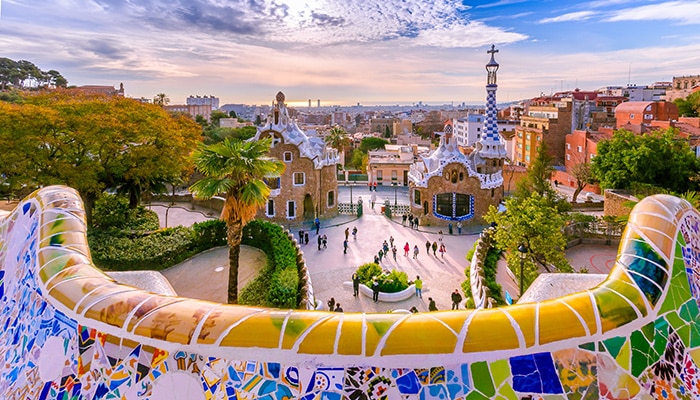 Grab a marker and get ready to strike two lines from your bucket list: Paris and Barcelona await on this cross-Iberian odyssey. Among the greatest cities on the planet, they beckon with a Flamenco twirl of tapas, wine and top-notch sites, ranging from the iron girders of the Eiffel Tower to the haunting spires of La Sagrada Familia. What's not to love?
This guide has all the information you need to complete the 510-mile journey southwards through France and the Pyrenees, all the way to the sun-kissed coast of Catalonia. Enjoy…
Paris to Barcelona by high-speed train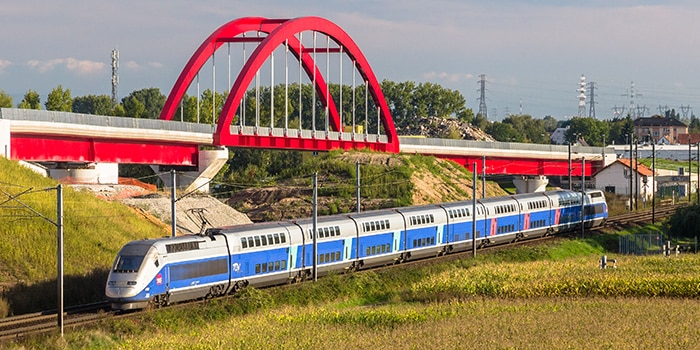 Time – 6.5 hours
Price – $43+
Comfort – 5/5
An alliance of Spain's Renfe and France's SNCF train operators means that direct high-speed services now go between Paris and Barcelona on a regular basis. In fact, there are two departures daily 365 days of the year, with as many as four on offer during the popular summer travel season (May-August). The nippy locomotives, which go at breakneck speeds of 320 kph on some stretches of the line, can complete the whole 629-mile track in under seven hours. Nice.
As if you still need convincing that this is a mode of transport worth considering on the route to the buzzy bars of Las Ramblas, the trains themselves are pretty darn comfortable. Yep, you're looking at boarding an all-new TGV Duplex two-storey. Those have mod cons like WiFi and in-seat plugs, but also offer seating in Second Class and First Class on a higher floor, meaning guaranteed views over the French and Spanish backcountry as you travel.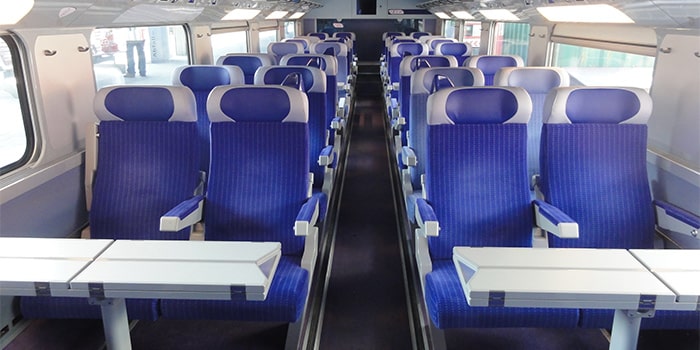 Trains are fast, reliable, but – perhaps most importantly – super-fun, with some seriously jaw-dropping views of the French countryside.
Talking of the views…they are something truly special. Things begin in the soft hills of Champagne and Burgundy before you cross into the sunny reaches of Languedoc-Roussillon, skirting the edge of the Provençal lavender fields and delving into the coastal wetlands of south-eastern France (keep the eyes peeled for flamingos!). As you approach the border, it might even be possible to see the soaring summits of the Pyrenees dusted with snow and fronted by vineyards.
It's wise to plan early and book your tickets with 12Go.co while there's still plenty of time to go before your trip to Barcelona. Why? Well…dynamic pricing means that the cost of the fare can increase significantly, going from 39 € ($43) to as much as 170 € ($184), all for precisely the same seat in Second Class!
Paris to Barcelona by plane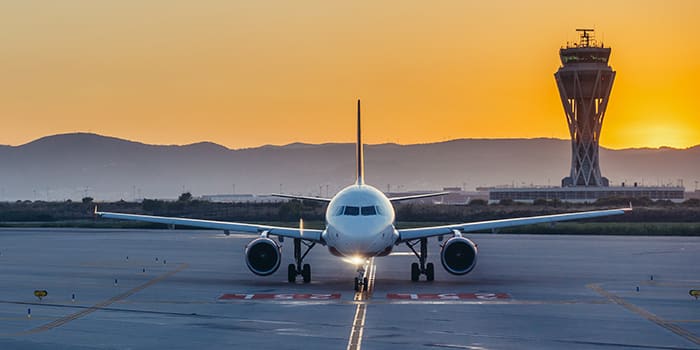 Time – 1 h 50 min (flight only)
Price – From around $50
Comfort – 4/5
There are oodles of flights linking the runways of Paris' airports to the runways of Barcelona. They offer a quick whiz over the Pyrenees from city to city that takes just shy of two hours in total. Of course, you'll also need to factor in the time it takes to reach the terminals and check those bags, but it's generally the fastest way to get from the shadow of the Eiffel Tower to the great vaulted interiors of La Sagrada Familia.
Flights can be cheap, run loads of times each day, and get you to Barcelona after less than two hours in the air!
These days, myriad low-cost airlines run the route. There's Ryanair, easyJet, Transavia and Vueling to name a few. They will typically have the cheapest seats of all, with average fares hovering around the $50 mark. On top of those, you've got the premium connections that are largely dominated by Air France. They can often start at a base fare of about $60, so there's sometimes not much difference between the carriers here, although all have add-on fees for checked baggage. Booking early is key to scoring the best deals, so we'd recommend searching on 12Go.co right now if you already have your travel dates locked in.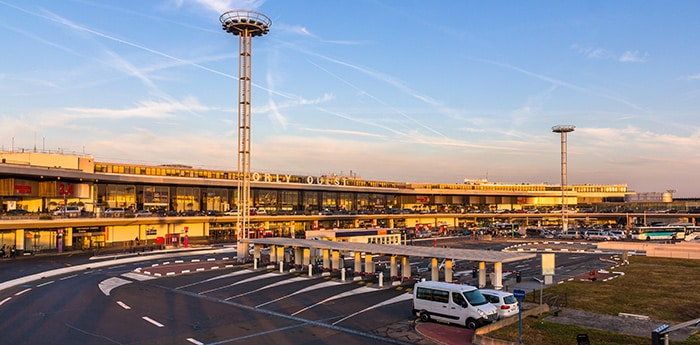 The real thing that will drive the decision of what airline you go with is the origin airport. Ryanair offers departures from the far-flung Paris Beauvais Airport, which is a fine choice if you've been exploring towns like Amiens and Rouen or the Normandy beaches. There are others from CDG airport, the largest in the capital that's quick to reach on RER trains. But most jet out of Orly Airport, which is about an hour's transfer from central Paris on an express bus that costs about 10 € ($10) per person. The arrival airport for all flights is the large Josep Tarradellas Barcelona-El Prat Airport (BCN). Renfe trains connect that to the downtown every 30 minutes or so.
Paris to Barcelona by bus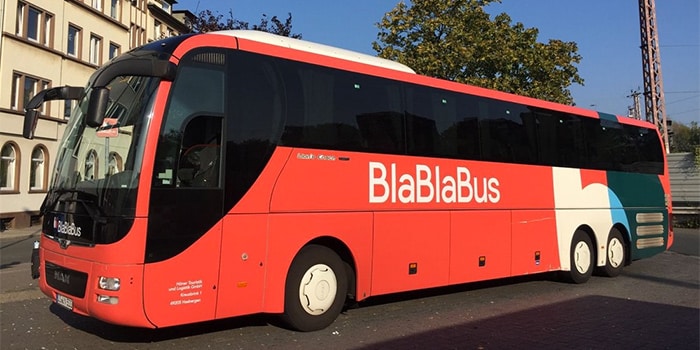 Time – 13 to 20 hours
Price – $37
Comfort – 2/5
Let's get one thing out of the way – the bus between Paris and Barcelona isn't short. The very fastest connections of the lot take over 13 hours, while any that don't go from city to city directly can clock up travel times in excess of 20 hours. That's a load of time to spend on the road when you could be sipping sangria by the Med, eh? Still, the bonus is a lower price…the cheapest coach fares can be under $40, which makes it a wallet-friendly option, especially if you're struggling to find bargain trains or planes.
Buses can save some euros for nights on the town in Barcelona, but won't be the comfiest way to travel.
It's always worth chasing seats on well-known long-distance coach providers first. They include Flixbus and BlaBlaBus, which have sprawling networks across Western Europe and beyond. Both also run modern buses that are generally reliable, have onboard toilets, and even dedicated WiFi connections. That's important when you're considering more than half a whole day in the saddle on a route that's north of 620 miles!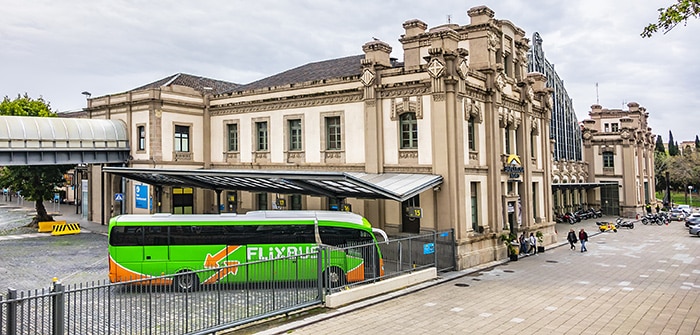 The pickup point in Paris will be in the station at Bercy, which should keep delays on the way out of town to a minimum (it's conveniently located on the south side of the capital, with good access to the ring roads). In Barcelona, you'll alight at Barcelona Nord. That's uber-convenient for sightseers hungry for the atmospheric Gothic Quarter or the energy of Las Ramblas, which both sit a mere 15-20 minutes' walk away from the platforms.
The route from Paris to Barcelona is a good way to go if you're stringing together a bucket-list city hopping tour of Western Europe. It means swapping wine bars and cheese-scented bistros beneath the Arc de Triomphe for tapas joints under the plane trees of Las Ramblas. Sounds fun, eh?
---
Paris to Barcelona FAQ
What is the cheapest way to get from Paris to Barcelona?
Coaches, when booked in advance via a service like 12Go.co, can still trump both the trains and the planes to the cheapest tickets on the route from Paris to Barcelona. Get in there with the early birds and you might be looking at paying something as little as $37 for the whole 620-mile trip. That should leave some euros in the budget for your sangria on the shores of the Costa Brava!
What is the fastest way to get from Paris to Barcelona?
Flying is still the speediest way to swap France for Spain and the sights of Paris for the buzz of Barcelona. Time spent in the air is about 1h50 per flight, which translates to about four or five hours moving in total once you tack on transfers to the terminals and to your hotel on the far side. Be warned that airfares are unpredictable, so bagging a bargain on 12Go.co as soon as you see it is wise.
How much is train from Paris to Barcelona?
The French train network has some big rewards to anyone who's willing to book far in advance. Prices ebb to as little as $43 a pop when tickets are first released (usually 90 days prior to the day of travel). Remember that, because you could end up paying more than $180 if you leave it later! 12Go.co can help you dodge the increase, with an online search and booking facility for all Paris-Barcelona connections.
How long is the train ride from Paris to Barcelona?
It might not be as long as you think, because the trains that run the rails between these two great cities are some of the fastest on the continent. Upgrades in the line south of Perpignan now even help them hit speeds of 320 kph, meaning the whole trip from Paris to Barcelona can be done and dusted in as little as 6.5 hours. That's not too much more than flying when you add on check-in, security, and all the other fuss of the airport.
Is there a night train from Paris to Barcelona?
No longer. Sadly, these were discontinued in 2017. However, don't despair – the zooming SNCF trains are just as much of an adventure. They can clock up mind-boggling speeds of over 320 kph on some sections of the line, have onboard dining carts, and some seriously brilliant views of the French and Spanish countryside. Get over to 12Go.co to book them today.
Is the train ride from Paris to Barcelona scenic?
Let's put it this way: Be sure to have the camera fully charged! The first section cuts through central France and even brushes up against the Alps. Then you bear eastwards to the coast and enjoy vistas of the Mediterranean shoreline, where oat-topped dunes and families of flamingos inhabit the wetlands. The last hurrah is a broadside of the rugged Pyrenees mountains, which often come with a touch of snow on their summits.
How useful was this post?
Click on a star to rate it!
Average rating / 5. Vote count: