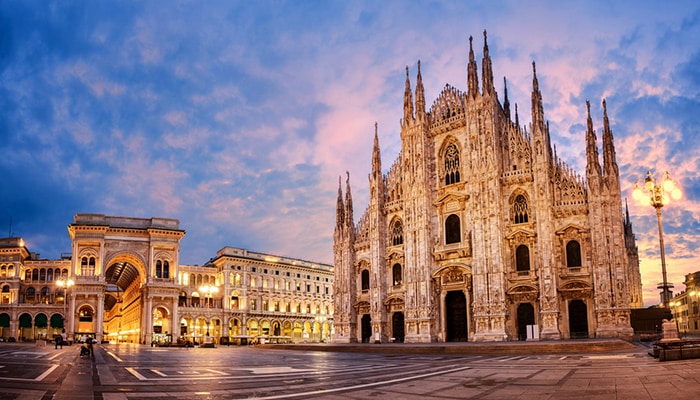 Paris and Milan have a lot in common. They are both fashion hubs, with a reputation for haute couture and beautiful people. They both sport grand architecture and buildings, whether that means the Gothic spires of Notre-Dame or the handsome turrets of the magnificent Milano Duomo. Each has its own unique cuisine, including saffron-scented risottos and crispy baguettes and pungent cheeses.
We could go on, but suffice to say travelers who like the French capital often love the Lombard capital too. This guide is intended for those who want to cross the 400 miles through the midst of Western Europe to check both off the bucket list. It details all the modes of transport you can pick, from super-quick trains to classic planes. Bon Voyage!
Paris to Milan by high-speed train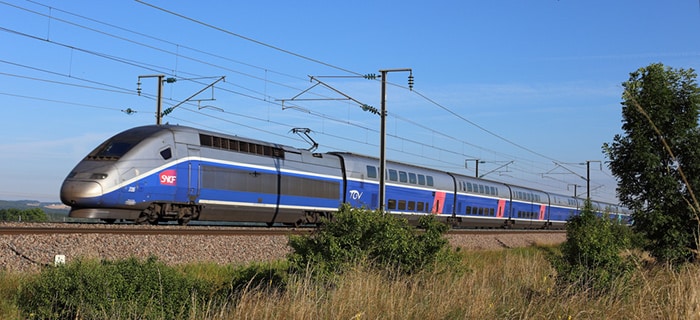 Time – 7-8 hours
Price – $32+
Comfort – 5/5
There's hardly a more enticing rail journey in this part of Europe than the 540-mile line between Paris and Milan. It crosses the breadth of eastern France before delving into the craggy Alps and then through the lowlands of Lombardy, offering a montage of mountains and vineyards and rustic countryside during seven hours of comfortable riding. And that's not even mentioning the grand Gare de Lyon, where you can munch a fresh croissant before boarding in the morning.
The high-speed trains that connect Paris with Milan are all TGV. Those are the fastest locomotives France's SNCF railway network has to offer, with top speeds of 300 kph. You'll only be hitting that on certain sections of this line, however, because wiggling into the Alps west of Lyon means having to take the foot off the accelerator just a little. Onboard, passengers can enjoy two-two seating in 2nd Class and some two-one seating in 1st, along with excellent catering and air conditioning.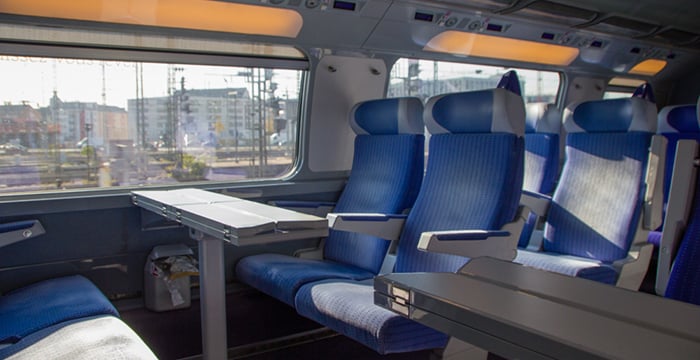 The TGV train is a swift and stylish way to whiz across Western Europe between Paris and Milan.
In total, there are three departures daily out of Paris. The earliest leaves at 6.28am and gets into Milan at just before 2pm. Then you've got the mid-morning option at 10.39am, followed by the afternoon service at 2.42pm, which arrives at nearly 10pm in the evening. The fastest connection on the route is complete in 7h02, but expect total journeys to be between seven and eight hours on average.
Tempted? Good…this is a cracking way to travel. Just be wary that ticket prices are only low for a limited time. In fact, there's a whopping great big difference of $93 in the cost of an advance-purchase fare and a full fare. So, we'd say it's super-important to head over to 12Go.co and get booking as soon as you know your dates of travel. The discount seats are usually on offer between six and three months prior to departure.
Paris to Milan by overnight train

Time – 10.75 hours
Price – $32+
Comfort – 4/5
The Thello train is now the sole overnight rail connection between the City of Lights and the Fashion capital of Italy. It's run exclusively by Trenitalia (Italian national railways) as a subsidiary, intended as a like-for-like replacement for previous private overnighters and joint services run in conjunction with SNCF (French railways). The schedule is simple: You'll go from the Paris Gare de Lyon at 7.15pm and arrive into Milano Centrale at 6am the next morning, with just one intermediate stop in Dijon. Easy.
Go to sleep as your train crosses rural France and wake as you roll into grand Milano Centrale the next morning – that's the Thello offering.
There are no normal seat options on this train. Every passenger will need to pick from the seven individual sleeper classes. The cheapest are the four- and six-bed couchettes, which are formed from pull-down hard beds topped with branded bedding sheets and pillows. The more expensive private cabins can have three, two, or single sleeping arrangements, but do see costs at least triple. The priciest options of the lot are the ensuite carriages with their own showers and toilets. There's also an onboard dining car that has waiter service and a range of hot foods.
The Thello train starts at a reasonable 29 EUR ($32) per person. That's exactly in line with the high-speed TGVs, only here you'll also save money on the cost of a hotel for the night. You will need to fork out more for more comfortable carriage classes (two-berth cabins cost over 100 EUR each a night). Oh, and prices will creep up as you near the date of departure. Bargain seekers will want to hunt in advance on 12Go.co for the Smart fares, which aren't flexible but are the cheapest of the bunch.
Paris to Milan by plane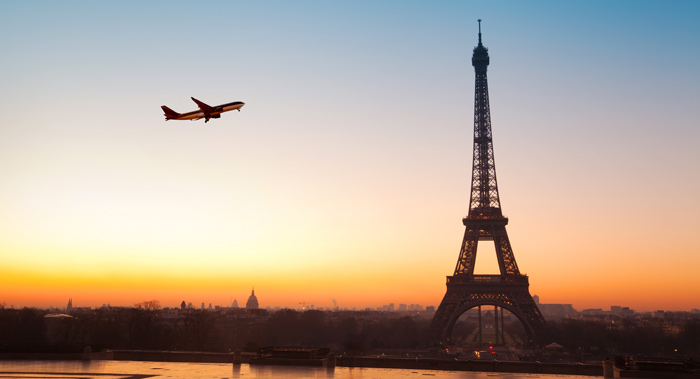 Time – 1.5 hours (flight only)
Price – $30+
Comfort – 4/5
There are more than 20 flights linking Paris to Milan each day, which is hardly a surprise given that the two cities both have several airports and figure as major aviation hubs for both France and Italy. Average flight times are around 90 minutes, but could be a little less, particularly with a tail wind. Still, that doesn't factor in the extra time you're going to need to transfer to the terminals from central Paris, go through security, and then get into Milan's centre on the far side. In all, journeys usually take between four and six hours.
There are two main things to consider if you want to hit the skies between Paris and Milan. The first is which airline you go with. The second is what airport you fly into and out of. Both are actually linked, because certain carriers only operate from certain airports. As a general guide for those traveling from central Paris, it takes about 35-40 minutes to reach Charles De Gaulle Airport, about an hour to get to Orly Airport, and over 80 minutes to reach Beauvais.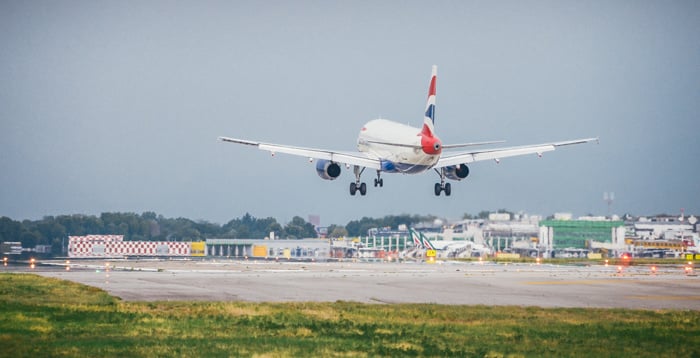 Flying is a fast way to go from city to city, with an average time in the sky between Paris and Milan of 90s minutes.
As a rule, Ryanair tend to have the cheapest tickets. Sadly, they only jet out of the remoter Paris Beauvais Airport. EasyJet also have competitively priced seats, along with departures from Paris' two major hubs: Charles De Gaulle and Orly. Picking up the more expensive end of the spectrum are flights by Air France, which leave many times each day from both CDG and ORY, but will often cost considerably more.
When it comes to arrival points, we'd recommend picking Milan Linate for ease of getting into the centre of the city. Milan Malpensa is also a good option, but means around an hour's transfer after landing. Bergamo's big low-cost hub at Orio al Serio is about 60 minutes away from Milan proper, too, but is a great option for those who are aiming to get to the Italian lakes or the beautiful southern Alps.
Paris to Milan by bus
Time – 13 hours
Price – $30+
Comfort – 3/5
You can catch a bus all the way from Paris to Milan. Well-known coach provider Flixbus offers both night and day connections, with nonstop services leaving big Bercy Seine station at half past midnight, 8.40am and 8.30pm, along with another going from Gallieni at just before 10pm. In all, it takes just shy of 13 hours to complete the 530-mile A to B. That's without any need to change vehicles along the way, and only scheduled stops for rests or pickups.
Price wise, the coach can come in at as little as $30 per person. That's a good deal, but probably not that good when you consider that direct TGV trains can be had for only a few dollars more, and flights could even be cheaper! What's more, the buses might be modern and clean, with good recline on the seats and air conditioning, but they aren't as comfy as going by railway or by air by a long stretch. The short of it? We would put this one down as a decent backup choice if you can't find affordable advance tickets on the locomotives or with the airlines.
---
The trip from Paris to Milan is a hop from one of Europe's stylish and chic metropolises to another. It means crossing a great swathe of Europe to get to the heartlands of northern Italy, which can be done by either road (on cheap buses), rail (on fast TGVs and night trains) or air (on a whole host of airlines).
---
Paris to Milan FAQ
What is the cheapest way to get from Paris to Milan?
Surprisingly, flying could just represent the best bargain on the route from Paris to Milan. That's down to the offering from budget carriers like easyJet and Ryanair, who sometimes offer tickets for under $30. You'll need to book as early as you can on 12Go.co to get those sorts of deals, and factor in the cost of transport to and from the airports on both sides.
What is the fastest way to get from Paris to Milan?
Flying is the fastest way to get from Paris to Milan. You'll be in the air for a mere 1.5 hours or so, which adds up to a complete trip of about four to six hours when you consider security checks, transfers and bag drops.
What is the best way to go from Paris to Milan?
We have a real soft spot for the TGV trains. Not only are they pretty darn fast (the whole trip to Milan can be done in seven hours) but they also offer a ride through the gorgeous backcountry of the French Alps. In addition, they are environmentally friendly, and can cost as little as $32 per person when you book in advance on 12Go.co.
How much is a train ticket from Paris to Milan?
It depends when you book. If you're quick and get to 12Go.co a long time before you're due to travel, it's possible to score saver fares that are around just $32 per person. That will double, triple, or increase even more than that as you near departure, as full flex fares on the day can be over $110 each!
How long is the train ride from Paris to Milan?
On the zippy TGVs run by France's national railway network, the journey from Paris's Gare de Lyon to Milan takes around seven or eight hours. If you take the overnight Thello train, it's an evening to morning deal, lasting around 11 hours in total.
Is the train ride from Paris to Milan scenic?
It really is. The first section takes you through the bucolic surroundings of eastern France. Then, you'll roll past Lyon and see the Jura Mountains and the Alps rear up on the horizon. As you wiggle into the peaks, you'll be treated to visions of snow-capped summits and charming Savoie-style resort towns. After that, Italy comes specked with vineyards and low mountains before you hit the plains on the way into Milan.
Is it better to fly from Paris to Milan or take the train?
If you're in a hurry, it might be better to fly. But timing is just about the only thing going for the planes. You'll have better views from the TGV, enjoying onboard meals as you roll through the Alps. Travel schedules mean journeys by rail last about seven hours, which isn't all that bad. Oh, and train tickets can cost as little as $32 per person if you manage to book them well in advance using 12Go.co.