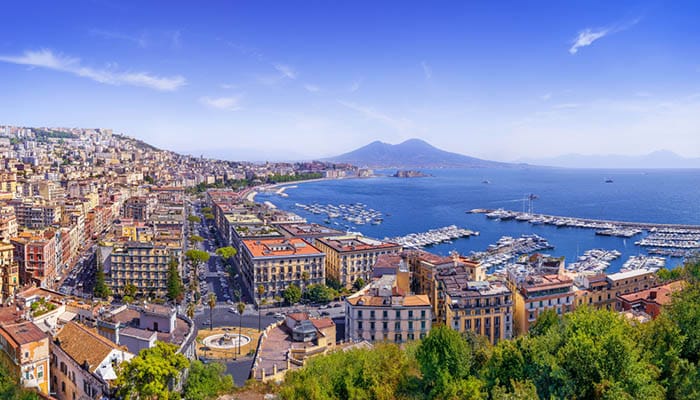 There are just 115 miles between Rome and Naples, meaning a trip that includes both these bucket-list metropolises should be easy to plan. More than that, it should be packed with enjoyment. Starting with visions of the UNESCO-tagged Colosseum and the priceless artworks of the Vatican Galleries, ending with mozzarella-topped pizza pies and walkthroughs of ancient Pompeii.
The two great cities of south-central Italy aren't just close to each other. They are also linked by more modes of transport than you can shake your morning cappuccino at. This guide runs through all your options on the route, from the high-speed trains to driving the whole thing at your own pace. Let's get started…
Rome to Naples by High-speed Train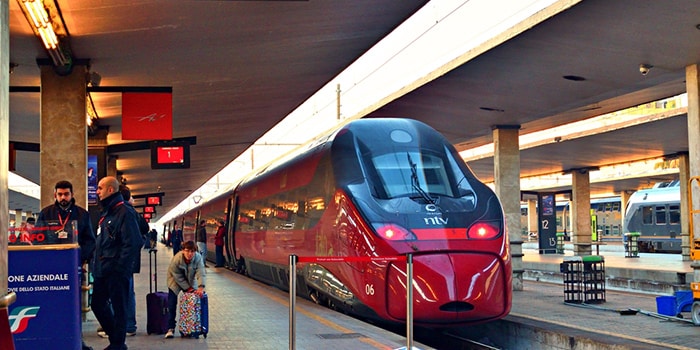 Time – 1h10
Price – $17+
Comfort – 5/5
Veteran travelers of Italy will often tell you that there's simply no better way to move between the major cities of the boot than by high-speed train. That's certainly true of the route between the capital and the south's volcano-topped pizza town. Uber-comfortable, very modern, and – above all – fast as fast can be, these locomotives can smash the 115 miles between Rome and Naples in a little over one hour. That's almost as quick as the flight, only there's no need to arrive at the airport an hour before take-off!
On top of all that, there are loads of departures all throughout the day. Looking to get to Naples in time for a breakfast cannoli by the side of Ovo Castle? Book an early one. Want to hang around Rome for a coffee on the Piazza del Popolo and leave later on? Not a problem. Check 12Go and you'll see that there are something like 71 services on this route every day, starting at 6am and finishing after 10pm.
It's hardly a wonder that most travelers from Rome to Naples choose the high-speed trains – they're reliable, fast, comfy, and affordable.
The high-speed services on Italian railways are shared between the state-owned Trenitalia and privately owned NTV. The former run older Frecciarossa trains, which are probably just about the most luxurious of the bunch, coming with dedicated Executive Class for business travelers, onboard buffet carts, and very spacious standard carriage seating. NTV offers slightly more affordable Italo trains that are still downright lovely, with a three-tier class system and similarly nice onboard dining options. Our two cents: There's little difference between the two operators when it comes to the comfort level.
All high-speed links from the Italian capital to Naples leave from Termini Station. It's a huge hub with over 20 platforms but is well-organized and linked to the rest of the city by metro line – the stations are underground, just below the main atrium. Arrivals are into Naples Central (Napoli Centrale). It's on the eastern side of downtown.
Rome to Naples by Normal Train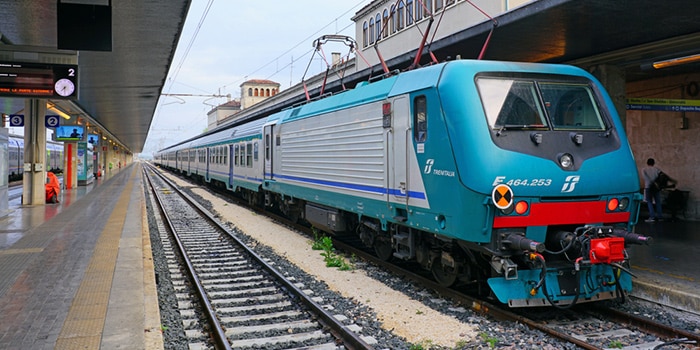 Time – 2-3 hours
Price – $12
Comfort – 3/5
Although high-speed locomotives now reign supreme when it comes to getting between big cities in Italy, the land of pizza and pasta hasn't completely dispensed of its slower trains. There are two types: Regionale and InterCity (IC). Both still run several times per day between Rome and Naples. The first is slower, taking about three hours, while IC trains will get you to Naples in two hours.
To be honest, the price difference between the faster trains and these slow ones probably isn't enough to justify an extra 120 minutes or so on the tracks. Tickets bought in advance cost $12, but that's only a saving of $5 in all. The real reason to book them is for the character. They'll take you on older, winding railway lines that pass smaller towns and villages. Start and finish points are the same – trips begin at Roma Termini and end at Napoli Centrale. 
Rome to Naples by Plane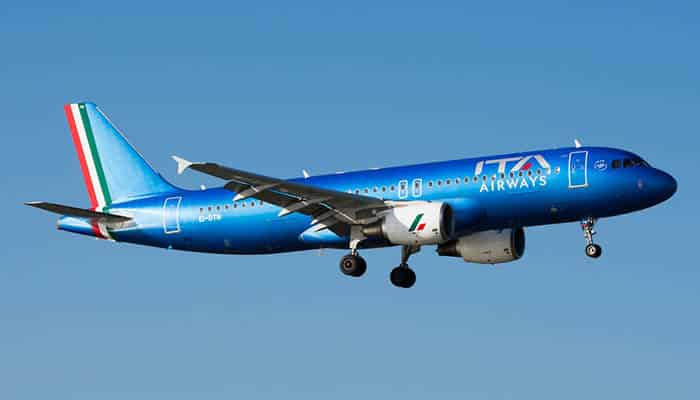 Time – 50 minutes (flight time only)
Price – From $104
Comfort – 4/5
ITA Airways run a couple of direct services from Rome to Naples each day. Both of them leave after midday, one at just past 2pm and the other just before 10pm. They're fast but probably not as fast as the high-speed trains once you've factored in the time it takes to get to the airport, check in your bags, and then transfer into downtown Naples on the other side. The upshot? the only reason you might consider this trip is if you're transferring straight off a long-haul flight or beginning your journey near the airport on the Rome side.
Flying to Naples from Rome only makes sense if you want to connect off a long-haul flight without leaving the airport.
Talking of the airport on the Rome side, all the direct ITA links on this route leave out the large Leonardo da Vinci International Airport in Fiumicino. That's one of the biggest international hubs in the country, so it's usually pretty busy but also packed with amenities. There's also a straight light rail link into Termini Station (downtown Rome), costing about $8 per person, taking a touch over 30 minutes.
Aside from taking longer than the trains in total, flights are also sure to be a whole load more expensive. Basic fares are usually in the region of $100 per person. And that's even before you've tacked on the price of transfers to the terminal, the cost of checked baggage (which doesn't come as standard), and the price of reserved seating (which is also extra).
Rome to Naples by Bus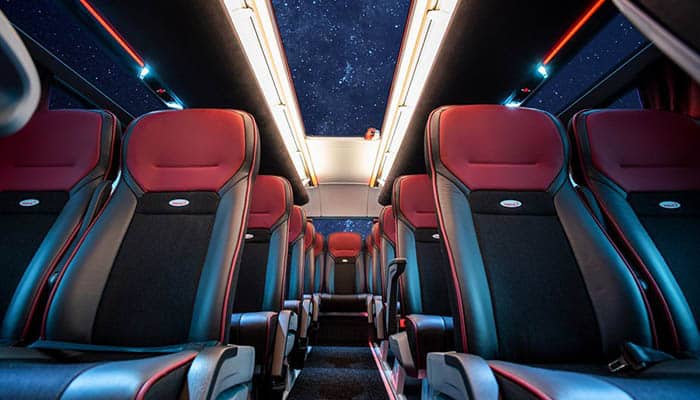 Time – 2.5-3.5 hours
Price – $3-30
Comfort – 3/5
If the trains fail then there are oodles of trusty buses to fall back on when it comes to moving from Rome to Naples. This classic way of traveling can help you trade the Roman temples for the glistening Tyrrhenian Sea in as little as 2.5 hours. Granted that's not as quick as the locomotives, but there are lots of departure times to pick from and buses are now generally modern, with adjustable seats and air conditioning throughout. Prices for this ride also tend to remain relatively stable – expect to fork out $20-50 for the trip.
At the risk of repeating ourselves, we'd say that the buses really should be seen as plan B to the quick trains and the regional trains. They aren't quite as comfy as their rail-based compadres, take longer to do the journey and get you into Naples right next to the main train station anyhow. The only reason we can think to go the bus way is if you were determined to leave from near Roma Tiburtina, which is on the eastern side of the capital. Our advice? Check FlixBus first – they are the leading coach operator in this part of Europe.
Rome to Naples by Car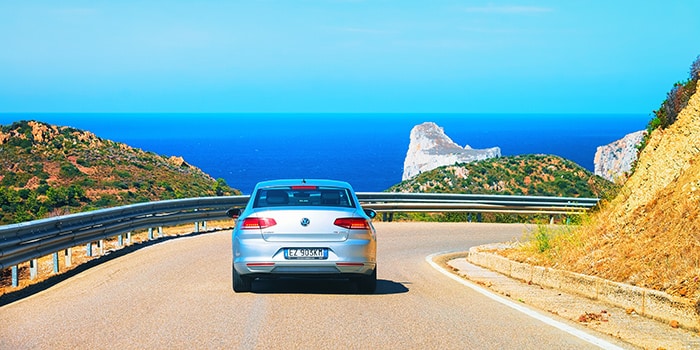 Time – 2.5 hours, but we'd take several days over it!
Price – Around $350 for four or five days' hire
Comfort – 5/5
There are 141 miles of highway between the Italian capital and the home of buffalo-mozzarella pizza, which is ample distance for a road trip if you're feeling adventurous. You can complete the drive in 2.5 hours if you keep the pedal to the floor and don't stop. But where's the fun in that? The main reason to hire a vehicle and get behind the wheel would be to take a couple of days over it and really explore south-central Italy…
Renting a car means that you can explore the beautiful mountains and countryside that lies between Rome and Naples, which we think warrants at least three or four days on its own.
There are loads to see. The drive would first take you east and south, skirting the wild Parco Naturale Regionale Monti Simbruini, one of the last remaining bastions of European wolves. From there, you could set the sat nav southwest towards the Parco Naturale dei Monti Aurunci, a rarely visited corner of the boot with medieval pilgrimage sites. There are also wonderful coast castles and beaches at Sperlonga, along with lots of regional volcano parks north of Naples itself.
Four or five days should offer lots of time to explore all of the amazing things that lie between the two towns. That would probably add up to about $300 in rental fees, plus perhaps $50-100 in surcharges for picking up the car in one location and leaving it at another. Just be sure to book your ride ASAP if you want to do this adventure between May and August because summer car hire rates in Italy can skyrocket if left until the last minute.
---
Naples is a gritty city of narrow alleys and age-stained churches. It's the home of pizza, the place to wander the haunting archaeological digs of Pompeii and Herculaneum, and the gateway to the ridiculously romantic Amalfi Coast.
It's easy to see why Naples might be your next destination on the boot after casing out the ruins and cafes of Rome. Our advice would be to check 12Go for high-speed trains before anything else. They are the fastest and most convenient way to travel between the two towns. Alternatively, there are short-haul flights, regional trains, and bargain buses.
---
How useful was this post?
Click on a star to rate it!
Average rating / 5. Vote count: