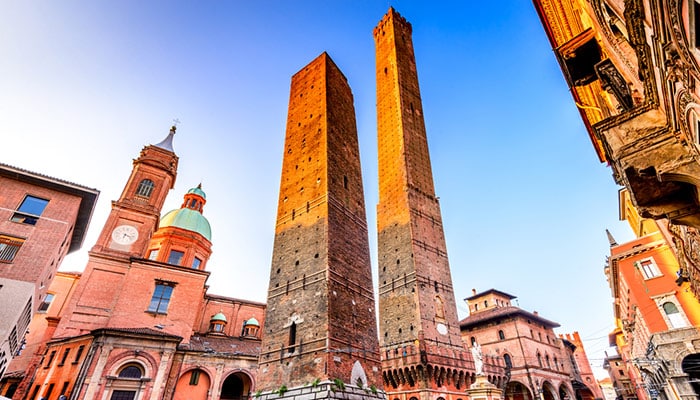 A sea of honey-hued palazzos and red-brick squares greets visitors to rambunctious Bologna. It's a welcome that heralds one of Italy's culinary hubs – this is the home of mortadella and tortellini! It's a 'buongiorno'to the oldest student city in the world, and a UNESCO site famed for leaning towers (move over Pisa!) and grand porticoes and vast piazzas that bubble with life. The main sights include the statue of Neptune and the gravity-defying Tower of the Asinelli, which will soon give way to enthralling museums that burst with Etruscan relics and sleepless university bars alike.
If you're craving a little pad to call your own while exploring this fantastic Italian city, be sure to get a-searching for Airbnb in Bologna. There's a whole wine cellar's worth of options to pick from, including deluxe flats with minimalist interiors and family townhouses where the whole travel crew can unwind after long lunches. This guide runs through all the top areas where you can focus your accommodation quest, and offers a few tips on the cream of the Airbnb crop…
In this Airbnb guide to Bologna: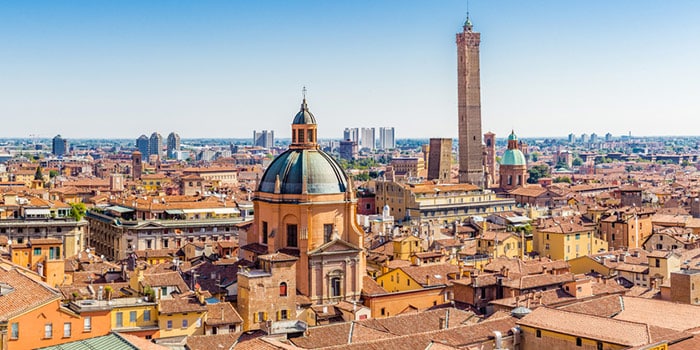 Is Airbnb legal in Bologna?
Airbnb in Italy is totally legal and allowed. That means you can zoom in on the map of The Boot to discover Bologna and check out as many short-term city flat lets or country villas as you like without having to worry about breaking the law. You may be asked to pay an extra tourist tax on top of the price of your chosen stay, and you will probably need to provide a passport or ID card when you come to check in. All that's handled directly with the host, so be sure to contact them over the platform if you have any queries.
Where should I stay in Bologna Airbnb?
Bologna begins in the Centro Storico (1). It's the area all first-time visitors need to delve into to find the leaning towers and the grand palazzos and the arcades. Just north east of that comes the Ghetto (2) district with its colourful street scenes and great cafes, followed by the University District (3) – a mecca for nightlife and eating. Beyond the train station and the ring roads, you can find good bargains in lived-in Bolognina (4), along with business-travel flats around Bologna Fiere (5). For a taste of great Italian wine and a stay in an Airbnb agrotourismos, choose the rustic Colli (6) hills to the south.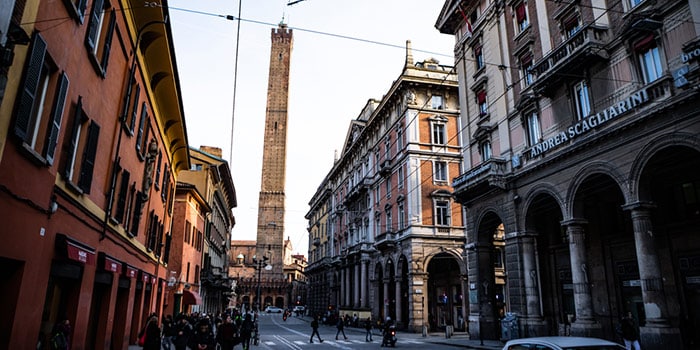 Centro Storico
Pros
The closest of all to Bologna's historical sights
Atmospheric area that dates back millennia
Plenty of choice on the Airbnb front
The Centro Storico (otherwise known as the Historic Centre) is the heart of old Bologna. It justifies its UNESCO World Heritage Site credentials with stacks of eye-catching landmarks that date back hundreds and hundreds of years. This is the place you'll see the Asinelli Tower and the water-spurting Neptune Fountain, along with major thoroughfares and hubs like the Piazza Maggiore – there's people watching aplenty there. Palaces, ancient libraries, and imposing castles seem to dot every corner, concealing oodles of trattoria and wine bars, many of which unashamedly cater to the tourist crowd. In short: Stay here to be right by the sights.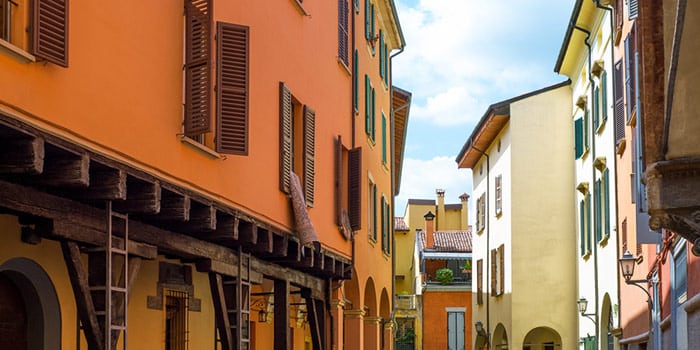 Ghetto
Pros
Stylish Airbnbs
Central location
Pretty street scenes
Cons
Gets busy in the high season
Not a great range of Airbnbs
The Ghetto is a wedge of streets that's tucked between the University District and the old centre of Bologna. It has a distinct character from much of the rest of the downtown on account of its unique and enthralling Jewish past. Colourful houses painted in bright orange and terracotta line the narrow roads, while a web of canals drift this way and that past intriguing cafés and wine bars. Because Ghetto is small, there aren't a whole load of Airbnbs to pick from, but expect stylish pads with Plus ratings from the ones that do exist.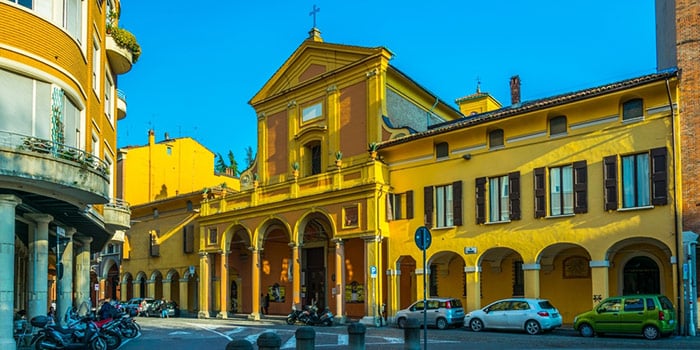 University District
Pros
Excellent nightlife
An authentic feel
Lots of eating options
Cons
Can be loud after dark
Not great for families
The University of Bologna was established way back in the 11th century, so it's hardly a surprise that the venerable learning institution has become an integral part of the city's fabric over the last millennium. These days, it's the anchor of its very own district, which extends north-east of the Centro Storico all the way to the Porta San Donato. A hubbub of student life, it's brimming with bars and drinking spots, along with loads of affordable eating. The upshot? Dodge it if you're a family; embrace it if you're a backpacker or young couple!