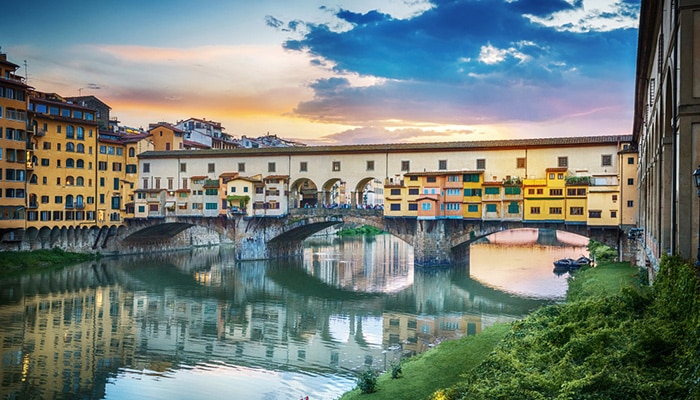 Milan to Florence – it's a trip that's sure to whet the wanderlust. First, you'll hop churches that have paintings by Leonardo da Vinci and devour saffron risottos in vintage Italiano cafes. Then, you'll head south to the fabled capital of Tuscany. There, masterworks of Renaissance architecture meet priceless relics in the Uffizi Gallery, while the impossibly romantic Arno River weaves through it all.
The 150-mile journey from one city to the other is now easy thanks to Italy's high-speed rail network and excellent roads. This guide can help you plan your travels by train, coach or car…
Milan to Florence by high-speed train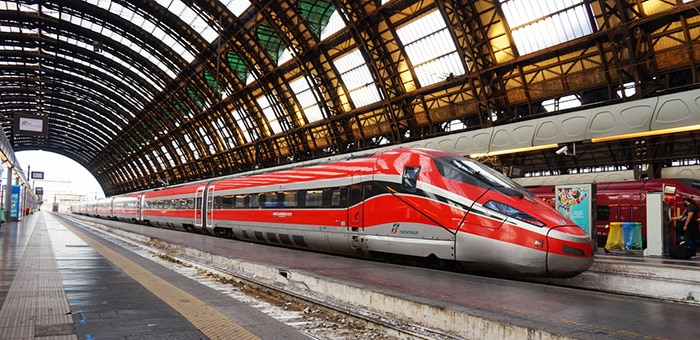 Time – 1h40
Price – $35+
Comfort – 5/5
These days, you can whiz down the spine of Italy from Milan to Florence in the time it takes to finish a bottle of Piedmont red and a plate of pasta. That's thanks to the uber-quick Italian rail network, which offers high-speed trains from the capital of Lombardy to the capital of Tuscany in just 1h40. They go all hours between 5am and 11.20pm, with up to 60 separate services to choose from.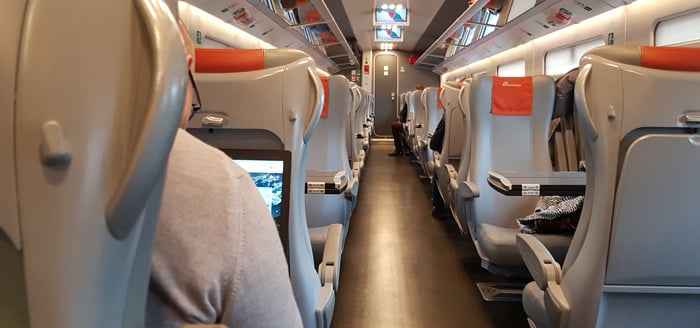 The key here is to look out for tickets on either the Frecciarossas (the models used by the national railway provider, Trenitalia) or the AGVs (used by independent train operator, Italo). Both are of similar comfort levels, but most travelers will go with the Frecciarossas because there are more of them per hour out of Milan. The cheapest tickets are for 2nd Class, or Smart Class, as it's known on the Italo trains, which will always have spacious table seats up for grabs and good air conditioning throughout.
High-speed train connections in Italy are excellent, helping you get from da Vinci's The Last Supper to Michelangelo's David in under two hours!
The ride starts with a trip right across the southern stretches of the vast Po Valley. It's one of the breadbaskets of Italy, so expect to see plenty of rustic farms and rolling fields of wheat. They turn into sculpted hills topped with churches as you approach Bologna. From there on, you'll need to traverse regular of tunnels on the way into Tuscany through the Apennines. All in all, it's relatively scenic and has lots to keep you entertained.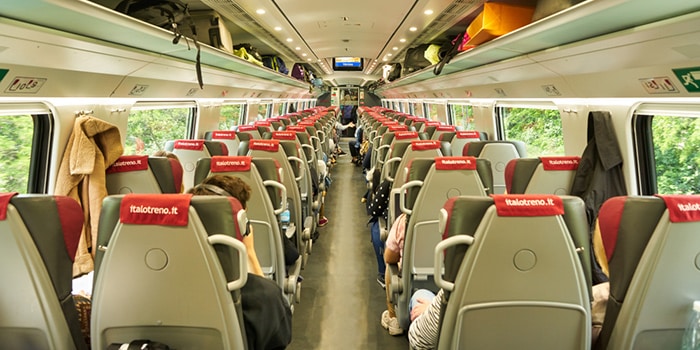 Prices for the high-speed trains can be unpredictable and reservations are compulsory. Booking early is the route to the most wallet-friendly fares, when the economy or super-economy tickets are still on offer. They should be around the $35 mark but could increase to more than double that after the sale period. Remember that advance tickets don't allow changes to travel dates or cancellations, but that's a risk you'll need to take to keep things cheap.
Milan to Florence by normal train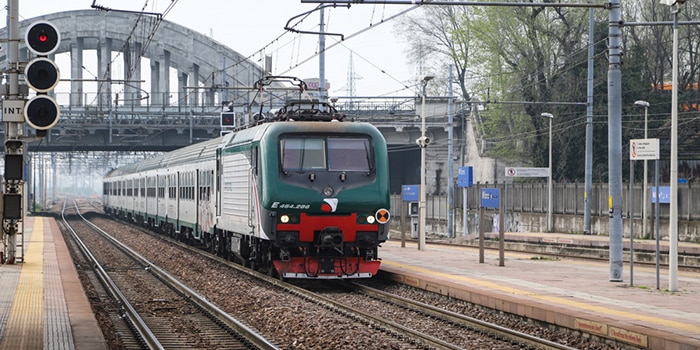 Time – 3-7 hours
Price – $27
Comfort – 3/5
Behind the super-fast AGVs and Le Frecce trains that whiz through Lombardy down to Tuscany, there's a whole other network of railways that host the so-called regional services. They are far slower than their 186-miles-per-hour compadres, but can be a good backup option if you're booking late or simply prefer lazier travels. It's going to take considerably more time out of your holiday, though – average trips are between three and seven hours, with changeovers almost always required.
The regional trains of Italy are slower but a bit more atmospheric, taking you to interesting towns between Milan and Florence.
Still on board? Good, because there are some decent upsides to going on the regionals. First off, they'll never surprise you on the price front. Seats on these lines always cost the same. It doesn't matter if you book 90 days in advance or two hours before getting to the platforms, you'll pay 25.50 EUR ($27) for the ride. In addition, you'll get to see way more of the country as you travel. Changes in Bologna or Prato or Parma are normal, and you might just have time to sneak out of the station for an espresso on the piazza.
Generally speaking, regional trains are comfy but not the comfiest. They have working windows, air conditioning (usually working in most carriages), and spacious seats with ample legroom. They aren't the swishest, true, but that's actually part of the charm. Where the trains take you between Milan and Florence will change depending on what connections you make. We'd recommend searching ahead of time on 12Go.co so you can get an idea of the towns you'll be crossing along the way.
Milan to Florence by bus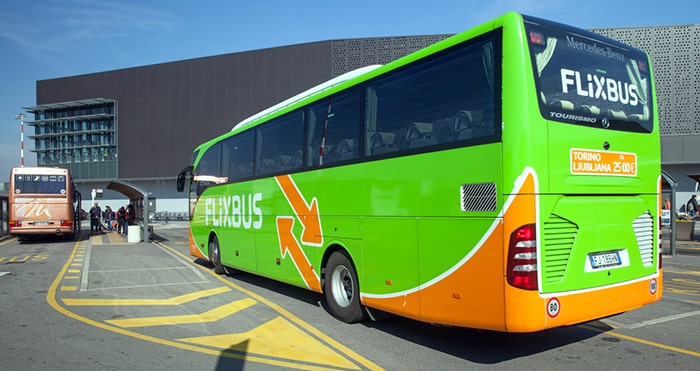 Time – 4 hours+
Price – $8.50+
Comfort – 3/5
There's no doubt that the bus link between Milan and Florence is a budget-friendly way to travel. Starting prices with major coach providers like Flixbus are just $8.50 per person, which is a fraction of what it costs to ride the high-speed rails south-east to the home of the Renaissance. Of course, that means there are some downsides, like the length of the journey, which is typically anything from 4-4.5 hours. Buses also don't hit the same comfort levels as the fast trains, but still offer air conditioning and onboard WiFi, so it's not all bad.
A bus means a longer trip, but also more money left in the budget for your gelatos on the Ponte Vecchio.
The key here is to search early and book using 12Go.co. There are more bus services going from Milan to Florence than you can shake a Dolomites snow globe at. You're going to want to pick out the ones that are fast and involve zero changeovers. Otherwise, you might be looking at some seriously long trips of above 11 hours, on buses that go through the Alps and across to the Italian coast before even turning in the direction of Florence.
You'll also need to pay special attention to where the stations are in both cities. Assuming you book with Flixbus (the most prominent operator), you'll have the option to start your trip at Lampugnano on the north-west side of Milan, or at San Donato M3 on the far south-east side. The best arrival point into Florence is Piazzale Montelungo, only a few steps from the boundary of the old centre. Sadly, most coaches go to Villa Costanza that's further away.
Milan to Florence by car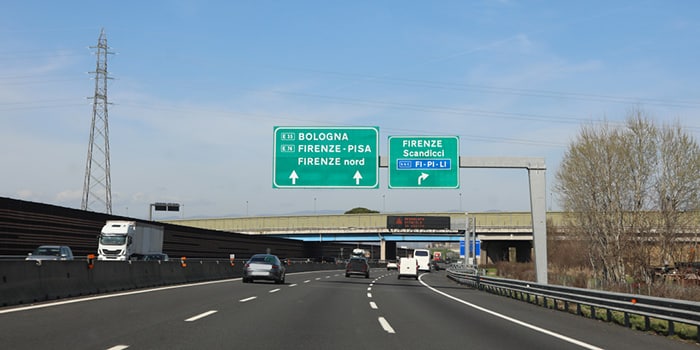 Time – 3h40
Price – From $50 per day for car hire, plus $22 for tolls
Comfort – 4/5
The directions are easy for drivers going between Milan and Florence. Simply hit the main A1 (E35) motorway and follow it all the way from one city to the other. Thankfully, this is one of the best-maintained and most efficient roads in all of Italy. There are lots of rest stops and excellent signage, so navigating the only real junctions at Bologna is a breeze. You will need to pay tolls, which tot up to around 20 EUR ($21.60) for the whole drive.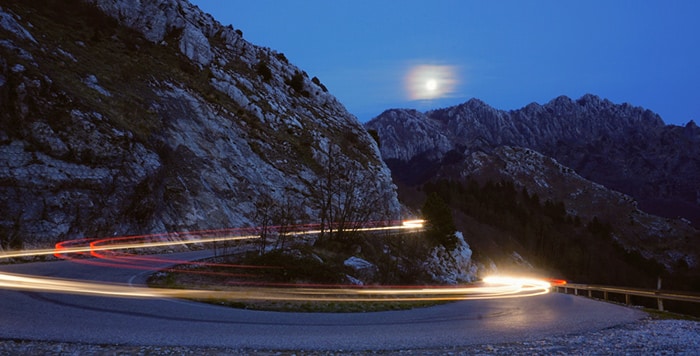 If you don't have your own ride yet, RentalCars.com has you covered. It's an easy search there to get deals from well-known global chains like Budget, Goldcar and Avis. Roundabout hire rates are in the region of $50-70 per day for a standard three-door car, but there's also likely to be a fee for dropping off in a different town to where you collected. Still, that's all part of giving yourself the extra freedom to explore Italy to your heart's content. On the road between these two top towns are some pretty awesome sights, whether you're drawn by the remote mountains of the Apuan Alps or the balsamic tasting rooms of Modena.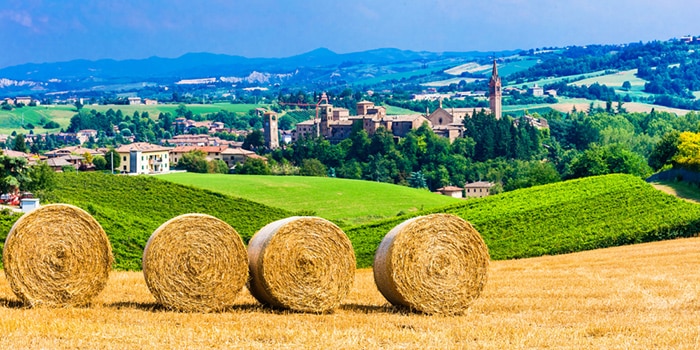 ---
You can smash the journey south-east from Milan to Florence in under two hours if you want. Or, you can take it slow and savour the Italian backcountry. Either way, your destination is an art-filled, uber-romantic town that's famed around the globe. Nice.
---
Milan to Florence FAQ
What is the cheapest way to get from Milan to Florence?
Buses top the pile when you organise all the possible modes of transport from Milan to Florence by price. They keep things super-cheap, with tickets starting at a mere $8.50 per person, each way. That's just a fraction of what the high-speed trains will be, even if you book well in advance using 12Go.co.
What is the fastest way to get from Milan to Florence?
High-speed trains live up to their name on the line from Milan to Florence. They go from city centre to city centre in as little as 1h40, which means you'll hit speeds of 186 miles an hour on the way. We'd recommend booking early using 12Go.co – reservations are compulsory, and seats can sell out.
What is the best way to go from Milan to Florence?
The high-speed trains are a real experience. They are some of the fastest locomotives in Europe, with chic interiors that include onboard food carriages with Italian wines. In addition, they can be a good deal (around $35 per person) if you book long before arriving in Italy using 12Go.co. They also manage to complete the whole trip in just 1h40!
How much is a train ticket from Milan to Florence?
The cost of a train ticket from Milan to Florence varies, at least on the high-speed services. Starter fares are around just $35 per person, although it's possible that will increase to double or more if you leave it late to book. Regional services have a different pricing model. They will always cost you $27 each, no matter if you buy the reservation on the very same day.
Is there a high-speed train from Milan to Florence?
Yep. In fact, the high-speed service from Milan to Florence is one of the best-used lines in the country. It takes you straight south-east through Bologna on comfortable, modern trains run by Italo or Trenitalia.
How long is the train ride from Milan to Florence?
The length of time you'll spend on the rails between Milan and Florence all depends on what train you want to go with. Book the fastest Italo or Trenitalia services and the entire journey could be complete in under two hours. Save some cash and go with the regional options and it's anyone's guess. You might be done in three hours, maybe five, maybe more. Different connections create journeys of different times.
Is it better to fly from Milan to Florence or take the train?
Given that there's no such thing as a direct flight from Milan to Florence, we're going to have to get behind the train. And even if there was an air link, it's hardly likely that taking to the skies would beat the 1h40 total journey time offered by the high-speed Italo and Le Frecce locomotives, especially when you factor in their onboard dining carts, comfy seats, and lower carbon footprint!
How useful was this post?
Click on a star to rate it!
Average rating / 5. Vote count: