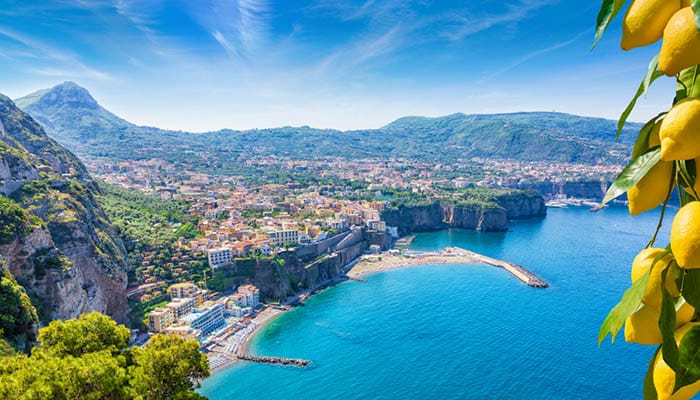 Get La Dolce Vita a-rolling with a pitstop in Sorrento, one of the most glorious resort towns of southern Italy. Poets and artists have long waxed lyrical about how gorgeous this salt-washed cluster of pastel-painted mansions and crooked piazzas is on the impossibly wonderful Bay of Naples.
Sorrento is not only a looker. It's also a fantastic stepping stone before visiting Capri, Pompeii, and the UNESCO Amalfi Coast. The vast majority of travelers arrive here out of Naples. That's the big city 16 miles to the north as the crow flies. The good news is that the trip down should be easy. As this guide will show, there are boats, minivans, trains, and good highways alike…
Naples to Sorrento by Train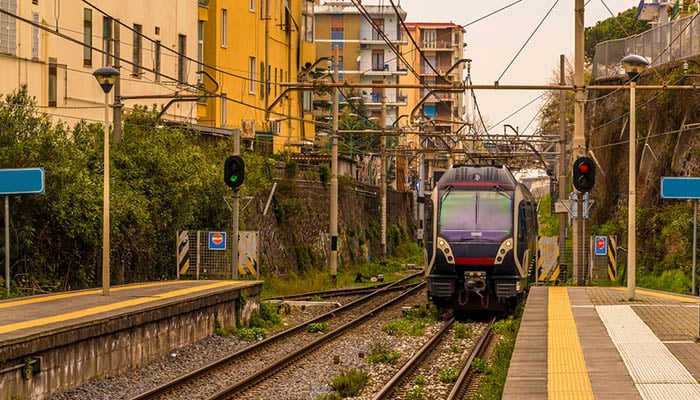 Time – 50 minutes+
Price – From $4.90 per person
Comfort – 4/5
Going by train is certainly one of the comfiest and most convenient ways to get from Naples to Sorrento. The city's Circumvesuviana network – the eastern branch of the Neapolitan railway map – has a line that's dedicated to running between the two destinations every 30 minutes or so from morning until night. There's also now a private railway company, CampaniaExpress, which is less for commuters and more for tourists. It's comfier and a whole load faster. Let's take a closer look at both choices…
There are two types of trains to pick from when going from central Naples to the pretty piazzas of charming Sorrento. 
Circumvesuviana trains leave from Napoli Porta Nolana, the main urban light-rail hub that's attached to Napoli Centrale (the main train station) on its south side. They're so regular that there's usually one pulling into the station as the last leaves, so you'll never have long to wait. The downside is that most of these services make around 30 stops at various stations all the way around the Bay of Naples, including at the iconic archaeology site of Pompeii.
Then you have the CampaniaExpress services. Despite following the same route as the Circumvesuviana locomotives, these are faster because they only pull up a handful of times en route. You can expect to alight at the platforms in Sorrento a mere 50 minutes after departing central Naples. There's an extra cost associated with the speed here – tickets on the express routes are around $8 each compared to the slower $4.90.
Naples to Sorrento by Boat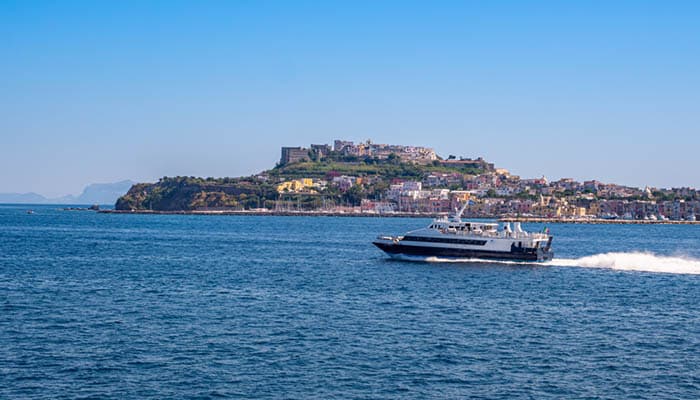 Time – 35-45 minutes
Price – $12.50
Comfort – 4/5
The boats from Naples to Sorrento are a real adventure. On a clear summer's day when the Bay of Naples is still, they'll whisk you south across the sparkling Mediterranean Sea as visions of soaring Mount Vesuvius and the lush Campanian mountains rise to the east and the rugged cliffs of Ischia and Capri haze on the water to the west. It's a real experience but it's also convenient since it costs just $12.50 each way and takes less than an hour from port to port.
Cruise across the Bay of Naples and see the great volcanos and the sky-blue sea as you arrive in Sorrento – it's a great way to travel!
So, what's the downside? Well…firstly, you'll need to get to the big port area of Molo Beverello in downtown Naples to start your trip. That's not as well connected to the rest of the city and the suburbs as Napoli Centrale train station, plus it's quite a distance from the international airport. Secondly, the boats are seasonal, meaning they only run for the warmer, calmer months of the year between May and September.
Only one company – Alilauro – currently runs ferries on this cross-bay connection. They've actually been servicing the route for the best part of 80 years, which means traveling this way offers a taste of Naples's heritage and history. Vessels have been improved considerably in that time, though. Today, they use speedy hydrofoil boats with climate-controlled interiors. The arrival point is the main port in Sorrento, from where you can ride the elevator to the town center for $1 or catch a local bus for about the same.
Naples to Sorrento by Shared Minivan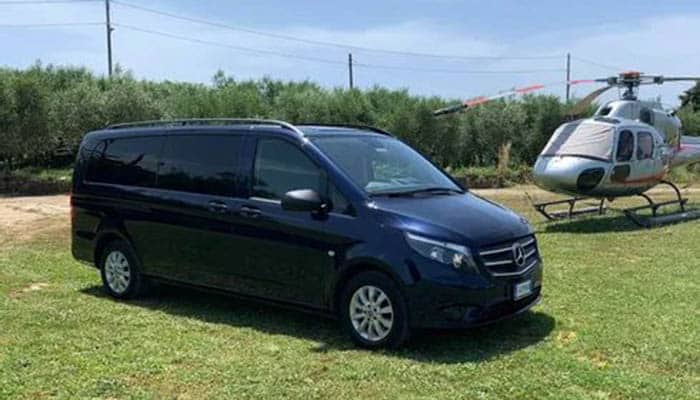 Time – 1h10
Price – $28-32 per person
Comfort – 5/5
Landing at Naples International Airport and want to skip the city to get to the boat-bobbing coves on the Med ASAP? The most hassle-free way to move from the arrival terminal to the town of Sorrento is either by direct taxi (more on that below) or in a shared minivan. The latter option offers way more bang for your buck, costing around just $30 per person, each way compared to nearly $200 for the full car.
Minivan transfers are a simple and affordable way to get from Naples International Airport to the resort town of Sorrento.
You'll be riding in a 12-seater vehicle that's pretty darn comfy, complete with air conditioning and upholstered seats. The services are run by dedicated airport transfer companies. There are two main ones to know about: Enjoy Travelling and the DTS Travel Group. Together they have a packed schedule of departures from Naples International that starts at 9am in the morning and finishes at around 10pm at night, with buses leaving either on the hour or at half past the hour.
The ride takes just over 70 minutes but could be even faster than that if you travel outside of peak times. It's all done on a first-come, first-served basis, which is why we'd recommend pre-booking transfer tickets using 12Go to secure your seat and have a specific departure time set in stone after your flight arrival.
Naples to Sorrento by Taxi
Time – 1 hour
Price – $190
Comfort – 5/5
There are a couple of situations where taking a taxi from Naples to Sorrento might make sense. Perhaps you're staying in a resort hotel on the outskirts of the city and are far away from the main public transportation options? Maybe you don't like the sound of navigating the frantic Naples downtown to get to the train station? Or perhaps you're jetting into Naples Airport from further afield and just want to get Sorrento bound as soon as possible?
With 12Go, it's now possible to pre-book a taxi service online before you even get to Italy. That can save a whole lot of stress. There'll be no need to haggle for rates and whatnot. Simply stroll out of the terminals or your hotel lobby and there should be someone ready and waiting to get you on the road. Expect to pay around $190 and up for this service, but remember that's for the whole car shared between everyone in your travel crew.
Naples to Sorrento by Car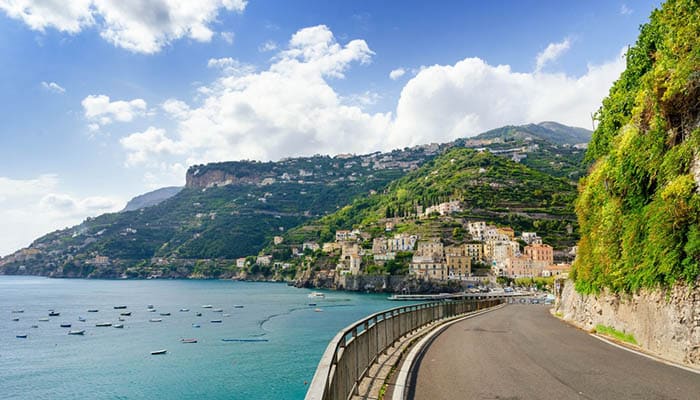 Time – 1 hour
Price – $45/day
Comfort – 5/5
Southern Italy has some seriously good bargains on car rentals. It's possible to score your own set of wheels in these parts for something like $45 per day in the shoulder seasons of spring and fall. That increases a touch in the summer months and will be more if you want a fancy car (open-top Ferrari, perhaps?). But, it is usually not too expensive to convert your trip from Naples to Sorrento into an expedition by road.
The thing is, these two towns are only an hour apart, being linked by the all-new and efficient E45 motorway. Is a car even necessary? That depends. There are some fantastic draws in the region that could warrant a few days of adventuring. We're talking about the UNESCO-tagged Amalfi Coast, where you'll cruise on some of the most spectacular roads in Europe between idyllic coastal towns and lemon orchards, and the Vesuvio National Park, which has hiking and volcano viewing aplenty. And that's really just scratching the surface.
---
Naples and Sorrento gaze at each other from opposite ends of the Bay of Naples, a huge cleft in the southwestern coastline of Italy. They are less than 16 miles apart as the crow flies, and really well linked by boats, trains, and roads in case you wanted to drive yourself. That means you can be stepping out between the chic boutique hotels and espresso-clinking piazzas of the gateway to the Amalfi Coast in less than an hour's travel time. Enjoy La Dolce Vita, folks!
---
How useful was this post?
Click on a star to rate it!
Average rating / 5. Vote count: