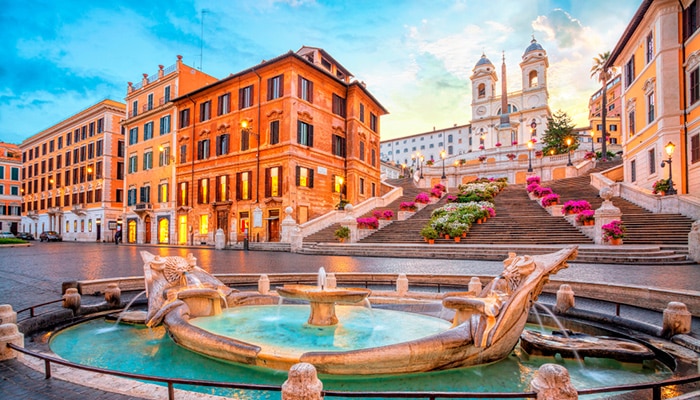 Prepare for an overload of art and culture as you move from the famous Tuscan capital to the great Eternal City. This isn't just a trip through the heartland of Italy; it's a journey from the epicentre of the Renaissance to one of the ancient metropolises of Europe. You'll trade visions of the carved and muscular David by Michelangelo for the soaring dome of St Peter's. You'll swap the masterworks of the Uffizi Gallery for the haunting remnants of the Colosseum and the Roman Forum. Oh, and there's more pizza and pasta to devour along the way than you can possibly handle. This guide runs through all your travel options on the 140-miles trip, which include speedy trains and even short-haul flights. Enjoy…
Florence to Rome by high-speed train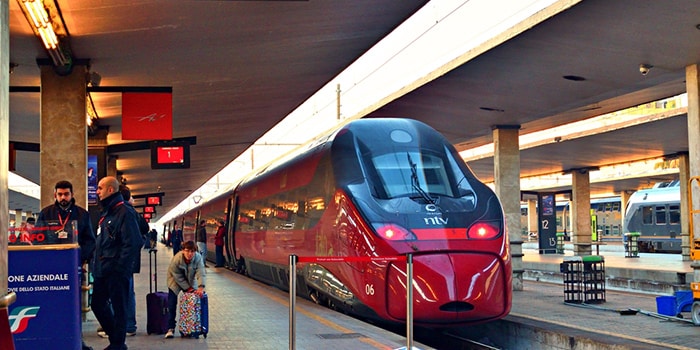 Time – 1.5 hours
Price – Starting at $21
Comfort – 5/5
Some of the swiftest trains on the whole continent run on the mainline railway between Florence and Rome. They can clock up whopping kph counts of 300 on the route. That means you'll wave goodbye to the Ponte Vecchio and be rolling into grand Termini Station in just a tad over 1.5 hours. Seriously, blink and you might even miss the summits of the Apennines, the rolling Chianti vineyards and the hill towns of Umbria that are visible along the way!
The services are run by both Trenitalia and Italo. They make use of cutting-edge Frecciargento, Frecciarossa and EVO trains, all of which have that sculpted, bullet-style driving carriage. Inside, they sport modern open-plan compartments with table seating and air conditioning. In 1st class, extras include plumped up legroom and even a welcome drink (that may or may not be Italian Prosecco!). All come with dining cars serving ciabatta breads, pasta dishes, beer, wine, coffee – you name it.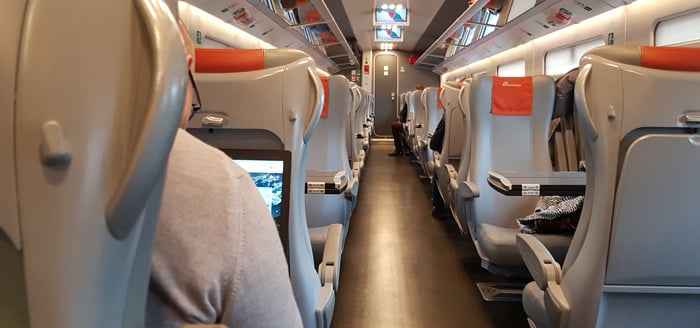 There's something exhilarating about hurtling through the vineyards and rugged mountains of central Italy on a high-speed train!
Florence lies neatly on the major railroad backbone of Italy. That's the main north-south line to and from big cities like Milan and Venice, which means trains pass through on route to Rome all the time. In fact, there's sometimes a high-speed option twice an hour leaving the platforms of Santa Maria Novella, starting early and finishing late in the evening.
Dynamic pricing on Italy's high-speed network means that early bookers are rewarded with the best deals. In fact, there's a huge difference between the super-economy fares – ones booked far in advance – and the base rates – ones booked on the day of travel. That's why we'd say get straight onto a portal like 12Go.co if you're planning a trip in the next four months, which is as far ahead as it's possible to buy.
Florence to Rome by normal train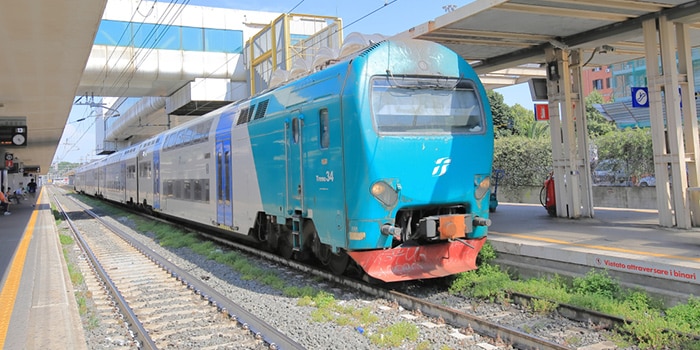 Time – Up to 5 hours
Price – $20+
Comfort – 3/5
The arrival of the rocket-like Frecciargento and EVO locomotives hasn't put Italy's traditional Regionale trains to bed for good. Nope, you can still hop on one of the several services that go from Florence all the way to Rome on the older line. Just a word of warning: They can take ages. Seriously, the schedule might say up to four hours, but with 16 stops in rustic villages and towns to make, that can easily swell. What's more, the base price is actually about the same as you'll pay for the high-speed train in advance!
Glimpse the old-school side of train travel in Italy by choosing the slow service between Florence and Rome.
That said, these are worth bearing in mind if you haven't managed to score a discounted ticket for the fast routes, or if you're looking to meet and mingle with Italian locals as you travel. In fact, that's really where the joy of this journey lies: Weaving and wiggling through remote Tuscan hills and vineyards, spotting medieval spires on the ridges of Arezzo and watching birds flit through the cloudless Umbrian skies before arriving in Rome.
The Regionale trains have recently been given a much-needed facelift. There are closed compartments and open-plan seating areas alike. They also come with in-carriage washrooms and climate control, though it's notoriously unreliable. Remember that it can be tricky to book these ones online in advance, so a trip to the booth at the station might be in order.
Florence to Rome by bus

Time – 2 hours and 50 minutes
Price – From $8.50
Comfort – 4/5
You'll spend around three hours give or take on the bus between Florence and Rome. However, be ready for that to increase considerably as you near the capital. The traffic leading in and out of the centre can get ridiculous at peak times, especially beyond the E80 ring road that loops the city. That said, rates for buses will usually be less than for trains, so you could save a few euros for those Romana pizzas and pecorino pastas by choosing this mode of transport.
In terms of companies, most people these days plump for the well-known name of Flixbus. They're known for their cheap fares but also run modern buses that have WiFi and in-seat plug sockets. Departures are so frequent that they go almost every 15 minutes in the morning during the summer, but that cools off to about one per hour in the afternoon. Annoyingly, you'll have to get to the station at Villa Costanza, located all the way at the end of Tram Line 1 in Florence.
Florence to Rome by plane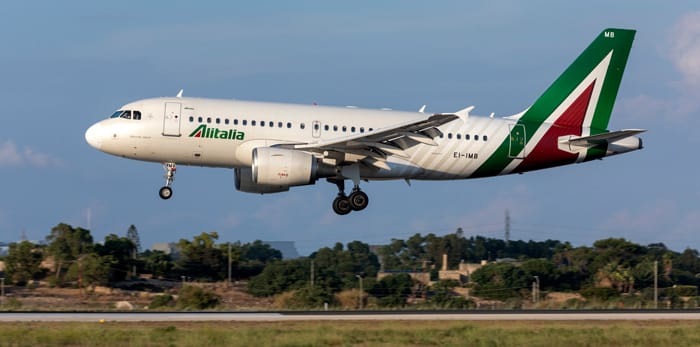 Time – 50 minutes
Price – $80+
Comfort – 4/5
There are usually four nonstop flights from Florence to Rome in the summer months. The flight is only in the air for 50 minutes, but check-in and transport to the airport cranks up the total length of the journey to around the three- or four- hour mark. Yep, that's slower than the high-speed trains, which is why this is really only an option for travelers jetting into Florence Airport and looking for convenient onward connections to the capital.
Arrival is at the huge Leonardo da Vinci International Airport (FCO). That's on the far western edge of Rome, closer to the sea than to St Peter's. However, it's linked to Termini Station by regular trains that take about 30 minutes and cost $10-20, depending on your class of carriage. As always, booking early is key to bargains with flights, so be sure to score your seats at least 90 days in advance of take off.
Florence to Rome by car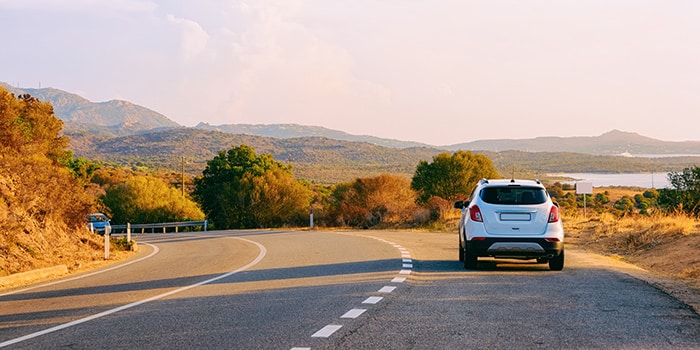 Time – 3 hours (going direct)
Price – $40+
Comfort – 5/5
Some of Italy's most famous regions lie on the road between Florence and Rome. That should make the prospect of doing the trip by car all the more tempting. You'll have complete freedom to plan your route. You'll be able to drop in lazy lunches and explorations through enchanting towns whenever you want. Alternatively, you could simply cruise down Autostrada A1 (E35) from one town to the other and smash the A-to-B in a mere three hours.
Having a car is sure way to turn that trip from Florence to Rome into an unforgettable Italian adventure.
The good news is that car rentals in Italy can be mega bargains. For a day's hire, you can pay as little as $39 for a small three-door vehicle. In addition, loads of major companies will waive the one-way fee you often have to pay when driving from city to city. That's great news for those looking to plan a pizza-filled driving odyssey from Florence to Rome. RentalCars.com is a great place to compare and contrast deals from market-leading companies and local firms alike, with big names like Hertz, Dollar, and Thrifty all in the mix.
Route wise, it's hard to overstate the sheer wealth of places you might want to have on the itinerary. Those interested in visions of classic Tuscany and striking castles and hot springs might want to detour through the gorgeous Val d'Orcia. Others might prefer branching out east to the Sabina Hills, where Lake Trasimeno gives way to hidden Lazian villages. And there's always the country roads via photo-worthy stops like Bagnoregio and beautiful Orvieto you could take.
---
It should be a cinch to leave behind the romantic River Arno and the pastel-painted jewellery stores of the Ponte Vecchio for Rome, a city that pulses with life and action, bursts with mind-blowing ancient monuments, and hosts some of the world's greatest museums. There are planes, trains, buses, and car rentals all ready and waiting to help you do it!
---
Florence to Rome FAQ
What is the cheapest way to get from Florence to Rome?
Buses are almost always the cheapest choice for travelers swapping Florence for Rome. They can cost under $10, which is crazy good value when you consider that the cheapest trains are around double that. You will need to add on a few extra euros for the cost of the tram trip to the station in Villa Costanza. That's on the outskirts of Florence, but where most of the popular Flixbus services leave from.
What is the fastest way to get from Florence to Rome?
Trains even trump planes when it comes to getting from Florence to Rome in a hurry. Yes, flight times are just 50 minutes, but you're bound to be traveling at least three hours when you factor in transfers to the airport and whatnot. Meanwhile, the 300 kph of the high-speed Italian locomotives means you can roll out of Santa Maria Novella Station and be in Termini Station in 1.5 hours or less. Book online to get the best deals using 12Go.co.
How much is a train ticket from Florence to Rome?
There can be pretty hefty differences between advance-purchase ticket prices and on-the-day costs when it comes to Italian trains. On the route from Florence to Rome, early birds who book economy seats well before they arrive in the land of pizza might pay less than $20. Those who leave it to the last minute could be looking at $50 or more! See why it's super important to score your place online using 12Go.co?
How long is the train ride from Florence to Rome?
Those super-quick Frecciargento, Frecciarossa and EVO trains complete the jaunt from Florence to Rome pronto. Honestly, you'll feel like you're flying at the sections where the carriages hit speeds of 186 mph! Average journeys take about 1.5 hours, but it could be even less, depending on how many stops you're making en route.
Is there a high-speed train from Florence to Rome?
Yes. In fact, most of the train services that go from Florence to Rome will be of the high-speed variety. They leave at least hourly, but sometimes twice hourly. Trip times are in the region of just 1.5 hours each way. Try to book your tickets as early as you can if they're how you'd like to move down to the Colosseum, because prices increase considerably in the weeks before travel. The online search tool from 12Go.co can help with that.
How long is the bus ride from Florence to Rome?
Buses can usually whisk you away from the vineyards of northern Tuscany to the historic sights of Rome in around three hours, but some will take longer. You should also expect hefty delays if you want to travel during rush hours, when getting into the station in the capital means navigating cohorts of traffic.
How useful was this post?
Click on a star to rate it!
Average rating / 5. Vote count: