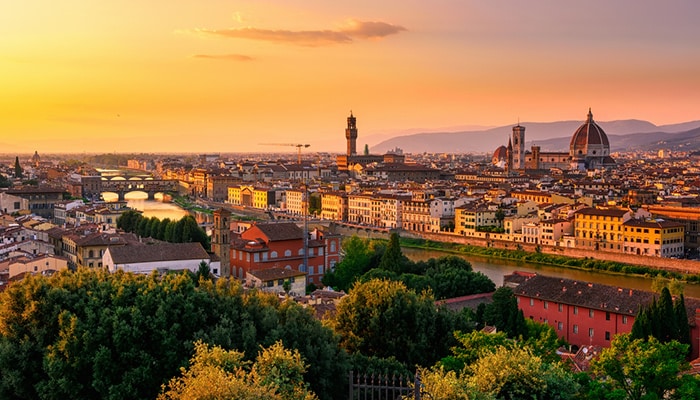 Once you're done with all those romantic gondola rides up the Grand Canal, selfies by the gold-leafed dome of Saint Mark's Basilica, and tasty frutti di mare pastas, why not plot a course to Florence? It's the obvious next step for art lovers and culture buffs traveling through Italy.
A smidgen over 120 miles to the south-west, it boasts the priceless collections of the Uffizi Gallery, the pastel-painted jewellers of the Ponte Vecchio, and one of the most eye-watering duomos in the country. Thankfully, the trip should be a cinch, what with high-speed trains, affordable buses, and good motorways linking both of the bucket-list towns…
Venice to Florence by high-speed train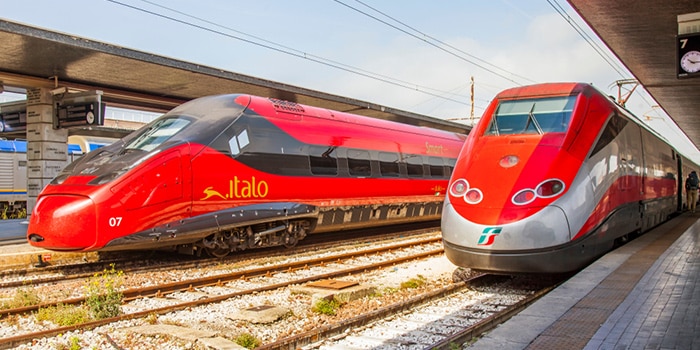 Time – 1h53-2h15
Price – $22
Comfort – 5/5
Ask any Italian local and they'll tell you that there's only really one way to travel in style from Venice to Florence: The high-speed train. They link the towns over 15 times per day, moving direct from station to station in as little as 1h50. And it's a pretty slick ride as well, because you'll be going on one of the modern EVO or Le Frecce trains, which can hit a mega 300 kph, boast spacious interiors with reliable air conditioning, and come with a choice of classes to suit a range of budgets.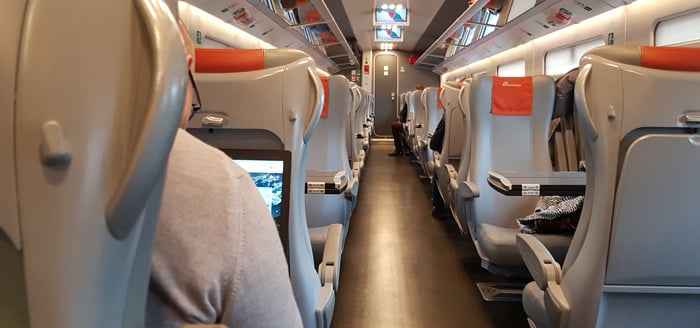 Get comfy and enjoy the trip through handsome Emilia-Romagna and Tuscany on the way from Venice to Florence by high-speed train.
The journey itself can either begin in the main Santa Lucia Station of Venice (perfect if you want to leave from the historic core near the Grand Canal) or in Mestre station back on the Italian mainland. After that, you'll whiz straight through the heart of the rustic region of Emilia-Romagna, where wheat fields and endless farms roll on. However, the most scenic section of the line is undoubtedly the traverse of the Apennines into Tuscany, taking you between hidden valleys in the mountains and through long tunnels flanked by vineyards. Arrival is at Firenze Santa Maria Novella station, which is a short 10-minute walk from the historic sights of Piazza della Repubblica in the Florence old city.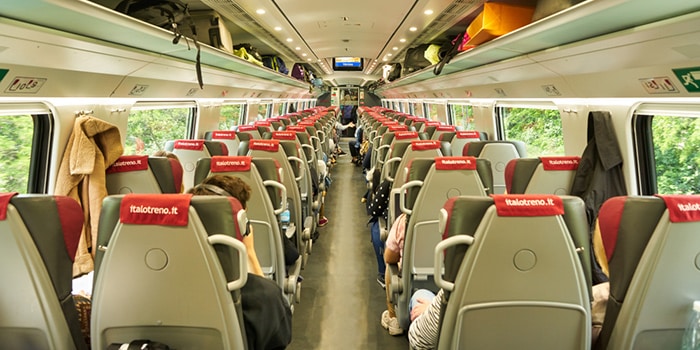 You have two operators to pick from if you do choose to go the high-speed train route. There's Trenitalia, who are the state-run company. They have the bulk of the departures and operate Frecciarossa locomotives that have high-quality onboard dining. Secondly, there's Italo, whose EVO trains are just as fast but can often cost a tad less overall. Talking of the cost…you're going to want to book early! Seriously, base fares sit around the $22 mark, but can swell to several times that if you buy on your day of travel. Thankfully, it's easy to bag tickets before you even get to Italy. Simply head over to 12Go.co and get a-searching.
Venice to Florence by normal-speed train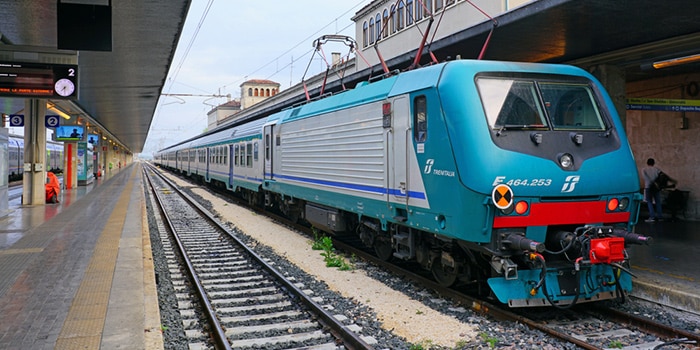 Time – 3.5 to 5.5 hours
Price – Around $24
Comfort – 3/5
There are also classic regional trains that can whisk you from the Adriatic Sea to the great church domes of Florence. They won't be anywhere near as fast as their EVO and Le Frecce compadres, but they do get the journey done in between 3.5 and 5.5 hours, and will definitely cost you less than the most expensive last-minute tickets on the high-speed services. That's makes them the perfect option if you haven't managed to book an advance bargain ahead of time on 12Go.co.
Regional trains are the slower options for getting through Italy, but also let you see some enthralling towns as you move from Venice to Florence.
The other upside to the regional trains is that they show you just a little bit more of Italy along the way. They'll pass through several cities en route, with normal connections adding in between two and four stopovers. What's more, because regional trains aren't booked as a single ticket, but as separate tickets, you can leave a few hours to hop out of the station and enjoy an espresso on the piazza in said towns. We'd recommend a pitstop to stroll the redbrick lanes of lovely Bologna and a pause in the atmospheric heart Prato.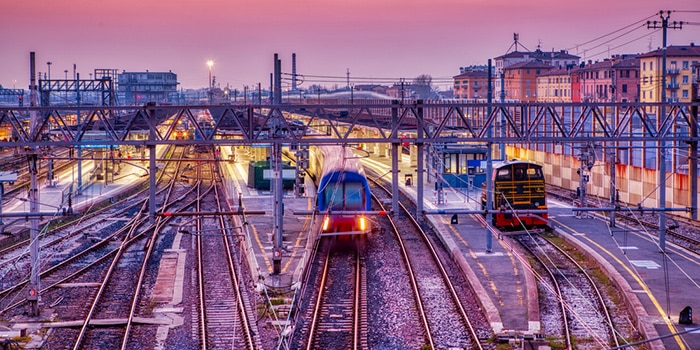 The great thing about prices on the normal-speed trains is that they don't change. You'll always pay the same for the seat – usually anything from $24 to $32 – no matter if you book on the day or three months before your travels. Comfort wise, the carriages are nice but not the best. They have table and two-two seat configurations, air conditioning, and wide windows for view watching.
Venice to Florence by bus

Time – 3.75 to 5.5 hours
Price – $10+
Comfort – 3/5
If you're planning a shoestring adventure down the Italian boot, then there's really no better way to travel from city to city than by bus. Advance fares purchased using 12Go.co's online engine can cost as little as $10 for these rides. They also aren't mega long, taking just 3.75 hours to get you from A to B, usually without any changes in between. Not bad, eh?
Buses are brilliant for saving a little cash for your gelatos down in Florence, with advance tickets costing just $10 in some cases.
Coaches bound for Florence typically begin the drive at the large Tronchetto station on the far western edge of the old city in Venice. They will also make a pitstop at Viale Stazione in Mestre before hitting the highways going south-west, while others originate at Marco Polo Airport. Piazzale Montelungo is the destination point. That's conveniently central, sat right next to Santa Maria Novella Station, within walking distance of the great Florence Duomo and the Arno riverbanks.
Buses might not have the same high levels of comfort as the Frecce trains but they're hardly poor quality. You'll have reclining seats and air conditioning throughout, along with onboard toilets and even mobile WiFi connections. When you come to book, look out for tried-and-tested providers like Flixbus, which usually boast the most modern vehicles and the cheapest fares.
Venice to Florence by car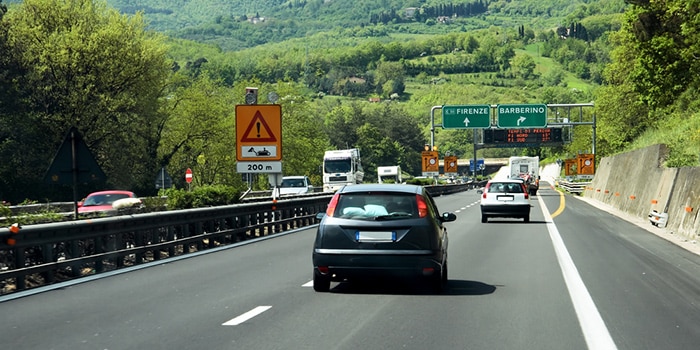 Time – Around 3 hours
Price – $50 per day (for car hire)
Comfort – 4/5
There's a lot to be said for taking it slow on the road from Venice to Florence. You'll be crossing the middle of north-western Italy on the drive, which means there are oodles of places to see on the way. Taking the fastest route will put you on course to breeze through the enthralling city of Bologna, the country's culinary capital and the home of UNESCO architecture. Alternatively, you could skirt the Adriatic coast to see the verdant wetlands of the Po River delta or hit the beaches around Ravenna. Or, there's another way via handsome Verona and the base of Lake Garda.
Car hires are the choice for travelers who are looking for a real Italian adventure, with stops and sights and maybe even the seaside included.
Of course, you'll need to factor in extra time to see all that, even though the trip can be completed in just under three hours if you drive without interruptions. You simply need to take the A13 southbound and then change to the E35 for the scenic drive through the Apennine mountains to do it fastest. The roads in Italy are of generally high quality, especially the toll roads used between Venice and Florence.

Renters can score a vehicle hire from RentalCars.com, where deals with well-known companies like Sixt and Locauto are about $50 per day (although there's usually an extra charge for one-way travel to add on). Pay special attention to where you plan to pick up and drop off the car. The most common points are at the airports in both cities, but it's also possible to organise them from Mestre Train Station and the Piazzale Roma alike.
---
Swap snaking canals and Prosecco for slender cypress trees and the full-bodied wines of Tuscany by going from Venice to Florence. It's a trip that can be done multiple ways, but always promises to showcase some of the best sights Italy has to offer.
---
Venice to Florence FAQ
What is the cheapest way to get from Venice to Florence?
The bus is probably the most wallet-friendly route from the city of canals to the home of Michelangelo's David. The trip isn't the shortest one – taking around four hours from start to finish – but it does guarantee you'll arrive into Florence with a few extra euros in the pocket. That's because seats start at an affordable $10 per person when booked far in advance using 12Go.co.
What is the fastest way to get from Venice to Florence?
The train comes in as the quickest of all, with average travel times hovering around the two-hour mark. In fact, the fastest services on the route (those high-speed Frecciarossa trains) take just 1h 53 min in all, which means you can leave Venice in the dust and be stepping through Florence's historic centre before the cafés have even opened for your morning espresso. Nice.
What is the best way to travel from Venice to Florence?
High-speed trains are now the standout option for going from Venice to Florence. They can complete the route quicker than any other mode of transport. They don't cost too much if you book well in advance of your holiday via 12Go.co. They're comfy to boot. What's not to like?
How much is a train ticket from Venice to Florence?
The amount you'll pay for the train ride from Venice to Florence all depends on when you book. If you get in there really early – 60-90 days prior to your travels – you may be able to score the discount fares of $22 or so on the high-speed trains with Italo or Trenitalia. If you leave it late, prices can be way more than that. For the regional services, the cost is always something like $24, although the trip will take at least double the time.
Is there a high-speed train from Venice to Florence?
Yes. It's the most popular way to get between these two legendary cities. They leave Santa Lucia Station up to 17 times each day, with departures at least every 1.5 hours. Two companies operate the route – Italo and Trenitalia. Both require reservations and have fares that increase the closer to the day of travel you get, so it's wise to pre-book your seat using 12Go.co.
Is the train ride from Venice to Florence scenic?
It's a pleasant ride with some lovely views, that's for certain. The trip takes you through the heartlands of the region of Emilia-Romagna. It's considered Italy's breadbasket, thanks to its rustic farmlands that roll on for as far as the eye can see. Towards the end of the journey, you'll go through several tunnels as you cross the wild Apennine chain of mountains that carves through the backbone of the country.
How long is the bus ride from Venice to Florence?
It's not too far. Distance wise, you're looking at 160 miles on pretty good Italian motorways. Time wise, it's about four or five hours. That includes all the regular stops in cities like Bologna that the major coach companies make along the way.
How useful was this post?
Click on a star to rate it!
Average rating / 5. Vote count: