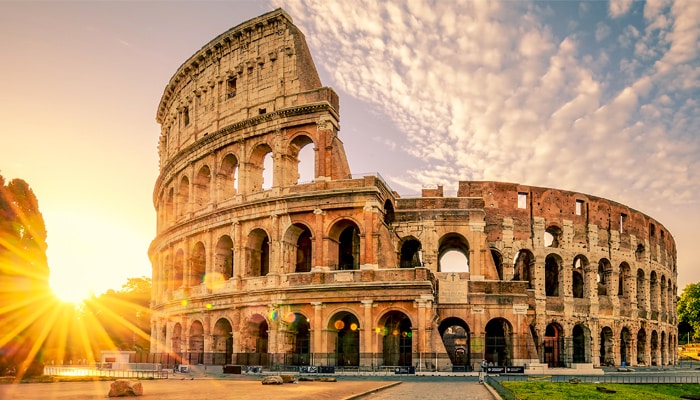 Milan and Rome are the two largest metropolises of Italy. One is known for its fashion and finance, the other for its ancient heart and endless museum collections. Both should be part of any bucket-list adventure through The Boot of Europe. That said, nearly 370 miles separates them, with the craggy Apennine Mountains, the Tuscan valleys, and the plains of Po all in the way.
Cue this guide, which can help you jump those hurdles by plane, train or automobile, to whisk you away from the shadow of the Alps to the shadow of the Colosseum. Enjoy.
Milan to Rome by train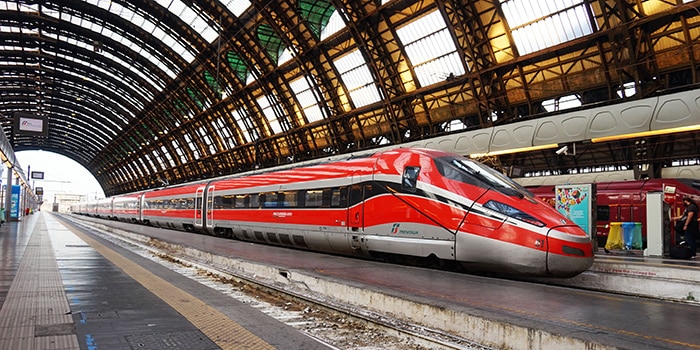 Time – 3h 10 min
Price – $45+
Comfort – 5/5
You'll buzz down south like a bullet on the high-speed railways that cross the heart of central Italy. They're some of the fastest on the whole continent, with trains like the Frecciarossa that can accelerate to a cappuccino-wobbling 190 miles per hour on some stretches of the line. That all adds up to a mode of transport that lets you smash the journey from Milan to Rome in as little as 3 hours and 10 minutes!
The trip follows the backbone of the country. You start by whizzing over the flat plains of the Po River from Milan, as the Alps fade into the distance. Then, you meet the wild edges of the Apennines, where the dome of gorgeous Florence Duomo gazes across the vineyards of Tuscany. Then, it's south again, past the historic hill town of Orvieto and the rugged landscapes of Lazio. Rome Termini is the final destination – the capital's largest and most centrally located station.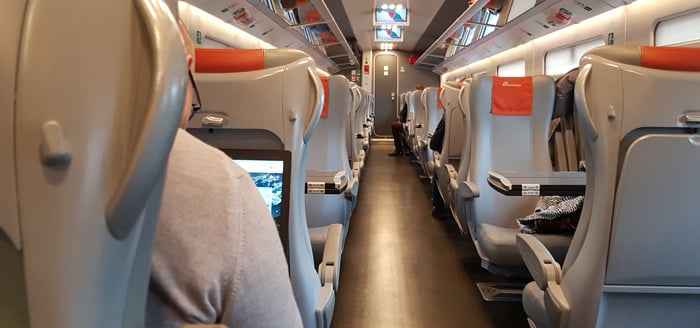 Uber-fast trains mean you could be snapping photos of the Colosseum a little over three hours after leaving behind the art-filled capital of Lombardy.
The onboard service of the Trenitalia and Italo trains is second to none. They are by far the comfiest on the line-up in Italy. Passengers choose between 1st Class and 2nd Class seating (Smart and Prima on Italo trains). Both are spacious and modern with fold-out tables and wide windows – a must on this scenic route! You'll also get access to a food car on Trenitalia, where Italian pastas are served alongside beers, regional wines and speciality coffees.
Price wise, you're looking at paying anything upwards of $45 for the ride. That's the rate for the slightly cheaper Italo service, and close to the early-bird price with Trenitalia, which go on sale around two or three months before departure. It's a good idea to search for and purchase those using 12Go.co as soon as you know your date of travel, because fares can creep up considerably if you leave it late. Oh, and don't worry – there's usually at least one departure every hour from Milano Centrale.
Milan to Rome by plane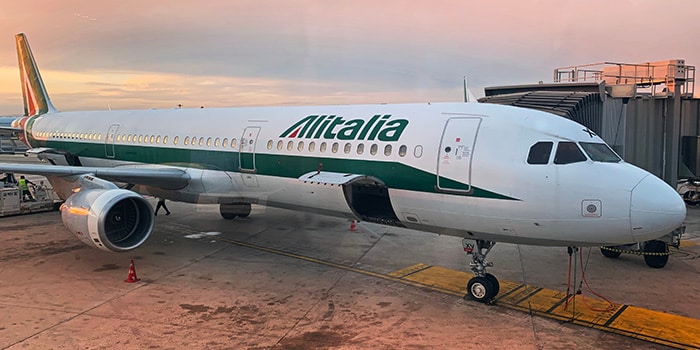 Time – 1h 10 min (flight only)
Price – $45+
Comfort – 4/5
Given that Rome is the Italian capital and Milan is the country's second-largest city, it should hardly come as a surprise that there are flights linking the two. In fact, Milan has a trio of international airports on its roster. Rome, in turn, is served by two big airline hubs. The upshot? You shouldn't find it hard to take to the skies to scoot down south to see the Colosseum…
Departures go as early as 6.30am, with the latest options leaving Milan around 7.20pm in the evening. It's not a long flight – the trip takes an average of 1h10 minutes from wheels up to touchdown in Rome. You'll just need to factor in the extra time it takes you to reach the airport, drop off those bags, and get to where you're going once you've arrived.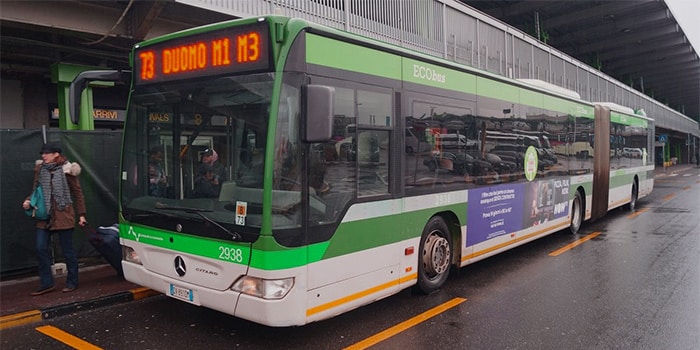 The flight to Rome takes a little over one hour, with planes running from all three of Milan's major airports.
Talking of airports…travelers have the choice of any one of Milan's three largest hubs. The vast majority of the services jet out of Milan Linate Airport, which is conveniently located just to the east of the city – hop on the 73 or X73 bus from San Babila. Other flights leave from large MXP airport, which is about 45 minutes by coach from downtown Milan. And then there are the departures from Bergamo. Strictly speaking, that's a separate city, located around an hour's drive to the north-west. However, it's the perfect place to hitch a ride to Rome if you've been exploring the gorgeous Italian Alps and lakes.
When it comes to cost, plane tickets between Milan and Rome vary wildly. This route gets busy with business travelers and commuters moving between the financial capital and the capital, so early-morning departures will often be more. That said, you can pre-book tickets using 12Go to pinpoint the best prices, which can be as low as $45 each way, not including checked bags.
Milan to Rome by bus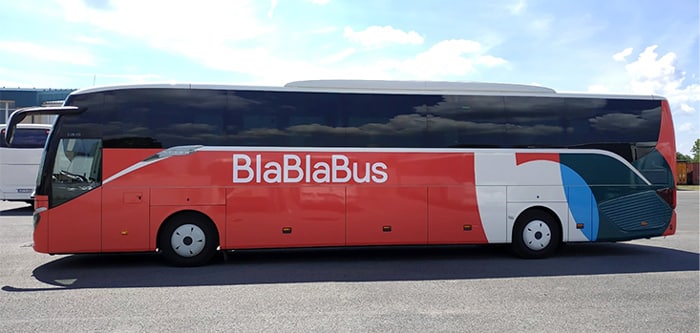 Time – 6 to 9 hours
Price – $20+
Comfort – 3/5
The bus might not be as fast as the train or the plane on the road from Milan to Rome, but it's usually cheaper than both. Yep, passengers who plump for coaches bound for the Eternal City can expect to pay $20 for their ticket, and perhaps even a tad less than that if they book in advance via 12Go.co. The trade-off for saving those euros for the gelato and pizza is a longer travel time – most buses take at least 5h45, but some could be up to nine hours in total!
Leave more money in the budget for tours of the Roman Forum by choosing a bus link from Milan to Rome.
Generally speaking, the buses are comfy and clean. They'll have onboard toilets, reclining seats, and good air conditioning (a must in the Italian summer months!). They trace the route of the main Autostrada A1 (also known as European Route E35) down the spine of the country, passing some seriously beautiful regions. Just wait for the jaw-dropping stretch where you cross the Apennines to reach Florence, or the bit when the Arezzo vineyards and mountains flash by the windows!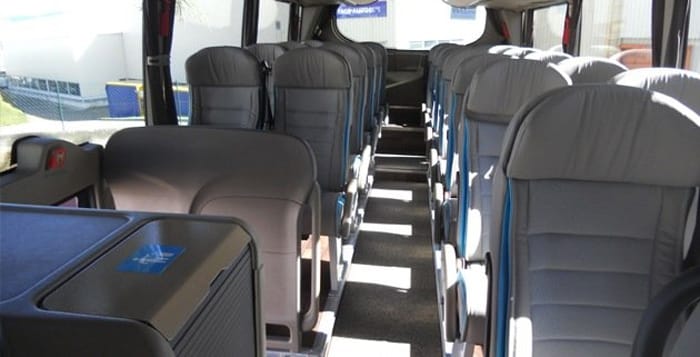 Most travelers will look to book a seat on one of the services run by popular companies like BlaBlaBus or Flixbus. They have the newest coaches and the most frequent departures. They're also available to book in advance, which can really help keep costs on the down low, especially during the popular backpacker season in the summer.
Milan to Rome by car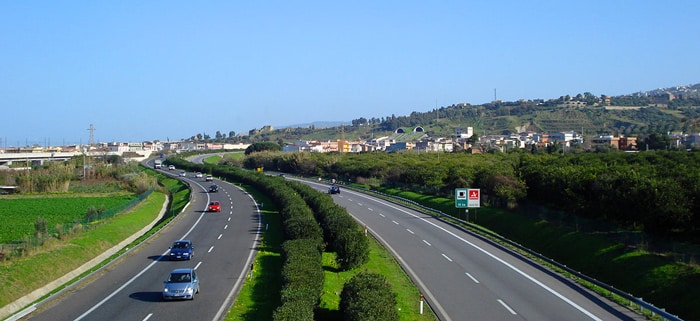 Time – 6 hours
Price – $40+
Comfort – 5/5
There's great news for travelers who love the freedom of the open road – car rentals in Italy are some of the cheapest in all of Europe. You can score a hire from Milan, or at one of the airports in Milan, for around $40 per day. You might also find that the surcharges that come with driving in one direction are waived, so you can avoid those hefty extras for going between Lombardy and Rome.
Having a car means you can turn your journey from Milan to Rome into something special, creating an Italian road trip from north to south.
But price is just one of the reasons why this is a doozy of a way to go. There's also the promise of a real Italian adventure. With over 350 miles to cover through the very middle of the country, there are more amazing places en route than you can shake a ball of buffalo mozzarella at. Perhaps you fancy a spot of tortellini in the foodie mecca of Bologna? Maybe you prefer the Renaissance masterworks of Florence? Or will it be the steaming hot springs and vineyards of rural Tuscany? All those and more are on the way!
We'd recommend securing your car rental well in advance of arriving in Italia if you do decide to go by road. That's especially important in the summer months, when there's high demand for vehicles from holidaymakers bound for the villas of Emilia-Romagna, Marche, and Tuscany. Check out RentalCars.com for some top deals from well-known global brands like Hertz, Thrifty and Dollar.
---
Milan might try its best to keep you hanging around with its fashion-filled gallerias and great Gothic cathedral, but Rome's a-calling. Yep, get booking the transport listed above and you'll be munching pecorino pasta on the Piazza del Popolo in no time at all!
---
Milan to Rome FAQ
What is the cheapest way to get from Milan to Rome?
The bus might be nigh on six hours in total (and that's the shortest of the lot), but it's also usually the cheapest way to travel. Head over to 12Go.co and search for the offering from providers like Flixbus, who can transport you from Milan to Rome for as little as $20 in some cases.
What is the fastest way to get from Milan to Rome?
It's a bit of a neck-and-neck race between flying and trains. Airlines offers services out of Milan Linate Airport to the Leonardo da Vinci International Airport in Fiumicino, taking a mere 1h10 in flight. However, trip times add up to around three hours or more when you factor in check-in and transfers. So, the high-speed train is comparable. Hop on that in Milano Centrale and you'll be stepping out into Rome Termini just 3h10 later. Not bad. All of the above can be compared and booked online using 12Go.co.
How do you get from Milan to Rome?
Remember that these are two of Italy's biggest and busiest cities, so there's no shortage of ways to go from A to B. All of the options can be compared online using 12Go.co, but expect them to include flights, high-speed trains, car rentals, and buses. We'd say it's key to book in advance whatever you choose, because this is up there with the most popular trips to make in all of Europe!
How long is the train ride from Milan to Rome?
Take the high-speed option and you'll be hitting Roma's iconic sights in a little over three hours. Pretty good, huh? Well…it's all down to the uber-quick Italo and Frecciarossa locomotives, which can break the 300 kph mark on some stretches of the line!
How much is a train ticket from Milan to Rome?
There's dynamic pricing in place on Italy's high-speed train network. That means fares go up and down, though the general rule is that they're cheaper the longer in advance you book. So, get on 12Go and search for tickets on your travel dates as soon as you can, because early-bird prices can be as low as $45 each way.
Is there a high-speed train from Milan to Rome?
There are loads of high-speed trains from Milan to Rome. In fact, there are almost hourly departures throughout the day. They're run by two separate companies: Trenitalia and Italo. Both have modern, sleek carriages and complete the journey in three or four hours.
How long is the bus ride from Milan to Rome?
It all depends on what bus you go for. It's important to check, actually, because some will clock up travel times of seven, eight or even nine hours! That said, you can score tickets on coaches that take just under 6 hours to get you to the Italian capital. All schedules and bus-ticket prices can be compared using 12Go.co.
How useful was this post?
Click on a star to rate it!
Average rating / 5. Vote count: