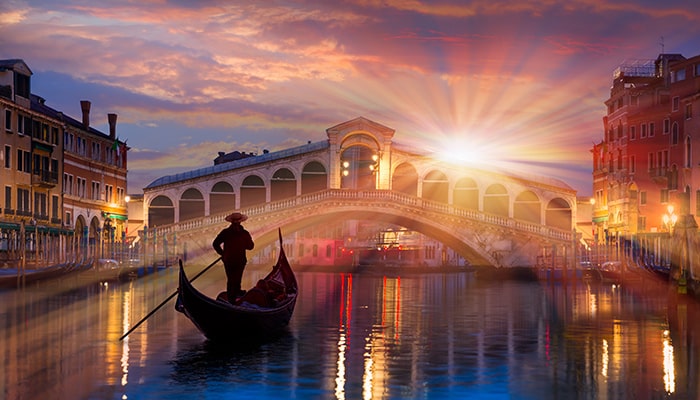 It's a jaunt through the middle of the Po Valley and across the heart of north-western Italy when you go from the fashion-mad metropolis of Milan to the romantic canals of Venice. In a straight line, the distance you'll need to cover is just over 150 miles, but the direct motorways and trainlines run a little over that.
This guide has all the information you need to trade the great Milano Duomo for the sumptuous Doge's Palace. There are details on the popular high-speed trains, the bargain buses, and other more adventurous ways to go. See you on the gondolas…
Milan to Venice by high-speed train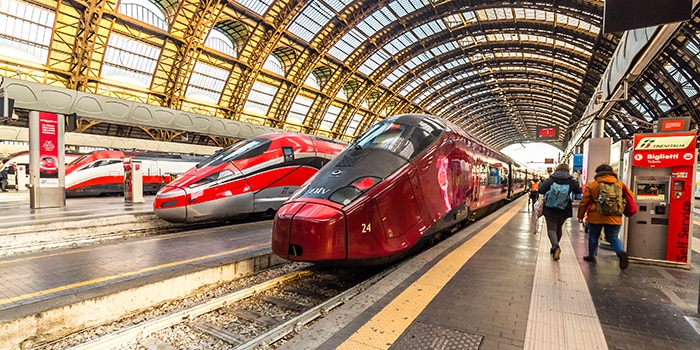 Time – 2.5 hours
Price – $26+
Comfort – 5/5
Since high-speed trains started running direct routes from Milan straight across to Venice on the Adriatic coast, other modes of transport have struggled to keep up. Yep, this is far and away the most popular method for hopping to the capital of Veneto. It's quick – just 2.5 hours on average. It's affordable – so long as you book those reduced tickets in advance on 12Go.co. It's comfy – the trains are some of the best in the business.
There are two main providers of services. The most frequent, with departures leaving several times per hour in peak periods, is state-owned Trenitalia. They offer up seats on the zippy Frecciarossas that can hit speeds of 300 kph, but also onboard dining carts and a whopping four individual classes, headed by Executive business class with their standalone chairs and WiFi connections. An alternative are the competing Italo trains, which have similar levels of comfort but run slightly less often.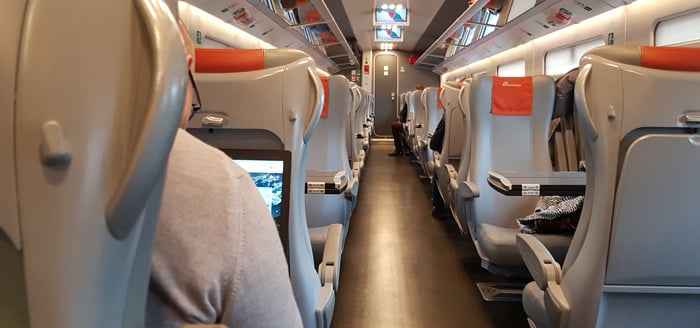 Trains are unsurprisingly popular for getting from Milan to Venice, with good advance prices and super-fast connections.
The train ride eastward starts at the big and beautiful Milan Centrale station near Porta Nuova (ride the Milan Metro to Repubblica to get there). Then, you go roughly north-east to the historic city of Brescia on the edge of the Italian Alps (the best views are from the left-hand side of the carriages), past Lake Garda and the romantic city of Verona, before pulling into Venice's famous Santa Lucia, which puts you right on the cusp of the Grand Canal itself.
One tip that's worth reiterating: Book in advance! The cost of tickets on both the Italo trains and the high-speed Frecciarossas can double or triple if you don't manage to get those early offers. In fact, we'd recommend searching and reserving using 12Go.co as soon as you know your dates of travel.
Milan to Venice by regional train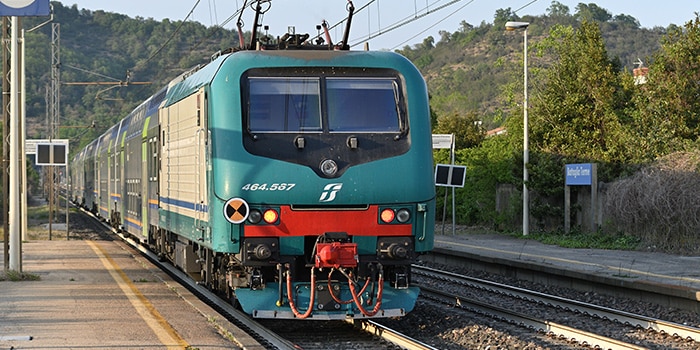 Time – 3.5 to 6 hours
Price – $23
Comfort – 4/5
They might not hurtle eastwards to Venice at a cappuccino-wobbling 300 kph, but the regional trains of northern Italy still offer a reliable way to go from town to town. Since the high-speed options came into play in the 90s, they've really only been used as a backup. That's because they usually involve way more stops, travel far slower, and have only basic levels of comfort. Still, there are some plus sides…
If all the cheap tickets on the high-speed trains are gone, you can rely on the regional services to get you to Venice from Milan.
For one, the tickets always cost the same, so there's no need to jostle with the crowd for those early-bird fares. You can just hit up 12Go.co on the very same day you want to travel and score seats for around $23. In addition, the trip is something of a more authentic experience. You'll rumble through remoter sections of the line en route to the Adriatic, with possible pitstops on the glistening lakeshores of Garda or the water-ringed palazzos of Mantua to name just two.
Expect your whole journey to take in the region of between three and six hours, with at least a single change along the way. That will all really depend on what connections you take and how the trains are running that day. Also, don't worry too much about the drop in comfort – the carriages are still modern and air conditioned, with spacious seats and wide windows that let you enjoy the view.
Milan to Venice by bus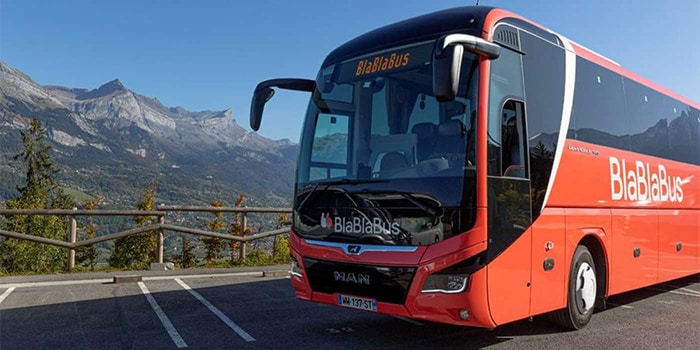 Time – 3.5 hours+
Price – $9+
Comfort – 3/5
Save extra cents for that prosecco on the Piazza San Marco by going the budget route and traveling from Milan to Venice by bus. Well-known providers like BlaBlaBus have connections between the two cities multiple times per day. The road takes them straight down the A35 and the E70 eastbound from one city to the other – all well-kept and efficient highways with several lanes. The result? Trips are typically completed in under four hours, after a stop in Verona along the way.
Bus links throughout northern Italy are relatively good, with some of the cheapest rates of all between Milan and Venice.
But it's the price that makes the bus such an attractive option. Early bookers could be in for a real treat, as advance prices ebb to a wallet-friendly $9 or less! As you approach the day of departure, that will increase, but only to levels in line with the cheapest train tickets. Still, to get the best bargains, you'll want to head over to 12Go.co to search and purchase as soon as you can.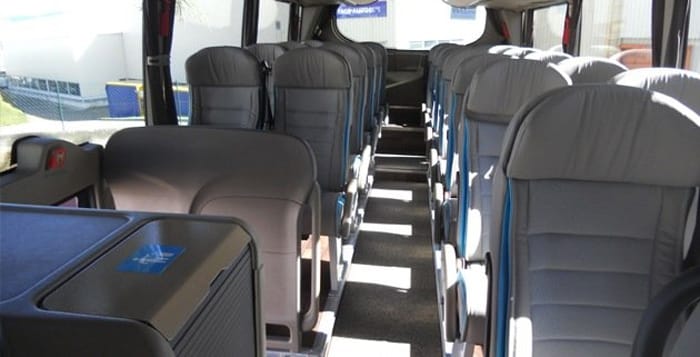 Another thing to bear in mind is that these long-distance coaches don't actually go from the city centre of Milan, or arrive into the historical heart of Venice. You'll need to make your way to Lampugnano out on the far north-western edge of the city to be picked up (it's on the red line of the Milan Metro). For drop-off, you'll emerge onto Viale Stazione in Mestre, which is the new town of Venice, from where a 10-minute train can carry you over the lagoon to the famous canals and sights.
Milan to Venice by car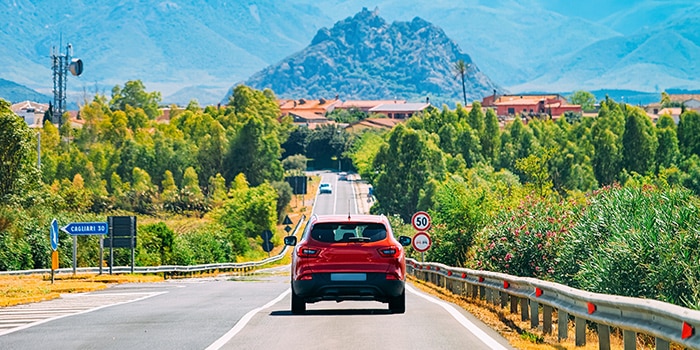 Time – 3 hours
Price – Around $200
Comfort – 4/5
If you're keen to head off on an Italian adventure, there might be nothing for it but to rent a car of your own. A hire from a trusted provider like RentalsCar.com can cost as little as $200 for a full three days, though there are also likely to be surcharges for one-way trips from Milan to Venice. Still, you can hardly put a price on the treasures that await those who do hit the highways with a set of wheels to themselves…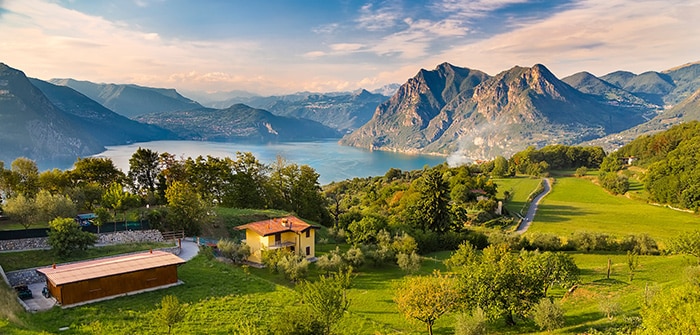 A self-drive trip from Milan to Venice could open up some seriously fun times in the Italian Alps, the lakes, and other regional cities.
North of Milan is the wonderland of the Italian lakes. Como might be a little in the wrong direction, but hidden Lake Iseo (an off-the-beaten-track jewel with the handsome and romantic town of Lovere at its tip) and the iconic Lake Garda (a place for hiking and biking and rock climbing) are very much on the itinerary. So too is the medieval heart of Verona, complete with its Shakespearean balcony and elegant riverside walks.
Without any stops, you could complete this A to B in just under three hours, although there's enough to warrant weeks of traveling! Also be sure to plan a drop-off point in a convenient spot on the Venice side. You're aiming for a town where the roads are famously replaced by canals, remember. Driving simply isn't the way to get around.
Milan to Venice by organised tour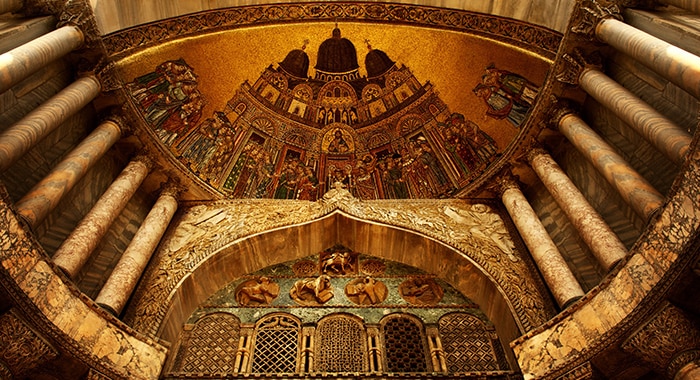 Time – All day
Price – $145+
Comfort – 4/5
A final sure-fire way of moving from Milan to Venice is to leave all the travel planning to a professional and book yourself onto an organised tour. These start at around $145, but that includes all transportation and activities, which usually means guided walking routes with historical narration and planned stops at major sights like the Rialto Bridge and St Mark's.
Lots of organised tours will offer a pickup at any place of your choosing in Milan, but some will require you to assemble at a meeting point in the early morning. They typically use large buses or minivans to do the three-hour trip to the city of canals, before switching to a boat to take you across the Venice Lagoon.
---
Venice and Milan are both among the great cities of northern Italy. One has its eye-watering Gothic duomo and masterworks by da Vinci. The other has sloshing canals and mighty palazzos by the Adriatic. This guide can help you check both off in the very same trip!
---
Milan to Venice FAQ
What is the cheapest way to get from Milan to Venice?
The bus tops the pile on the price front, offering tickets that can sometimes be under $10 for the whole trip from Milan to Venice. To get it for that little, you'll need to be prepared and book as early as you can, searching and comparing the best deals over on 12Go.co.
What is the fastest way to get from Milan to Venice?
The high-speed train connection can smash the journey between these two bucket-list cities in just 2.5 hours. That's pretty darn quick when you think that there's over 150 miles separating them. What's more, it's representative of the time it takes to travel from centre to centre, with departures in Milano Centrale and arrivals in the historic Santa Lucia station over on the Venice lagoon.
What is the best way to travel from Milan to Venice?
The vast majority of travelers will go for the high-speed train. It's easy to see why, too. The service is quick and comfortable, and it can even cost under $30 when you use 12Go.co to book in advance. You also might get to spy out the foothills of the Italian Alps on the way – just be sure to get a seat on the left-hand side of the carriage!
How much is the train ticket from Milan to Venice?
That depends on how good you are at scoring the early-bird deals. They'll always be the cheapest for the high-speed links, costing as little as $26 in advance. However, you'll pay considerably more than that if you leave it late. Meanwhile, the slow regional trains to Venice from Milan that take over 3.5 hours don't have dynamic pricing. Tickets on those are consistently sold for $23.
Is there a high-speed train from Milan to Venice?
There sure is, and it's by far the most popular way to move from city to city. It's run by two companies – Trenitalia and Italo – and takes 2.5 hours in all. You can compare and book tickets in advance online using 12Go.co.
Can you do a day trip from Milan to Venice?
There are tour companies offering day outings to Venice. It's usually a driven transfer in a coach or minivan before a switch to a boat to take you across to the Venice Lagoon for the main attractions. There are walking tours, photo stops and even gondola rides included in the packages, so expect the day to be a real whirlwind of sightseeing and history.
How useful was this post?
Click on a star to rate it!
Average rating / 5. Vote count: