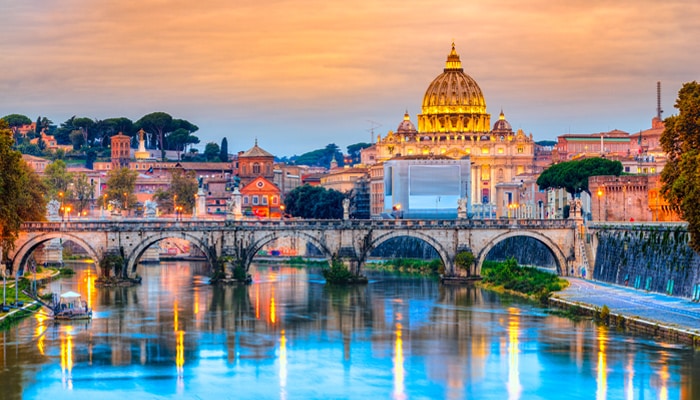 Travel between two of the great romantic, artistic, and historical cities of Europe by making the hop from France's captial to Italy's. It's a move that'll see you trade a skyline dominated by the Eiffel Tower and the Sacre Coeur with the seven hills of Rome, topped by the silhouette of St Peter's Basilica and crowned by the ancient Colosseum.
Tempted? This guide is a must-read. It's got information on all the ways you can go from one to the other, with details on the overnight trains, the short-haul flight links, and the low-cost buses that can smash the 680 miles that separates the two bucket-list destinations.
Paris to Rome by high-speed train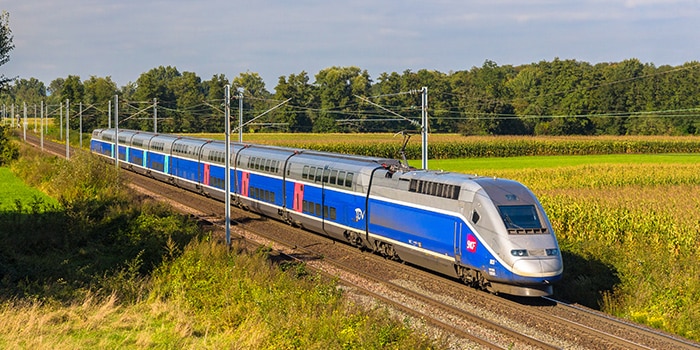 Time – 8.5 hours
Price – $65+
Comfort – 5/5
Rapid TGV and Frecciarossa trains pick up the baton on the high-speed front to get you from Paris to Rome in under 10 hours. There's a change along the way in immersive Turin. You could even plan your journey to allow a few hours there to see the famous Mole Antonelliana spire and the great royal palaces before boarding again and moving south towards the Eternal City itself. Either, way it's a true cross-Europe adventure.
First off, you roll out of the French capital on one of the four TGV services going to Turin Porta Susa. The trains are modern, air-conditioned affairs that sport spacious 1st- and 2nd-class seating, complete with upholstered chairs and wide windows. They'll come in handy as you cross over Burgundy and into the Savoie, where the snow-capped summits of the Alps rise around the famous ski towns of Chamonix and Brides-les-Bains.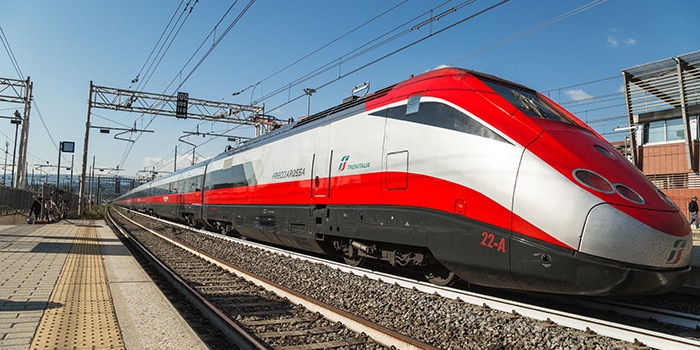 Cut across Western Europe and gaze at the shimmering Alps as you leave France on the nifty high-speed trains.
After that, you shoot under the mountains in the Frejus Rail Tunnel (once the longest tunnel in the world!) and out into the valleys of Oulx, a land of pine forests and lonely Alpine towns set beneath rugged pinnacles. Eventually, you'll hit Turin Porta Susa. Remember to hop off here, because it's not actually the last stop. However, it's a convenient changeover point for catching the fast Frecciarossa southbound. They take just under three hours and leave as many as 30 times daily. They're also just as comfy as their French counterparts, making them a good option for waving goodbye to the Alps and crossing the heartlands of Italy, through Piedmont, Tuscany and Umbria.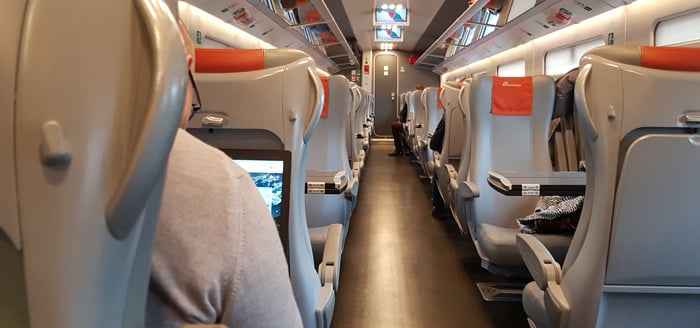 Booking in advance is super-important on this route. Seriously – we can't stress that enough. Prices follow a clear upward curve as you get closer to your date of travel. Those who search 12Go.co long in advance of going from Paris to Rome might find they pay just $65. Those who don't could easily pay triple that, or even more!
Paris to Rome by overnight train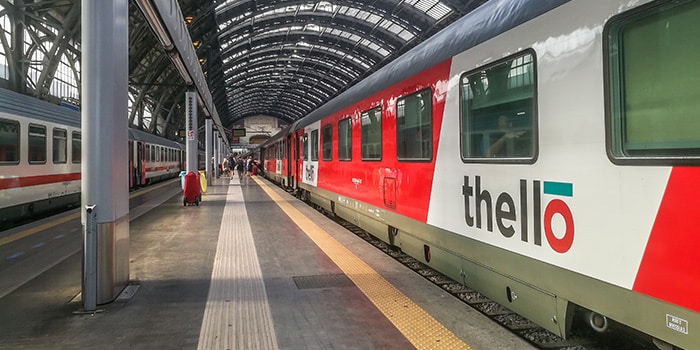 Time – 13.5 hours+
Price – $65+
Comfort – 4/5
Because Paris and Rome are over 680 miles apart, it might make sense to cut off a whole leg of this trip by sleeping right through it. Cue the overnight Thello train. They run between the French capital and cities throughout northern Italy once each day. Most people will be riding the service direct to either Milan or Venice, but you could make the switch to an Italian Frecciarossa to tack on a extension down south to the Colosseum and Vaticano.
In terms of comfort, the Thello isn't up there with the TGV. You do get sleeping quarters. However, berths are compact and basic. That said, they can help you save on the cost of a night's hotel as you travel. And they aren't too expensive – advanced tickets on this line start at just over $30. That gets you place in one of the larger, six-bed rooms. For the most luxurious private-bed sleeper compartments, fares can soar to over $480!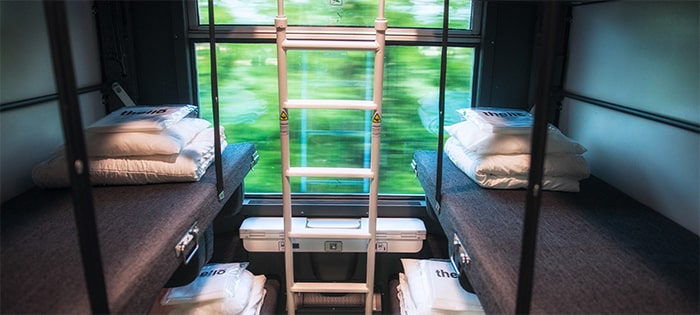 The Thello overnight service can take you as far as Milan, where you'll hop on an onward train to Rome in the morning.
You will have to sacrifice all those wonderful views of the Alps, because this whole trip is done during darkness. Paris is left in the dust around 7.15pm. You pull into beautiful Milan Centrale station at 6am. That leaves 1.5 hours before you can change onto the Frecciarossa service heading to Rome Termini, so you'll at least get to see the rolling Tuscan vineyards and the craggy tops of the Italian Apennines from your train seat. You can expect to arrive in the capital at about 10.40am.
Be sure to buy in time to score one of the so-called Smart fares on the Thello overnighter. They're more than half the cost of a full-price ticket. Oh, and don't forget to pre-book that onward trip to Rome from Milan as early as possible, because those will definitely take a toll on the travel budget if left too late. You can search and purchase both using the online portal at 12Go.co.
Paris to Rome by plane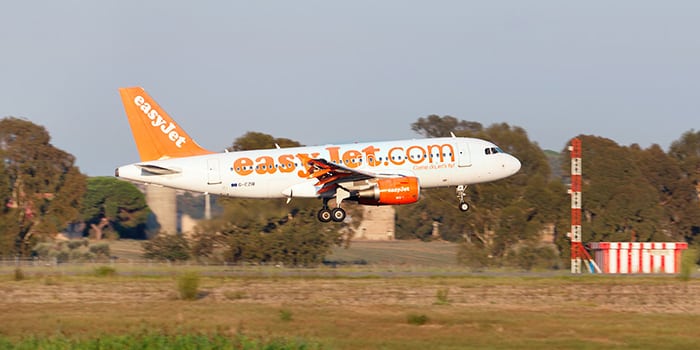 Time – 2 hours (flight only)
Price – $37+
Comfort – 4/5
Finding a flight from Paris to Rome should be as easy as sourcing a crunchy baguette and a bottle of Bordeaux red in the French capital. There are a whopping six individual airlines that offer direct connections. That translates into as many as 15 departures every day. They begin in the early morning – with the first available around 6.40am – and finish late in the night – you can fly at nearly 10pm if need be.
But not all air connections are made equal. Some will jet out of huge Paris-Charles de Gaulle. Others go from smaller Paris Orly, and even the low-cost hub of Beauvais Airport. Deciding between them will have a direct impact on how long you spend in transit. That's because Charles de Gaulle can be reached in just 35 minutes from the Gare du Nord, while getting to the others can take anything between 60-80 minutes.
Flying is the only way to get the trip from Paris to Rome done and dusted in a single morning or afternoon.
You'll also need to decide which airline you want to go with. Budget will usually come into play here, because fliers like easyJet, Ryanair and Vueling offer the cheapest seats but services without any frills. Paying extra for a flight with Air France means having a snack served on board, cheaper checked baggage, and departures out of that convenient hub in Charles de Gaulle Airport.
Flight times hover around the two-hour mark, and virtually all the Paris-Rome links, no matter where they take off from, will land at the Leonardo da Vinci International Airport in Fiumicino. That's the best-connected to the Eternal City, with direct, fast trains every 15 minutes waiting to take you straight into Rome Termini.
Paris to Rome by bus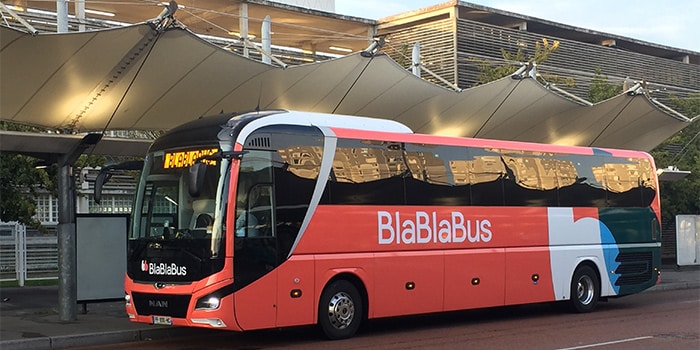 Time – 20-25 hours
Price – $35+
Comfort – 2/5
Don't board a coach going from Paris to Rome without a good novel in tow – the whole trip is a whopping 20 hours or more from start to finish! That makes this the longest way to move from capital to capital. But with the added journey time comes a cut to the cost. Yep, buses can sell for as little as $35 when you book long in advance.
The bus to Rome is a budget-conscious choice, with cheap ticket rates but travel times in excess of 20 hours each way!
The route usually follows the speedy French motorways south-west straight to the Alps. Then, you pass through the tunnel into Italy after a pitstop in the ski resort of Chamonix, pushing onto Turin. There's usually a change there, onto a southbound service to Rome, which you'll only arrive at after dropping off passengers in the likes of Florence and Pisa en route.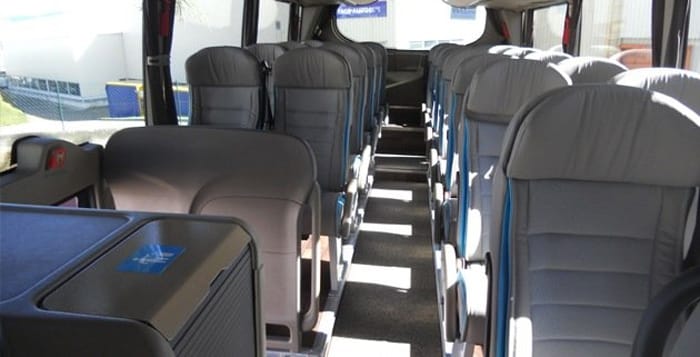 These days, coaches tend to be comfy and clean, with good climate control and even free snacks on some services. Still, we'd recommend limiting yourself to tried-and-tested names in the business – Flixbus and BlaBlaBus are the two that come to mind. In addition to that, always use 12Go.co to compare the price of buses, flights, and trains between Paris and Rome. There's a chance that there won't be much difference in cost, but will be a hefty upgrade in comfort, if you choose to move to rail or air travel.
Rarely do journeys from A to B promise to shorten the bucket list as much as this one. In a single hop you'll take in the Eiffel Tower and the Colosseum, the art-filled Louvre and the fascinating Vatican Museums. All you have to do is book.
---
Paris to Rome FAQ
What is the cheapest way to get from Paris to Rome?
Generally speaking, long-distance coach links still represent the cheapest option for travel on this route, but hardly by enough to justify the 20 hours they take. We'd always say check out the cost of short-haul flights on 12Go.co before settling for a bus. They can even be cheaper on occasion, and take just 1.5 hours before touching tarmac in Rome
What is the fastest way to get from Paris to Rome?
Flying. Seriously – there's simply no other way you can complete this trip in just a few hours. Total journey times are around the four- or five-hour mark, including two hours in the air. That's far quicker than spending a whole night on the train, or dropping upwards of 20 hours on the buses.
How much is a train ticket from Paris to Rome?
Book early on 12Go.co and you might just be pleasantly surprised at the cost of the high-speed TGV and Frecciarossa connections through France and Italy. Early-bird fares for both trains can add up to around just $65. Leave it late, however, and things can start to break the bank, with prices potentially spiraling upwards of $200 or more.
How long is the train ride from Paris to Rome?
Take the high-speed TGVs on the French side and switch to the Frecciarossa trains in Italy. Bingo: Your time spent on European railways from Paris to Rome can be as short as 8.5 hours. That's just what you get from locomotives that can hit 300 kph! Alternate routes, like the Thello overnighter, might take about 13-15 hours before arriving in Rome Termini.
Is it better to fly from Paris to Rome or take the train?
In a rush? Fly – it's quicker and often cheaper. If you happen to have time to spare, take the train. The trip is a true adventure. Visions of Haute Savoie Alps and snowy summits abound as you cross from France to Italy. And then you're onto the railways of The Boot, where vineyards and rustic farms roll to the horizon throughout Tuscany and Umbria. It's got to be one of the continent's most scenic lines.
How much is a plane ticket from Paris to Rome?
That all depends which airline you fly with and which airport you want to go from. However, you're usually looking at paying something between $35-80 for a one-way ticket to the Eternal City. That will certainly get pricier the closer you are to the departure date, so be sure to hit up 12Go.co as soon as you've decided it's the Colosseum for you this year.
How useful was this post?
Click on a star to rate it!
Average rating / 5. Vote count: