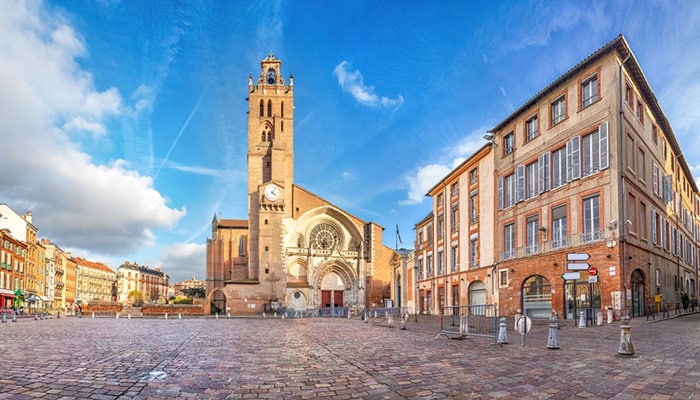 Toulouse is the metropolitan hub of southwestern France. Although it's wedged between the rustic hills of the Haute Garonne, the lavender fields of Occitanie, and the wiggling Garonne River, it's a fun-filled, cutting-edge place. Yep, students fuel late-night parties in the wine bars and clubs, while arguably France's best rugby team get the crowds roaring whenever they take to the turf. Oh, and this is the home of Airbus and Space City, the continent's combined answer to NASA and Boeing from across the pond. The counterweight to Toulouse's cosmic credentials includes a come-get-lost-in-me Vieux Quartier old town, Roman ruins, and gold-gilded structures dating back to the age of Napoleon.
If all that's stoked your wanderlust, why not consider booking an Airbnb in Toulouse this year? It's a sure way to save a bit of cash and get to know parts of the city that some tourists never see. This guide is a great place to begin. It offers insights into the best Toulouse neighborhoods for Airbnbs and a few tips on the hottest short-term rentals currently on the menu. Let's go…
In this Airbnb guide to Toulouse: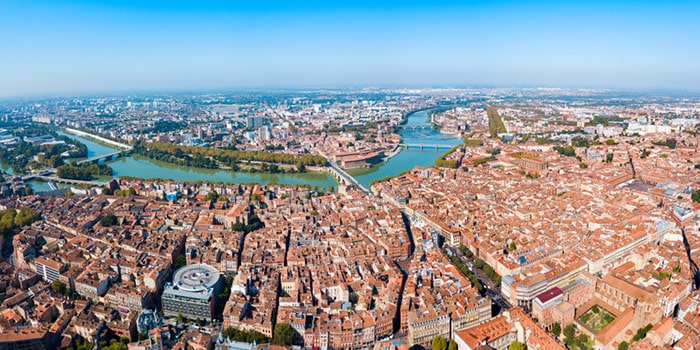 Is Airbnb legal in Toulouse?
You shouldn't have to worry about using Airbnb in Toulouse, or in much of France for that matter. The sharing platform operates 100% legally in the country, although some jurisdictions do limit the number of days each place can be rented for per year. That won't have an impact on your ability to browse and book whatever age-old bolthole in the Vieux Quartier or rustic farmhouse by the winding Garonne River you like. There is a local tourist tax that might be due on some stays. That's typically around 1.5 EUR per person, per night, and is collected in cash upon arrival.
Where should I stay in Toulouse Airbnb?
The immersive Vieux Quartier (1) of Toulouse is where the vast majority of city breakers go on their first-time trip to the capital of the Occitanie region. It might have its roots in Roman times, but it's still the epicenter of life here, with more bars, wine bistros, cathedrals, and bustling plazas than you shake a baguette at. St. Cyprien (2) is a youthful student favorite with lovely riverside parks just across the water, while Esquirol (3) offers edgy eating a whisker to the south. Côté Pavée (4) is a fantastic choice if you're coming with the little ones in tow and prefer somewhere quiet to get a home away from home vibe. Alternatively, you could stay near to Cité de l'Espace (5), which is one of Toulouse's top family attractions, although it's quite far out from the heritage center.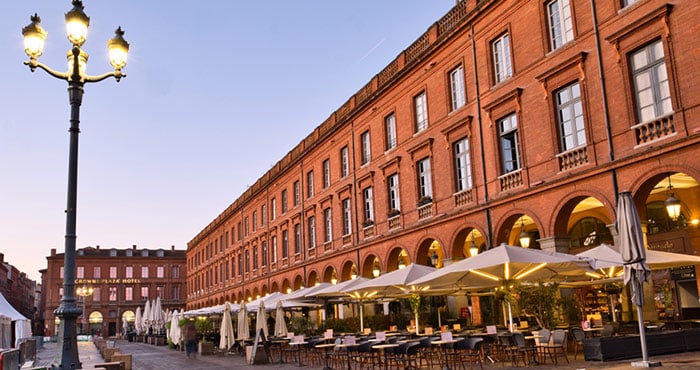 Vieux Quartier (Old Quarter)
Pros
Immersive area rich in sights
Fantastic dining
Lots of shopping
Cons
Always busy
Is the priciest part of town, especially in the summer
Vieux Quartier is the overall name for the age-old heart of the city. First-time visitors who want to feel the charms and rich past of the town should look nowhere else. From the Capitole plaza (the main square) to Saint Stephen's Cathedral, it's filled with worthy sights that can reveal the story of Toulouse going all the way back to Roman times. More than that, it's a lived-in and uber-energetic corner of town, with premier shopping drags like Rue Saint-Rome and Rue Saint-Pantaléon right next to the dining mecca of Rue des Blanchers (say bonjour to the city's best array of restaurants).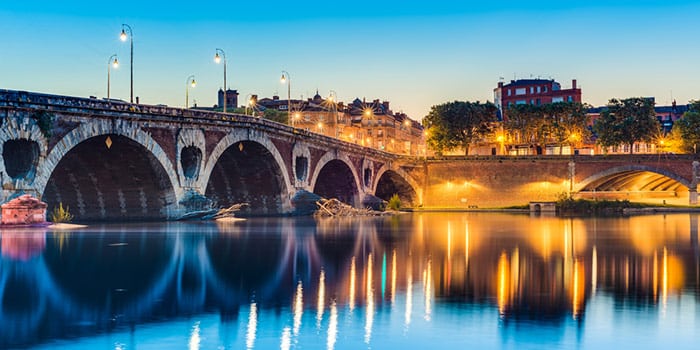 St. Cyprien
Pros
Vibrant nightlife
Good dining scene
Close to the historic center of Toulouse
Cons
Loud on weekends
Considerable road traffic
Facing the Vieux Quartier from the far side of the Garonne River, St. Cyprien is where Toulouse takes on a livelier edge. On weekends, you'll often find it bursting with students and young folk, clinking wines and cold beers in the pavement cafés. They fringe Rue de la République and Rue Reclusane, before hitting the waterside at the ever-popular parklands of Prairie des Filtres (head there in the summer to picnic with a view). St. Cyprien also has its own photography galleries and boutique shopping but is only a short walk across the Pont Neuf to the medieval downtown.
Esquirol
Pros
Still a very historical area
Multicultural eating
Chilled but fun nightlife
Cons
Narrow streets make it hard to navigate
Difficult to drive around
Esquirol is a touch to the south of the Vieux Quartier. It boasts the same brick-fronted architecture and medieval looks as its next-door neighbor, only it manages to cut down the crowds – and the prices – just a tad. The streets are narrow and winding, with boutique vinyl emporiums and artisan bakeries here and there. The gastronomy, meanwhile, takes a turn for the exotic – Bordeaux wine cellars are replaced with Thai kitchens and Japanese sushi joints. Some of the best Airbnbs in Esquirol can be found close to the riverside.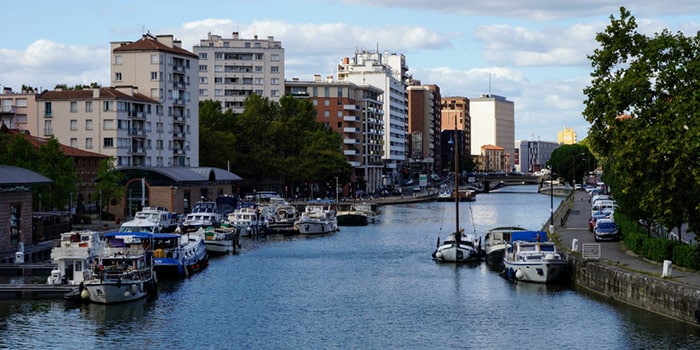 Côté Pavée
Pros
Very quiet
Great for families
Close to the Canal du Midi
Cons
No nightlife at all
Quite far out from the historic sights
The pace of life slows considerably in the leafy area of Côté Pavée. Clutching the Canal du Midi before rolling up a few soft hills to the east, it's very much a residential district, beloved of young families and professional couples. That all adds up to make it a fantastic base for families who want to stay away from the hubbub and buzz of the historic center. The Airbnbs tend to be larger, often come with gardens, and face quiet streets dotted with trees. You'll also be near the lovely cycling and walking paths of the canal.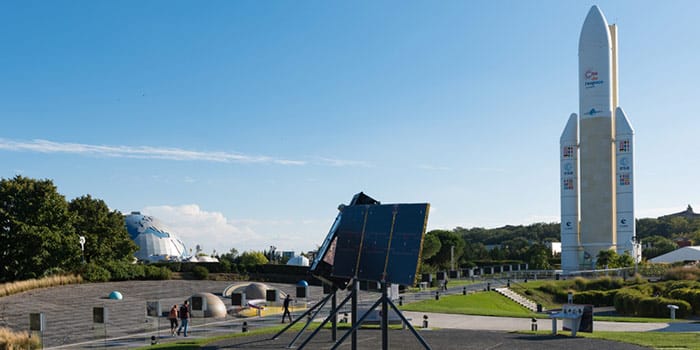 Cité de l'Espace (Space City)
Pros
Great for visiting Space City
Affordable Airbnbs
Family friendly rentals
Cons
Close to the motorway and an airport – it's loud!
Not good for visiting old Toulouse
The Cité de l'Espace is one of the premier attractions in Toulouse. It occupies one hefty cut-out of the city, down on its south-eastern edge – over nine acres in total, to be exact (look for it opposite the Toulouse – Lasbordes Airport by the A1 motorway). The theme is space flight and aviation, which is chronicled in a number of enthralling exhibits, from the recreation of the Ariane 5 rocket to the 140-seat planetarium. There are now quite a few convenient Airbnb rentals located in the district just behind the Cité de l'Espace. They're not a good option if you came here to see the history sights, but perfect if you want to go on rocket-fueled adventures into the cosmos!
Best Airbnbs in Toulouse
Best Airbnb apartment in Toulouse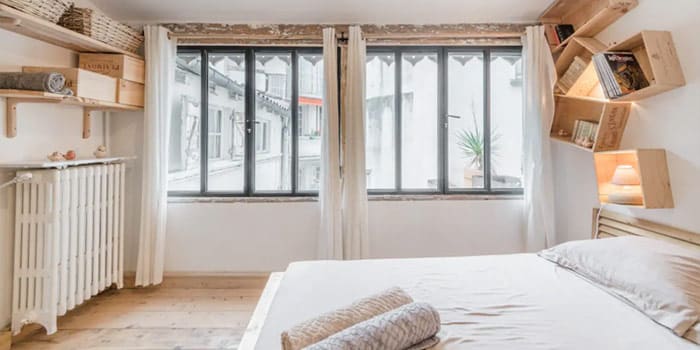 L'appartement De L'atelier
This bijou apartment does well to channel the rustic character of southwest France. It's got rough timber floorboards and exposed beams arching their way through the living spaces. That's all tied together with bright, whitewashed walls and a kitchen that's compact but also undeniably country in its looks. The highlight for us has to be the master bedroom, which has huge windows that flood the space with light from morning to night.
Best Airbnb house in Toulouse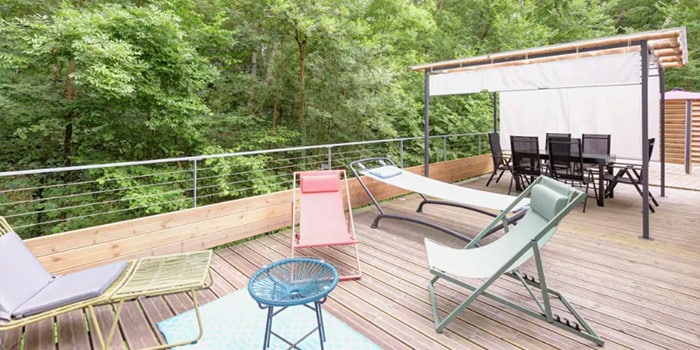 Pause Nature
How about escaping the noise and energy of the city for a spell? The bucolic backcountry of Occitanie offers the perfect getaway. Just check out the peacefulness of this house, nestled between the forests and hills a touch to the northeast of the downtown (around 20 minutes' drive away). It's got room for up to four people, a sprawling deck area, open-plan living space, and a location right on top of some leafy hiking and cycling paths.
Best Airbnb for families in Toulouse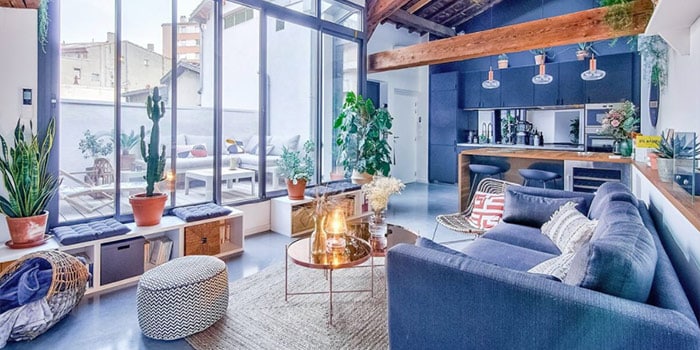 Place Dupuy Design Apartment
This sleek apartment ticks plenty of boxes for traveling families. Let's start in the open-plan lounge-kitchen, where a breakfast bar tumbles into a light-flooded salon with wine fridges and lush houseplants in abundance. Then, how about popping outside? There's a big, breezy terrace to help you make the most of those balmy southern evenings. The property boasts three separate bedrooms with space for six guests in all.
Best Airbnb for large groups in Toulouse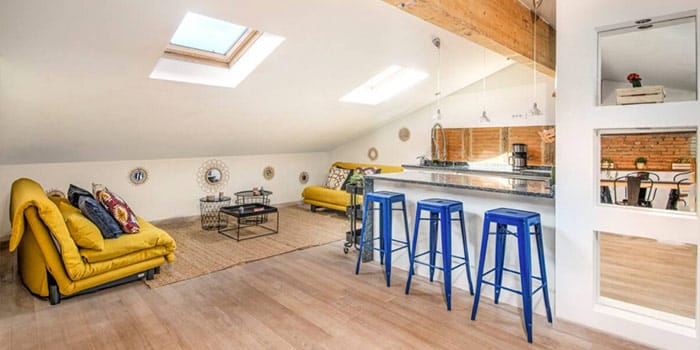 Nocnoc- Le Mosaique
There are four bedrooms that can host up to 12 guests at once in this penthouse flat property. Sitting pretty in the very heart of the city, it's got one foot in the Vieux Quartier and the other on the riverside, which means you'll have easy access to all the major sights and nightlife areas. Inside, the NOCNOC flat harnesses a touch of retro design, offering a living space of low-lying futon seats and a large dining area with an industrial-chic feel.
Best Airbnb for stylish stays in Toulouse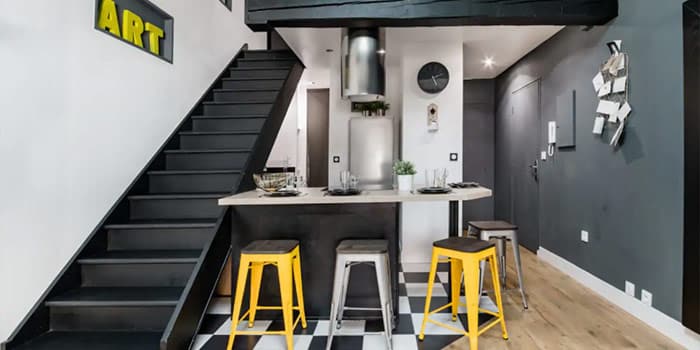 Loft Apartment in the Heart of Toulouse With Parking
Looking for an Airbnb in Toulouse that you won't forget in a hurry? Look no further than this quirky Plus listing. It's an artsy accommodation set out as a mezzanine flat, fusing chequerboard flooring with real wood and earthy timber materials. Location wise, it puts you in the happening district of St. Cyprien, just over the Garonne River from the center.
Is Airbnb cheaper than hotels in Toulouse?
There's a darn good chance that it will be! Yep, one of the reasons that Airbnbs have proved so popular in Toulouse – and right across Europe, for that matter – in the last decade is the sheer value for money that they can bring to the table. You'll often find that short-term flats have lower nightly rates per person than comparable hotels. However, there's more to it than that. Airbnbs in Toulouse often boast self-catering facilities, so there's less of the budget needed for eating out. They're also larger properties in general, with multiple bedrooms that allow you to travel with bigger groups and divide up the cost of the trip.

The obvious downside to an Airbnb is that you won't have the luxury of a hotel. Sadly, there's rarely dedicated cleaning, no room service, and no on-site lobby bars. If those are things you've been dreaming of on your way to Space City, consider booking somewhere like the Hotel Mercure Toulouse Centre Saint-Georges. It's got four stars, packages with sumptuous breakfast spreads, and a particularly nice swimming pool ringed by sunning decks.
Toulouse promises to take you on a journey through the solar system, back to the medieval ages, and down the gurgling Canal du Midi. Get your dream pad in the city today with help from this Airbnb guide.
How useful was this post?
Click on a star to rate it!
Average rating / 5. Vote count: