Los Angeles is the city of the stars. The stomping ground of Hollywood and Universal, it's one of the glitziest and most celeb-filled metropolises on the globe. You can strut down legendary lanes like Sunset Boulevard or go to see the glinting gold stars on the Walk of Fame, not to mention tread the actual film sets in the backlots of the movie studios. Beyond the star-studded blocks of north LA, there's whole patchwork of areas worthy of exploration. Take gritty Venice Beach, where the surf and skate counterculture of the 60s still rocks around the boardwalk. Go to Santa Monica and Pacific Palisades to chill in SoCal bars by chic villas. Then come the lively, multicultural quarters that swirl around the skyscrapers of Downtown LA. There's loads to get through.
Despite some curbs on short-term rentals (more on that below) in LA, there are still nearly 17,000 listings on offer in the city. They come in all shapes and sizes, too, from boutique hotel rooms in sleek Hollywood B&Bs to salt-washed surf hostels close the beaches on the Pacific. This guide runs through some of the best areas to go looking for them, and some of the best Airbnbs in the whole town. Enjoy…
In this Airbnb guide to Los Angeles: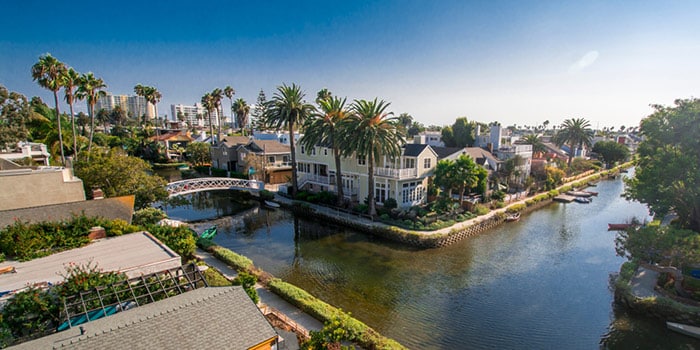 Is Airbnb legal in Los Angeles?
Airbnb is legal in Los Angeles. However, there are some pretty strict rules in place when it comes to short-term lettings. For example, hosts are only allowed to rent out their primary residence. What's more, every listing has to be registered with the city authorities, and no one is allowed to manage more than one property at a time.
These are all relatively new restrictions, but they've had the effect of cutting the number of places available in LA. We'd recommend looking for that registration number before you book. It also can't do any harm to contact the host and ask that they're all registered and above board. It's highly unlikely you'll be punished as a traveler in an unregistered place, but there's a chance your stay will be cancelled without warning.
Where should I stay in Los Angeles Airbnb?
LA is massive. You might want to start your Airbnb search in Downtown (1), where you know you'll be close to all the major sights, although it is a busy – and sometimes gritty – area. Hollywood (2) is another good choice for first-time travelers, with its star-studded streets. The beaches of Santa Monica (3) start the coastline in the west. They are pretty chic but not quite as chic as next-door Malibu (4). Further down the Pacific shore is arty Venice Beach (5) and then the South Bay (6), a string of self-contained towns with welcoming vibes. Then comes Orange County (7) – a top spot for R&R by the surf. Finally, you'll find Anaheim (8) inland and closer to the peaks, touting Disneyland and more family-friendly Airbnb options.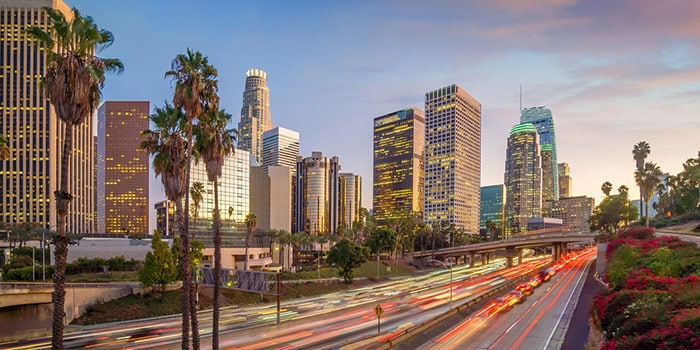 Downtown
Pros
Upcoming area
LA Live shopping and entertainment complex
Big concert halls
Cons
Some poverty
You have to travel to get to the coast or Hollywood
Downtown LA is a place of real contrasts. Its east side is dominated by Skid Row, an area notorious for its high poverty rates and homeless people. To the west is the sprawling and uber-cool LA Live shopping complex, complete with nifty new 4DX cinema screens and the enthralling GRAMMY Museum. The truth is that Downtown is still on a journey, but there are more and more headline attractions every year. Stick to the western blocks when you search for an Airbnb, and be ready to travel on the metro to get to LA's other famous neighborhoods.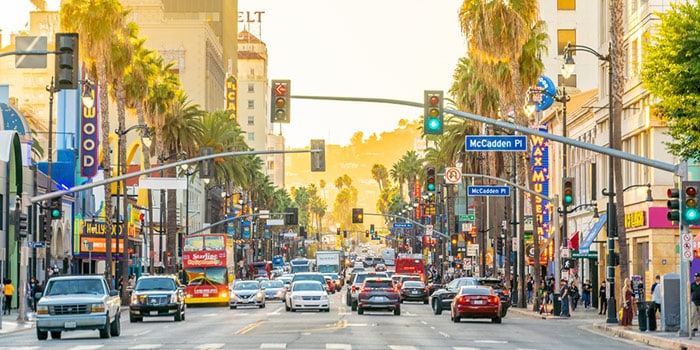 Hollywood
Pros
Some of the city's most famous sights
Iconic streets to walk down
Decent nightlife
Cons
Loads of traffic
Not very pretty
Hollywood is probably the most famous area in the whole of Los Angeles. However, don't come expecting the chic luxury you've seen in the films. Most of the A-listers make straight for the heights of the lush Hollywood Hills. Hollywood itself is pretty ramshackle, with high-rise buildings looming over traffic-choked boulevards. Still, it can't be beaten as a base in LA if you're wanting to tread the iconic strips of Sunset Boulevard and the Walk of Fame.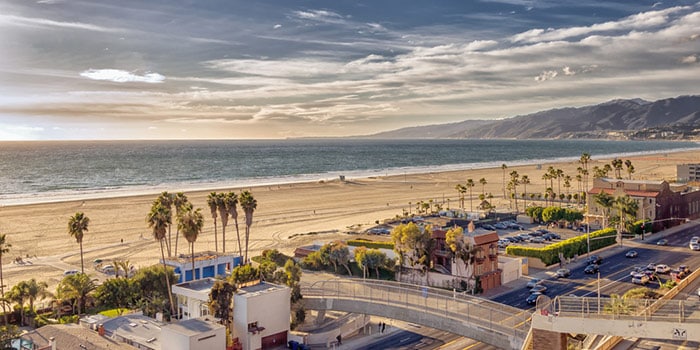 Santa Monica
Pros
The beach is right on the doorstep
Great sunsets
Boutique shopping
Cons
A little too posh for some people
You'll start to feel the salt from the Pacific as you mosey across from the car-filled streets to the chilled town of Santa Monica. Officially a part of the big city, it feels like something very different. Palm-topped avenues roll down to a gorgeous stretch of golden sand here, all threaded with boutique shopping and nice, neighborhood cafés. You'll probably need to pay extra for the luxury of being in Santa Monica, but the reward is upscale eating and proximity to the ocean.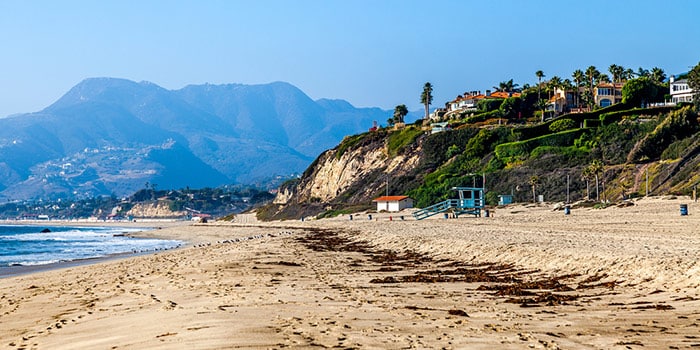 Malibu
Pros
Really high-class area
Some world-class surf
Gorgeous beaches
Cons
Very cliquey
Not in the heart of the big city
Bring the sunnies and pack the designer bikini, folks – Malibu sits on arguably the most stunning stretch of shoreline in the Los Angeles area. Over the decades, this town has become synonymous with laid-back, high-class California surf culture. In fact, it's even a designated World Surf Reserve, so you can expect some cracking waves on the doorstep. More than that, it's fringed by gorgeous bays like Zuma Beach, and has more upscale wine bars and fine-dining restaurants than you can shake your salty hair at.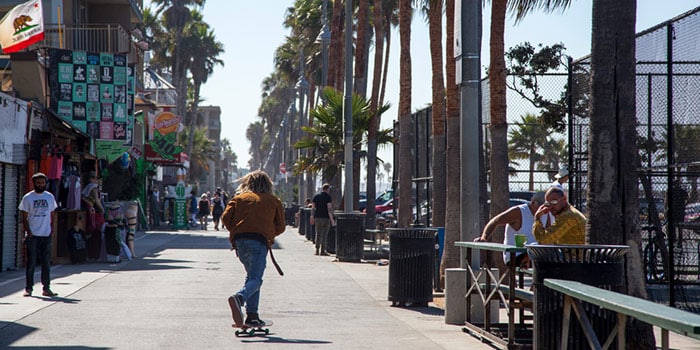 Venice Beach
Pros
Great nightlife
Counterculture vibes
Live music
Cons
A bit touristy
Gentrification has take a little of the authenticity
Lovers of psychedelic rock and American counterculture will probably already know of off-beat Venice Beach. Arty and edgy, it's the creative part of the LA shoreline. You'll usually find it filled with skaters and iron-pumping body builders, spice-sizzling street food vendors, and all sorts of bohemian beer bars. It gets pretty rowdy at night, too, usually with The Doors tribute bands and the wild noir bars of Abbot Kinney Boulevard.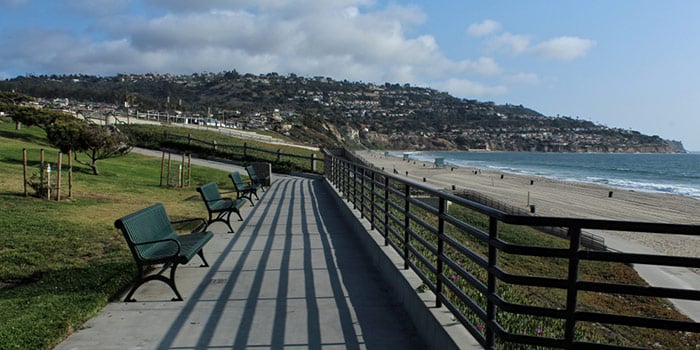 South Bay
Pros
Family friendly
Beach towns – the ocean is near
Close to LAX
Cons
A little suburban for some
Far away from Hollywood
South Bay is a whole region of Los Angeles. It encompasses several lovely suburban beach towns on the far side of LAX airport. They're all pretty darn fun, starting with the hotel resort haven of El Segundo and ending with the well-to-do area of Torrance Beach. Vibrant and affluent, these neighborhoods are great for families who like to be by the oceanside. They also pack in chic shopping precincts (new swimwear, anyone?) and have sun-kissed seaside promenades that buzz with life from morning until night.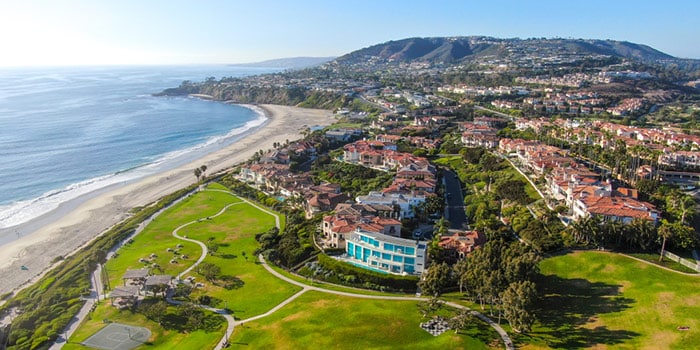 Orange County
Pros
Fantastic beaches
Good surf
Classy areas abound
Cons
This is just about as far as you can go from Hollywood
Expensive
Made famous by its own Fox TV show, this corner of California is where the good times roll. It clutches the southernmost part of Los Angeles and has some seriously famous names within its boundaries: Huntington Beach, Laguna, San Clemente. The whole lot of them are upscale and lovely to be in. They have gorgeous beachfronts of gold sand topped by pockets of palm trees. For the best surf, we'd say choose the more open beaches to the north. For chic boutiques and haute cuisine, Laguna is a great choice.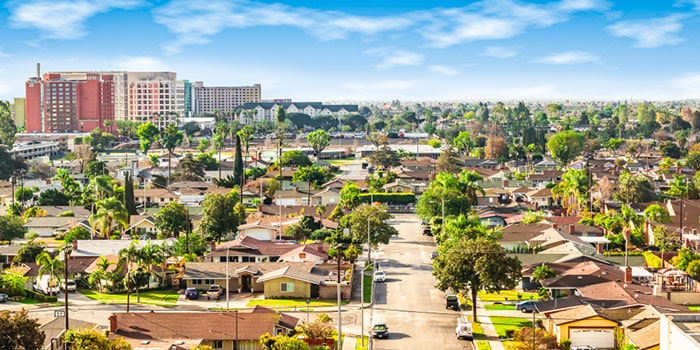 Anaheim
Pros
Disneyland is here!
Close to the mountains
Very family friendly
Cons
Not near the beach
A bit boring if you're not going to Disneyland
Anaheim will take you away from the wave-washed Pacific beaches of LA into the suburban sprawl out east. However, it's got a few top-draw sights. Chief among them is the vast Disneyland Park, which is up there with LA's most enchanting family attractions. Around that are loads of family-friendly restaurants and hotel resorts, most of them with on-site pools. Anaheim could also be a fantastic base for exploring the rolling Chino Hills and the rugged canyons around Silverado.
Best Airbnbs in Los Angeles
Best Airbnb apartment in Los Angeles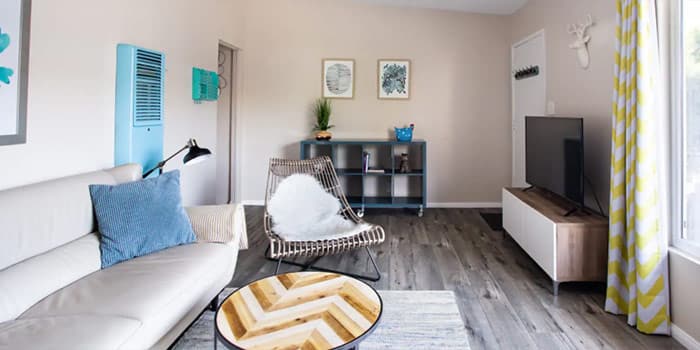 Explore the City From a Sunny Palms Apartment
This chic Airbnb Plus property has modern interiors with a touch of the 1950s West Coast vibe about them. You get a kitschy little kitchenette and a breezy lounge with overtones of the ocean. It's in a really convenient location to boot: LAX airport is a tad to the south, the beaches are a little to the west, and Hollywood and Downtown LA are to the north and east.
Best Airbnb house in Los Angeles

Petite Hollywood Central Bungalow
The Petite Hollywood Central Bungalow might be small but it's full of character. Huddled into the happening streets of North LA, you'll find it behind a cute wooden door. There, it unfolds with its grassy garden and little lounge-sleeper. There's a bijou kitchen and fresh bathroom, along with air conditioning throughout.
Best Airbnb for families in Los Angeles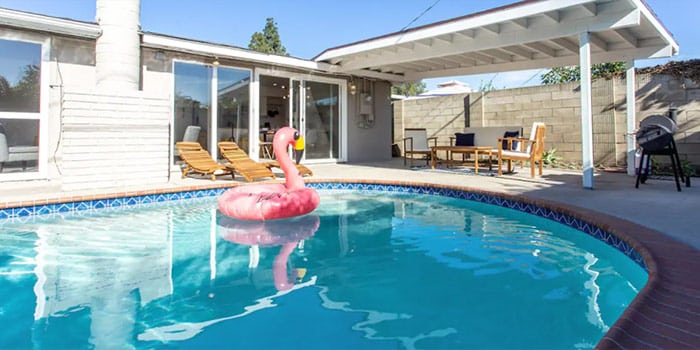 Modern Home With Pool
Proximity to Disneyland is the prize for families at this lovely modern villa in the inland of LA. It's around 10-15 minutes in the car from the iconic resort. Meanwhile, the garden comes with a private pool, there's a large kitchen-diner area, not to mention a contemporary lounge where you can all sit and chill after a day on the rides.
Best Airbnb for large groups in Los Angeles

Vintage, Loving & Spacious Near Lax, Spacex,& Dtla
You could be forgiven for thinking that you'd been transported to a Mexicana village when you set eyes on this charming LA townhouse. Yep, it's built like something out of the Spanish sierras. Inside, there are four bedrooms that combine to offer capacity for as many as 12 guests at any one time. LAX is also conveniently close, as is the 110 interstate for reaching Downtown LA.
Best Airbnb for a stay with a difference in Los Angeles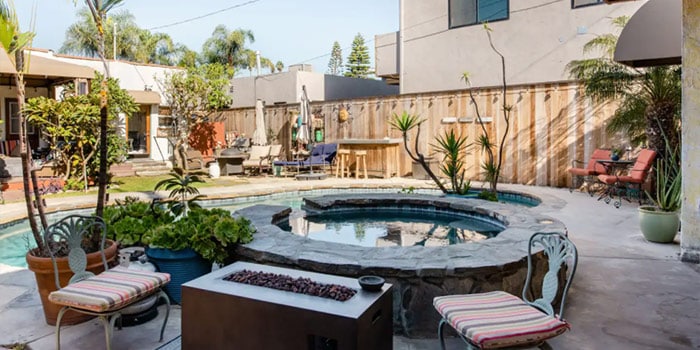 Venice Beach Guest Studio with Pool and Hot Tub
Treat your other half to a trip to quirky Venice Beach by booking this luxurious Plus listing. It's pretty darn quirky in its own right, with an al fresco bathroom and a Spanish casita style about it. Guests also get to enjoy a large outdoor swimming pool and a private hot tub. That's perfect for unwinding after a day out on the boardwalk.
Is Airbnb cheaper than hotels in Los Angeles?
There's a good chance that you'll save some bucks on your trip to the City of Angels by booking an Airbnb instead of a traditional hotel. Nightly rates usually come in a little under what you'd expect to pay for the full service of a holiday resort. What's more, there are extra savings on offer when you factor in that Airbnbs tend to be larger properties, letting you share the cost with more travelers. On top of that, self-catering facilities are a common feature, so you might find you spend less out in the chic eateries of Malibu and Santa Monica.

Of course, an Airbnb won't have the same level of luxury as a hotel. If you want to be pampered from the moment you arrive on the West Coast, consider booking somewhere like The Hollywood Roosevelt. It's a four-star establishment with its own outdoor pool and grand lobby halls done out in the Art Deco style. Oh, and it's in the heart of tourist-fav Hollywood!
LA is one of America's most enthralling, star-studded towns. Get in and start exploring amazing neighborhoods like uber-cool Malibu and famous Hollywood with help from this Airbnb guide today…
How useful was this post?
Click on a star to rate it!
Average rating / 5. Vote count: