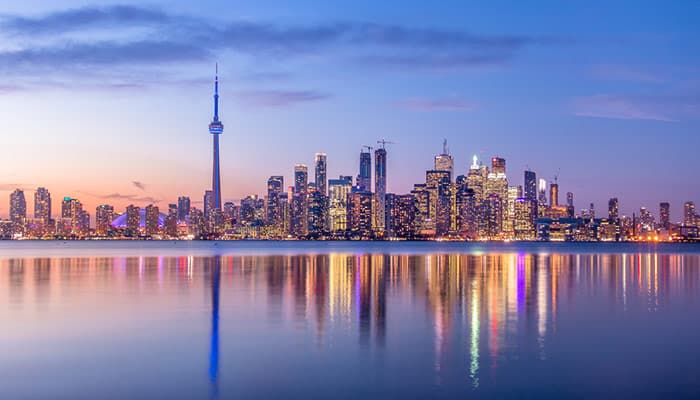 Toronto might just be the biggest melting pot of a city ever. Its patchwork of neighborhoods, rolling off the sloshing waters of forest-fringed Lake Ontario, is a hodgepodge of all sorts. Some are packed with mezze-brimming Greek tavernas. Others are doused in soy sauce and awash with Canton-style dim sum houses. There's pizza-spinning Little Italy, a taste of Tuscany in Toronto's suburbs. There's Little India, where Rajput curries broil in cauldrons beside thali kitchens. The anchor of it all is downtown Toronto – the CBD. There, you find some of Canada's most acclaimed cultural attractions – the Art Gallery of Ontario, the Royal Ontario Museum – and iconic landmarks like the CN Tower. Oh, and daytrips are a doozy, too, what with Niagara Falls and the Ontario winelands on the doorstep.
Airbnb is now a major source of accommodation for travelers looking to check off this bucket-list city. At last estimation, there were around 9,500 listings active in the sprawling capital of Ontario, ranging from slick penthouses in the heart of the downtown core to spacious suburban pads where you can get a feel for that welcoming Torontonian neighborhood vibe. Let's take a look at the lot…
In this Airbnb guide to Toronto: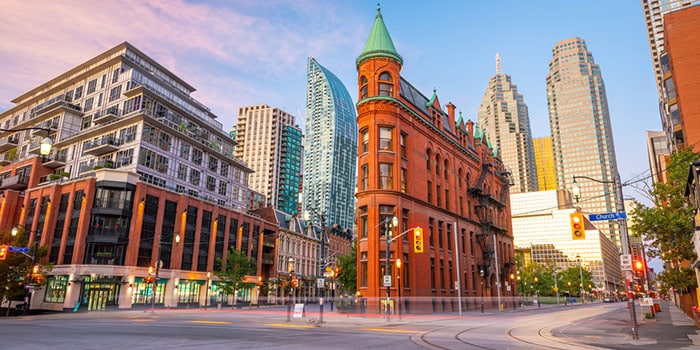 Is Airbnb legal in Toronto?
Airbnb is legal in Toronto. However, there are a few rules in place to govern short-term lets. Landlords are only allowed to rent a place that's also their "principal residence". Hosts will also have to register with the city and display their registration number prominently on any online listings. Guests don't have to worry about any of that, but they will have to pay a Municipal Accommodation Tax (it's 4% of the total cost of a stay).
Where should I stay in Toronto Airbnb?
Toronto isn't small, but even locals prefer to consider it a conglomeration of small towns rather than a large mass of a city. The reason? Places like the Old Town (1) might be in the thick of it, but they retain a true historic character. The same goes for Cabbagetown (2), where old Victorian mansions line the streets. Then you've got uber-chic Yorkville (3) for the upscale A-listers, or the Entertainment District (4), which is perfect for ticking off the main sights. West Queen West (5) beckons with some more local boutiques and coffee joints, but Chinatown (6) and Greektown (7) are probably better for out-and-out foodies looking to taste their way through Canada's largest city.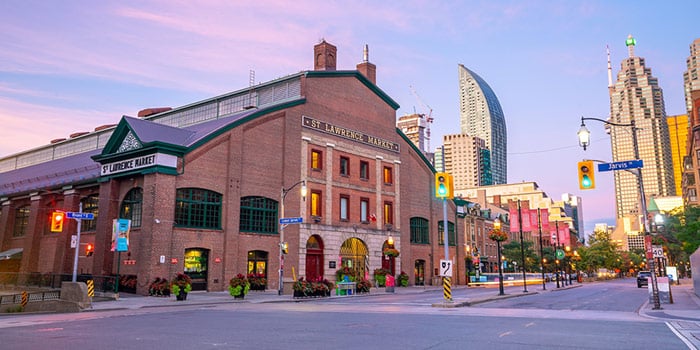 Old Town
Pros
You can feel the history
Tasty treats at St. Lawrence Market
Close to the galleries of the Distillery District
Cons
Expensive part of Toronto
Quite business like
With a name like that, it shouldn't come as a surprise that the Old Town traces its history all the way back to the beginning of the 1800s. It's the most venerable neighborhood in the city, and it's retained a little of that vintage charm. Centered on the 200-year-old St. Lawrence Market (a great place to grab lunch), it covers 10 blocks with big Victorian buildings of redbrick and Neo-Classical design. Art galleries abound in the nearby Distillery District and there's oodles in the way of fine-dining and cocktail drinking in these parts.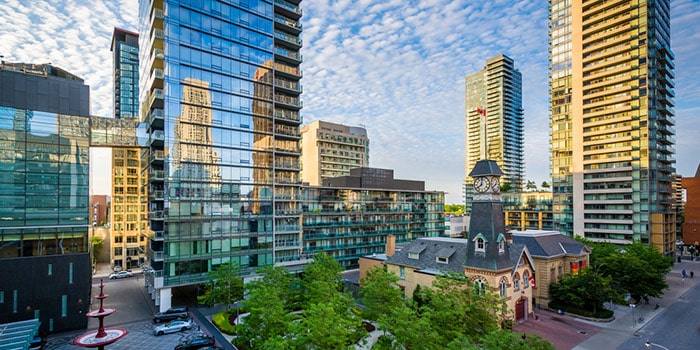 Yorkville
Pros
Chic shopping
International dining
High culture
Cons
Very expensive
A bit of a cliquey crowd
Sleek and exclusive Yorkville is where the trend setters go to grab the latest haute fashion and designer wear. At the intersection of Bloor Street and Bay Street, you can find the uber-chic Mink Mile area – thought to be one of the most expensive places to live in all of Canada. Of course, with the upscale shopping comes upscale vibes, so expect refined Japanese sashimi kitchens next to artisan bakeries. The Royal Ontario Museum is also right there on the doorstep, offering everything from dinosaur bones to Art Deco crafts for rainy days.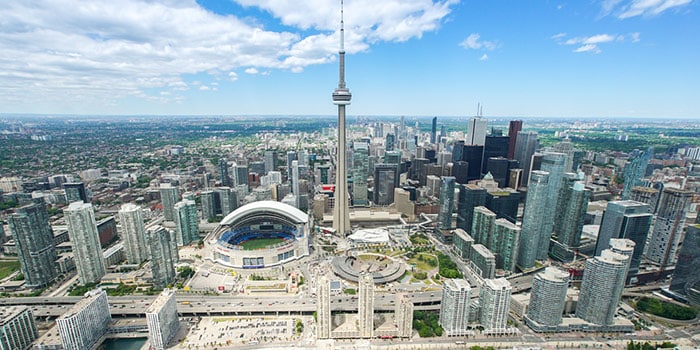 The Entertainment District
Pros
Fantastic nightlife
Some of Toronto's most iconic buildings
Airbnbs with views of Lake Ontario
Grab yourself an apartment with a view of the Toronto docks down in the Entertainment District and you'll be immersed in one of the city's most happening quarters. It's skewered through the heart by the CN Tower (check out the observation deck more than 500 meters up!) and spreads to the sides of the lake with Roundhouse Park. It's a real hubbub after dark, with Canadian grill houses and retro theatres erupting between the clubs and the pubs. Definitely one for the partiers!