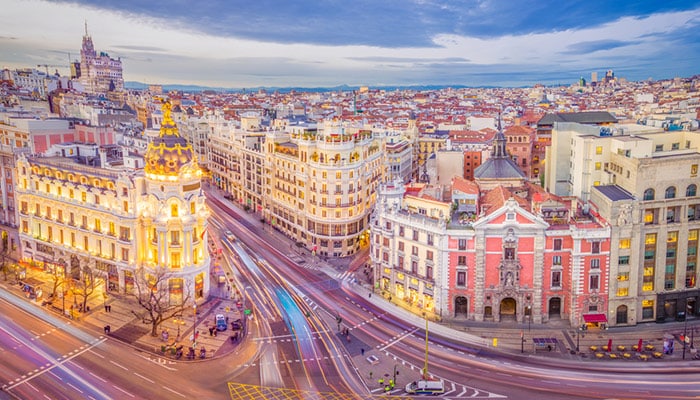 Madrid is the sleepless, spirited capital of Spain. Rolling out in the shadow of the Sierra de Guadarrama in the geographical centre of the country, it flits from moody medieval districts to chic modern areas that bustle with big business. The main attractions are vignettes of the Baroque and the beautiful, from the statue-topped Puerta del Sol to the grand Palacio Real – the official residence of the King of Spain. Beyond those, you can trace the footsteps of Cervantes in the Barrio de las Letras and party the night away in a shower of sangria and Rioja in the happening Huertas district. And that's not even mentioning the culture-packed Museum Triangle and the potential daytrips out to immersive Toledo or Segovia.
These days, an estimated 1.2 million visitors to the Spanish capital pick an Airbnb in Madrid over a conventional hotel. They get the choice of thousands of listings that range from uber-chic penthouses in the heart of the Huertas to family-sized pads within walking distance of Museum Triangle. This guide is a great place to begin if you're thinking of joining them. It offers insights into the various neighbourhoods Madrid has to offer, and showcases some of the very best Airbnb rentals in the city.
In this Airbnb guide to Madrid: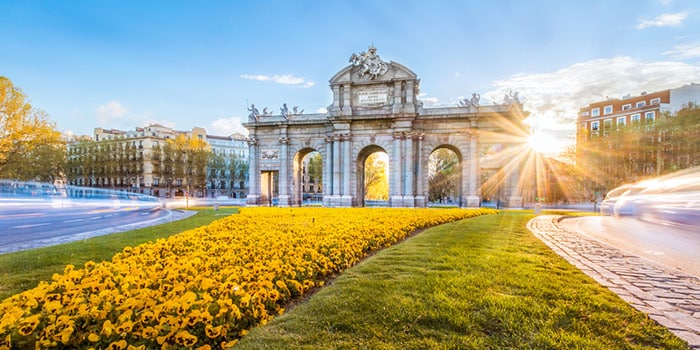 Is Airbnb legal in Madrid?
There are some strict limitations when it comes to Airbnb in Madrid. However, you shouldn't need to worry about them as a traveler: They're all handled by the owners of properties, never the guest. Basically, the city has decreed that you can only rent out entire places that don't have a dedicated entrance of their own for a maximum of 90 days in a year. What's more, all homes need to be registered with the Spanish government and display their registration number as part of their online listing. If in doubt, you can check everything's in order before you reserve by using the 'contact host' feature to ask any questions you might have.
Where should I stay in Madrid Airbnb?
Old Madrid is shared between the immersive Barrio de las Letras (1) department and the bar-filled La Latina (2) neighbourhood, which both offer history, culture, and nightlife in equal measure. Chueca (3) awaits to the north of that, with its friendly and welcoming LGBTQ vibes. Malasaña (4), meanwhile, has claimed the title of Madrid's main hipster hub, while Salamanca (5) is for the jet setters in search of fine Rioja wines and haute cuisine. To the south comes Lavapiés (6), a lively, multicultural enclave with flea markets and enthralling museums.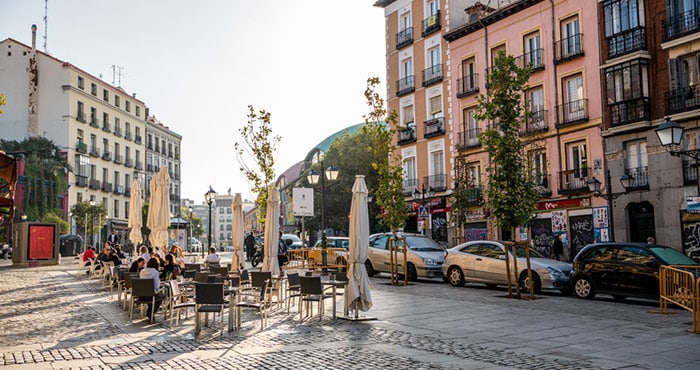 La Latina
Pros
Arguably the best dining scene in the city
Historical streets
Good markets
Cons
Very busy on weekends
Can feel a little cramped
Calling all foodies – La Latina is the gastronomic epicentre of the Spanish capital. Weekends see the umpteen bars that cram the plazas and streets between El Jardín del Príncipe de Anglona and the Puerta de Toledo fill to bursting with Madrileños. They devour smorgasbords of sizzling patatas bravas, Iberico hams and frothy beers from lunch until late. Shoppers are also bound to love the sprawling Mercado de la Cebada, while history buffs can enjoy wandering one of the most ancient corners of town, surrounded by Baroque churches and vintage theatres.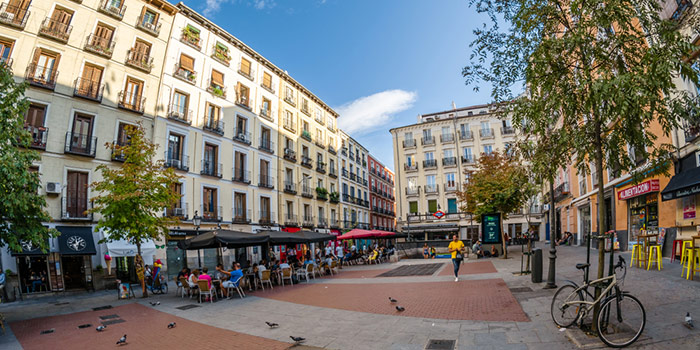 Chueca
Pros
Very inclusive
Great LGBTQ bars
Buzzy nightlife
Cons
Quite loud
Lacks a little historical charm
Just north of the Gran Via road and the historic heart of Madrid is where Chueca flaunts it fantastic nightlife scene and LGBTQ-friendly vibe. It's unquestionably one of the liveliest barrios in the metropolis, swirling in a haze of beer stops and multi-story clubs around the Plaza de Chueca. Visitors are greeted with flapping rainbow flags on every boulevard and more café-bars than you can shake a plate of tapas at. Arrive in late June or early July if you really want to see the neighbourhood in full swing. That's when one of Europe's biggest Pride celebrations takes over.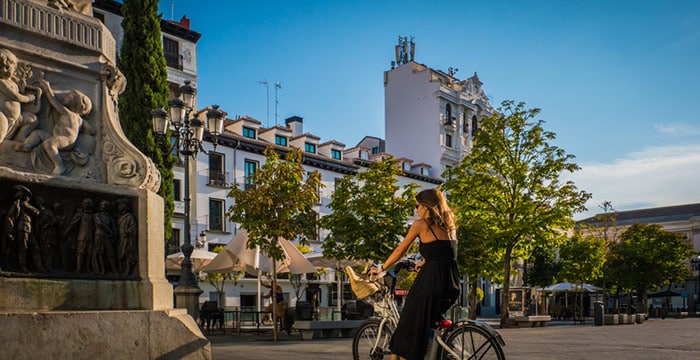 Barrio de las Letras (Huertas)
Pros
Lively nightlife
Interesting literary history
Good places to watch flamenco
Cons
Very loud after dark
Hardly any parks or green spaces
The Literary Quarter, the Barrio de las Letras, Huertas – call it what you like, but this central hub of Madrid fizzes with life. It's the place to go for a good party. Be sure to start the evening in the al fresco cerveceria of Plaza Santa Ana and then move to the wine bodegas and flamenco venues that spread southwards towards Calle de Atocha. By day – if you can shake the hangover! – there's plenty in the way of culture. This was once the stomping ground of Miguel de Cervantes (by far Spain's most famous writer) and there are bars once frequented by Ernest Hemingway to boot.