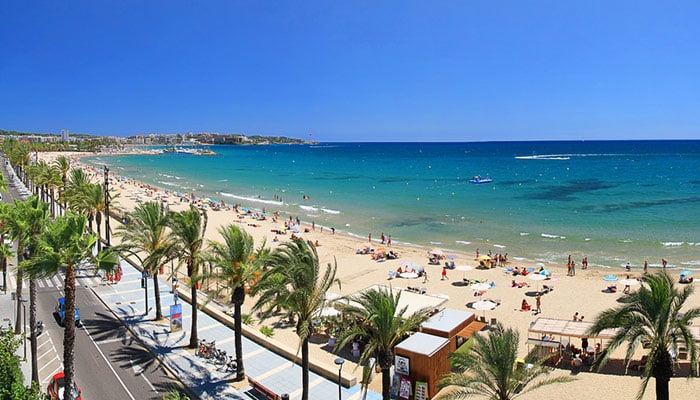 Salou is one of the dream destinations on the Spanish Med. Fringed by the golden sands of Llevant Beach and Playa de Ponent, it's long been a top getaway for families and folk in search of sun and sea. Throw in a few rocky coves for the snorkelers, award-winning golf courses that creep into the sierras, and a buzzing promenade filled with cafes and bars – what more could you want? Making the trip in from Barcelona to Salou should be a cinch. These two towns are a mere 57 miles apart, and there are excellent roads and railway lines linking them both.
Barcelona to Salou by train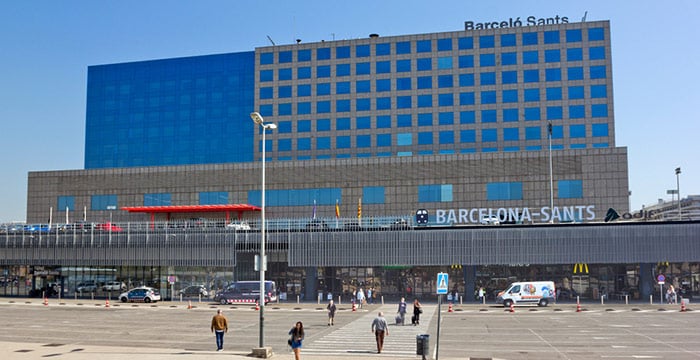 Time – 1h20
Price – Around $10 an up
Comfort – 4/5
Taking to the railway is one of the most popular ways to go from Barcelona to Salou. There are up to 10 services running the route every day, so you should be able to pick a time that suits you. What's more, there are some pretty early departures in the morning, which makes it possible to put together a day trip from the big city to the beaches of the Costa Daurada if you just wanted a taste of the sand, sea, and sun between those explorations up Las Ramblas.
Trains leave from the big Barcelona Sants station. That should be easy to reach from the heart of the city as it's just north of the bustling interchange of Plaça d'Espanya. Sants also has direct links to the BCN metro lines (look for the Sants Estació stop). You're aiming for a white-painted inter city locomotive run by RENFE, the Spanish national railway line. They're modern and comfy, with upholstered seats and climate control throughout.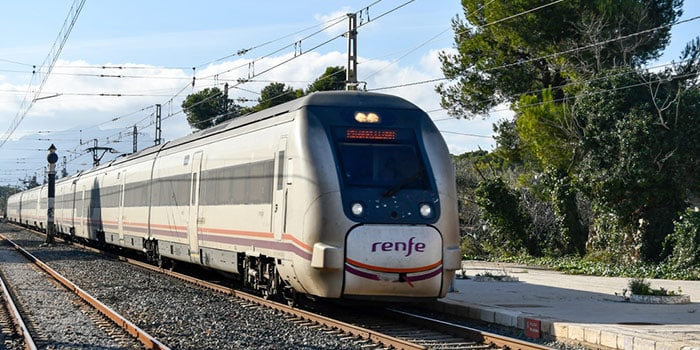 The trains from Barcelona Sants station take a little over one hour to reach the soft, sloping beaches of Salou.
The journey should take in the region of 1.2 hours from start to finish. It follows the railway south-west towards Tarragona. The first portion is particularly scenic, as you cruise between the rugged peaks of the Parc del Garraf mountains and the lapping Mediterranean Sea. Try to get a seat on the left-hand side of the carriage to make the most of those views.
Tickets for the train from Barcelona to Salou can be bought online, in advance via 12Go.co. Doing that will mean you often get the best deals of all, as the cost of seats can creep up the closer you get to departure. It also means you'll have everything sorted for your trip before you even arrive, so you won't need to jostle with the crowds at the ticket kiosks in Sants station.
Barcelona to Salou by bus

Time – 1.5 hours
Price – $9+
Comfort – 3/5
Buses are a good bet for getting down to the promenades and cerveza-sloshing beach bars of Salou. They don't run as regularly as the trains, but offer a bargain option that you can catch at central locations, like the Sants station and on the Passeig de Gràcia. Journey times are a little longer than on the railways, but still rarely exceed 1.5 hours from A to B, which can include stops at the big airport in El Prat and in the town of Tarragona.
There are a couple of companies that offer bus links from Barcelona to Salou, and it's one of the cheapest ways to do this trip.
There are several bus operators to pick from but the most popular are probably ALSA and Plana. They have tickets that start at around $10 per person, each way. To be sure you score the best deal, you can compare and contrast all the departures and starting stations on 12Go.co. We'd recommend booking in advance if you're considering traveling in the Spanish high-season months between May and August.
Comfort wise, things are pretty good. Most companies run modern coach-style buses with dual entrances, reclining seats, and air conditioning. Some even have buses with in-built WiFi. Again, we'd say try to bag a seat on the left side of the vehicle. That's where the better views of the Costa Daurada will unfold.
Barcelona to Salou by car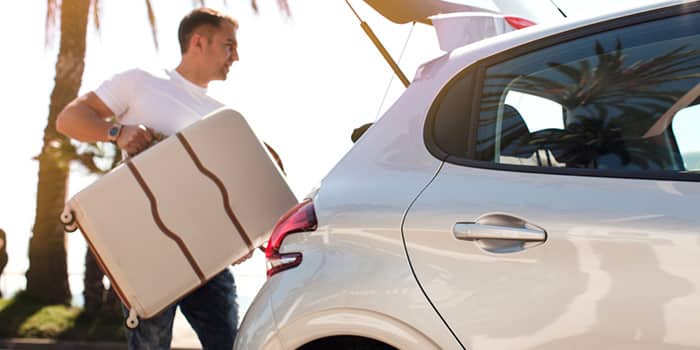 Time – 1h15
Price – $20/day (though other charges may apply)
Comfort – 5/5
Lots of people choose to make the trip down to the glowing beaches of Salou by car each year. It's certainly one of the most convenient choices if you're launching and expedition along the Costa Daurada (the gorgeous stretch of coast where Salou makes its home) from either Barcelona El Prat Airport or the low-cost hub of Reus Airport. It's also a fast option for getting in from the heart of Barcelona, from where drives take just over an hour.
A rental car won't break the bank in Spain, and it offers oodles of freedom on the road to Salou.
Of course, it's easier if you've already got access to some wheels. If not, RentalCars.com offer some attractive deals from both Barcelona city and both airports. In fact, we'd say the rates of hire cars in Spain are up there with the cheapest in all of Europe!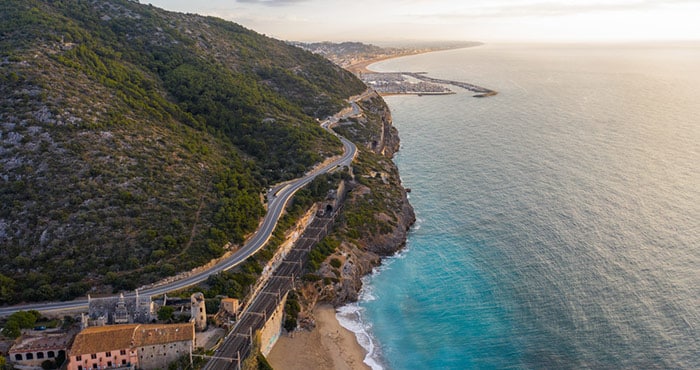 Assuming you're starting in central Barcelona, you'll want to plot a course for the main C-32 coast road via Sitges. It skirts the Mediterranean shoreline and has some jaw-dropping views of Catalan coastlands before ringing around the city of Tarragona and straight into Salou some 109km later. One warning: Traffic can occur on this road, especially in summer months and at peak times in the morning and early afternoon.
---
Salou boasts some seriously nice beaches just down the lovely Costa Daurada from Barcelona. Use this guide if you find yourself pining after some sand and sea after seeing La Sagrada Familia.
---
Barcelona to Salou FAQ
What is the cheapest way to get from Barcelona to Salou?
That would probably be the bus, although tickets on the RENFE trains that leave from Barcelona Sants station can cost roughly the same. That's only if you book in advance of traveling, using a service like 12Go.co to get the early-bird rates. Then, you can expect to pay around $9-10 per person, each way for the best deals on both buses and trains.
What is the fastest way to get from Barcelona to Salou?
There's nothing that can beat the speed of driving from Barcelona to Salou. Provided there's no major traffic clogging up the C-32 highway that wiggles through the sierras and along the Catalan coast to the south-west of the city, you're looking at being able to do this trip in just 1h20 minutes. Of course, that relies on not getting distracted by the rugged hiking trails of the Parc Natural del Garraf or the beaches at Sitges as you go!
What is the best way to go from Barcelona to Salou?
That's really up to you. We think the train is the standout option. Spanish RENFE trains are comfortable and reliable. They leave up to 10 times each day from Barcelona Sants, so there's usually a departure time to suit your travel schedule. They also rarely break the bank. Check 12Go.co early on and you might even be able to score tickets at around the $10 mark!
Is there a direct train from Barcelona to Salou?
There is. In fact, there are up to 10 direct trains from Barcelona to Salou every day, but maybe a few less on weekends and national holidays. They take 1h20 to go from the city to the sands on the Med and leave from Barcelona's major Sants station. You can either queue there to get tickets when you arrive, or book online before you travel on 12Go.co, when fares are typically cheaper.
Is the train from Barcelona to Salou scenic?
Yep. We wouldn't say it's the most dramatic train ride in Europe. It's not even close. However, there's plenty to like about the rugged rises of the limestone Parc Natural del Garraf and the sweeping beachfronts that unfold along the famous Costa Daurada. We'd charge the camera just in case!
How useful was this post?
Click on a star to rate it!
Average rating / 5. Vote count: