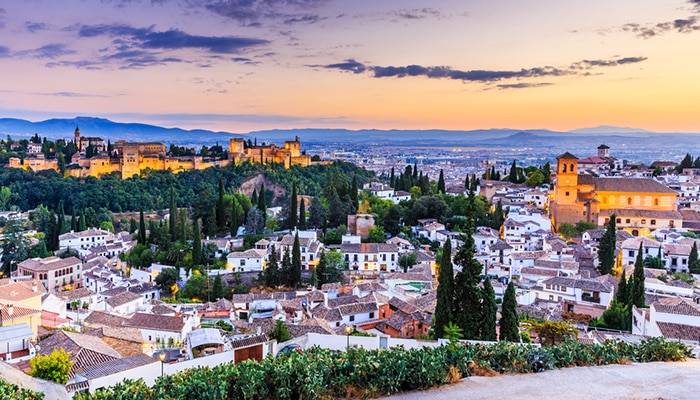 Few sights in Spain are as stirring as the honey-hued spires of the Granada Alhambra rising before the snow-capped Sierra Nevada. It's a place every lover of the Iberian Peninsula should see at least once, which is no doubt why the trip to this historic and wonderful city deep in the hills of Andalusia is one that's made by so many travelers each year.
This guide can help you join them. It's got all the ins and outs of organising the 220-mile jaunt from the capital down south, with details about trains, planes, cars, and more. Let's get going…
Madrid to Granada by high-speed train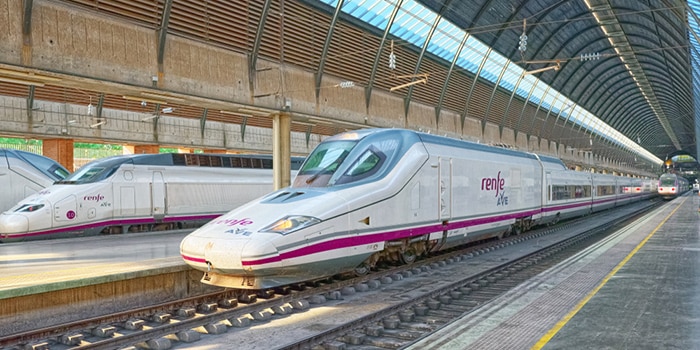 Time – 3h17+
Price – $33+
Comfort – 5/5
You'll be stepping out under the serrated tops of the Andalusian Sierras before you can dust off your morning chocolate churros if you hop on the Alta Velocidad Española (known as AVE for short) down from Madrid. These zippy locomotives cover hundreds of miles of track to get you to the historic Moorish citadels and cobbled streets in a mere 3h17 in some cases. There are three departures from Madrid Atocha each day that go direct, with the first at 7.30 in the morning and the last at 7.35pm.
You'll be traveling on the best of the Renfe (Spain's national rail provider) fleet for the whole way. They are modern, bullet-nosed carriages that include VIP Preferente (1st) and spacious Turista (2nd) classes. You'll also get access to an onboard food cart that serves hot meals and even rich red wines courtesy of the Rioja region. There's climate control and wide windows throughout, so you'll be warmed in winter, cooled in summer, and get to enjoy the view no matter what tariff you choose.
At least three high-speed AVE trains now link Madrid to Granada, helping travelers get to the mighty Alhambra in just over three hours.
It's always a good idea to book as early as possible on these speedy connections. Renfe do great deals on advance-bought tickets, seeing the cost of the ride to Granada drop to something like $32.50 per person. If you leave it late, you can expect to pay a lot more than that, and often for precisely the same seat in Turista class that was reduced only weeks before. Thankfully, 12Go.co lets you search and compare all the schedules and services on offer from Spanish railways.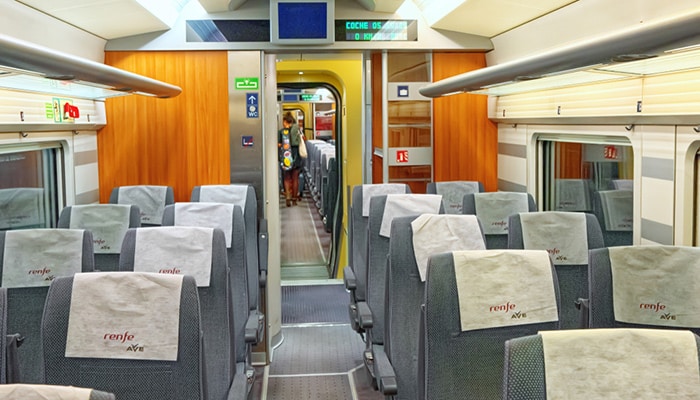 The route the train takes makes for some pretty nice window viewing. You'll pass through the heart of the Andalusian mountains, spotting white-painted villages on the hills. Most services will also make a pitstop in the grand and ancient city of Córdoba. Before that, you'll drop altitude as you leave behind the central plateau of Spain and pass the mythic lands of Castilla-La Mancha after rolling out of the capital.
Madrid to Granada by bus
Time – 4.5-5.5 hours
Price – $20+
Comfort – 4/5
It's also possible to go by bus from Madrid to Granada without stops in around 4.5-5.5 hours. National coach operator ALSA sees to that. They run multiple services between the two cities, both during the day and during the night. (They also have countless indirect routes that will involve at least one change of vehicle.) Sticking to the nonstop choices, you'll need to find your way to the Madrid Estacion Sur – South Station – in the capital to board. That's easy to get to, with a direct link to the metro at Méndez Álvaro on offer.
Look for seats on ALSA's Premium-class coaches to get the most luxurious ride possible on the roadways between Madrid and Granada.
Departing the capital, the coaches drive almost directly south, through Getafe and then across the plains of La Mancha. About two thirds of the way in, you'll cross the border into Andalusia, where the landscapes become noticeably more mountainous and rugged, with forests of olive trees and pueblos blancos visible on the hillsides. Yep – it's views like that that mean you might want to consider traveling during daylight.
Buses are generally modern, well-maintained, and comfy. They always have air conditioning and reclining seats. What's more, the Madrid-Granada route has the added benefit of the Premium-class coaches run by ALSA. They boast frills like touch-screen entertainment portals like you get on long-haul flights, onboard WiFi and in-seat plugs. It's the option to go for if you like to travel in style.
Madrid to Granada by plane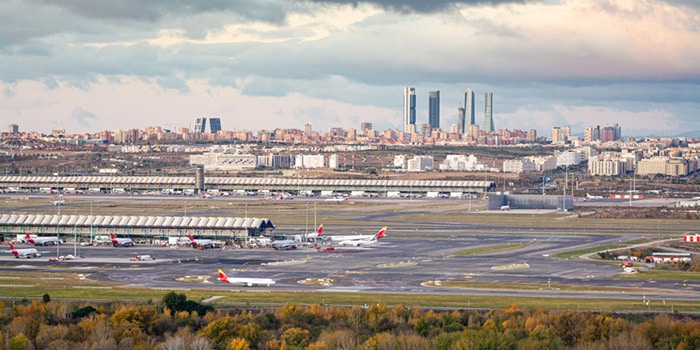 Time – 1h05 (flight only)
Price – $38+
Comfort – 4/5
You aren't limited to going overland from the bustling plazas of Madrid to the gorgeous arabesque gardens and palaces of Granada. That's because there are upwards of 30 connections per week in the air, all of them offered by Spain's national flag-carrying airline, Iberia. They take just 65 minutes to jet down south to the runways of Granada, which puts them up there with the fastest options on this list. Of course, total travel times are likely to be more than that, because these journeys require transfers to the airports and security checks to boot.
Around four direct flights link up Madrid with Granada every day, courtesy of Spain's own Iberia.
Talking of the airports…you'll start at the big Madrid-Barajas Adolfo Suárez Airport (MAD). That's the largest in the capital, which can be reached on Bus 200 from the downtown or Línea Exprés from Atocha train station (30-40 minutes). Landing wise, you'll touch ground again at the relatively small Federico García Lorca Granada Airport. It's to the west of the main town, linked by public buses taking 45 minutes and costing 4 EUR ($4.30).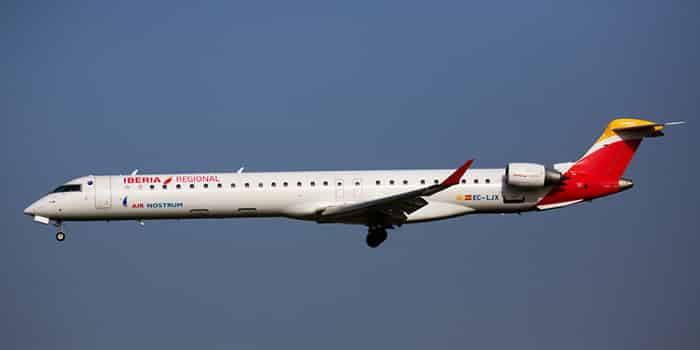 A great deal on a flight between Madrid and Granada is around the $40 mark. Those sorts of cheap fares are more likely to be available at least 60 days before departure, so it's a good idea to get searching on 12Go.co as soon as you know when you want to travel. During peak periods and for fares bought at the last minute, it's not uncommon to pay upwards of $100 for a seat! Also, you'll need to add on some extra fees for checked bags if you're bringing luggage in tow.
Madrid to Granada by car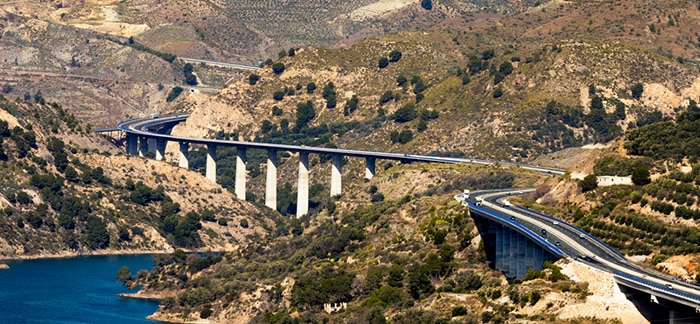 Time – 4h10
Price – $160+
Comfort – 4/5
Thankfully, car rentals in Spain are among the most affordable in Europe. Just check out RentalCars.com, where you can score three-day hire packages that include collection in the capital and drop off in Granada for around $160-200 total. That's three whole days of your own ride, meaning all the fantastic draws that lie between these two cities will be up for grabs. Perhaps you want some time to explore the cobbled lanes and enchanting towers of Toledo? Maybe you'd like to hike the Sierra Nevada? Or, will you detour to Córdoba for medieval castles and Roman-era bridges?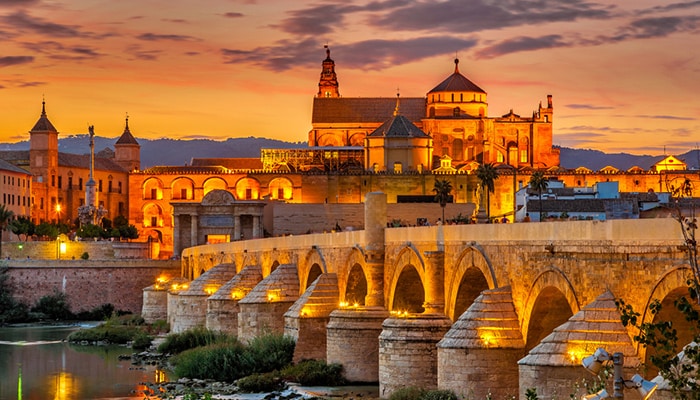 The point is, $60 per day gets you the freedom of the Spanish roads, which also happen to be of very high quality, not too busy, and beautifully scenic on the way south to Andalusia from Madrid. We'd say it's important to pay special attention to where the collection point for your car is in the city, and where you'll need to drop it off the other end. It's common for both to be in the airports, but you might prefer to nominate somewhere in the centre, which is also doable.
---
Madrid to Granada is a 220-mile jaunt from the heartlands of Spain to its southern fringes. You might just be able to smell the salt rolling off the Costa del Sol once you've arrived, but resist it, because great palaces and Moorish gardens are begging to be explored first!
---
Madrid to Granada FAQ
What is the cheapest way to get from Madrid to Granada?
Buses are the way to save extra euros for your tapas in Granada's bustling eateries. Provided you book in advance on 12Go.co, they can be priced at a wallet-friendly $20 per person.
What is the fastest way to get from Madrid to Granada?
High-speed trains come out on top when you compare all the ways to go from Madrid to Granada by time. It's a trip of just over three hours when you travel on the zooming AVE carriages, which beats flying because that's the figure for going straight from city centre to city centre, not from runway to runway.
What is the best way to go from Madrid to Granada?
For us, and for thousands of other travelers every year, it's got to be the high-speed train. Fast and affordable (so long as you book on 12Go.co long before your holiday), they also offer a comfy ride through some seriously gorgeous sections of Spanish backcountry. Just grab a Rioja from the dining cart and settle in, folks!
How much is a train ticket from Madrid to Granada?
Prices for the quick AVE trains that run on the route between Madrid and Granada will vary, just like airfares. Generally speaking, the closer you are to departure, the costlier they are. Book on 12Go.co at least 30 days before leaving and there could be decent deals in the region of $32.50 per person for the taking.
How long is the train ride from Madrid to Granada?
The train is pretty fast in that it offers to take you the full 220 mile from Madrid to Granada in as little as 3.2 hours. That actually beats flying when you add on all the faffing at the airport! Tempted? Be sure to book all railway tickets for the high-speed Spanish lines in advance on 12Go.co to get the best deals possible.
Is there a high-speed train from Madrid to Granada?
Yes. The Spanish national railway company, Renfe, now runs its piece-de-resistance AVE trains three times daily from Madrid to Granada. They can travel a whopping 300 kph, completing the journey in just over three hours total!
Is it better to fly from Madrid to Granada or take the train?
It's not much of a competition when you factor in all the extra hassle that comes with flying – checking bags, security at the airport, transfers either side. Trains are faster overall (it's only 3h17 from Madrid to Granada, centre to centre), certainly more comfortable and scenic, not to mention with a lower carbon footprint to boot!
How useful was this post?
Click on a star to rate it!
Average rating / 5. Vote count: