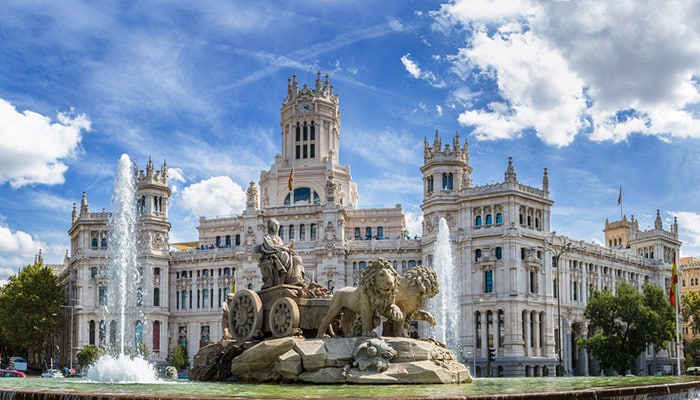 Shrouded by the Moorish turrets of mighty Santa Barbara Castle and blessed with golden beaches by the Med, Alicante is up there with the top sun and sea holidaying spots in Spain. But what if you're done tanning yourself and want to get your fix of culture in the museum-packed Spanish capital? This guide's the perfect place to start. It details all the ways you can swap the real sol of the Valencian coast for the grand Puerta del Sol this year, from fast flight links out of Alicante Airport to speedy trains through the sierras. Let's begin…
Alicante to Madrid by plane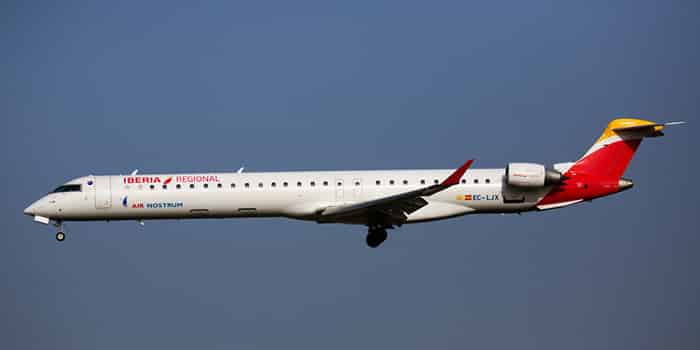 Time – 1.25 hours+
Price – $44+
Comfort – 4/5
Anyone in a hurry to explore the old haunts of Cervantes in the Barrio de las Letras or see the elaborate palazzos of the Plaza Mayor might want to consider a flight from Alicante to Madrid. It's among the quickest options for getting to the big city, with a flight time that can be as short as just 1h15 in the air. Of course, that doesn't factor in the time it takes to reach the airport, go through security, and drop your bags, which usually means you're looking at total travel times of four or five hours.
There are about four departures from Alicante Airport to Madrid on any normal day, with more during the high-season summer months and a few less in the winter, when there aren't so many people traveling between the Costa Blanca and the capital. The majority of the flights are run by Spain's national flag carrier, Iberia, while low-cost carrier AirEuropa also has an option. The earliest you can go is 9.30am. The latest leaves Alicante at 9.30pm.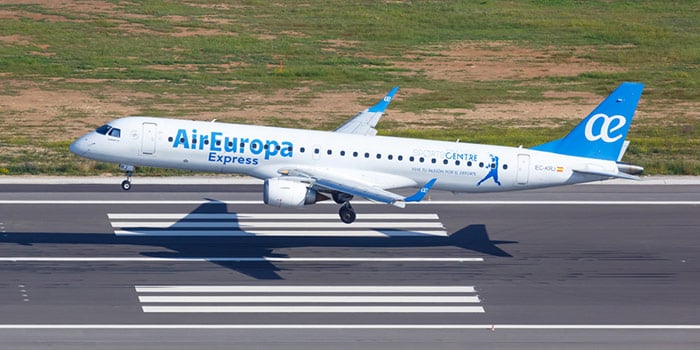 Flights will whisk you over the sierras of the Spanish Med to the big city of Madrid in under 1.5 hours.
All flights from Alicante to Madrid leave from Alicante–Elche Airport (ALC). It's the fifth-busiest airport in Spain, so enjoys good ground links to the city and the rest of the Costa Blanca – there's a direct bus from the downtown to the terminals that costs just $6.50 one way. When you land, you'll touch down in the large Madrid-Barajas Adolfo Suárez Airport, which is linked to the capital's core by metro lines.
Flights are surprisingly cheap on the route from Alicante to Madrid. The baseline for tickets purchased at least 90 days in advance is $44. Of course, you'll need to add to that if you want to take large check-in bags or get priority boarding. It's possible to compare and contrast all the departures with all airlines by using the online search feature over on 12Go.co.
Alicante to Madrid by train

Time – 2.5 hours
Price – From $29
Comfort – 5/5
The great thing about the train from Alicante to Madrid is that you hop on at the station one end and hop off the other. Viola: You're exactly where you want to be. There's no need to transfer to airports or go through hefty security here. And that makes the train probably the overall fastest way to move from the Costa Blanca to the capital of Spain. Yep, the connections are a mere 2h30 in total. Nice.
There are some quick and comfy AVE trains running the route from Alicante to Madrid – they'll arrive in just 2.5 hours!
The other great thing about taking the train from Alicante is that you'll be riding one of the fancy new AVE locomotives. They're run by RENFE Spanish rail and can hit a whopping 310 km/h as they whiz through the mountains and the village-studded sierras north of the coast. Inside, they're also darn comfy, with open-plan carriages that have plush seats and access to a food cart. It's a good way to travel in style.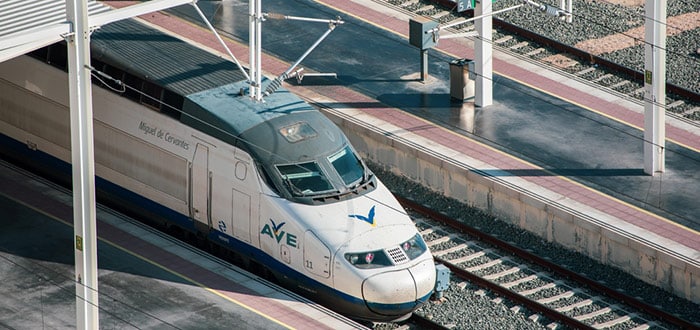 Tickets do increase in price as you get closer to the day of departure. In fact, they can swell to a wallet-busting $110 if you come and buy them on the day of travel. To avoid that, get onto 12Go.co and search for your connections several weeks in advance, when fares sit at an attractive $29 per person, each way.
Alicante to Madrid by bus

Time – 5 hours+
Price – From $20
Comfort – 3/5
Since the fast RENFE AVE trains started linking the sun-splashed beaches of Alicante with the buzzing capital of Madrid, buses have been considered a secondary option. However, they do still operate, and they can give good bang for your buck, especially if you've not been able to secure one of the discount train fares and need to travel on a set date.
The most popular connections are run by Spain's own ALSA coach company. They have up to five links between Alicante and Madrid each day, but usually only one direct route that doesn't involve a changeover. That's the one you'll want to go for if you're in a hurry, because it cuts the total journey time down to just five hours from start to finish.
Buses are a bargain choice popular with shoestring travelers looking to hop from Alicante to Madrid.
Buses from Alicante to Madrid start at the Alicante Estación Bus. It's the resort's main bus station, found about 15 minutes' walk from the Centre area at the Muelle de Poniente. Arrivals are into the Madrid Estacion Sur. It's one of the largest coach interchanges in the capital, linked to the immersive historic districts by two metro lines – the journey takes about 30 minutes from the platforms to the palaces.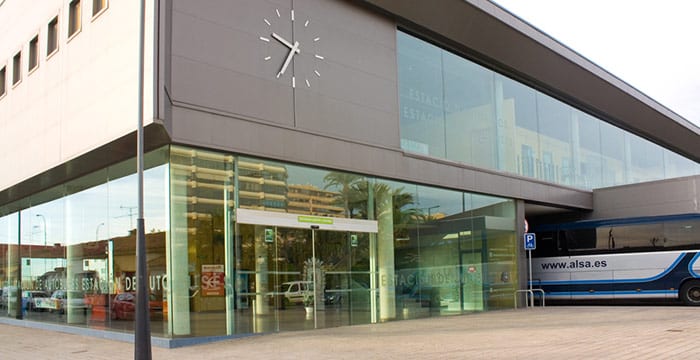 Where the buses really stand out is on the price front. You get the bonus of paying just $20 per person for this whole ride if you're willing to spend a little longer in transit. That puts this among the cheapest tickets to Madrid. Be sure to check all your options well in advance of going to get the best rates. 12Go.co can help with that.
Alicante to Madrid by car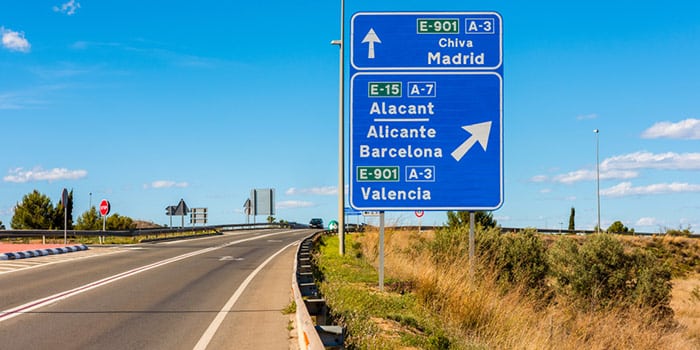 Time – 5 hours+
Price – $42/day on average for an economy car hire
Comfort – 5/5
So long as you have access to a ride (RentalCars.com is the place to look if not) and feel confident on the Spanish highways (which are actually among the best in Western Europe!), there's no reason why you can't drive from Alicante to Madrid yourself. It's possible to do the whole trip in a whisker over four hours. That's thanks to the efficient E-901 and E-903 motorways that connect the two cities in almost a straight line.
You could choose to make a road trip out of your journey by road from Alicante to Madrid – there's loads to see!
Alternatively, you can take your time over things and choose to put together a true Spanish odyssey on the drive from Alicante to Madrid. There's lots to see along the way, but you will need a few days to fit it all in. We're talking the likes of the rugged Serra de Mariola park – a mecca for hikers – and the breath-taking walled city of Cuenca up in the central mountains – one you'll never forget!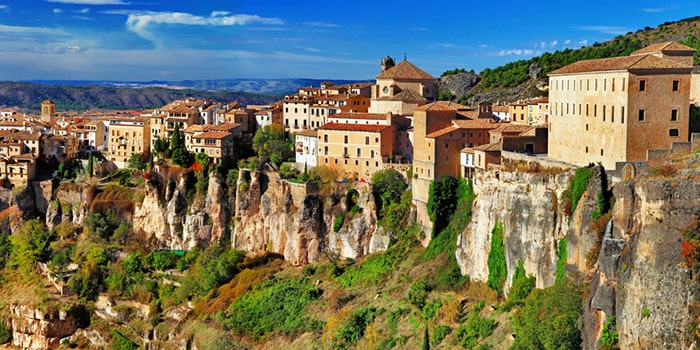 The average cost of a hire car in Spain tends to be less than in neighbouring countries like France and Portugal. You're looking at something in the region of $130 for three days' rental, although you'll probably need to pay extra to drop the car off somewhere different from where you collected it, not to mention for fuel along the way.
---
When it's time to wave goodbye to the bumping karaoke bars and glimmering beaches of the Costa Blanca, use this guide to make the hop up to culture-packed Madrid to keep that Spanish adventure going.
---
Alicante to Madrid FAQ
What is the cheapest way to get from Alicante to Madrid?
Buses offer probably the cheapest mode of transport on the route from Alicante to Madrid. They're not as frequent as they once were, because lots of people now chose to use the fast trains. However, they do still run a couple of times per day, and have tickets for as little as $20 per person, each way.
What is the fastest way to get from Alicante to Madrid?
The train is the way to go if you're in a hurry to hit the pumping nightlife of Huertas or devour tapas near the Puerta del Sol in Madrid. Thanks to the high-speed rail lines and the fast AVE trains that do the route, you can now get between the two cities in just 2.5 hours. Flights can never beat that because you'll also need to transit to the airport and go through security when traveling by air.
How much is a train ticket from Alicante to Madrid?
That depends on when you buy it. Get onto 12Go.co and search for your train tickets ASAP and you could be in with a chance of getting early-bird deals that see the whole cost of the trip drop to as little as $29 per person. Closer to the time of departure, that can soar to over $110 per person. Youch!
How long is train from Alicante to Madrid?
It's not that long at all. Considering you've got some rocky mountain ranges and the great plateaus of central Spain to cross, the fact that journeys on the locomotives only last 2.5 hours is pretty darn impressive. That's all mainly down to the high-speed AVE trains that can hit over 300 km/h on the way from Alicante to Madrid.
Is it better to fly from Alicante to Madrid or take the train?
It's better to go by train. We say that because the AVE trains have very comfy carriages with onboard bars, along with wide-aspect windows that let you watch the Spanish countryside whizzing past. We also say that because trains will end up being faster than flights when you count the time from city center to city center. They're also typically cheaper.
How useful was this post?
Click on a star to rate it!
Average rating / 5. Vote count: