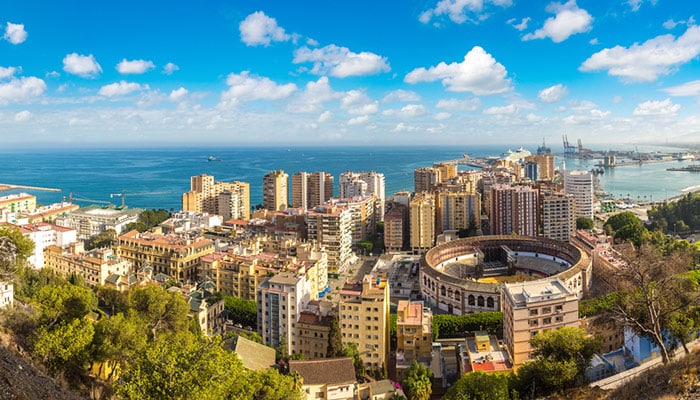 So, you're looking to swap the hedonistic capital of Spain for the golden sands of the Costa del Sol? You're going to need to make the hop from Madrid to Malaga. The destination? An enthralling city where Moorish-era castles loom above beautiful Baroque churches, sierras behind, sands in front. It's hard to resist, which is why we've put together this guide to making the trip. It will run through all the various options on the route, including speedy flights and high-speed Spanish trains. Don't forget the sunscreen!
Madrid to Malaga by plane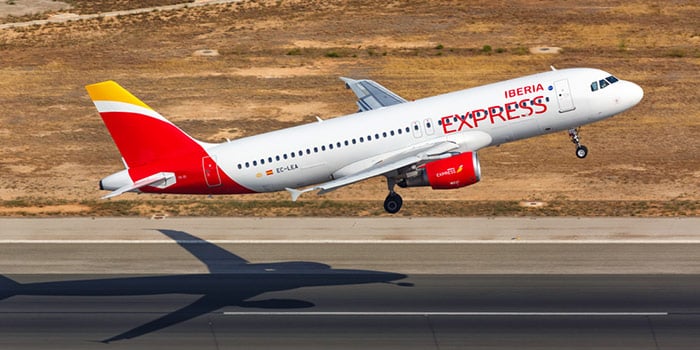 Time – 1h15 (flight only)
Price – $17+
Comfort – 4/5
A lot of folk will choose to hit the Costa del Sol via the air. That option is on the table thanks to the regular flights that switch the Spanish capital with Malaga every day. There are usually five departures in any 24-hour period, although you might find that there are fewer going in the winter months, when there's less demand from city slickers for the softly lapping waves of the Mediterranean Sea.
There are only really two carriers running the route. The first is Spain's flag carrier and IAG-owned Iberia. That's runs 80% of the services, either on its main fleet or as part of its smaller Iberia Express brand. Air Europa is also in the mix. It's a subsidiary of the budget Vueling, so is definitely one to watch out for if you're keen to save more euros for the paella and cerveza!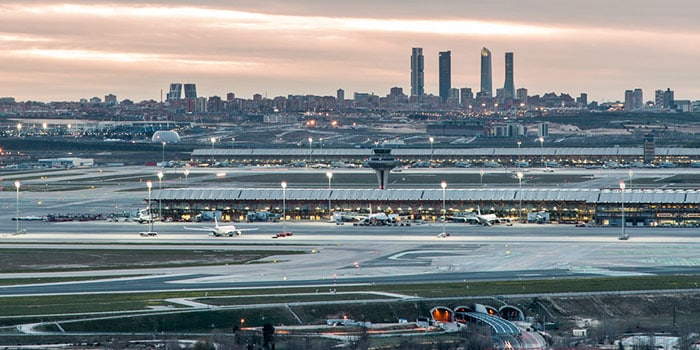 Flying is affordable and convenient, especially if you're looking to rent a car and break into the stunning Costa del Sol straight after landing.
Flight times between Madrid and Malaga are in the region of 1.25-1.5 hours in total. Of course, your total journey time will be much longer than that. Bag drops, transit from your hotel to the departure hall, and security all take time. Thankfully, the Madrid-Barajas Adolfo Suárez Airport has a direct metro link to AZCA in northern Madrid – the trains take about 30 minutes from platform to check-in halls.
You'll touch down in the ever-expanding Málaga-Costa del Sol Airport. It's a good gateway to the whole region if you want to break out in a rental car on the A7 to Torremolinos or beyond. Or, you can hit the city on the regular train link. It costs €3.60 ($4.30), takes 12 minutes in total, and leaves every 20 minutes. Easy.
Madrid to Malaga by high-speed train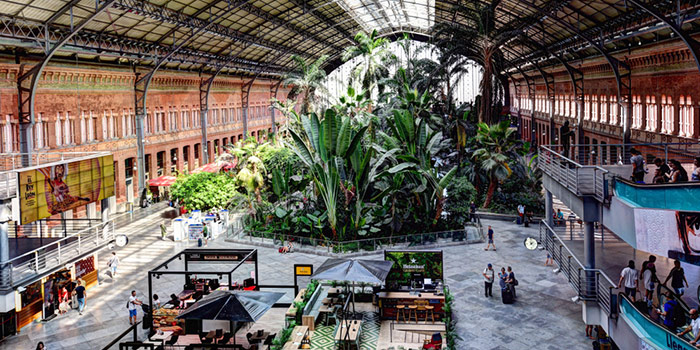 Time – 2h20-2h45
Price – $24+
Comfort – 5/5
The uber-comfy AVE trains can now help you complete the trip from Madrid to Malaga in as little as 2.5 hours. They leave from the huge interchange at Madrid-Puerta de Atocha (be sure to spend some time checking out the botanical gardens inside the station!). From there, they head directly south to the sunny coast and into the platforms of Málaga-María Zambrano, super close to the Centro district and urban beaches of Malaga.
AVE trains are a pretty comfy way to whiz from Madrid to Malaga – they do the trip in less than three hours total!
You'll be going on one of the updated, and Spanish-designed, AVE S102 or S112 trains. They are some of the best rolling stock in the country, with pointed noses and slick café cars, not to mention a particularly nice Preferente (First) class that has leather seats that recline way back. The best news? All of the carriages have wide windows for viewing the sierras that flit by as you travel. Nice.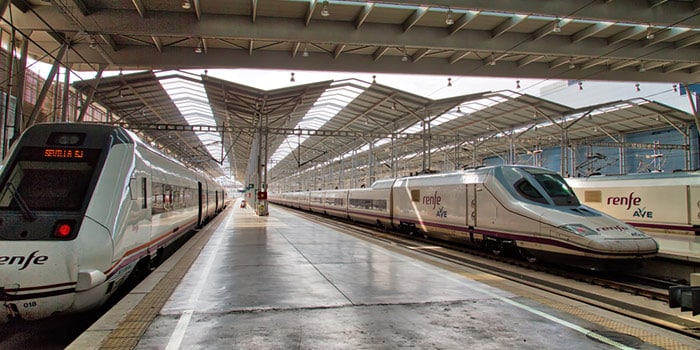 There are up to 12 departures on the RENFE AVE routes between Madrid and Malaga every day of the week. The first leaves at 7.35am and the latest goes at 9.35am. Reservations are mandatory, so we'd recommend making those bookings well in advance of time to ensure tickets don't sell out – these high-speed links from metropolis to coast can be in high demand, particularly in the summer months. You'll also pay a whole load less for the ride if you manage to get it sorted early.
Madrid to Malaga by bus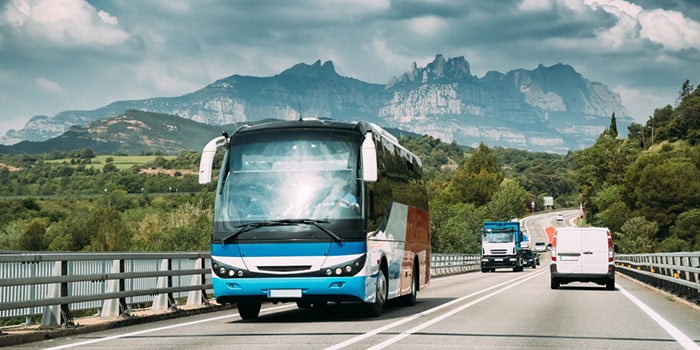 Time – 6-8 hours
Price – $29+
Comfort – 3/5
There are now far fewer direct buses running between Madrid and Malaga since the high-speed AVE trains came into service. But they are still an option, and sometimes offer good bang for your buck, particularly if you're planning the trip last minute and have already missed out on the early-bird rates on the Spanish railway network.
The bus offers a chance to see the wild sierras of central Spain without being in a hurry.
It's a far more time-consuming option than going by locomotive. Even the fastest coaches roll into Malaga around six hours after leaving Madrid. Some will take over seven hours. The reason? Although the highways down from the capital to the Costa del Sol are modern and efficient, they also wind and wiggle through at least two major mountain ranges – the Sierra Mágina and the Sierra de Andújar.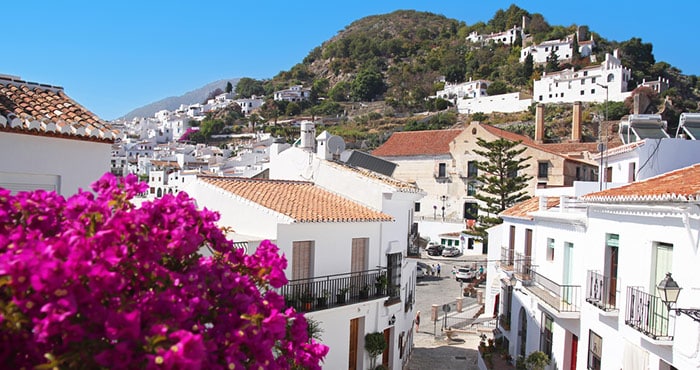 While that slows down your journey, it also means you'll get some nice window viewing along the way. Keep a close eye out for the glowing pueblos bianco villages on the hillsides as you pass into Andalusia! The ride should also be relatively comfortable. All buses on the route now have air conditioning and reclining seats. They'll also make regular pitstops, so passengers can stretch their legs every two hours or so.
Madrid to Malaga by car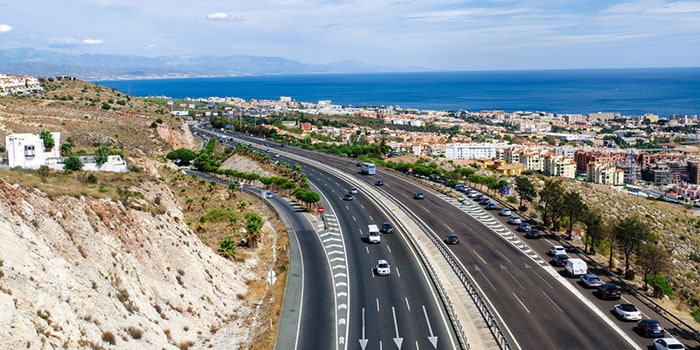 Time – 5h15+, but we'd make this one a road trip to remember!
Price – $100+
Comfort – 4/5
Making the drive from Madrid to Malaga is your chance to see the whole breadth of southern Spain in all its glory. You're looking at just over five hours on the road in total, but it's a way better idea to carve up the trip into a few days. There are just too many awesome things to see along the way, from the great Mudejar palaces of Granada to the soaring, sometimes-snow-capped peaks of the Sierra Nevada (Europe's ones, of course!).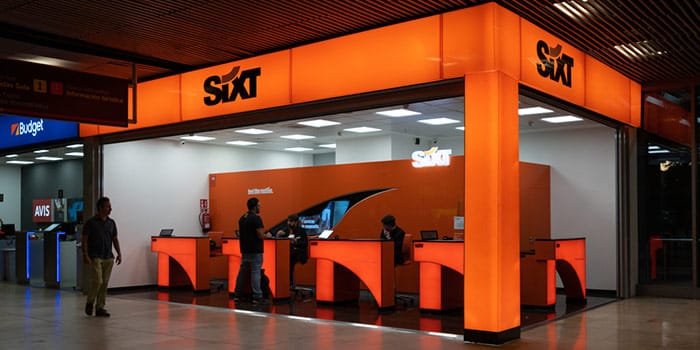 It's easy to rent a car in Spain, and rates are among the best in Europe. A rough estimation puts a three-day hire at around the $140 mark, but that will change if you're traveling at peak holidaying times like the midsummer or Easter. Check out RentalCars.com to compare the best deals with all the available rental companies. It's possible to organize vehicle pickups at Madrid Airport or in the center of town. You might need to pay a surcharge for dropping off the ride in a different location.
---
The majestic cathedral spires and old Moorish castles are just the start in Malaga. This historic town is also the gateway to the postcard-worthy sands of the Costa del Sol. We can see why you might want to get there in a hurry!
---
Madrid to Malaga FAQ
What is the cheapest way to get from Madrid to Malaga?
Surprisingly, flying from Madrid to Malaga can be the most budget-friendly way to go. Flights, even in the high-demand summer months, can often be priced at under $20 a head. You'll need to book those as early as you can on 12Go.co to get the best deals. You'll also need to factor in the additional costs that come with taking to the air, like transfers from the city to the airport and checked in luggage if you've got it.
What is the fastest way to get from Madrid to Malaga?
Train. Yep, there's nothing that can beat the velocity of the AVE trains that go from Madrid Atocha to Malaga upwards of 10 times each day. They're able to complete the jaunt in under three hours, though some – the ones that make a stop in Cordoba along the way – might take a little longer than that. Flights will be faster if you count only the time in the air, but far slower when you add on transfers and security and check in.
What is the best way to go from Madrid to Malaga?
Madrid to Malaga is best done on the train. Modern, reliable, fast AVE locomotives run the route these days, so it's comfy and it's quick. You'll be stepping out onto the crooked cobbles of the Malaga Old Town in as little as 2.5 hours after rolling out of the capital. Pretty good, eh?
How much is a train ticket from Madrid to Malaga?
It depends on when you book. Reservations are required for the Spanish AVE trains, so it makes sense to purchase seats as early as possible to avoid disappointment. Doing that will also mean you're in with a chance of scoring the cheapest seats, which start at about $24 and increase in increments in the run up to departure.
Is it better to fly from Madrid to Malaga or take the train?
For us, the train wins every time. Spain's network now has fast AVE trains, which not only whiz down the lines to the south coast but also have slick interiors that'll have you feeling like a jet setter as you go, especially that plush first class! Journey times are also super short. They average 2.5-3 hours from start to finish, which is way less than a flight after you've added on check-in and security at the airport. Use 12Go.co to book your train tickets as early as you can for the best prices.
How useful was this post?
Click on a star to rate it!
Average rating / 5. Vote count: