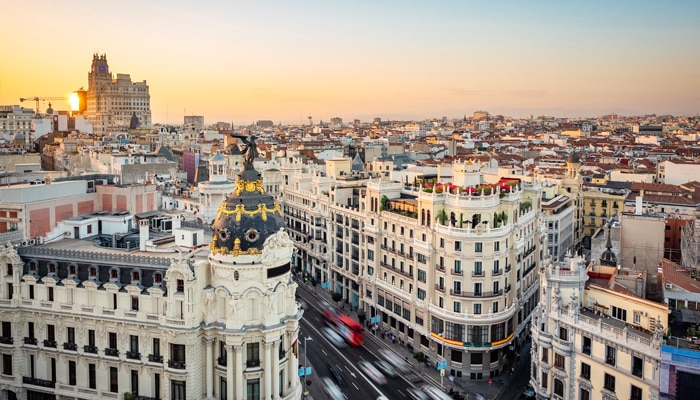 Every Spain bucket list should include both Barcelona and Madrid. One is the home of the spiked turrets of Gaudi's Sagrada Familia, fringed by vibrant summer beaches, and cut through by the Art Deco playhouses of Las Ramblas. The other is the nation's fun-loving, hedonistic capital, where nightlife pulses through the streets and the ghosts of Spanish kings, queens and legendary writers lurk in the palaces.
Thankfully, getting from one to the other shouldn't be hard. Everything from railways to flight routes help thousands of travelers make the trip each year, crossing just over 500 kilometres of the Iberian Peninsular from coast to central highland.
Barcelona to Madrid by train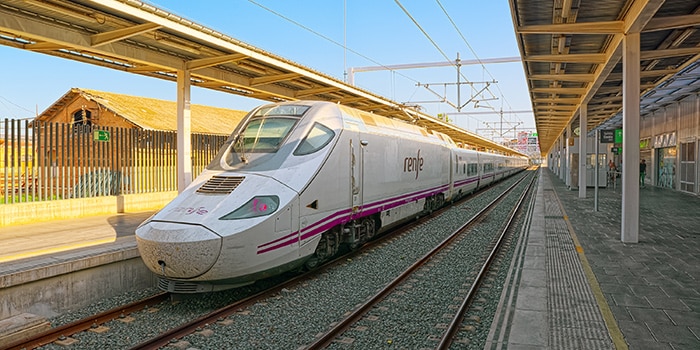 Time – 2.5 hours+
Price – $35+
Comfort – 5/5
Probably the most popular way to swap Catalonia's city by the sea with the buzzing Spanish capital is the train. These days, nifty and fast Renfe AVE trains do the journey at least twice per hour most days of the year. Starting at Barcelona Sants on the block north of Placa d'Espanya, they'll be rolling into the wonderful Madrid Atocha in just 2.5 hours – be sure to take some time to explore that arrival station, with its inside jungle and resident turtle population!
The AVE trains are of generally very high standard. Travelers can pick from three classes. Standard second has a mix of table and dual seating. There's the Turista Plus class, which comes with extra legroom. And then you've got the premium Preferente. Score that and you'll get onboard meal service and access to the lounges in the stations. Each class enjoys climate control and an onboard food cart – a Rioja en route, perhaps?

Trains are reliable and quick on the way from Barcelona to Madrid, but be sure to book in advance to score affordable tickets.
Scoring cheap deals on Spanish trains can be a challenge. Because reservations are 100% compulsory, we always recommend trying to purchase your tickets as far in advance as possible. They're usually on offer two months before the travel date, but that can change. Either way, you're looking at a whopping difference between fares, going from $35 to as much as $250 if bought on the day!
Adding to the charm of the train is the fact that it's simply a great way to see the country. You'll pass across the provinces of Catalonia, Aragon, and La Mancha (keep an eye out for Don Quixote's windmills on the hill!). You'll see dusty sierras and rustic whitewashed villages alike, all from carriages with wide, open windows to make the most of it all.
Barcelona to Madrid by plane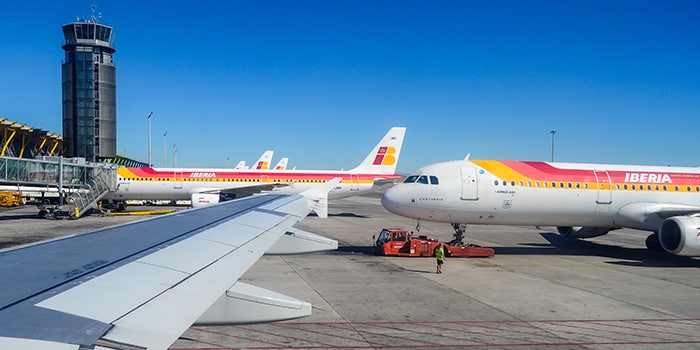 Time – 1.5 hours (flight only)
Price – $30+
Comfort – 4/5
Domestic flights can hop you out of Barca and into Madrid in less than 90 minutes. There are usually two departures each day on Iberia (at 7.20am and 8.05pm) – Spain's national flag carrier – along with a single departure on Air Europa (at around 11am). Both airlines fly out of Barcelona-El Prat. That's the biggest airport in the city, which you can reach on the Renfe trains in just 25 minutes from Barcelona Sants station.
Flying from Barcelona to Madrid is a convenient and quick option, but remember you'll need to travel to and from the airport on both sides.
Arriving in the capital, you'll touch ground at the huge Madrid-Barajas Adolfo Suárez Airport. That's the biggest in all of Spain and one of the biggest on the continent in terms of size. You can transfer from the terminal to the tapas bars of downtown Madrid by hopping on the 24-hour Airport Express bus, which links to Atocha in 40 minutes (cost: $5.50), or grab a private taxi service (expect to pay around $35 for the whole car).
Flight prices, as with most airline links around Europe, will edge towards the more expensive end of the spectrum when booked at the last minute. That's why it's important to get a-hunting for tickets nice and early if you're keen to go from Barcelona to Madrid by plane. 12Go.co can help you compare and purchase seats well in advance of traveling, on both Iberia and Air Europa. Happy flying!
Barcelona to Madrid by bus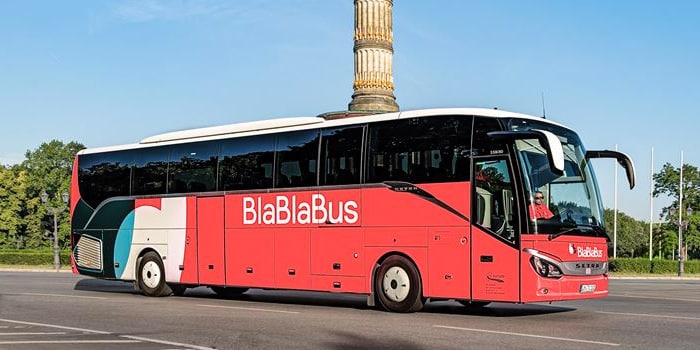 Time – 6 to 8 hours
Price – $20+
Comfort – 3/5
Buses still represent the cheapest transport option on the road from Barcelona to Madrid. Yes, they'll take a whole morning or afternoon to complete the trip (average journey times are in the region of six or eight hours from start to finish), but tickets start at a budget-bolstering $20. That can help save a whole load more for the sangria and patatas bravas once you arrive in the capital.
Save some euros for the flamenco shows in Madrid by taking the bus, which can sometimes cost as little as $20.
Head over to 12Go.co and you'll be able to compare and contrast all the companies offering seats on the route. Tried-and-tested names like Flixbus and BlaBlaBus are popular. However, you can also find the likes of Spain's own ALSA. Be sure to check your route has no transfers, because you'll usually save cash and time by going direct. That said, short stops in towns like Zaragoza and Lleida are common on most services.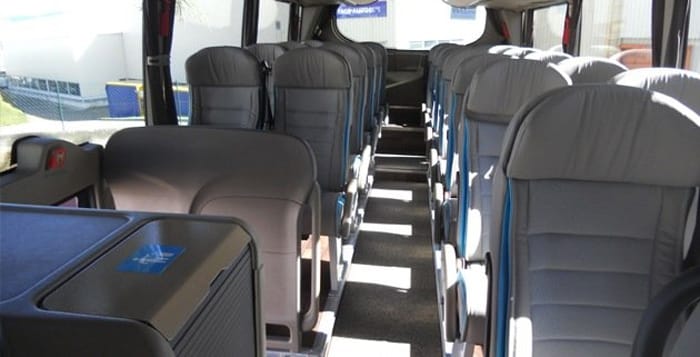 For the most part, buses are comfy and clean. They are usually air conditioned and have reclining seats with in-built tables and – occasionally – plug sockets. Driving wise, you're looking at following the AP-2 and the E-90 roughly westwards through the country. Keep a lookout for the scenic sections beneath the sierras of northern La Mancha and the dusty peaks of the Montserrat range as you're leaving Barcelona.
Barcelona to Madrid by car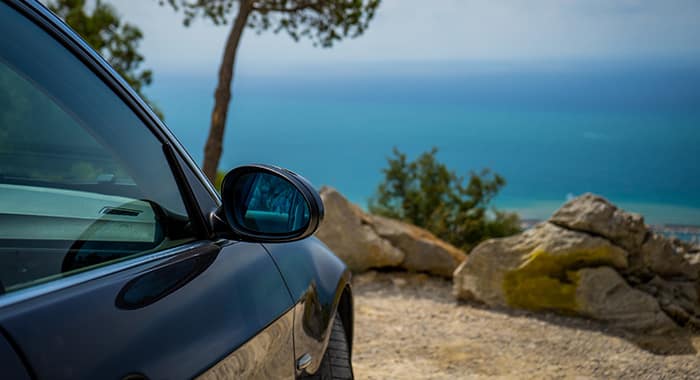 Time – 6 hours
Price – $50+
Comfort – 5/5
Taking to the Spanish highways and crisscrossing the country on your way between Barcelona and Madrid certainly isn't the fastest or cheapest way to travel. However, it could just be the most adventurous. That said, to really make the most of it, you'll probably need enough time to make several stops en route. That means doubling or even tripling the daily cost of car hires, which are relatively cheap in this part of Europe, at around $50 per day when traveling in one direction. Check out RentalCars.com to compare the best deals with all the available rental companies.
If you do have the time and the inclination to explore the beautiful landscapes that roll down from the Pyrenees and into the central plateaus around Madrid, then get ready for some pretty darn awesome spots. You could delve into handsome Zaragoza, where honey-hued cathedral towers loom over the Ebro River and one stunning old town. You could drop by the remote Serrania de Cuenca for visions of sweeping pine forests and deep gorges where hardly any tourists go. Or, you could stick to the coast roads. They're longer but have the beautiful beaches of the Costa Brava running into the orange groves of Valencia. The choice is yours!
---
There's a whole tapas menu worth of ways to travel from Barcelona to Madrid. You could hop on the high-speed Spanish train lines or take to the skies for a quick flight between the two cities. Alternatively, you've got cheap buses and well-kept roads with lots of amazing places awaiting the road tripper.
---
Barcelona to Madrid FAQ
What is the cheapest way to get from Barcelona to Madrid?
Buses typically have the best bargains for travelers keen to swap Catalonia's capital with Spain's biggest metropolis. Book your seat in advance using 12Go.co and you might be able to pay something around $20 for the whole seven-hour ride!
What is the fastest way to get from Barcelona to Madrid?
It's a close-run thing between the trains and the planes. Hitting the railways means you can make use of the high-speed Renfe services. They'll roll from city to city in the time it would take you to finish a Spaghetti Western (2-2.5 hours is normal). The flight itself is quicker than that – think 1.5 hours in the sky – but you will need to travel to El Prat in Barcelona, and transfer from the terminals before seeing the sights of central Madrid.
Is there a high-speed train from Barcelona to Madrid?
Yes. In fact, the line from Barcelona to Madrid is served by uber-quick trains that can hit speeds of 300km/hour. That covers the 500 kilometres that separates the towns in less than 2.5 hours. Tempted? Be sure to book early using 12Go.co, because the cost of tickets shoots upwards the closer to departure you buy.
How much is a train ticket from Barcelona to Madrid?
There are big rewards for those who plan their train travels from Barcelona to Madrid nice and early. In fact, advance, discount tickets can be priced at under $35. Nice, eh? But, be warned that those are a fraction of what it will cost you if you book on the day ($250 is normal), so being prepared and bagging a seat via 12Go.co is a great way to go.
How long is train ride from Barcelona to Madrid?
Most trains whizz across the country from the Med to Madrid in under 2.5 hours. That's pretty darn fast when you consider there's more than 500 kilometres in the way. That's all thanks to the AVE locomotives run by Renfe, which can accelerate up to 300 kilometres per hour!
Is it better to fly from Barcelona to Madrid or take the train?
The train is probably comfier and more fun, especially as you can board right in the heart of Barcelona. It's also probably quicker than flying when you add on the time it takes to get to the airport and check bags and whatnot. Moreover, you've got less of a carbon footprint when traveling by train, and advance-purchase tickets booked about 60 days prior to going are comparable with the price of flights. Really, it's a no-brainer!
How long is the bus ride from Barcelona to Madrid?
You'll need to set aside about seven hours to complete this trip by coach. That said, you can usually find some good bargains using the search tool on 12Go.co, meaning the whole trip could cost less than $20 each way. What's more, the views can be wonderful, taking in the sierras of La Mancha (Don Quixote country) and the wild ranges north of Barcelona itself (the home of UNESCO-tagged Montserrat Abbey)
How useful was this post?
Click on a star to rate it!
Average rating / 5. Vote count: