Whether you're vacationing as a family, and individual, with friends, or as a couple you'll never get bored when you visit Tenerife. Whether it's lying back and relaxing on the beach or spending time admiring the historic buildings, enjoying a round of golf, getting close to nature and watching whales in their natural environment; a visit to Tenerife is one that involves many adventures. For more ideas about what to do in Tenerife, read on for our list of the top 10 attractions on the island.
10. Costa Martianez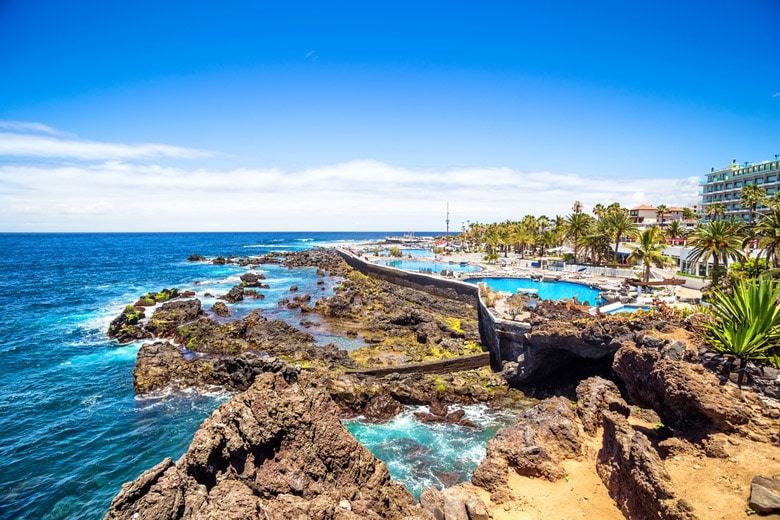 It may seem unusual that one of the best attractions in Tenerife is a group of pools, when the island is surrounded by water, but, Costa Martianez is a very popular destination with tourists, and it's easy to see why. There are a total of six pools at the site, some of which have the added attraction of being tidal because the venue is located right next to the coast so you get to experience all the beauty of the blue waters as a backdrop.
If you visiting Costa Martianez with a family, that's no problem. There are two pools which are especially designed for children to splash about in so no worries over safety here. There are also a number of snack bars and restaurants where you can get some refreshment after spending time in the pools, plus there are excellent showers where you can freshen up before you eat. If you'd like to spend the whole day here, grab a sun lounger and slap on the sunscreen! It's a great day out for all the family.
9. Playa de las Vistas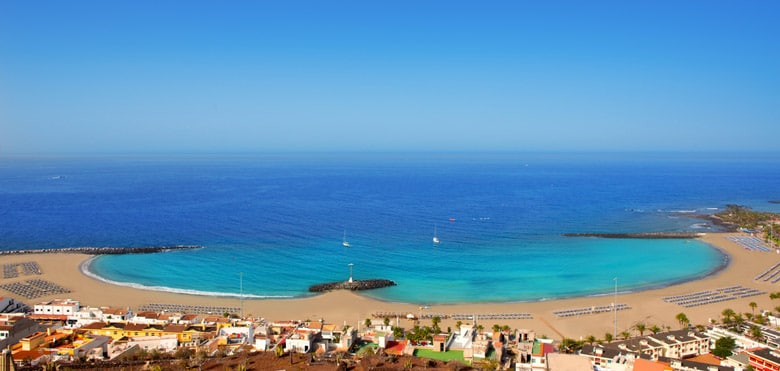 The town of Los Cristianos has steadily grown into one of the largest and most popular resorts in Tenerife and it has several beaches to offer visitors. The main beach in the area is Playa de Los Cristianos though surprisingly this stretch of sand is less popular than its neighbor, Playa de Las Vistas. The sand on this beach, which is imported in from the Sahara, is a beautiful bright shade and is extremely fine while the water at Playa de las Vistas is relatively shallow so it's the perfect spot for a swim and it's a very child friendly beach so is ideal if you're visiting with a family. One of the most impressive features of the beach is that it has plenty of facilities including sun loungers and sunshades. There are also bathroom facilities at the beach as well as a bar where you can sit and get a relaxing drink. If you want to do something a little more energetic than just lie on the beach there are plenty of water sports options to take advantage of. After you've spent some time trying these activities, enjoy a meal or a snack at one of the beachside bars and restaurants.
8. Los Roques de Garcia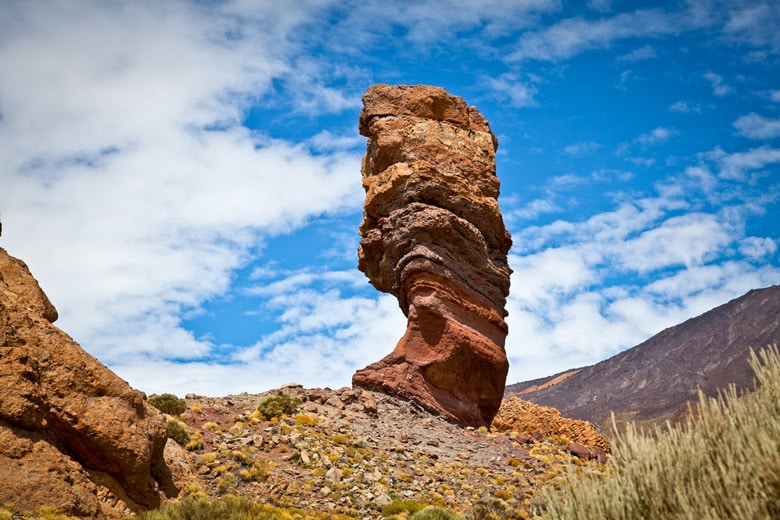 Los Roques de Garcia is situated in Las Canadas National Park and it's one of the biggest attractions within the park. It's an unmistakable sight with its red rock named Cinchado but you can't really get the full benefit when seeing Cinchado from the road; you need to get right up close. Only up close can see not just its color but its unusual shape which is due to the rock being subject to ongoing erosion around its base. Eventually it will collapse altogether.
When you visit you'll notice that the rock is permanently guarded by both ropes and rangers which, interestingly is not due to the condition of the rock but has more to do with the flowers that grow around it. If there was nothing there to protect them the beautiful flowers would be trampled by visitors. The presence of these flowers, and the impressive rock formation, means that people can enjoy the area without having to walk very far. There is a large parking area at the site.
7. Garachico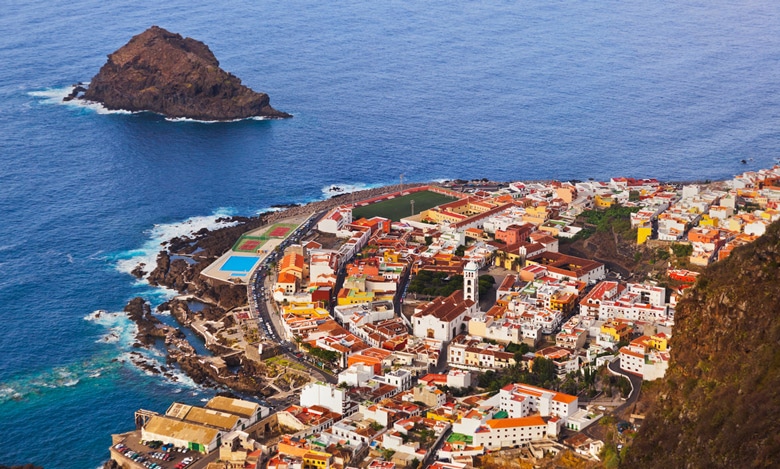 In years gone by Garachico was a busy trading harbor. It was awash with sail boats and steamers with their cargoes of bananas, sugar cane and wine, and was also home to a ship building yard. Mother Nature interrupted though, when the area was devastated by volcanic eruptions in 1706 and lava poured from Vólcan Negro, an offshoot of Mount Teide. The people of the village all managed to escape but its days as a major port were over. This didn't stop Garachico from recovering and turning itself into a very stylish and beautiful addition to Tenerife's attractions. Today the village has a mixture of very grand looking town houses and quaint fisherman's cottages which are decorated in a myriad of different colors. It's surrounded by banana plantations as it's now an area that relies mostly on agriculture for its existence.
If you're looking for things to do in Tenerife and you don't like crowds, a visit to Garachico should be on your list. Despite being really attractive it's not a hugely busy place to visit as it hasn't been heavily promoted. Places to see in the village include Castillo San Miguel, a fortress which originated in the 16th Century, and the main square, Plaza de la Libertad, which provides a beautiful setting to just sit back and relax.
6. ARTlandya DollMuseum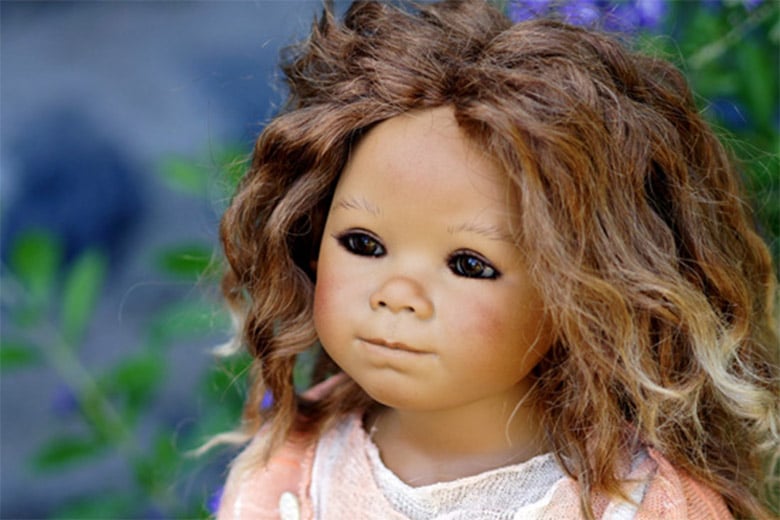 The ARTlandya – la Finca estate is located in Santa Bárbara, a district of the town of Icod de los Vinos which is just off the normal tourist route in Tenerife. The estate has a tropical park as well as several impressive houses to look at. The ARTlandya DollMuseum is not exactly a museum; it's a place where doll art comes to life and if you think it's just for children you'd be wrong. This is a actually contemporary venue for culture that should appeal to all generations. It's a place where dolls and teddy bears are used in the creation of art exhibits, to really fascinating effect. The entire collection consists of more than 600 dolls and teddy bears which are housed in different exhibits located in various buildings. Several artists are represented at the museum working with different materials like porcelain, vinyl, wax and wood. It's not just about looking at the creations either; you can also watch how a porcelain doll is made in one of the onsite workshops. If you're looking for things to do in Tenerife that are a little different to the norm, this could be it!
5. Las Montanas de Anaga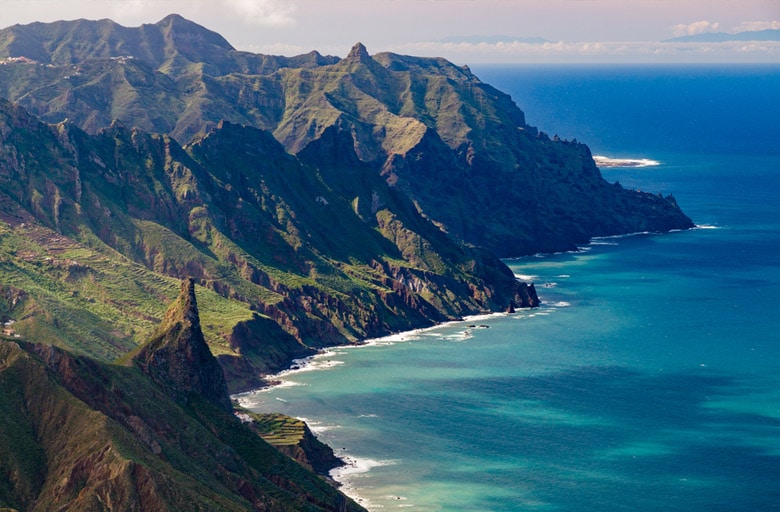 You'll be well used to seeing the pristine coast of Tenerife, with its brilliant sands and sparkling waters. You may be less used to seeing the impressive Anaga Mountains. They form a relatively unspoiled section of the island that makes a great change from the bars and restaurants of the resort areas. Life in the Anaga Mountains has stayed the same for generations; the people are very self-sufficient and they hunt for rabbits to make the famous rabbit stew of the area; conejo con salmoreja, in a way of life that existed long before the tourists came to the island.
If you're looking for some unique Tenerife attractions then you should definitely include a trip to the Anaga Mountains. The scenery is simply stunning; it's rugged, it's rocky and it's filled with forests. It couldn't be much further removed from the sights you can see on the coast. If you love to hike then you'll love this part of Tenerife. Put on your walking boots and explore the natural beauty, and if you'd like to stay there are plenty of cottages to stay in as well as several fish and sea food restaurants which serve meals as delicious as you'll find anywhere.
4. Masca Walk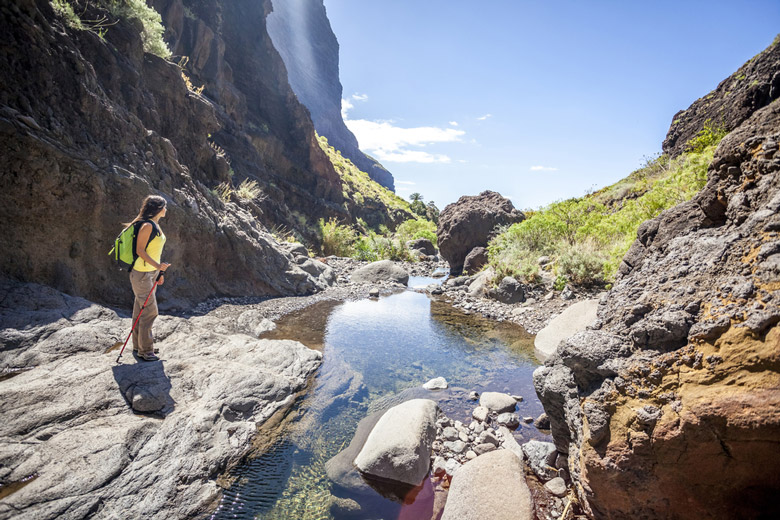 We've already featured the spectacular nature of the island in our list of the top ten things to do in Tenerife, but the Masca Valley is a worthwhile addition to our list because it dazzles visitors with its natural beauty. It's located in the west of Tenerife and takes its name from Masca village which is a tiny speck on the landscape. The area is very popular with tourists who want to see more of the island than just the coast. Come to walk the Masca Walk that descends for around 4.5 kilometers (2.8 miles) through Masca Gorge and follows a trail from the village to the sea. Once you reach the coast there is a desk where you're given a ticket for the boat to Los Gigantes, after your registration is checked. If you have to spend any time waiting for the boat to arrive you should definitely walk on the black volcanic sand of the beach; it's spectacular. You can also choose to do the journey the other way around, in which case you arrive by boat, climb the gorge and are collected by a pre-arranged taxi at Masca Village.
3. Siam Park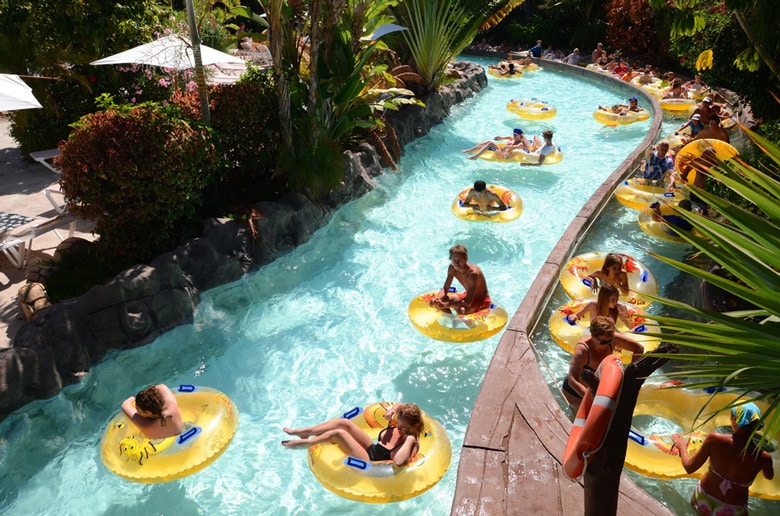 Water features heavily during any visit to Tenerife and at Siam Park it brings a lot of fun with it. If you're looking for things to do in Tenerife with the family then this water park has something to offer everyone. In fact, it's far more than just your average water park. The rides and slides are set among a tropical wonderland that's impressive in itself. Since the park first opened, in 2008, rides such as the Dragon and the Tower of Power have become firm favorites with visitors.
You don't have to love big water rides like this to enjoy Siam Park though. The whole feel of this place is just magical, as you stroll along the pathways through lush green foliage. You can take a look at the sea-lions that live at the park or admire the impressive specimens of koi carp. One of the most impressive parts of the park is the floating market which is based on a Thai theme and transports you back to the evocative history of the country. You definitely don't have to be a water baby to enjoy time spent at this popular Tenerife attraction!
2. Volcan El Teide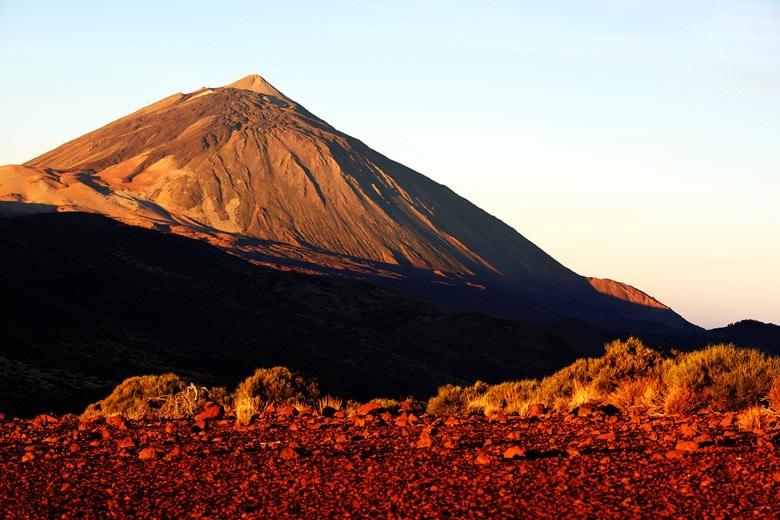 Of all the things to do in Tenerife, a trip to Volcan El Teide, or Mount Teide, is definitely one of the most impressive. This is the third highest volcano in the world and the highest point in Spain. This is a volcano that has been 170,000 years in the making; although there was actually another volcanic structure in the same place whose collapse triggered the birth of this one. Incredibly, that structure was even larger in size. Most of the eruptions that occur from Mount Teide happen around its base as it's easier for lava to erupt from that area than it is from a volcano top that's so high. The volcano is certainly an impressive site during any visit to Tenerife as it dominates the landscape, but don't just see it from a distance – take a tour or rent a car and drive up Mount Teide through the Teide National Park, a World Heritage Site. During the summer be sure to take the cable car which goes all the way up to 3,555 meters (11,663 ft), close to the summit. Here the air is thin and it will be far cooler than you're used to when visiting Tenerife's beaches so bring a jacket.
1. Loro Parque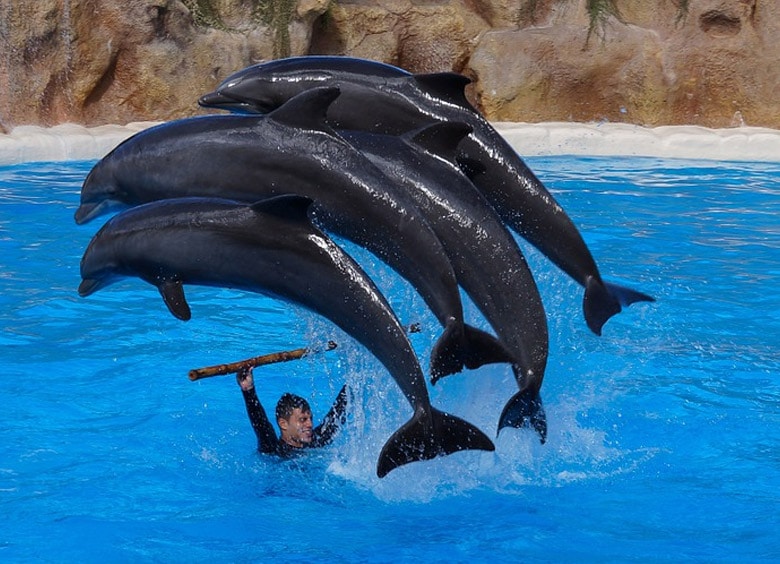 Loro Parque is probably the best known visitor attraction on the island so it's only fair that this is our top thing to do in Tenerife! The name translates into English as Parrot Park, which is very apt given that the park was originally intended to be just a home for parrots. Since its origins it has grown into the zoo that exists today; a popular tourist attraction that has welcomed more than 40 million visitors. The growth of the zoo has been impressive; when it first opened in 1972 it covered just 3.2 acres of land and now it covers 33 acres. The 150 parrots that lived in the park when it first opened have gradually been joined by many more; there is now an impressive collection of more than 4,000 parrots, as well as around 350 other animal species. This huge collection of parrots is the largest in the world.
Visit Loro Parque today to admire the parrots as well as watching orca and dolphin shows. You can also get up close to other animals including chimpanzees, jaguars, alligators, pelicans, piranhas and many others. After time spent at the beach, this top Tenerife attraction makes a refreshing change for the whole family.