The easternmost of Spain's Canary Islands, Lanzarote boasts a wonderful climate with low rainfall and warm temperatures all year-round. Lanzarote is the perfect destination for a beach holiday, but a trip to this island also gives travelers the chance to see volcanos and other geologic attractions up close, to visit beautiful towns, and interesting museums, and to cruise around on the water. Lanzarote is now appealing to a broader market, including independent travelers, so if you're wondering what to do in Lanzarote, whether visiting as a couple, as a family, or with friends, read on to discover our top 10 things to do.
10. Castillo de Santa Barbara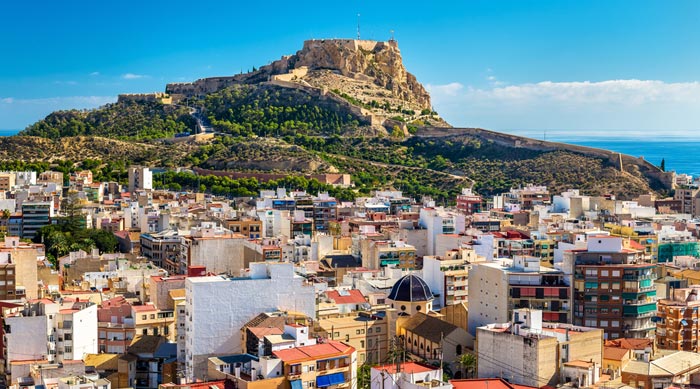 The Castle of Santa Barbara is an attraction that offers something for all ages and tastes. Built in the 16th century, this is the oldest castle in the Canaries and it sits perched up on Guanapay Peak in Teguise, the former capital of the island. If you enjoy castles and historic buildings, this one will not disappoint, but it's also a great Lanzarote attraction for people who enjoy good views, and those who are traveling with children who have a fascination for pirates. It is home to a great little pirate museum that's well worth the affordable entrance price. Once finished, be sure to check out the views from the top of the castle.
9. Jardin de Cactus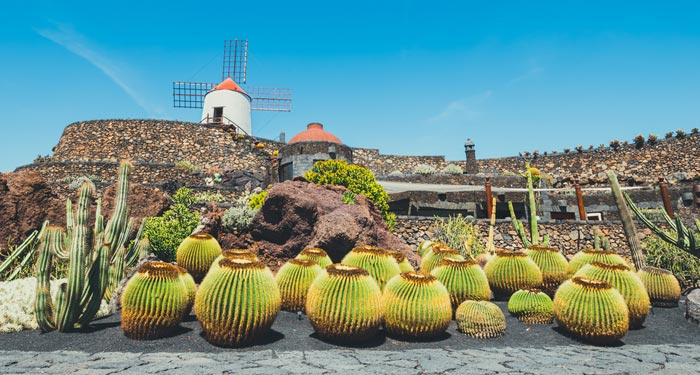 If you're someone who enjoys gardens and plants, and perhaps wants to see something that you don't get to see every day, the Cactus Garden should be on your list of things to do in Lanzarote. Spend an hour or so, walking around this well laid-out garden with so many cacti, big and small, from all over the world. A nice, relaxing Lanzarote attraction, it also includes a café, and a windmill, as well as some lovely views.
8. Marina Rubicon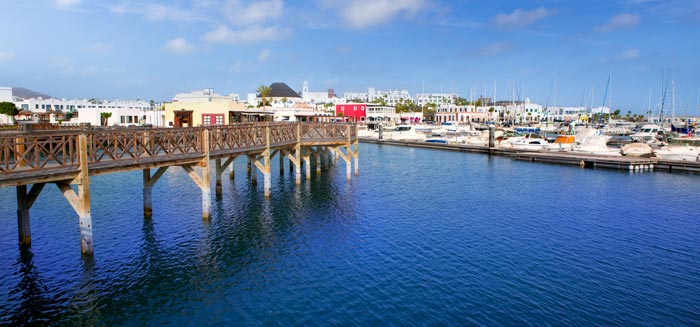 Situated about 15-minutes' walk from the southernmost town of Playa Blanca, is Marina Rubicon. The marina is a great place to spend some time, walking around, watching the boats coming and going, but it's also home to some excellent restaurants and bars where you can spend time over a meal, enjoying the views. There are shops as well, while on Wednesday and Saturday mornings a lively market is set up where vendors sell a large variety of items and goods. Close by is Castillo de las Coloradas, a watchtower that was built between 1741 and 1744 to watch the waters for pirates.
7. Mirador del Rio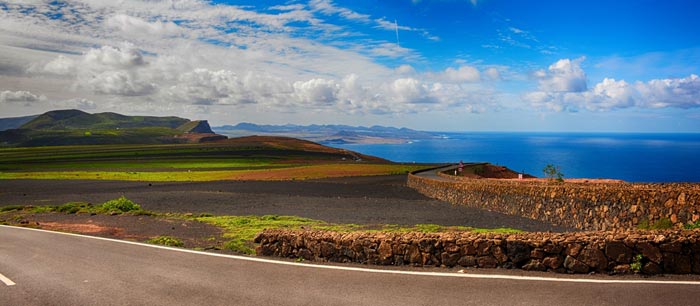 There are many places to visit in Lanzarote where you can enjoy amazing views, but probably the best of these is Mirador del Rio. Enter this viewpoint and you'll be treated to amazing views over the north of Lanzarote, as well as the island of La Graciosa, and if you want to spend a little more time here, sit and have a drink or a bite to eat in the café. If you'd rather not pay for this Lanzarote attraction, you can walk a little way along the road and enjoy almost exactly the same views for free!
6. Lagomar Museum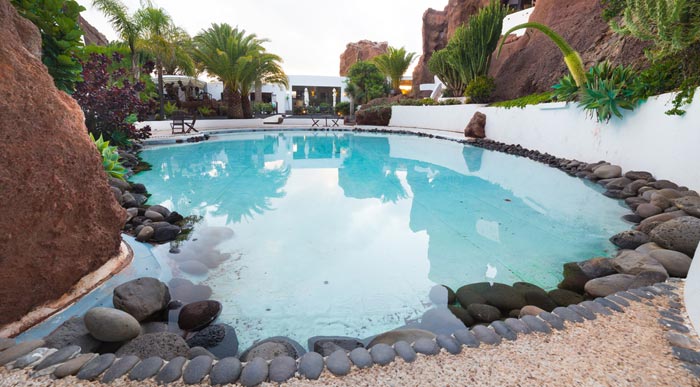 Several attractions in one, visiting Lagomar Museum is a great thing to do in Lanzarote! The museum is essentially a house which was, for just a few hours once upon a time, owned by Omar Sharif before he promptly lost it in a card game. Built into the rock face, the house was designed by Cesar Manrique and Jesus Soto, and features lots of whimsical features like cupolas, chimneys, and winding staircases which make this a fun place to visit with kids. There is also a restaurant and bar here, so if you visit in the afternoon, stay for dinner and you won't even have to pay the entrance fee!
5. Cueve de los Verdes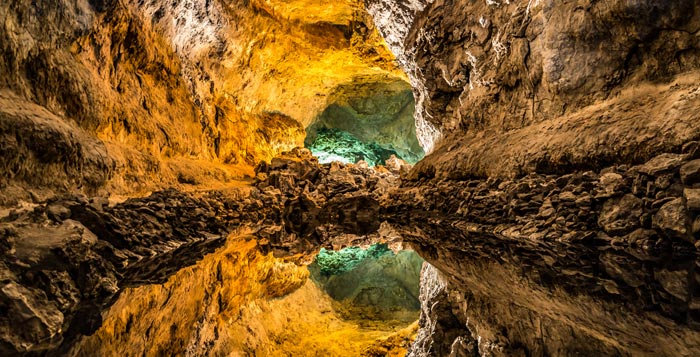 Named for the Green family who lived here, these caves are a top Lanzarote attraction that will, unfortunately, only be good for people without mobility issues. Pathways lead you through the caves through narrow and low passages but if you don't mind this, the reward is amazing. Created by an underground river of lava, these caves are probably unlike any you've seen before, and the surprise at the end of the guided tour is one you will be talking about for years to come!
4. Jameos del Agua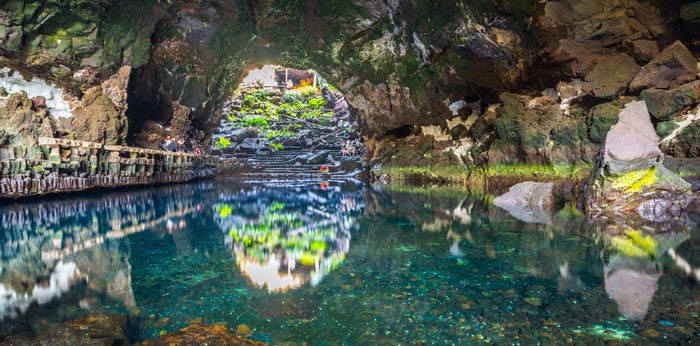 On the surface, this Lanzarote attraction is a restaurant, but in reality, it is far more. Originally an underground cave formed by lava flowing to the sea, part of the cave was opened up when a section of the tunnel collapsed. The remaining cave, along with the natural lake that was formed, were added to by Cesar Manrique to produce an amazing and unique tourist attraction with swimming pool, bars, a restaurant, and a concert hall with incredible acoustics. Stay for dinner and catch a show if visiting in the summer.
3. Playa de Papagayo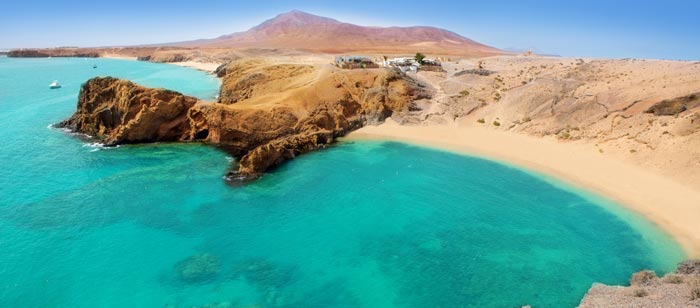 On an island that is graced by numerous stunning beaches, choosing which beach to add to your list of what to do in Lanzarote will be hard. We chose to feature Playa de Papagayo on our list of Lanzarote attractions because it is frequently ranked as one of the best. Unspoiled by tourism, this series of beaches does feature a couple of nice restaurants. The main Papagayo Beach is the last one. It sits on a small-ish cove that provides shelter from wind and sun. There is soft, golden sand, and crystal-clear waters, making it great for families, and an ideal spot for snorkeling.
2. Fundacion Cesar Manrique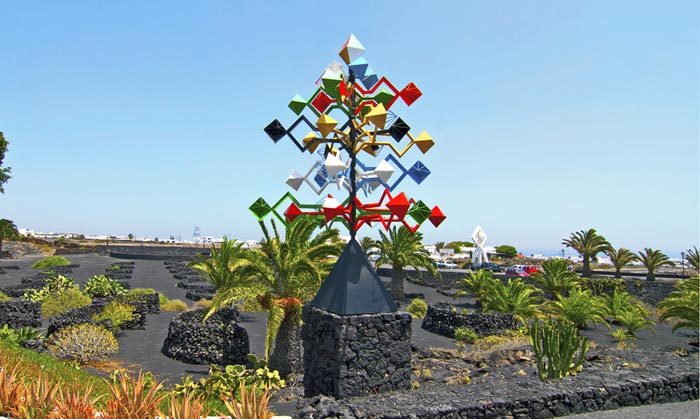 You'll have already seen the name Cesar Manrique pop up several times in our list of top things to do in Lanzarote. One of the island's most famous residents, this artist and architect was prominent in developing responsible tourism on Lanzarote. His home is one of the top attractions today; reminiscent of a Bond movie villains lair, this place is spectacular as it was built around a lava flow with rooms made out of former lava bubbles, and there are works of art from the likes of Picasso.
1.Timanfaya National Park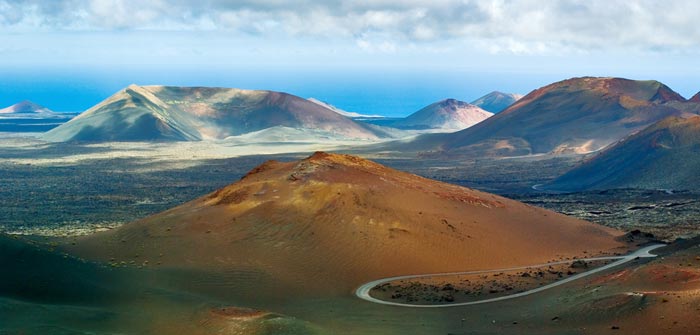 The top Lanzarote attraction is also the island's best known. Visit Timanfaya National Park for the chance to experience a lava field, its flora and fauna. The volcanic landscapes are stunning, and although access is limited in order to protect this UNESCO Biosphere Reserve, you can tour around on the guided bus tours to see the landscape up close. Add to this the very unique experience of having your lunch cooked on a volcano vent, and you can see why this is such a popular thing to do in Lanzarote.