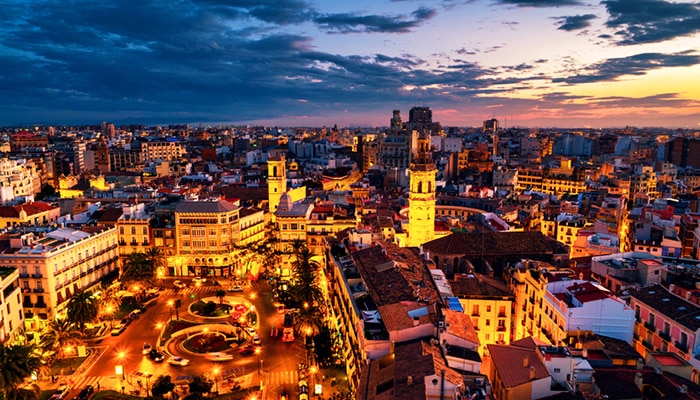 Barcelona might have the great Neo-Gothic cathedral of La Sagrada Familia and the bustling bars of Las Ramblas, but Valencia touts one of the most famous science museums in Europe, gorgeous urban parks, and – of course – that legendary spiced rice that is paella.
Thankfully, you might not even have to decide between the two on your next Spanish holiday, because they can easily be seen in the very same trip. Just check out the options in this guide, which will help you cover the 220 miles between the enthralling cities, sometimes in as little as 2.5 hours from start to finish.
Barcelona to Valencia by train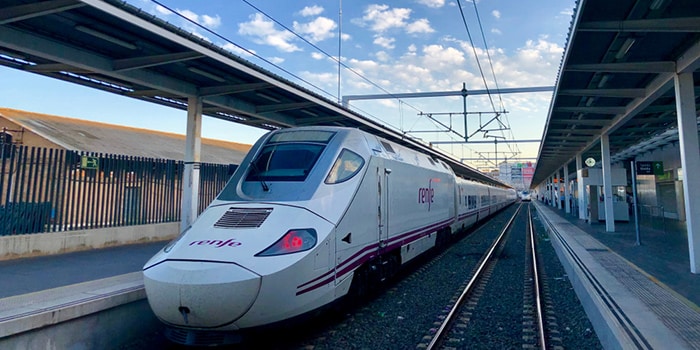 Time – 2.5-3.5 hours
Price – $18+
Comfort – 4/5
There are a couple of different train services linking the two coastal cities of Barcelona and Valencia. The fastest are the ones the EuroMed models, which can sometimes finish the whole trip along the Spanish shore in just 2.5 hours. However, it's more likely that your travel time will be around the three-hour mark, which is in line with what the Talgo models will take. Either way, it's likely to the be the quickest way to go from A to B here.
Although they go slower and make far more stops, the Talgo remain the more sought-after on account of their arrival station in Valencia. That will be the main Estacio del Nord (North Station), which puts you right on the cusp of the immersive Ciutat Vella and the famous museum areas of the Turia Gardens. EuroMed locomotives, meanwhile, run to the platforms of Joaquin Sorolla, a station to the south of the main town but close to the bohemian coffeeshops and galleries of cool Russafa district.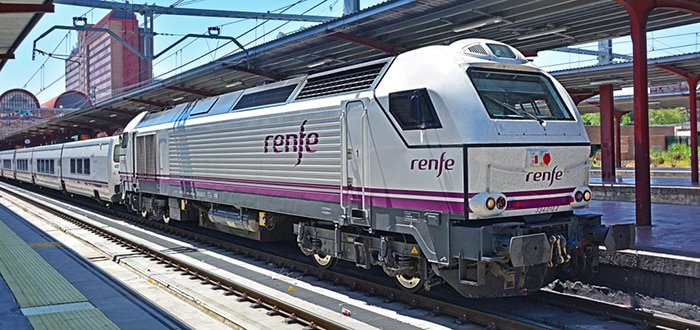 There are multiple departures from Barcelona to Valencia every day on the trains, all with prices that are consistently competitive when booked in advance.
The scenery along the way might not be the most dramatic Iberia has to offer, but it's nice enough. The section through Catalonia is largely flat farmland and plain, but there are some highlights to come as the train swings southwards to join the front of the sun-splashed Costa del Azahar. There, you might be able to spy out just a taster of the sorts of golden beaches and turquoise seas that await further down the coast in Valencia province.
Prices on Spanish trains will vary, but the general rule is that they are cheaper the further in advance you book. That means you'd do well to try and snag the bargains as soon as they are released online, which is usually around 60 days prior to the travel date. That's easy to do – just click over to 12Go.co and get a-searching.
Barcelona to Valencia by bus

Time – Around 4 hours
Price – $6+ per person
Comfort – 3/5
Looking to save some euros for your tapas evenings and sangria on the shores of Spain? The bus is the mode of transport you've been looking for. It can haul you from Barcelona all the way to Valencia for a measly $6 per person. Those bargains are available to those who book long before arriving in the home of flamenco and matadors using 12Go.co, before fares start to creep skywards. However, even latecomers who purchase tickets on the day of travel will usually pay less for a coach than they would for a train.
You can now search and find all the available services running between the two cities online. The most frequent are operated by Spain's nationwide coach provider, ALSA. They have buses departing from the big Barcelona Estación Nord (North Station) and the airport terminals in El Prat (just in case you want to get straight on the way to Valencia after touching down in Catalonia). The arrival point is the Valencia Estacion Bus stop, which is a fun 20-minute walk from the heart of the historic Ciutat Vella.
Barcelona to Valencia by plane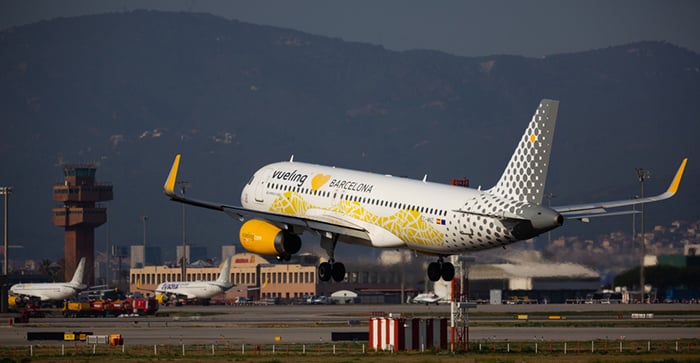 Time – 1 hour (flight only)
Price – $36+
Comfort – 4/5
Even though there's just a few hundred miles of sparkling Spanish coastline separating Barcelona and Valencia, you can still do the journey in the air. That's thanks to the single flight connection offered by budget carrier Vueling. It takes a mere 60 minutes on days without delays, typically departing at 4.30pm and touching tarmac in the home of paella at 5.30pm, just in time for a Rioja on the plaza.
There's a single flight from Barcelona to Valencia that can get you from city centre to city centre in around four hours total.
Of course, total journey times will be much more than the hour it takes to hop from runway to runway. You'll need to factor in the transfers to El Prat Airport in Barcelona, and from Valencia Airport to the city on the far side. The first is conveniently linked to the town centre by lots of direct airport buses and fast Renfe trains that take just 30 minutes from Barcelona Sants. In Valencia, you can make the hop to the old town from the terminals using the metro network, which should cost about 3.90 EUR ($4.30) each way.
The cost of the flight can be surprisingly low, but that's the joy of traveling with a budget-friendly airline like Vueling. You're probably looking at something in the region of $35-55 when you book in advance using 12Go.co. The downside is that won't include checked bags or sports equipment, so if you're packing heavy then prepare to spend $20 more at least per person.
Barcelona to Valencia by car

Time – 4 hours
Price – $50-70 for 72 hours' car rental
Comfort – 5/5
The excellent E-15 motorway connects Barcelona with Valencia directly, making this a great option for anyone looking to hit the roads themselves. The route it takes brings you along the gorgeous Costa Dorada and then the Costa del Azahar, which adds in two particularly top-notch sections for lovers of everything sun, sand, and sea. Yep, there are countless beaches to enjoy as you go, ranging from the castle-topped bay at Peniscola to the rocky coves of Tarragona.
Hopefully that all means you won't regret renting a car, especially considering the hires in Spain are among the cheapest in all of Europe. In fact, you could score a set of wheels for the drive for as little as $25 per day, not including those compulsory add-on fees for traveling in a single direction from Barcelona to Valencia. Just head over to RentalCars.com to search and secure the top deals. Collection and drop off points are likely to be in the local airports in both cities, but you can also organise that for more central locations like Plaça de Catalunya.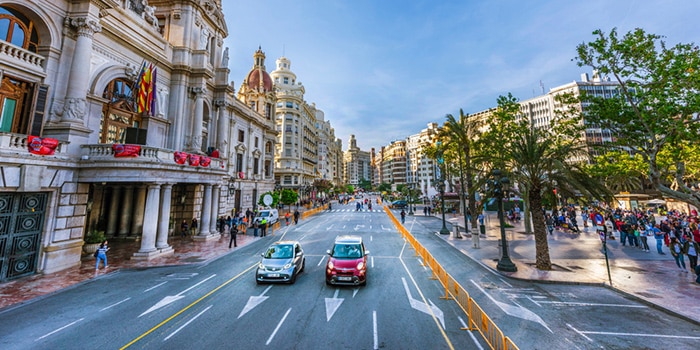 ---
There's a real Spanish adventure up for grabs on the road from Barcelona to Valencia. You'll be traveling between sierras and the sun-baked costas of the Med, trading a city of great Gothic cathedrals for another that's steeped in regional culture and scented with spicy paella. ¡Arriba!
---
Barcelona to Valencia FAQ
What is the cheapest way to get from Barcelona to Valencia?
The cheapest way to hop from Gaudi's great city to the futuristic science museums of Valencia is unquestionably the bus. It can cost a mere $6 per person. You'll need to book well in advance to be sure of securing fares like that, but it's made easy thanks to 12Go.co's online search engine.
What is the fastest way to get from Barcelona to Valencia?
Trains even beat the planes on this route. They can take you from the city centre of Barcelona to the edge of the maze-like old town in Valencia in as little as 2.5 hours. Some will take up to 3.5 hours or a dash more, but they still trump flights, because there's no need to transfer to the terminals and go through bag checks and whatnot.
What is the best way to travel from Barcelona to Valencia?
We'd say it's the train, but only if you manage to book in advance to get the discounted fares at around $18 per person (12Go.co can help with that). If not, you might want to consider flying, which can actually be cheap, taking a bus to keep costs really low, or even renting your own car for a true Spanish coastal adventure.
Is there a high-speed train from Barcelona to Valencia?
Not a high-speed train, but plenty of regular ones. Basically, they don't whizz down the line at 186 miles per hour, though they do get the trip done in less than three hours total. That said, you might prefer to hold on for the slower services that are on the Talgo trains. They are longer but take you to a station nearer the centre of Valencia.
How much is a train ticket from Barcelona to Valencia?
It varies, but you'll want to be on the hunt for the advance-purchase reductions. They see the price of a seat on the train drop to something like $18 each. To get them, be sure to search on 12Go.co at least 60 days prior to your date of travel.
How long is the bus ride from Barcelona to Valencia?
It's not too long. Around four hours is enough for the coach to leave Catalonia and cross the Costa del Azahar on the route from city to city. That's about the same time it takes to fly when you factor in all the transfers to the terminals and waits in the departure lounge!
Is it worth driving from Barcelona to Valencia?
If you've got a hunger for gold-tinged beaches and clear-blue seas, then yes…definitely. The main road between the two cities crosses some seriously beautiful coastline, which has high castles perched above the Med and cafés right by the water. What's more, RentalCars.com offers some great deals on hire vehicles that could cost as little as $25 per day.
How useful was this post?
Click on a star to rate it!
Average rating / 5. Vote count: