Situated just 62 miles (100 km) off the coast of Africa, the island of Fuerteventura is part of Spain's Canary Islands, though it has many similarities to nearby Africa. The rugged landscape features volcanoes and cliffs that make way to beautiful beaches, and the homes and buildings have an African feel to them. Renowned for being a sun and sand destination, Fuerteventura has many other things to see and do as well. Read on to find out which Fuerteventura attractions should be on your top 10 list.
10. Acua Water Park

Acua Water Park is a fun family attraction if you're visiting Fuerteventura with children, giving them a break from the beach and the waves and instead of getting a day in pools and on water slides. This thing to do in Fuerteventura is always popular hence it can get a little busy and overcrowded but if you're here for a day there's enough to keep the kids entertained, and there are places to buy food and drinks too. Float around on the lazy river, or catch some waves in the wave pool!
9. Iglesia Catedral de Santa Maria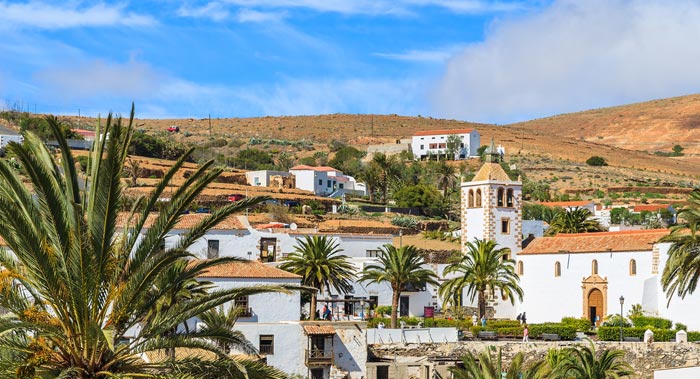 Set in the picturesque small town of Betancuria, on the west of the island, is the beautiful church of Santa Maria. Dating from 1620, this church is the heart of this small mountain town, accessible by driving up into the mountains for a taste of the more authentic Fuerteventura. The church may at first appear simple but look closer and you'll see some great features such as the amazing stone floor and wooden ceiling, and the sacristy is a must-see. For the very low admission price, you can also visit the adjacent Museo de Art Sacro.
8. Playa del Matorral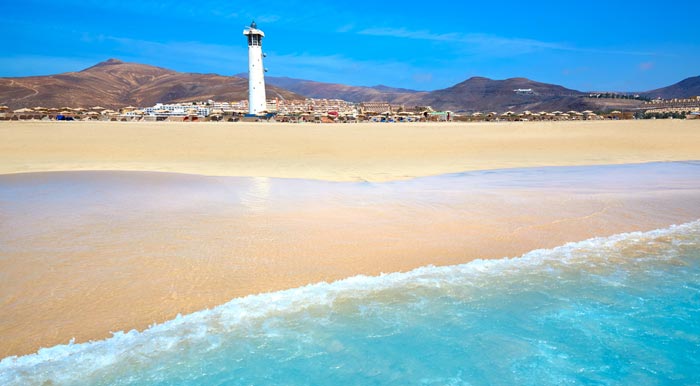 This island has so many beautiful beaches that we had to feature at least a few of them on our list of top things to do in Fuerteventura. Playa del Matorral is one that stands out for its gorgeous soft sand and its gently shelved beach that makes this a safe place for families. The waters are a lovely and clear blue, and although there are no restaurants or bars right on the beach (perhaps a good thing!) there are some just off it that are easily accessible when you need refreshments.
7. Museum of Traditional Fishing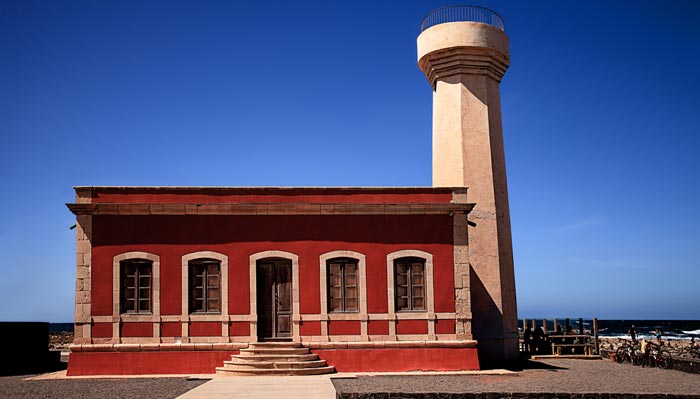 Like so many other Spanish islands, Fuerteventura originally relied upon fishing for its economy and while fishing does still happen, tourism has taken over. For an interesting insight into fishing on the island, visit the Museum of Traditional Fishing. Not only is this a great little museum with informative exhibits, it's also an excellent place to come and enjoy the views and a drink in the café, or take photos of the lighthouse.
6. Mirador Morro Velosa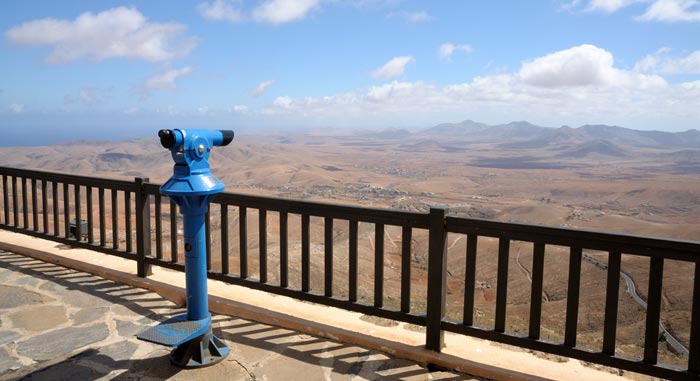 Spectacular views of the island are the highlight of this Fuerteventura attraction, but this viewpoint also hosts a small yet interesting exhibition on the geology of the Canary Islands, and the local natural history. The road up to the viewpoint may be a little scary for some drivers and passengers, but the views are well worth it, and there's a reasonably prices café at the top as well where you can sit and enjoy the views.
5. Playa de Cofete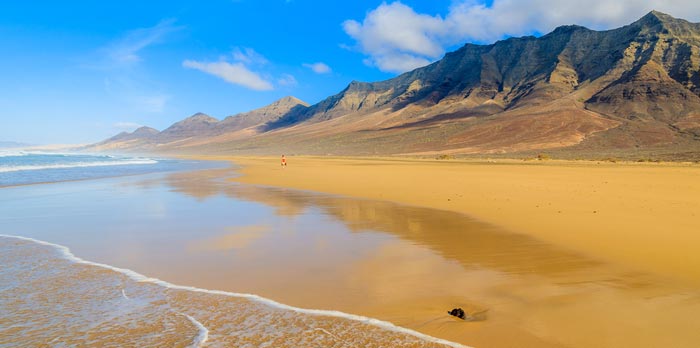 Fuerteventura is not short on beautiful beaches, but if you want to visit one that's a little off the beaten track, add Playa de Cofete to your list of things to do in Fuerteventura. Set by the small village of Cofete, and within Parque Natural de Jandia, the scenery here is stunning. The beach is wide and filled with golden sand, and it's set against a backdrop of striking mountains. The downside is getting here, as the road is rough and bumpy, but that's what keeps this unspoiled beach off the beaten track!
4. Isla de Lobos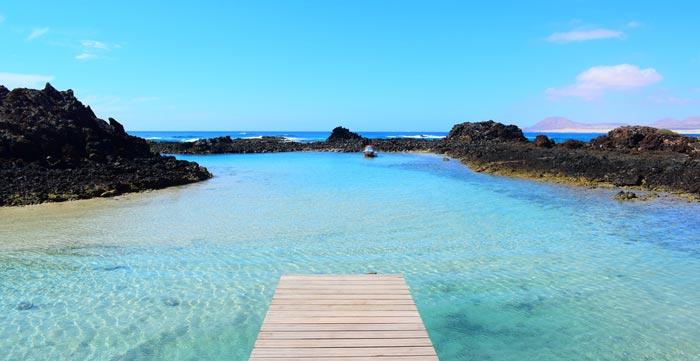 When you're already vacationing on an island, visiting another island may seem a little silly, but the short trip over to the islet of Lobos comes highly recommended. Just a mile off the north coast of Fuerteventura, this small island is simply beautiful. It hasn't been developed as it's been designated a nature reserve since the 1980s, but it is dotted with weekend homes and fishermen's houses, and there is one restaurant. If you want to see unspoiled beauty and enjoy walking trails and beaches, visit this Fuerteventura attraction.
3. Oasis Park Fuerteventura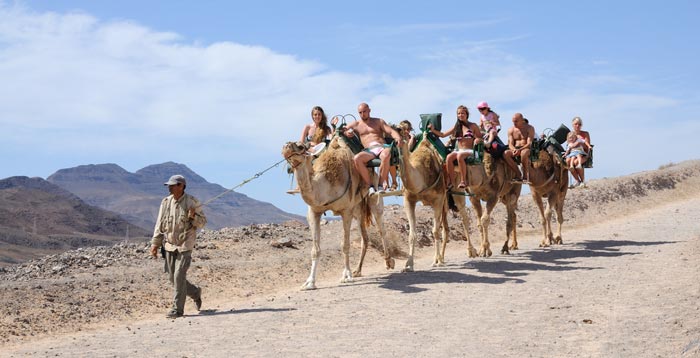 If you're visiting with kids, Oasis Park is a must-add to your list of what to do in Fuerteventura. Part zoo, part botanic garden, Oasis Park is home to over 3000 animals from 250 different species, set among different themed areas. More animal sanctuary than a zoo, most of the animals were rescued or donated, and the enclosures are large, attractive and clean. The largest camel reserve in Europe is here and attractions also include camel rides along the coast.
2. El Cotillo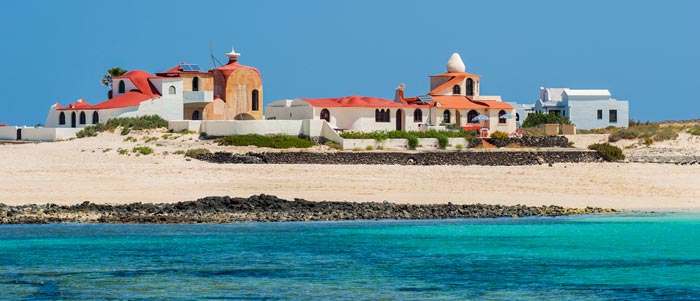 Set on the north-east coast of the island, the town of El Cotillo was once a small fishing village. Although it's grown, El Cotillo today offers a blend of the laid-back fishing village vibe combined with popular surfing destination, giving it a somewhat hippie atmosphere. The village certainly hasn't been overdeveloped so there's still a lot of the original charm here, and there's an excellent beach to boot! The waters are warm all year-round and beautifully clear, and the sand is golden and soft.
1. Parque Natural de Corralejo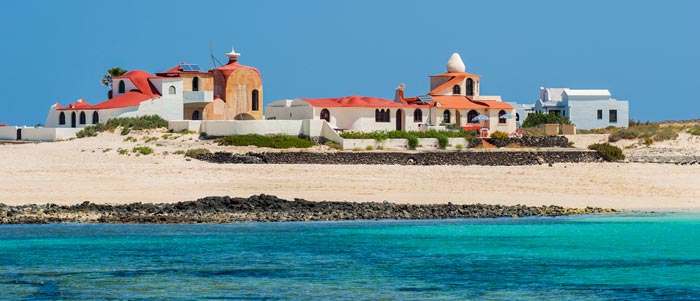 Rated as the top thing to do in Fuerteventura, Parque Natural de Corralejo is a nature park that stretches about 6 miles (10kms) along the east coast of the island and features a gorgeous beach. Sometimes a drawback to sunbathing is the wind, although the strong winds make this also a great spot for wind and kitesurfing. Even though it's a nature park, admission is free, and you can rent sun loungers and parasols for a fee. This really is a beautiful Fuerteventura attraction.