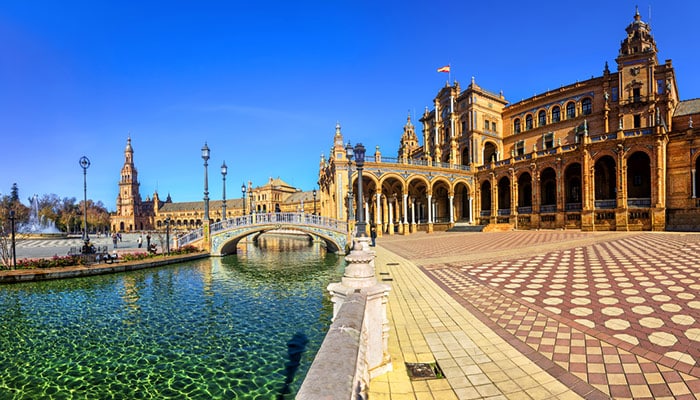 In a flurry of Moorish spires and carved Gothic turrets, Sevilla marks out its place between the dusty sierras of southern Spain. Sun-kissed and steeped in history, it jumbles into an old town that comes crowned by a look-at-me Alcázar and the Mudejar tops of the La Giralda belltower. Travelers will often spend days simply wandering the old heart of the town, discovering elaborate facades between the narrow streets and the bustling plazas and the gurgling canals of the Guadalquivir River. Sevilla also beguiles with its culture. A twirl of a flamenco dancer here; the scent of Iberico ham and tapas there – you'll discover the mysteries of Andalusia during your trip. Finally, the surfing beaches of Cadiz and the wild Sierra de Hornachuelos beckon to the south and north, so there's lots of adventure going on if you want it.
These days, an Airbnb in Sevilla is a great way to really get stuck into the heart and soul of the Andalusian town. They can take you to parts of the city that other tourists rarely discover, offer a home-away-from-home feel, and even save plenty on the overall cost of the trip. This guide is a great place to start. It's got info on the best Airbnb neighborhoods in Sevilla, and a few of the best individual properties on the market right now.
In this Airbnb guide to Sevilla: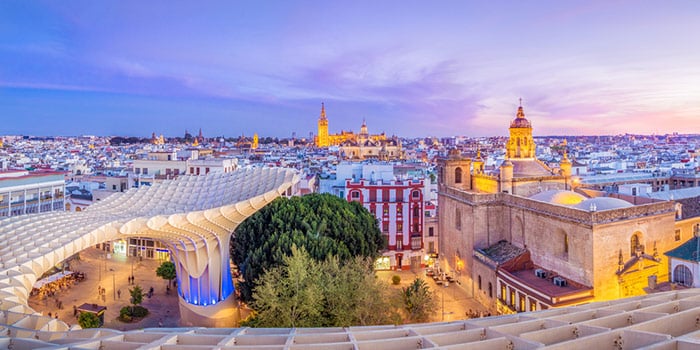 Is Airbnb legal in Sevilla?
There are some pretty strict rules in place all over Spain when it comes to Airbnbs. These do vary from city to city and region to region. In Sevilla, the authorities require all property owners to register with the tourism board if they intend to use their place as a short-term rental. There are also some restrictions on the type of accommodation that can be rented and only certain zones where they're allowed in the center of Sevilla. The good news is that all that really only applies to hosts. As a traveler, you're free to search and book whatever place takes your fancy. Of course, if you're worried about a property and want to triple check it's all legal, you can simply send over a message using the 'contact host' feature.
Where should I stay in Sevilla Airbnb?
Let's begin in the El Centro, the Casco Antiguo (1), of Sevilla. That's the most iconic area of the city, where winding alleys meet bustling plazas below the majestic tops of Gothic structures that date back to the age of Muslim rule in Spain. Santa Cruz (2) is a small part of that that's worthy of a mention on its own, mainly because it's crowned by the stunning Alcázar of Sevilla. Triana (3) is next up, over the canal with its Middle Eastern-esque bazaars and immersive food cantinas. Chic El Arenal (4) is an option on the waterside. Once the main port of Sevilla and a gateway to the New World, it's now a cool and collected neighborhood that's famed for its bullring. Distrito Sur (5) waits to the south with gorgeous parks and some cheaper Airbnbs, while Feria (6) is a local's favorite with a strong nightlife showing on the north side of town.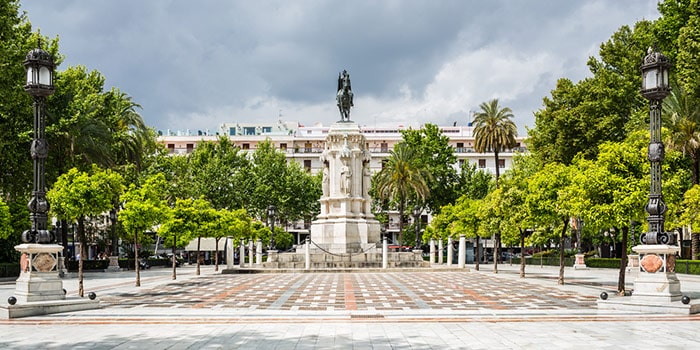 El Centro/Casco Antiguo
Pros
You'll be staying right in the heart of the action
Historic area
Loads of dining and shopping
Cons
Airbnbs can be pricy
It's packed with tourists in the summer
The Casco Antiguo – also called the El Centro district – is the epicenter of Seville today, just as it has been for centuries. This is the part of the town where you'll get lost in a labyrinth of lanes and streets that arc off in all directions. Thankfully, there are some notable landmarks to help you keep your bearings, from the orange-scented Plaza Nueva to the arabesque-style Palacio de la Condesa de Lebrija. Calle Velázquez is worth knowing about if you're keen on shopping. The intersections of Calle Albareda are great for eating out. Downsides? Airbnbs tend to cost more in these parts, and the place is always loud, energetic, and hectic – but that's part of the fun, right?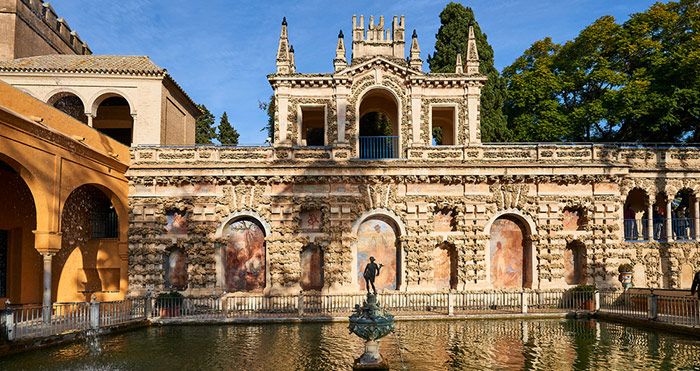 Santa Cruz
Pros
Seriously immersive part of town
The home of the great Alcázar of Sevilla
Beautiful street scenes
Cons
It's probably the most expensive part of town
Gets real busy in summertime
Santa Cruz might be in the beating heart of the city of Sevilla, but it's still got the vibe of a rustic Andalusian village. At least, that's true of the north-western part of the area, which is all cobbled squares shaded by twisted orange trees. The other half of Santa Cruz is dominated by the majestic Royal Alcázar of Sevilla, a wonderful palace of Moorish tiling and arabesque architecture that's unquestionably one of the most beautiful landmarks in Spain. Of course, all that rich hertiage and authentic atmosphere brings crowds. They'll flood this part of Sevilla and its Airbnbs come the summertime.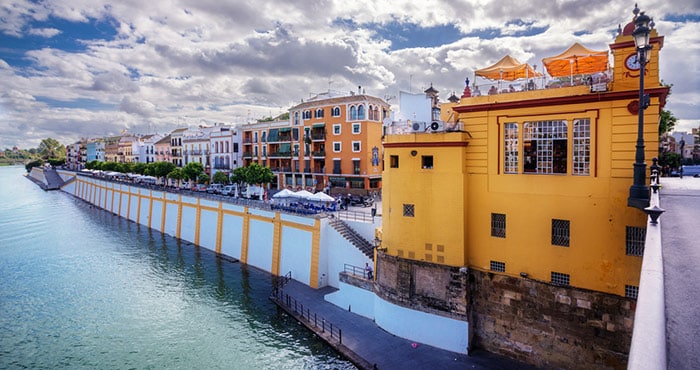 Triana
Pros
Vibrant street life
Lots of markets
Old-school tapas bars
Cons
It's across the canal from the main historic sights
Triana is a vibrant and colorful quarter of ad hoc street markets and bazaars that still ooze a little bit of that North African character. It lies between the main canal and the Guadalquivir River, unfolding around the main drag of Calle San Jacinto in a patchwork of cool cerveceria and traditional Andalusian cantinas. There's a deep connection with the region's gypsy culture here, too, so expect to find some accomplished flamenco bars and enthralling flea markets.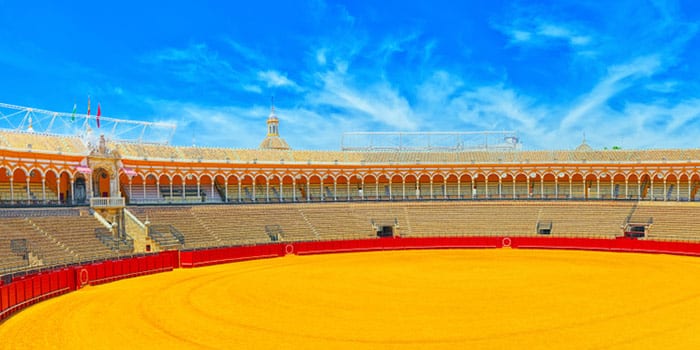 El Arenal
Pros
Centrally located
Very stylish area
Home to the famous bullring
Cons
Bullfights still happen – it's a controversial sport
Can be very expensive
El Arenal swirls around the great amphitheater that is the Sevilla bullring, a stadium officially known as the Plaza de toros de la Real Maestranza de Caballería de Sevilla. If that sounds grand, it's because the area is. Yep, sleek restaurants, luxury Airbnbs, and prestigious theatre houses all combine here. Fine dining and philharmonic orchestra performances are the order of the evenings. It's also perfectly located for breaking away to both Santa Cruz and Triana across the canal, making it a good base for seeing Sevilla's top neighborhoods in a single trip.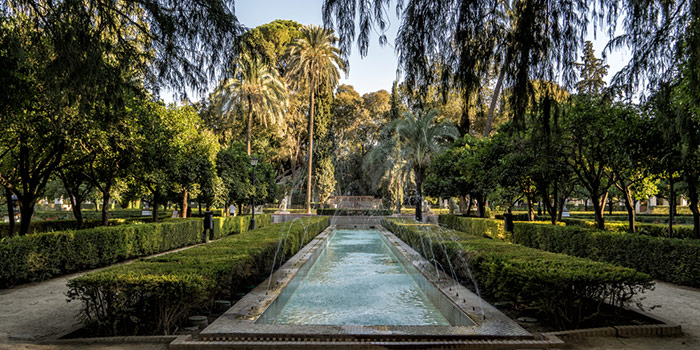 Distrito Sur
Pros
One seriously gorgeous park
The iconic Plaza de España
Cheaper Airbnbs
Cons
A walk from the historic center
It's not the prettiest part of the city once you're outside of the park
The Distrito Sur is the southernmost area of Sevilla on this list. It's a place where the streets widen and the buildings become more 20th century than 17th. There's really only one reason why the neighborhood deserves a special mention: The Parque de María Luisa. It's one of the most iconic green spaces in the city, with palm-topped walkways that culminate at the grand Plaza de España, which sports pink-tinged stone arcades and stunning Neo-Baroque architecture. Rentals tend to be a tad cheaper here, but you'll have to walk to reach the historic downtown core.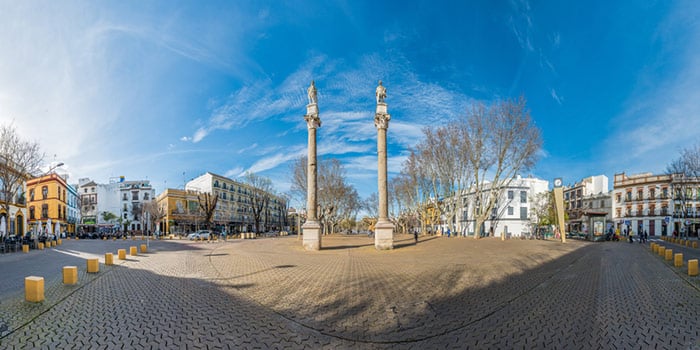 Feria
Pros
Loads of gastronomy
Good nightlife
Food markets
Cons
Gets quite loud
Can be tricky to navigate – where does that alleyway go?
Feria is a wildcard of a neighborhood that loves to get partying on the weekend. It caps off the northern end of the Casco Antiguo, with the eponymous street of Feria and the square of Alameda de Hercules forming its center. The paths between those two are higgledy-piggledy and host ice-cream-colored frontispieces on leafy squares. There are loads of cafés and bars, along with a fantastic range of dining – everything from Tex Mex to classic Andalusian tapas is on the menu. The frantic Mercado de Feria is probably the highlight. Drop in on Friday morning for brunch and a chat with the locals!
Best Airbnbs in Sevilla
Best Airbnb apartment in Sevilla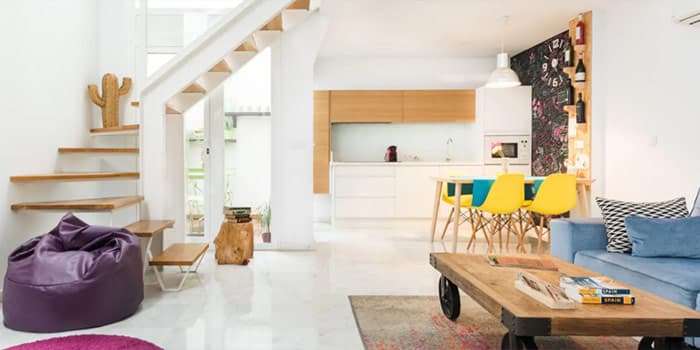 Loft en El Corazón De Sevilla
It's hard not to be tempted by this loft apartment near the riversides west of Santa Cruz. It's got some real style, mingling minimalism and whitewash with touches of exotic charm – fern-mural wallpaper, chalkboard kitchen walls. The space is bright and airy, with a beanbag-filled lounge and a mezzanine bedroom. There's also a bijou patio area where you can kick back on those hot summer nights.
Best Airbnb house in Sevilla

Placentines 5
There are overtures of the Moroccan riad and the flamboyance of Arab palaces in this stunning home in the middle of the Sevilla old town. It's a luxury townhouse that can offer unrivalled views of the La Giralda from its sun-kissed rooftop, a plunge pool overlooking the Casco Antiguo, and a gorgeous interior lounge-kitchen with exposed beams and geometric tiling. Simply awesome.
Best Airbnb for families in Sevilla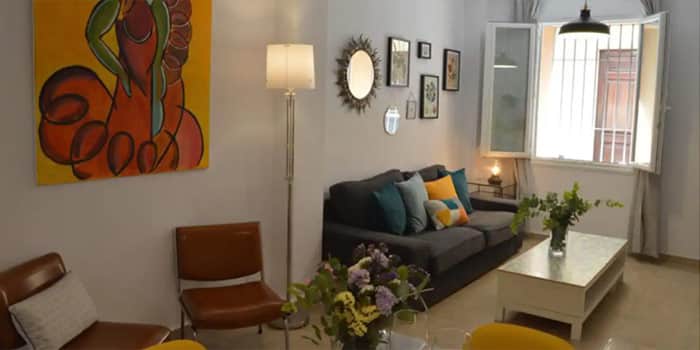 Great Townhouse in Sevilla Center
Plant you and the family firmly in the heart of the Casco Antiguo by booking this three-bedroom pad. It's got breezy and bright rooms set out as both doubles and twins – perfect for a group of five or six. There's also lounge area, a homey kitchen that's well equipped for cooking for yourself, and a small patio to boot.
Best Airbnb for large groups in Sevilla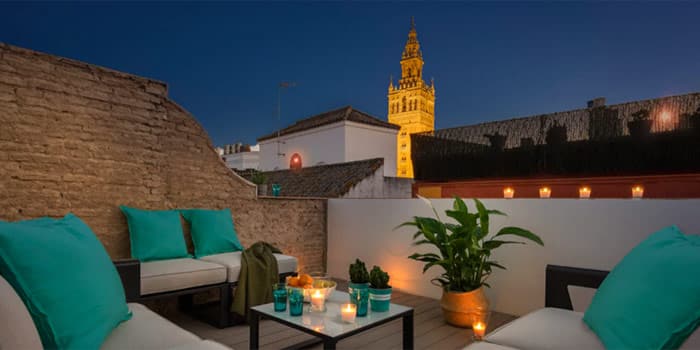 Abades House
The Abades House heralds untold enjoyments in the heart of old Sevilla. You can spend your evening soaking in the group hot tub while watching the sunset over the La Giralda tower. Or grab a Rioja and head up to the rooftop lounge, where the sounds of the street echo from below. Inside, there are seven sumptuous bedrooms and a huge dining area, along with a riad courtyard to help keep everything cool in the summer months.
Best Airbnb for romantic stays in Sevilla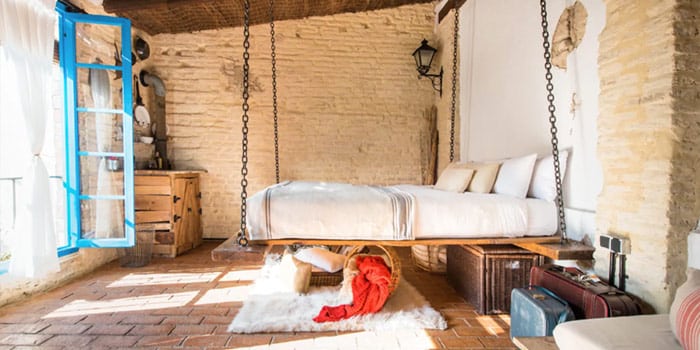 Five-hundred-year-old Santa Cruz Rooftop Studio
Few properties ooze such authentic Sevillian charm as this one. With cracked-brick walls and a suspended bed bolted into ancient beams, it whisks you away to the charming Santa Cruz area. The Alcázar will be right on the doorstep, awaiting on the far side of your brick-lined courtyard and its blooming bougainvillea.
Is Airbnb cheaper than hotels in Sevilla?
There's a very good chance that it will be. Hotels in Sevilla can be downright pricy, particularly in the height of the summer season. Of course, rates in Airbnbs increase then too, but you're likely to find that short-term flat and house rentals have a slightly lower average nightly rate than traditional hotels on the whole. What's more, you can cut costs further by choosing larger properties that host more people, sharing the total price of the stay between extra travelers. Airbnb hosts can also give fairly generous discounts on longer-term stays of four weeks or more – you can expect to have up to 50% off if you're visiting Sevilla for a while!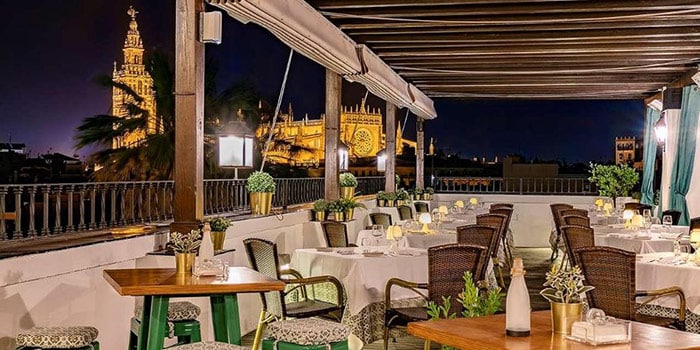 Sadly, Airbnbs in Sevilla won't be the same height of luxury as hotels on the service front. There's no room service, no housekeeping to make your bed each morning, no dedicated breakfast spreads. If that's the sort of pampering you're after, consider something like the four-star Vincci La Rabida Hotel. It has a fountain-babbling courtyard that channels the Moorish style, and a rooftop restaurant with views over Sevilla Cathedral.
Sevilla is a stunning cocktail of North African culture, Spanish tradition, Gothic art and architecture, and vibrant Andalusian life. It's a fantastic option for a city break this year!
How useful was this post?
Click on a star to rate it!
Average rating / 5. Vote count: