If Madrid is the heart of Spain, little Toledo, sat some 41 miles to the south-west, could just be its soul. Its maze-like old city perches on a hill above the curvaceous Tagus River, rolling from Gothic cathedrals to arabesque mosques to hidden Roman ruins.
If you're keen to ditch the hubbub of the capital and dive into the mix of art, heritage, culture and food that beckons in the enchanting town, this guide has you covered. It details all the ways you can travel from Madrid to Toledo, with options on the Spanish railways, the roads, and more creative day trips to boot.
Madrid to Toledo by train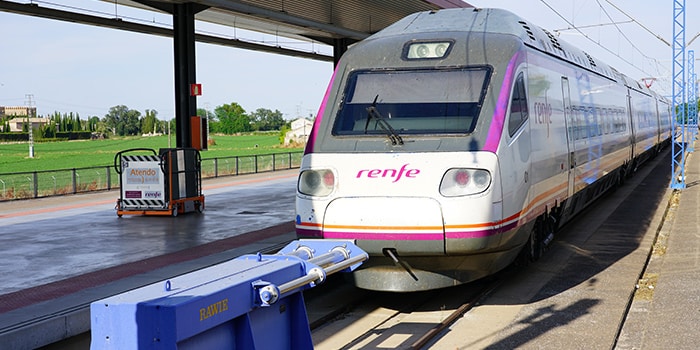 Time – 33 minutes
Price – $13+
Comfort – 5/5
It might be less than 70km from Madrid to the stunning churches and Mudejar spires of Toledo, but the route still benefits from Spain's high-speed AVE trains. That means you can hop on at Atocha Station in the capital (don't miss the beautiful interior botanical garden and turtle ponds) and be pulling into the famous historic city in less than 35 minutes. Easy.
Scenic vistas of inland Spain and 30-minute travel times are what make the train a truly attractive option for getting to Toledo.
The trip itself offers glimpses of the sun-cracked central plateau of Spain. Rolling wheat fields and the occasional rocky outcrop make it an interesting ride, so it's worth jostling for a window seat if possible. Arriving in Toledo, you'll alight at the main train station. That's actually on the far side of the Tagus River from the big attractions. So, either be prepped for a 20-minute walk, or catch the local bus bound for Plaza de Zocodover.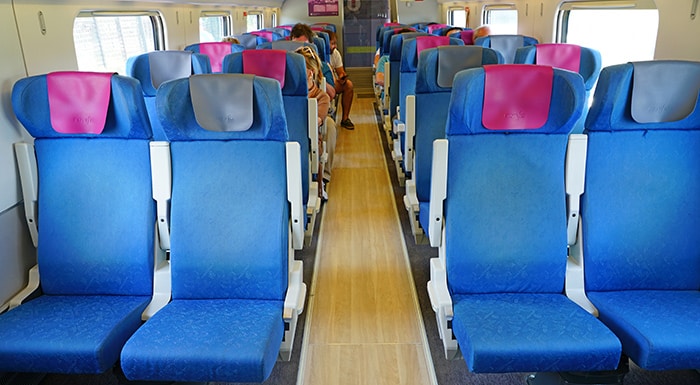 All passengers need to be ready and waiting at the station some time before the trains are scheduled to leave. Also be warned that the train doors in Spain tend to close a few minutes prior to official departure, so no lounging around with a churros! To cut the stress of the trip, you could also book tickets in advance before you even get to Madrid, using the search tool over on 12Go.co.
Madrid to Toledo by public bus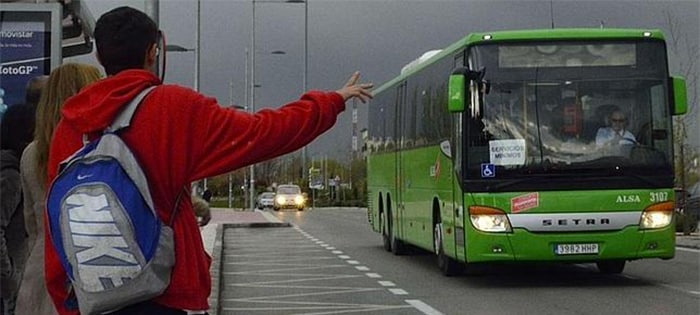 Time – 1.5 hours
Price – $5.50
Comfort – 3/5
For the cheapest ticket down to Toledo, you need to look to the local ALSA buses. They leave from the rather out-of-touch Plaza Eliptica station, which sits on the southern side of downtown Madrid, by the Parque Emperatriz Maria de Austria. If you don't mind lumping it there, then you can enjoy cut-price fares of around just $5.50 each way.
Sadly, the ride is slow, with stops in Madrid's outskirts and in some smaller towns along the way. You're also likely to find it a lot less scenic than the train, with traffic-whizzing streets and a partitioned highway for the most part. Like we said – it's the cheapest option of all.
Madrid to Toledo by tour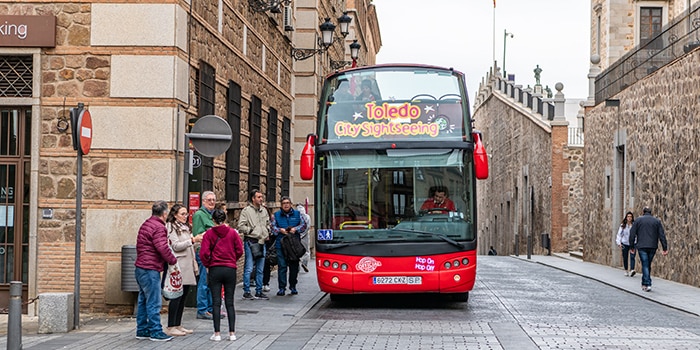 Time – All day
Price – $25+
Comfort – 4/5
If you're only looking to drop out of Madrid for a single day and check off the enthralling sights of Toledo as you do it, an organised tour could be the perfect solution. There are lots of different types on offer, but the best usually include guided walks of the old city, to see top draws like the Synagogue of Maria la Blanca and the Cristo de la Luz Mosque. It's also a good idea to ensure any itinerary comes with some free time to yourself – getting lost in the maze of historic Toledo is half the fun.
Travel wise, tours are typically in air-conditioned buses. They will leave the Spanish capital early on (before 8am is normal) and head straight down to Toledo in an effort to beat the crowds. It's common to be able to be collected at the door of your accommodation, so enquire about that when you book.
Madrid to Toledo by car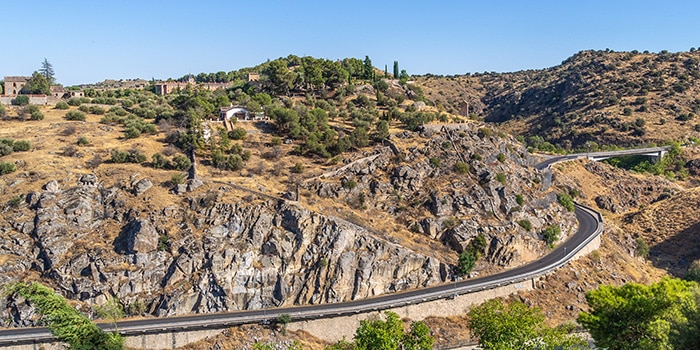 Time – Around 50 minutes
Price – $100+
Comfort – 5/5
You could conjure the spirit of Don Quixote and hit the Spanish countryside on your own. All you need to do is load the car and depart the capital to the south-west. As you leave, pick up the A-42 highway, which is regularly signposted for Toledo itself. The trip is grand total of 45 miles, which takes around 50 minutes on the well-kept motorways. (That's provided traffic is good, which it might not be if you decide to drive during Madrid's rush hours).
The drive from Madrid to Toledo can be something of an adventure, what with church-topped cities and wild La Mancha countryside to conquer.
If you don't already have your own wheels, it's a cinch to get a hire sorted in Spain. In fact, the country has some of the cheapest rentals in Europe – just check out RentalCars.com. You're probably looking at something around the $100 mark on average, for a full day's vehicle and the right to drop the car off in Toledo (it will be even less if you're planning on retuning to Madrid afterwards).
One of the major bonuses of putting foot to pedal and doing the drive yourself is the freedom it gives you to stop and explore as you go. Even in the short distance between metropolis and town there are some striking draws. Think about adding in a pause at the grand royal palaces of Aranjuez (it's a detour of about 30 minutes to the east of Toledo). Or, you could push on to Talavera de la Reina (50 minutes' drive further west), which has iconic ceramics and pink-stone churches.
Madrid to Toledo by taxi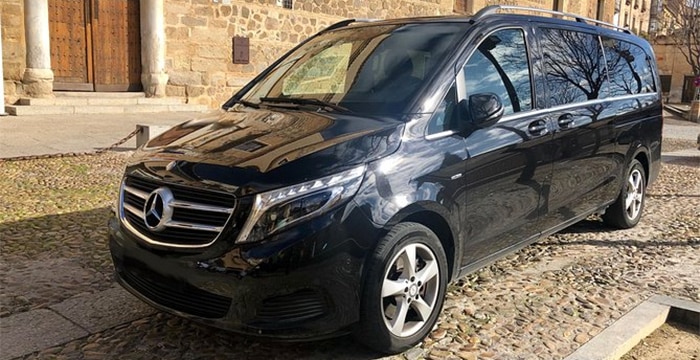 Time – Around 1 hour
Price – $120+
Comfort – 5/5
Bag yourself an air-conditioned seat and oodles of leg room all the way from Madrid to Toledo by booking a private taxi. The beauty of this mode of transport is that you can organise to be picked up pretty much anywhere in the capital you want. The lobby of your hotel on the Puerta del Sol? Easy. The terminals of the Madrid-Barajas Adolfo Suarez Airport? That can be arranged. All you have to do is sling the luggage in the trunk and you'll be Toledo bound in a no time.
The drive isn't particularly pretty. You're likely to follow the main A-42 motorway all the way there. However, it should take just an hour maximum, and probably even less than that. You can also be dropped off wherever you want in Toledo, so there's no stress reaching that charming boutique hotel overlooking the Rio Tagus. Prices do shoot up for private taxis, but bear in mind that rates are for full vehicles. Big groups or families could actually save money by sharing the cost between them.
---
Toledo is layered in Roman, Visigoth, Christian and Moorish history and culture. Some say it's the single most atmospheric stop in Spain. Don't miss it. Book your travel there from the capital and start dreaming of Gothic churches and filigreed mosques today.
---
Madrid to Toledo FAQ
What is the cheapest way to get from Madrid to Toledo?
The local ALSA buses charge a mere $5.50 for the one-way trip from Madrid to Toledo. Sadly, they leave from the multi-storey Plaza Eliptica station. That's on the south side of the city, linked to the popular tourist hotspots by Line 3 and Line 6 of the metro network – have a few euros handy to pay for that.
What is the fastest way to get from Madrid to Toledo?
Train is probably the quickest way to go from Madrid to Toledo. You'll roll out of big Atocha Station and arrive into the platforms below the cobbled old town just 35 minutes later. Be sure to get there early for the ride and book tickets in advance using 12Go.co for the top deals.
How do I get from Madrid to Toledo by train?
That's easy. There's a direct connection between the two courtesy of Spain's fast AVE trains. All you need to do is pre-book tickets on 12Go.co and then rock up to Atocha Station at the time you've chosen to leave. The ride is about 35 minutes from start to finish.
How much is the train from Madrid to Toledo?
Trains bound for the historic wonders of Toledo shouldn't put you too much out of pocket. Advance tickets – the ones you should easily find by searching on 12Go.co – are usually priced at a little over €12 ($13). You can also get small discounts by booking a return to Madrid at the same time.
How much is the bus from Madrid to Toledo?
The local bus is just $5.50. However, it's not the comfiest way to get to Toledo, mainly on account of all the stops it makes. You'll also need to get down to Plaza Eliptica station to board, which adds about 30 minutes or so to the trip.
How much is a taxi from Madrid to Toledo?
Be ready to fork out around $120 or more for a private taxi straight from Madrid to Toledo. Expensive, yep. But there are caveats. For one, the taxi is comfy, with air-conditioning and plenty of space. Most importantly, it can be arranged to collect you from any spot in the capital – the airport, your hotel, the main Puerta del Sol – and drop you right at the door of your next stay down in Toledo itself. Easy.
How useful was this post?
Click on a star to rate it!
Average rating / 5. Vote count: