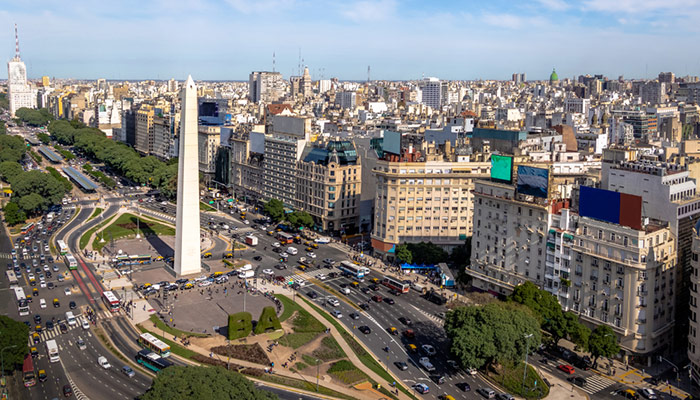 Clutching the wide Rio de la Plata midway down the side of South America is a city of Tango-twirling bars and sizzling steakhouses manned by real gauchos. Welcome to Buenos Aires, the sprawling, enthralling capital of Argentina. From the chic shopping areas of Palermo Soho to the colorful cobble lanes of San Telmo, this city pulses with Latin life. There's always a spicy dish to get stuck into; always a band playing cumbia jazz in the corner of smoky bars. For most travelers, Buenos Aires is a heady introduction to Argentina. A fine place to stay before you break away to the pampas and the wilds of Patagonia, it's awash with experiences you're not likely to forget in a hurry.
Adding to all that is the fact that there are now thousands upon thousands of Airbnbs in the vibrant metropolis. You can browse all sorts, from classic flats in age-stained European palaces from the last century to edgy condos with breezy balconies on the outskirts. This guide can help you. It offers insights into the best neighborhoods for Airbnbs and even gives a few suggestions on the top short-term lettings in all of Buenos Aires. Let's go…
In this Airbnb guide to Buenos Aires: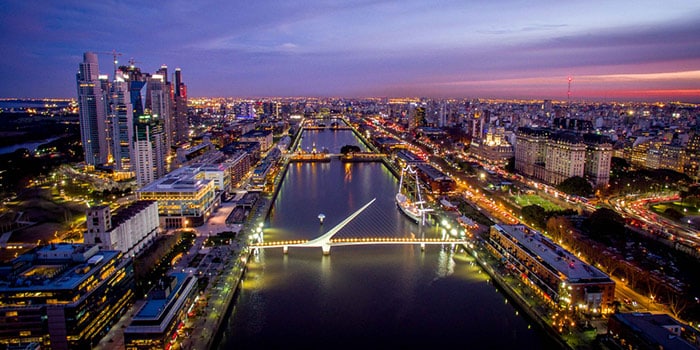 Is Airbnb legal in Buenos Aires?
Airbnb is legal in Buenos Aires and Argentina generally. There are even short-term rental laws that protect the right of citizens to participate in the sharing economy when it comes to tourism. Authorities do ask that all hosts get a property operation license. However, that's not your responsibility as a traveler. You simply need to scour the sprawling capital for the place that suits you the best and then press book. Just remember that you might be liable to pay up to $1.50 USD per night in tourist taxes, which are usually collected in cash upon check in.
Where should I stay in Buenos Aires Airbnb?
Many a search for an Airbnb in Buenos Aires begins in the electrifying quarter of Palermo (1), which packs in several sub-neighborhoods known for their nightlife, their cultural scene, and their shopping. San Telmo (2) is another tourist favorite, with its age-stained European façades and cobbled alleys. Recoleta (3) is the grand old dame of the center, where majestic antique buildings loom above Argentina's most prestigious cemetery. To the south of that is La Boca (4), where you can get your fix of colonial charm and Latin tradition in the Tango joints. To the north is Colegiales (5), a place now loved by families and upcoming professionals for its proximity to the downtown but relatively chilled atmosphere. If money's not an object, you could also consider the exclusive enclave of Puerto Madero (6) – think chic condos by the water's edge.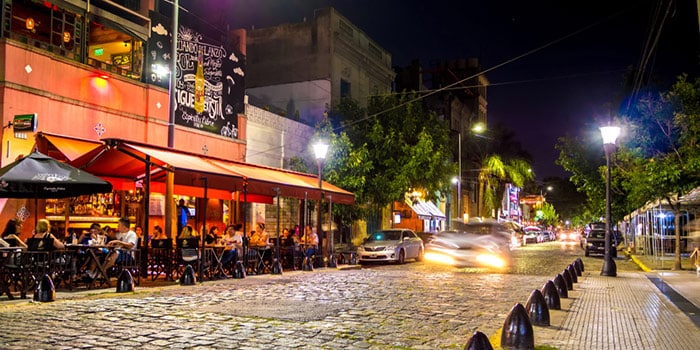 Palermo
Pros
The most famous part of the city
Different parts have different character
Great shopping and nightlife
Cons
Airbnbs come at a premium
Very touristy
Welcome to the Buenos Aires you've been searching for. This is Palermo, the main quarter of this buzzing capital and the town's best-known area by a long shot. It can be further subdivided into five or six separate neighborhoods, of which Palermo Viejo – a land of narrow cobbled streets topped by twisted jacaranda trees – and Palermo Soho are the two stand outs. Check the first if you want to be immersed in a relaxed and venerable area filled with Spanish-style mansions. Go to the latter for endless dining and drinking options, boutique arts shopping, and wine bodegas galore.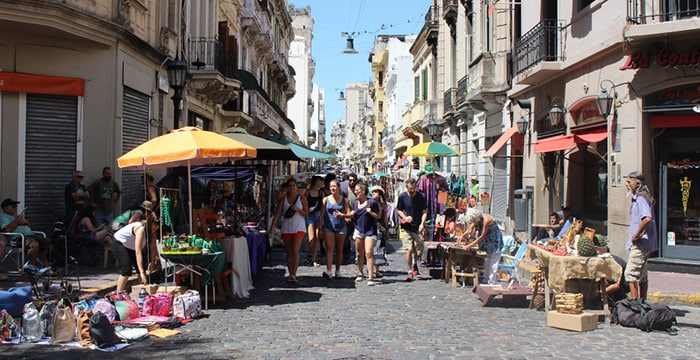 San Telmo
Pros
Loads of cultural pursuits
Tango shows
Antiques shopping
Cons
High competition for Airbnbs
A little touristy for some
The vibes take a turn for the alternative if you choose to stray south to the happening quarter of San Telmo. Shopping is probably number one on the list of things to do. Defensa Street and the weekend flea markets abound with strange trinkets, Patagonian folk crafts, Latin American art – the list goes on. There are also some cool hipster cafés and a whole range of underground Tango halls to get stuck into when you want to see the famous twirling skirts and suited dancers of Argentina do their thing. One addendum: San Telmo is now a tourist favourite, so don't expect to be the only Airbnb guests around!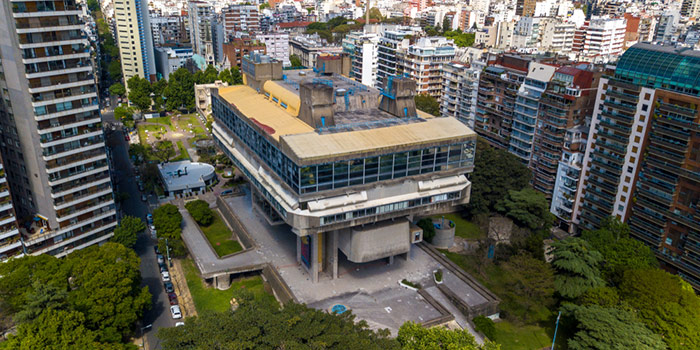 Recoleta
Pros
Luxurious area
The immersive Recoleta Cemetery
Prestigious museums and galleries
Cons
Things are expensive here
A little too posh for some people
Recoleta has become synonymous with jet-set living in Buenos Aires. That's even despite the fact that the area is perhaps most famous for its haunting cemetery: Recoleta Cemetery, a place laden with spooky statues and looming tombs from decades gone by. You'll want to visit that at least once, before moving on to the district's other prestigious sites, which range from the Mariano Moreno National Library to the vast collections of the Museo Nacional de Bellas Artes. You might pay a premium for the luxurious Airbnbs in these parts, but you'll gain some serious style, right down to the local cafes and steakhouses.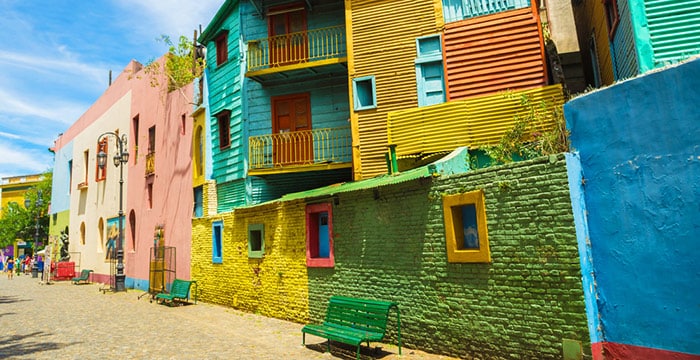 La Boca
Pros
Tango is everywhere
Colorful streets that are great for photographers
Small-town feel
Cons
Quite far from the center of the city
Prices are really inflated in shops and bars for some reason!
Historically the most multicultural part of Buenos Aires (that's saying something!), La Boca occupies a headland on the Matanza River to the south of San Telmo. It's a fun-filled corner of the city that anchors on the cobbled and pedestrianized lanes of Caminito close to the water's edge. There, you'll feel transported away from the big metropolis and into a traditional Latin village complete with cantinas and tango halls (the dance is said to have been born here!). In short, the street scenes are lovely and the whole place is packed with cultural pursuits.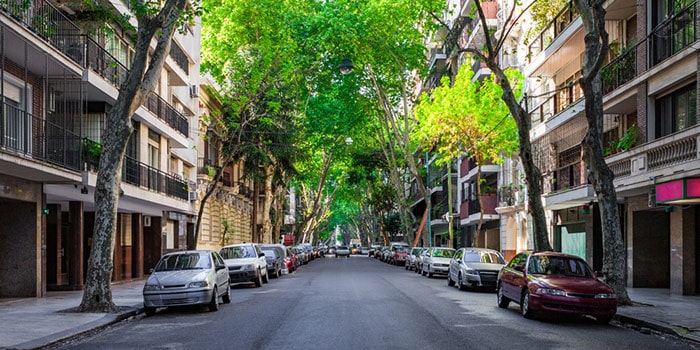 Colegiales
Pros
Good array of Airbnbs
Chilled out area
Still close to nightlife
Cons
It might be a tad pricy
No major landmarks
Chasing an Airbnb in Colegiales is a great idea if you want the buzz of the Palermo Hollywood nightlife district on the doorstep but not the noise that comes with it. This leafy and upmarket part of town offers some chilled blocks filled with homey restaurants and European-style cafés. It's become a favorite among families and young professionals, but also has one of the capital's top selections of short-term rentals.
Puerto Madero
Pros
Very stylish Airbnbs
Upscale dining scene
Protected nature reserves
Cons
Expensive
Can feel disconnected from the center
The once-industrial port area of Puerto Madero is now up there with the chicest quarters of Buenos Aires. Packed with glitzy restaurants and cocktail bars, it's also the stomping ground of some of the town's most edgy and elegant Airbnbs. It backs all that up with stunning views of the river estuary and a whole protected nature reserve, where you can go jogging between the storks and swathes of lush pampas grasses.
Best Airbnbs in Buenos Aires
Best Airbnb apartment in Buenos Aires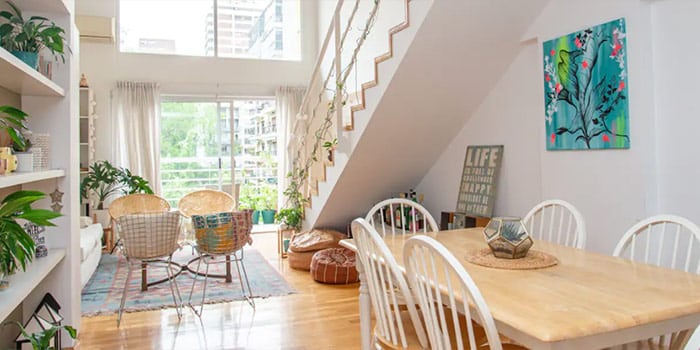 Excellent Equipped Duplex Apartment
Everything's bright and breezy in this contemporary duplex apartment. Set over two floors with a huge floor-to-ceiling window flooding the whole place with light on one wall, it's a comfy flat rental for a couple. Location wise, you're right in the thick of the action, between the relaxed Colegiales neighborhood and the entertainment and nightlife hub of Palermo.
Best Airbnb house in Buenos Aires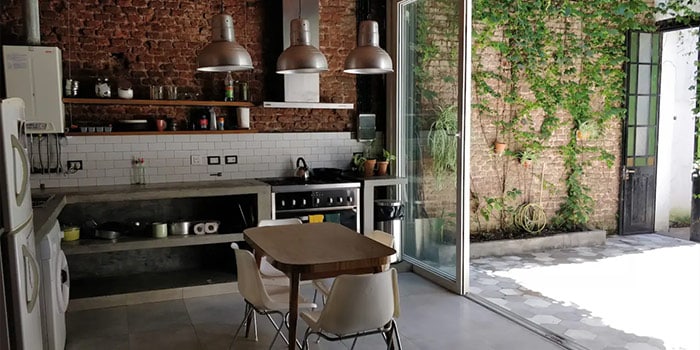 Ph Lleno De Luz, Verde
Okay, so this charming house takes you a little away from the central core of neighborhoods that makes up the most-visited part of Buenos Aires. But doing that means you get a whole load more square meterage, which materializes in the form of a huge rooftop deck with blooms of verdant ferns and vines and all sorts of other plants. You also get a stylish kitchen-diner area with retro furnishings and exposed-brick walls.
Best Airbnb for families in Buenos Aires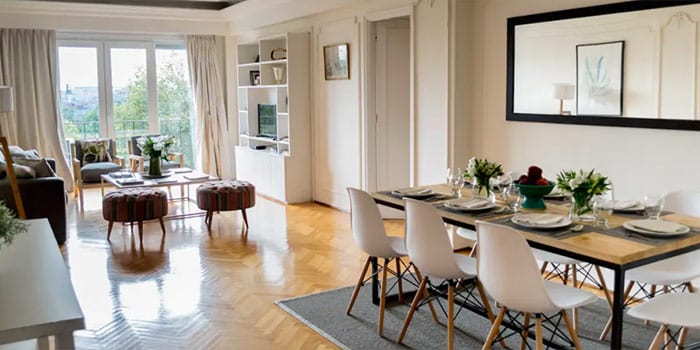 Elegant Apartment in the Heart of Recoleta
There's arguably no better place to be based during a family trip to the capital of Argentina than immersive Recoleta. It's a tad posh, but also has the haunting Recoleta Cemetery and the main museums of BA. This flat is a ticket there for the whole crew. It can sleep up to seven guests across four bedrooms and opens onto a large diner-lounge space with views over the leafy local parks.
Best Airbnb for large groups in Buenos Aires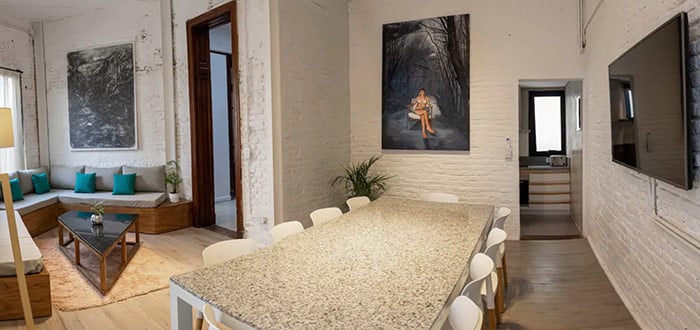 Fliphaus Palermo Hollywood
Duck under the handsome Art Deco façade of this property in Palermo Hollywood and you'll find a surprisingly large place that can host up to 12 guests over its five sleeping quarters. It's a corker of a communal house, with bohemian lounge areas set below exposed-brick walls. The piece de resistance is surely the al fresco portion, which involves a massive outdoor dining table and a bubbling hot tub.
Best Airbnb for a stylish stay in Buenos Aires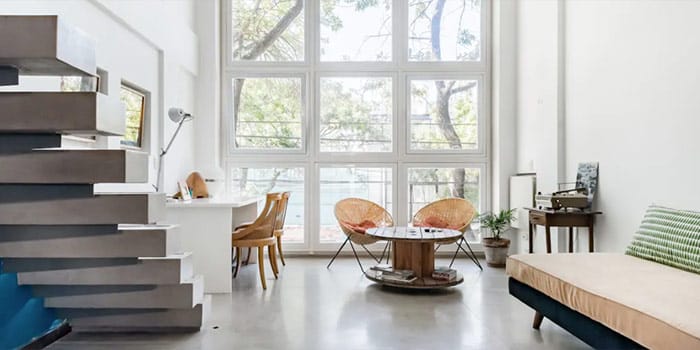 Stunning Loft in the Heart of Palermo Soho
There's loads to feast the eyes on in this stunning Plus Airbnb rental in the Palermo Soho entertainment area. With framed floor-to-roof windows, it's flooded with light and has Scandi-cool furnishings throughout. A floating concrete staircase leads to the minimalist double bedroom, while a fitted kitchen and a private patio area add to the charms.
Is Airbnb cheaper than hotels in Buenos Aires?
Airbnb is known for being pretty easy on the travel budget, and the story's no different in the Tango-twisting capital of Argentina. You should find that there are plenty of bargains to be had, especially if you look to areas like San Telmo and Colegiales, where things aren't quite as exclusive as, say, Puerto Madero. You can also score some pretty sweet deals on long-term Airbnb rentals in Buenos Aires, with those willing to stay for up to a month seeing discounts of 50% or even more.

But the drop in nightly rates in Airbnbs doesn't come without sacrifice. It's rare to find a short-term rental that has the same level of hands-on professional service as a hotel. Take somewhere like the Key HOTELS San Telmo. It's located in one of the city's top cultural districts, has its own outdoor pool, and comes with frills like on-demand room service or on-site tour booking.
Delve into the rich nightlife and taste the juicy Gaucho steaks of Buenos Aires this year, all with help from this expert guide to the city's top neighborhoods and Airbnb rentals.
How useful was this post?
Click on a star to rate it!
Average rating / 5. Vote count: