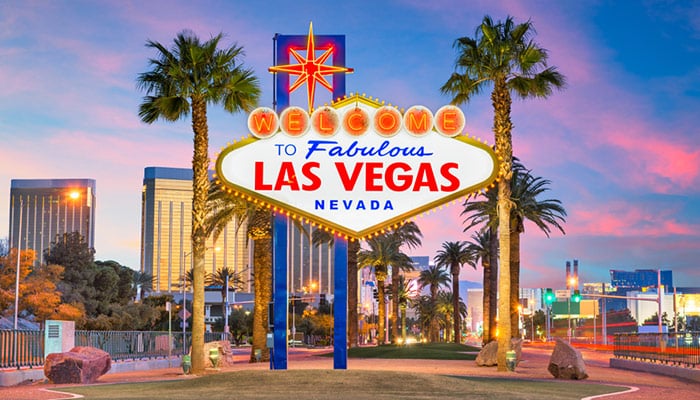 Vivacious Vegas is where the United States throws caution to the wind and cranks up the hedonism. A fun-filled and a neon-lit cityscape in the middle of the Mojave Desert, it's a haze of light and energy between the canyons and rust-red bluffs. Famous names adorn the iconic Las Vegas Strip, from the fountain-fronted Bellagio to the Italo-esque Venetian. There are recreations of the Eiffel Tower and gaming halls inspired by the proud ages of the Roman Empire. There are loop-de-looping urban rollercoasters, noir mob museums, eye-watering light shows, mega clubs, and – of course – more betting than you can get through in a lifetime! Ready to get stuck in?
Airbnbs in Vegas are strictly managed by the local government, but there are still over 7,000 listings available in the town. They range from deluxe suites in the big gaming resorts – pools and spas on the side, naturally – to budget-friendly casitas attached to suburban homes. This guide can help you get to grips with the various neighborhoods of Las Vegas, and it offers a few tips on the top Airbnbs around.
In this Airbnb guide to Las Vegas: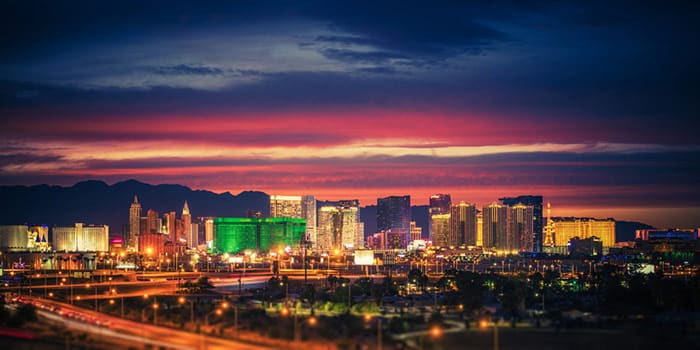 Is Airbnb legal in Las Vegas?
Las Vegas has some of the strictest Airbnb laws in the country. They are flat out illegal in some corners of the desert metropolis, like in North Las Vegas and unincorporated Clark County, for example. Other areas – Henderson, Las Vegas city – do allow short-term lets, although there are clear guidelines in place. Every host in those areas needs to be registered, rental properties need to be a set distance apart from each other, and homeowners in certain districts are only allowed to rent out their primary place of residence. The main outcome of all that has been to cut the number of viable Airbnbs across the city. Some fines have been levied against hosts, but there are few reports of guests being targeted by enforcement agencies. We'd always recommend checking with the listing manager that everything's in order before you travel.
Where should I stay in Las Vegas Airbnb?
Everyone knows about The Strip (1). It's where Las Vegas's colossal gaming casinos and big-name draws stretch out along a particularly lively run of Las Vegas Boulevard. The buzzy and historic Downtown (2) has more gastronomy and extra gaming to the north of that, but not before the Arts District (3) brings its quirky, retro brunch spots and beer bars. Relaxed Summerlin (4) is out west near the mountains, filled with golf resorts. Henderson (5) is to the southeast, awash with quiet suburban homes for families near the canyons and Lake Mead. An alternative is Chinatown (6), which tends to be affordable but still close to the heart of the big city.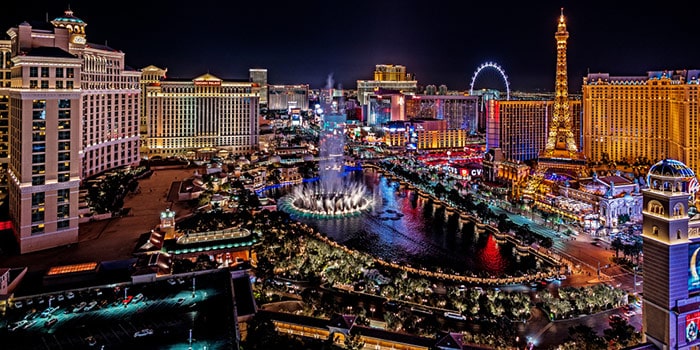 The Strip
Pros
The most famous sights around
The biggest casinos in Vegas are here
Nightlife, nightlife and more nightlife
Cons
It's expensive
Some travelers find it really tacky
The Strip is legendary the whole world over. This is the stomping ground of the Vegas you've seen in the movies. Huge – like, really, really huge – casinos loom high overhead, from the proud MGM Grand to imposing Caesars Palace. The area hosts the city's chart-topping acts and shows, from the Cirque du Soleil to big-name celebs and singers. It might not be easy to score an Airbnb in these parts, but if you can, look forward to an action-packed break filled with gambling, gaming, and wild nights on the town.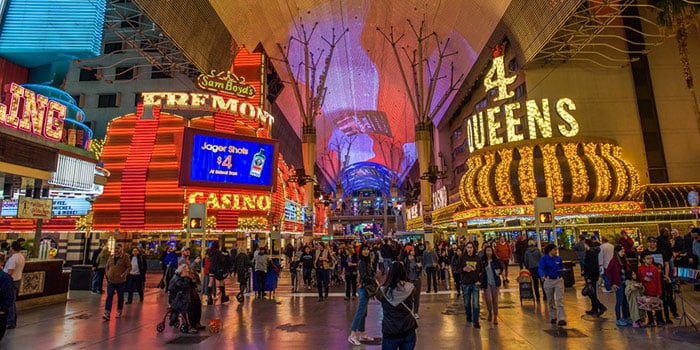 Downtown
Pros
Buzzing nightlife scene
Intriguing museums
Shopping
Cons
Not uber family friendly
Can be rowdy after dark
There was a time when Downtown Las Vegas was the heart of the city. Back in the 50s and 60s, it was awash with swinging cocktail bars, cabaret shows, and the earliest examples of gaming halls. When the action moved to the strip in the 80s, the area was left to its own. However, recent rejuvenation projects have breathed life back into iconic casinos like the Golden Nugget, and they've brought new attractions like the Viva Vision light shows that shimmer across bumping Fremont Street every night. There's also history in these parts, as revealed by the spine-tingling Mob Museum.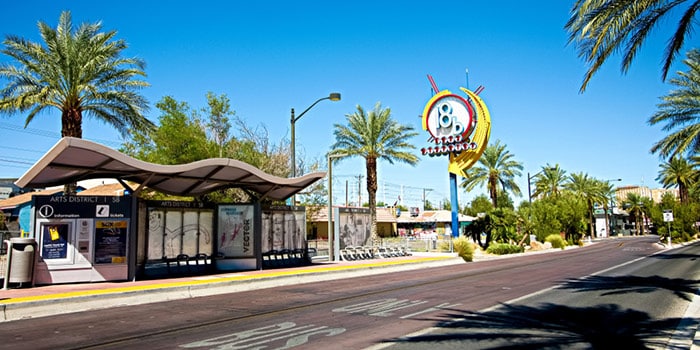 Arts District (18b)
Pros
Excellent café culture
Interesting art galleries
Young vibe
Cons
No big and famous casinos
Not too many Airbnbs here!
Not many visitors get to see the quirky and creative area known as the Arts District. It straddles Las Vegas Boulevard north of The Strip but south of Downtown. There, it emanates out from a series of converted industrial depots, which are now open exhibition spaces for local and touring artists. Around them are streets fringed by retro bars and vintage antiques emporiums, vinyl record shops and relaxed brunch outlets. The area is perfect for the younger crowd who prefer café hopping to casino going.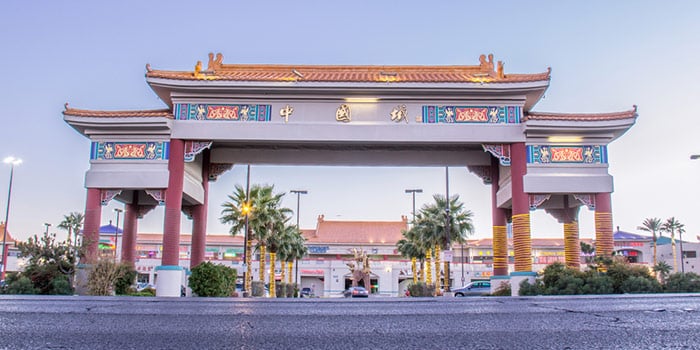 Chinatown
Pros
Great Asian cooking
Discount shopping
Cheap rentals
Cons
A bit run down in some parts
No big sights of its own
There's a bit more of the lived-in America on show in Las Vegas Chinatown. A bustling run of strip malls and shops that hugs W Spring Mountain Road, it's the place to go for East Asian cooking. You find all sorts sizzling in the woks and steamers, from Canton dumplings to soy-doused noodles from Vietnam. There are also oodles of a discount department stores, grocers, and even a few quirky bars. The area tends to have attractive rates for Airbnbs, and it's still only a quick drive east to the pulsing Las Vegas Strip.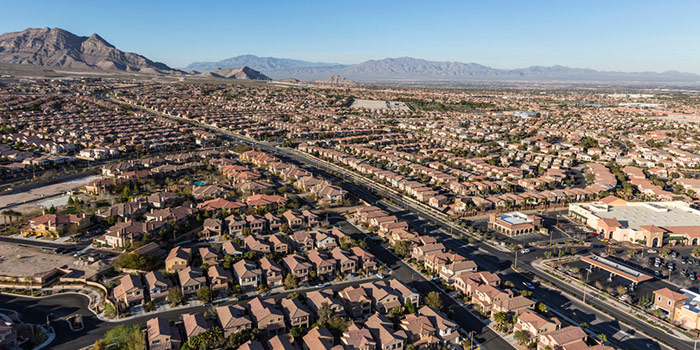 Summerlin
Pros
Great access to the Nevadan canyons
Lots of golf clubs
Spacious rentals
Cons
Expensive area
Nearly six miles from The Strip
Around six miles to the west of Downtown Las Vegas, this out-of-city enclave is the place to head for peace and quiet. It's threaded through with lush golf courses that sprout from the deserts like a long-lost oasis. In the background are the rising outlines of the rugged La Madre Mountains Wilderness, along with the bluffs of Red Rock Canyon. They all combine to make this a cracking option for golfers and hikers. What's more, the properties tend to be large, spacious, and downright luxurious.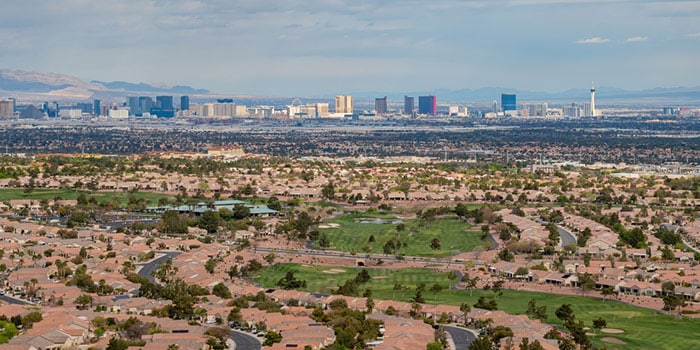 Henderson
Pros
More relaxed Airbnb laws
Near canyons
Near Lake Mead
Cons
A 20-minute drive from The Strip
A tad suburban for some
Henderson is seen as a good place to go hunting for Airbnbs in Las Vegas because it's got slightly more relaxed short-term letting laws. It's actually a totally separate city, and the second largest in the whole state of Nevada. Still, it's joined at the hip to the casinos and The Strip by interstates 215 and 515 – the drive is usually less than 20 minutes. Perhaps the greatest thing about Henderson is just how close it is to the wild reaches of Sloan Canyon and the shimmering waters of Lake Mead. Both of those are prime attractions for travelers eager to see the more untamed part of Nevada.
Best Airbnbs in Las Vegas
Best Airbnb apartment in Las Vegas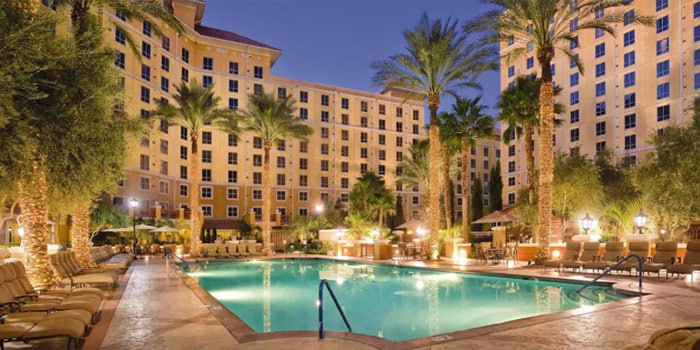 Wyndham Grand Desert 2 Br Suite, Friday Check-in
Score yourself a stay at one of the most iconic casinos in the area of the Las Vegas Strip by picking this suite apartment in the Wyndham Grand Desert. Okay, so it's not got the VIP vibes of the Bellagio, but the Desert comes with a huge outdoor pool, loads of sunning terraces, and gardens speckled with palm trees. The pad itself has a private lounge, large double bedroom, and a fitted kitchen.
Best Airbnb house in Las Vegas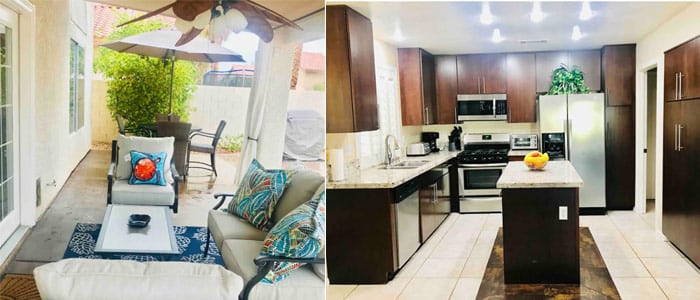 Betsy's Cozy Home
Down in chilled-out, suburban Henderson, this small casita-style house is perfect for groups of up to six people. It has three bedrooms and a small, compact lounge with an L-shaped sofa. That all spills into a garden where there's a covered terrace and plenty of outdoor seating. Other perks include parking and proximity to the McCarran International Airport (the terminals are around 10 minutes' drive away).
Best Airbnb for families in Las Vegas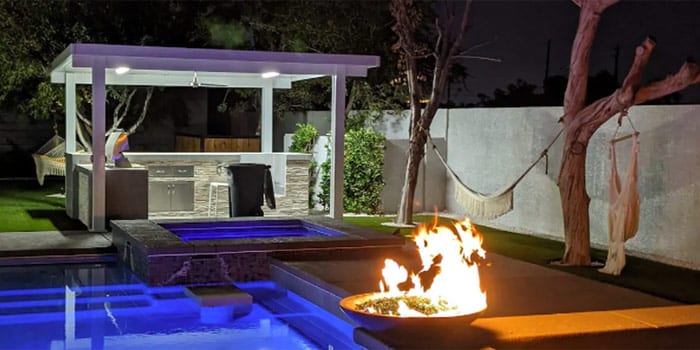 Breathtaking Luxury Villa, Pool Spa 8 Min to Strip
Treat the family to a little of the high life on your group trip to Vegas this year by choosing this deluxe villa. It's less than 10 minutes' transfer by road to The Strip, so those nights in the Venetian should be easy to organize. But there's also plenty to keep you going on site, like that large garden pool and flickering fire pit, for example!
Best Airbnb for large groups in Las Vegas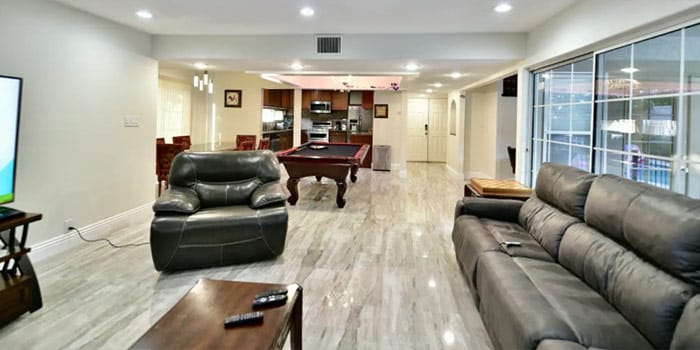 By the Strip Large Home With Pool
Right on the cusp of the LV Arts District, with The Strip to the south and the Downtown to the north, this large pad is a fantastic location for big group trips to Sin City. Over five bedrooms, it offers capacity for as many as 14 guests. There's a sprawling lounge area that has multiple sofas, a large TV, and an inset fireplace. There's also a grassy garden that gives way to a curvaceous pool.
Best Airbnb for luxury stays in Las Vegas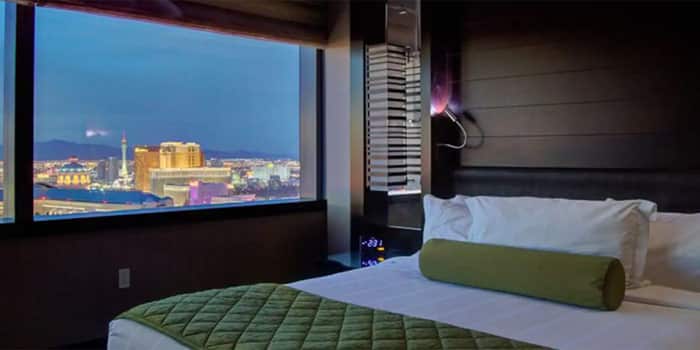 Vdara 50
Soaring above The Strip at a whopping 50 stories, this 631-square-foot pad has head-on views of the legendary Bellagio Fountains. It also boasts a Scandi-cool interior, with wood-paneled walls and dimmed lighting throughout, along with a walk-in shower and a huge king-sized bed. Nice.
Is Airbnb cheaper than hotels in Las Vegas?
Because the top hotels in Sin City are some of the most sought-after hotels in the country, there's a very good chance you'll save a whole load of dollars for the poker tables by going for an Airbnb instead. Nightly rates in these sorts of stays don't tend to be astronomical. better than that, you can go for multi-room places with space for up to 16 people, allowing you to share the cost of the holiday between friends and family. You can also save a packet by picking self-catering apartments, which means you can cook for yourself and not fork out for Vegas's pricy eateries all the time.

We would say that staying in a hotel in Las Vegas is an experience in itself. It's one you might not want to miss as you head to the gaming capital of America. Some of the places are downright luxurious, with the height of service from the moment you check in. For all that, you could go for the likes of Paris Las Vegas. It's famed for its recreation of the Eiffel Tower, has four stars, handsome Art Nouveau lobby halls, outdoor pools – the list goes on!
Las Vegas is up there with the most bucket-list-busting towns in the USA. Baking under the Mojave sun, it is all rambunctious nights at the blackjack tables and wild parties in hedonistic bars. What are you waiting for?
How useful was this post?
Click on a star to rate it!
Average rating / 5. Vote count: