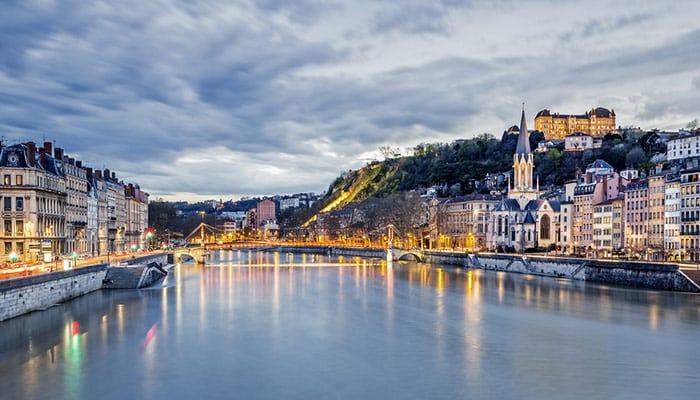 Draped over the hills around the confluence of the Rhone and Saone rivers, Lyon gazes east to the snow-capped French Alps with its proud historical monuments and edgy inner districts. Founded by the Romans and made rich by medieval bankers and traders, it's one of the coolest spots in all of France. One moment you'll be scrambling up crooked cobbled paths to the soaring heights of the Fourvière basilica. The next, you'll be navigating post-box-wide alleys known as Traboules that date back centuries. Exquisite buildings like the Lyon III university meet rich art collections in the museums, while grand plazas like Place Bellecour and Place Carnot buzz with life between their Renaissance palaces and charming European cafés. Oh yea, and there are ski resorts within two hours' drive!
To visit France's third-largest city like a real local, there's nothing for it but an Airbnb in Lyon. These home-away-from-home stays promise extra privacy and space to spread out. They can also be real bargains when compared to traditional hotels. This guide can help you get a feel for the various neighborhoods of Lyon, and even pick out an Airbnb that's right for you and your travel crew.
In this Airbnb guide to Lyon: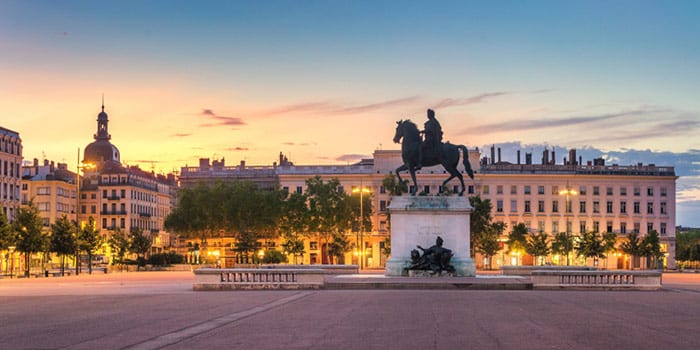 Is Airbnb legal in Lyon?
Lyon, like a number of other large and popular European city-break destinations, has brought in a few extra regulations when it comes to Airbnb in recent years. The good news is that they don't have an impact on travelers at all. You can still book your cozy French townhouse near the Place Bellecour without worrying. However, you might notice that there's a reduced number of lettings available on the platform. That's because local authorities now limit the number of days it's possible to rent out a property in Lyon and ask for every host to be registered with the city hall. You should also be aware that you might be asked to pay a Lyon tourist tax. It's only a few euros each night, often collected in cash upon arrival.
Where should I stay in Lyon Airbnb?
If it's the first time you'll be setting foot in this aged French city, there's arguably no better place to be than the immersive and characterful area of Vieux Lyon (1), a mass of winding lanes and churches from the Renaissance era and beyond. Ainay (2) is more modern but still historic and laced with some of the town's top eateries. Hipsters might prefer to be based up in the boho quarter of La Croix-Rousse (3), but its quieter next-door neighbor of Les Chartreux (4) often does the trick, too. For ancient history and fantastic views, there's nothing that can beat Fourvière Hill (5). Then you've got the CBD and the modern part of the city, over in La Part-Dieu (6), close to the main railway station.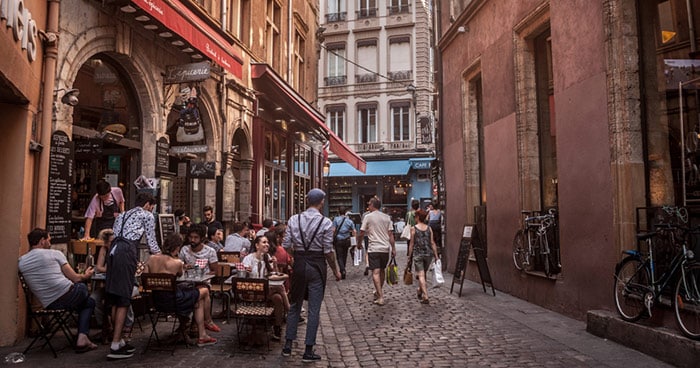 Vieux Lyon
Pros
Very pretty
Charming cafés
Check out the Traboules alleys
Cons
Expensive part of town
Gets packed with tourists
Vieux Lyon is where Lyon reveals its most enchanting side. Occupying a thin sliver of land on the north-western banks of the Saone River, the area flaunts one of the largest collections of Renaissance buildings on the continent. The iconic arcade alleys of the Traboules cut through the streets here, while the streets themselves are a mass of uber-charming French cafés and Savoie-style taverns. There are oodles of tempting places to eat, a sprinkling of pubs and bars, and a clutch of quaint churches. It's an all-round lovely area to be based.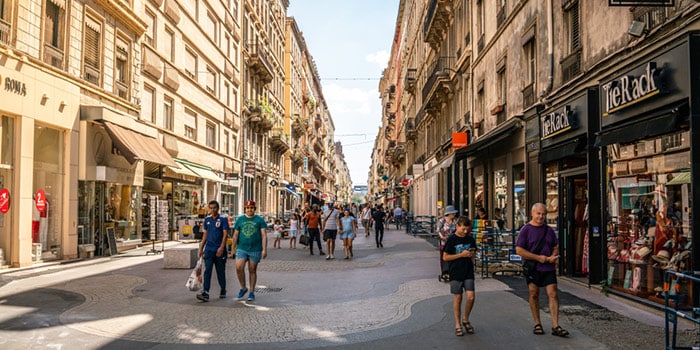 Ainay
Pros
Handsome area with grand 19th-century buildings
Loads of places to eat
Great for shopping
Cons
Can be really busy
Quite commercialized close to Rue Victor-Hugo
Ainy is a distinct swathe of the ever-popular 2nd arrondissement of Lyon. It's basically the midriff of the city, spanning from the wide Rhone to the edge of the Saone, and north from busy Perrache station to the grand Place Bellecour. Within is a grid of crisscrossing streets that are alive with all sorts – artisan bakeries, coffee-scented cafes, local grocers, and cheese shops. Rue Victor-Hugo is the place to go for shopping in the way of fashion and outdoors gear. There's also no doubt that Ainy is a gastronomic hub. Neapolitan pizza joints rub shoulders with Indian curry houses, with a decent showing of French bistros, of course!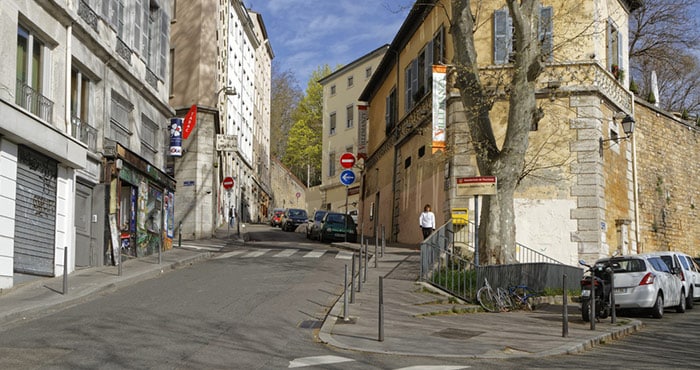 La Croix-Rousse
Pros
Bohemian area
Great nightlife
Luxury Airbnb options
Cons
Perhaps too gentrified?
Hard to walk these steep streets!
The erstwhile hub of Lyon's hardworking weaver guilds, La Croix-Rousse has since elevated itself to become the city's hipster home. It creeps up a huge hillside on the northern end of the town center, unfolding in a haphazard maze of lanes and alleys and staircases that shoot off this way and that. Figure out how to navigate all that and the reward is a hubbub of uber-cool coffee joints and wine bars, microbrew pubs and painter's workshops. The property – and the Airbnbs – of La Croix-Rousse have a distinctly luxury air about them, with the higher options also sporting nice views of the city or even the Alps!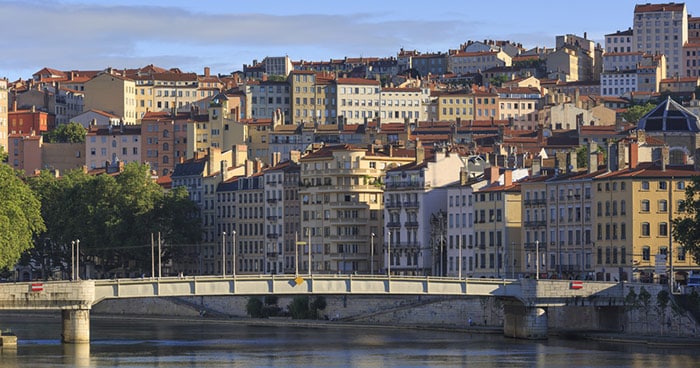 Les Chartreux
Pros
Quieter area
Nice views of the river
More local nightlife scene
Cons
Steep streets
Not loads of Airbnbs
Little Les Chartreux bridges the gap between the Saone River and the bohemian bars of La Croix-Rousse. It's a relatively quiet but lovable part of town, with avenues fringed by plane trees cutting through its inner blocks. Closer to the water's edge is where you will find most of the points of interest, most notably the gorgeous Jardin des Chartreux park, laid out with winding paths and pleasant lookout points. At night, the action centers around Place Sathonay and its clutch of beer bars and restaurants.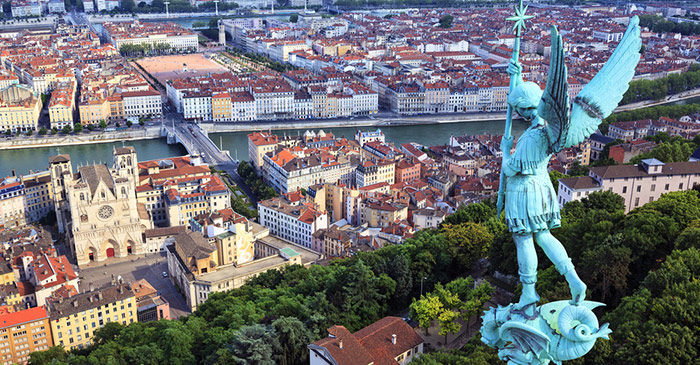 Fourvière Hill
Pros
Amazing views
Roman ruins
Proximity to Vieux Lyon
Cons
Airbnbs tend to be on the less-nice western part of Fourvière
A tourist hotspot thanks to the views
Fourvière Hill is the defining feature of Lyon's topography. It's also one of the defining parts of Lyon's history, because it was here that the Romans established their city of Lugdunum back in 43 BC. It's still possible to see the jaw-dropping ruins of a great amphitheater in the area and there are fantastic museums to match. Fourvière Hill also sprouts a grand basilica and offers, without doubt, the best views in the city – sweeping right across the old town and out to the Alps in the distance.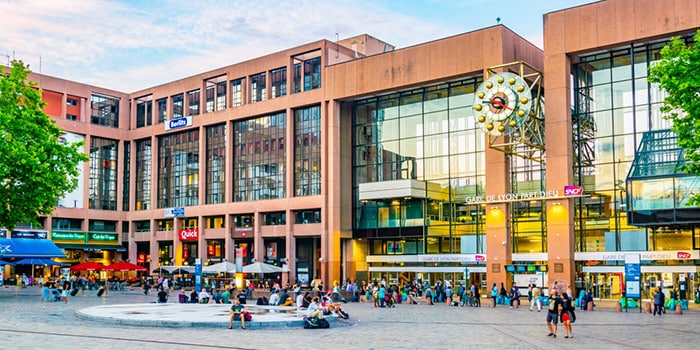 La Part-Dieu
Pros
Lyon's business hub
Well-linked to train lines
Affordable Airbnb options
Cons
Not so historic
It's a big area that can be tiresome to walk
La Part-Dieu is the beating heart of the 3rd arrondissement of Lyon. It lies over the wider Rhone River to the east of the historic center, ranging all the way from the waterside to the huge Part-Dieu train station. You'll notice a slight switch away from elaborate 18th-century architecture to more modern 20th-century building work made for functionality. That's because this is the CBD of Lyon. It's probably the place to be if you're jetting into town on business.
Best Airbnbs in Lyon
Best Airbnb apartment in Lyon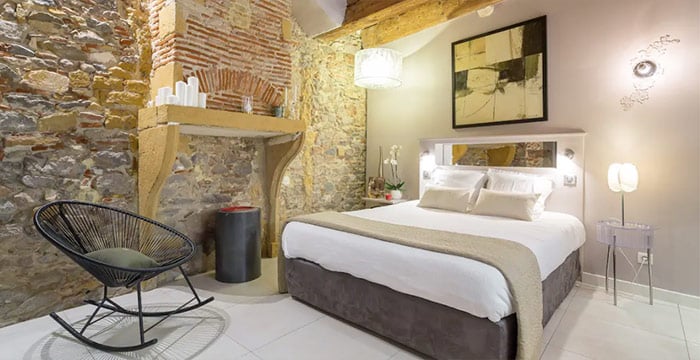 Lodge & Co
Be truly immersed in the characterful streets of Vieux Lyon by picking this lovely studio flat. It's wedged into the centuries-old blocks of the town's most venerable quarter and has some enchanting original features to show for it – exposed brick walls, chipped timber beams. It's functional and romantic, though, with an inviting double bed, its own kitchenette, and a walk-in shower. 
Best Airbnb house in Lyon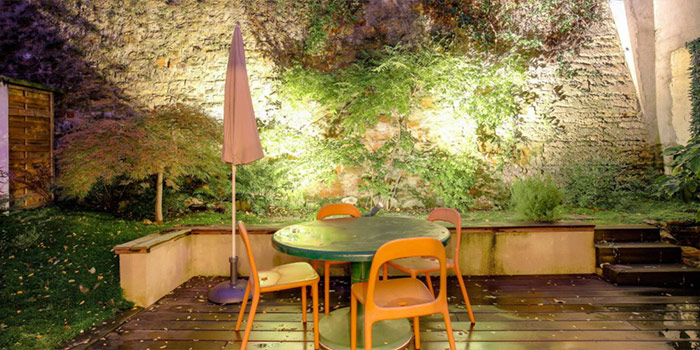 Lovely House in the Heart of Lyon for 4 People
Retreat to the quieter outskirts of Lyon, past the main hubbub of the historic core, and you can find this cottage beckoning with room enough for four guests. It's done out with style and contemporary fittings, and checks all the boxes for family and friends groups – a lounge, big walk-in showers. We especially like that al fresco deck and garden, which adds something extra for the hot French summer months.
Best Airbnb for families in Lyon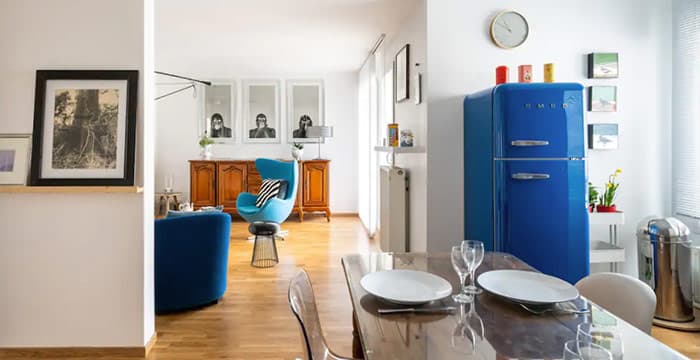 At Citizen Q´s
It might be a little south of the historic parts of Lyon in the 7th arrondissement but there's a metro just outside this flat to make up for it. More than that, it's a stylish pad that's sure to keep the whole family entertained. Designer touches – a SMEG fridge, retro rotator chairs – infuse the living room with something special. The TV has access to English-speaking channels and there's a dedicated WiFi connection. You also get three bedrooms and space for up to six guests in total.
Best Airbnb for large groups in Lyon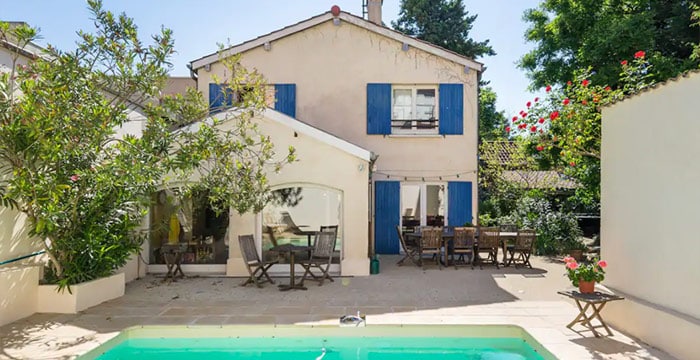 A Real Country House in Lyon
If you're pining for a dash of that French country charm, look no further than this house out in the eastern suburbs of the city. With its pale-blue shutters and beige exterior, it looks every inch a villa plucked from the riviera. It can sleep up to 13 guests across a whopping eight individual sleeping spaces, and comes complete with a stunning pool in the garden!
Best Airbnb for luxury stays in Lyon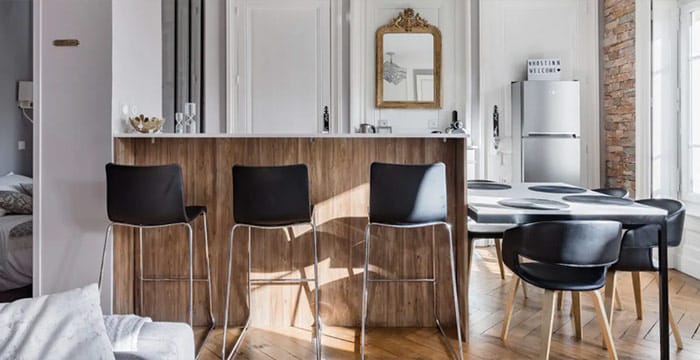 Centre Vieux Lyon & vue panoramique sur les toits
The stylish, creative side of Lyon is on display in this elegant Plus Airbnb. Not only does it take you to the immersive streets of Old Lyon, but it's packed with Scandi-cool design touches, all tempered by a bit of French pizzazz (we're looking at you, marble-look fireplace!). The kitchen breakfast bar and the views over the red-tiled roofs are the other highlights for us.
Is Airbnb cheaper than hotels in Lyon?
Airbnbs in Lyon have a great reputation on the budget front. They're often considerably cheaper than their hotel counterparts. Of course, you will pay more if you're after a truly luxury Airbnb, but you can also cut the cost of stays by choosing somewhere with multiple rooms and sharing the price with more people. The fact that many of Lyon's Airbnbs are self-catering also helps. They should get you to the local markets and not spending so much on Savoie fondues out on the town.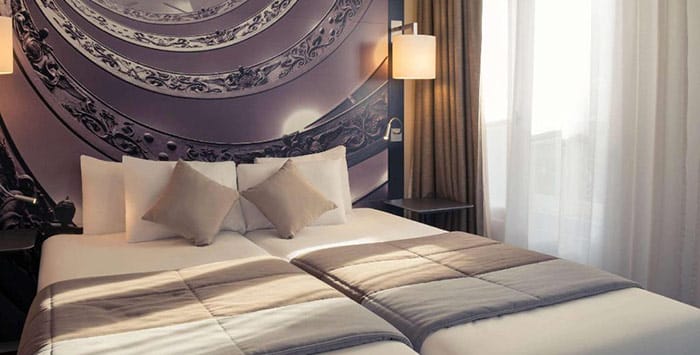 One of the downsides here is that you won't get the same level of service that comes with a hotel. That's just not the nature of Airbnbs. So, to get room service whenever you want it, a dedicated reception desk, and daily housekeeping, you'll need to pick somewhere like the Mercure Lyon Centre Beaux Arts Hotel. It fuses the elegant styles of 18th-century Lyon with something more modern, and boasts a prime location in the bustling 2nd arrondissement.
Lyon will surprise you with its Roman ruins, its mouthwatering gastronomy, and its enthralling historic quarters, not to mention a location close to the snow-capped French Alps. To stay in style, be sure to use this guide to get the best Airbnb the city can offer!
How useful was this post?
Click on a star to rate it!
Average rating / 5. Vote count: