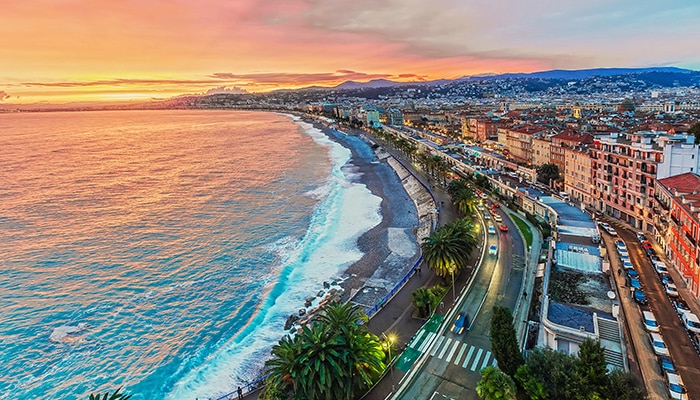 Paris to Nice is a journey from buzzing metropolis to chic riviera. One has the spires of the Eiffel Tower and the romantic cafes of Montmartre. The other is about sunning yourself on the Cote d'Azur, between pebble beaches and pine-topped hills. No wonder, then, that so many travelers try to do the trip each year.
It's not a short distance, with more than 420 miles between the two destinations. However, France's well-developed infrastructure means you can complete the hop in a single morning, using planes or trains or your very own ride. Let's take a look at all the various options…
Paris to Nice by plane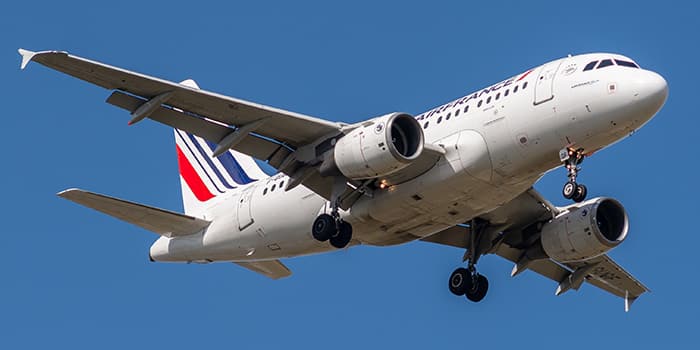 Time – 1.5 hours (flight only)
Price – $40
Comfort – 4/5
Paris and Nice might both be on the map of France, but there's still nearly 430 miles between them. That makes flights a truly viable option on the route. They'll take you into the skies going south from the capital, whizzing directly over the heart of the western portion of the country. On clear days. Be sure to keep your eyes peeled for the vineyards of Burgundy and the snow-capped summits of Rhone-Alpes rolling by below.
As many as 30 flights per day jet from Paris to Nice, cutting travel times to only a couple of hours on the way from city to coast.
The bulk of the flights are run by two carriers. There's easyJet, a budget-orientated carrier with consistently low fares that start at around the $40 mark. There's Air France, the national flag carrier that offers premium services for slightly higher prices (anything below $80 is a good price with them). We'd always recommend booking way in advance of your trip to the sun-splashed southern coast, because flights will get more expensive as take-off time approaches. Also be ready to add on $20 or more for checked bags if you're packing the snorkelling gear and yachting shoes.
Most of the services bound for Nice from Paris will leave from Orly Airport (ORY), although a select few go from Paris-Charles de Gaulle (CDG). Both are easy to get to from the districts close to the Eiffel Tower and the Champs Elysée – the first is served by a dedicated Orlybus costing just over $10 per person, while CDG is connected to Gare du Nord by RER trains priced at $11. Those transfers will add between 35 and 50 minutes to your journey.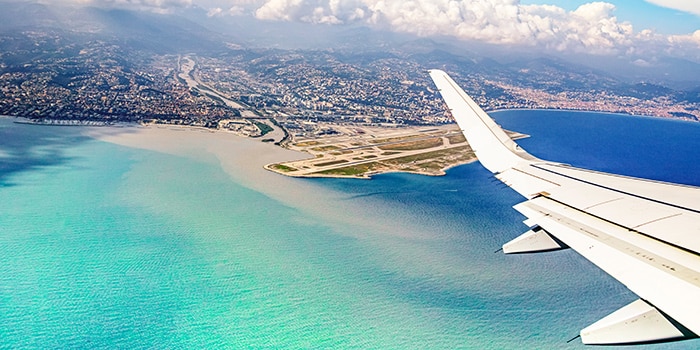 The arrival port is Nice Airport. It's conveniently sat on a headland at the south-western end of the iconic Promenade des Anglais. The terminal is linked to the lovely Nice old city by buses numbers 98 and 99, which make pitstops by the sea-view hotels along the promenade on their circuit. Tickets will cost 1.50 € per person ($1.60). Alternatively, you can rent a car from RentalCars.com and get on the A8 motorway to access the whole Cote d'Azur and the French Riviera in only a few hours.
Paris to Nice by train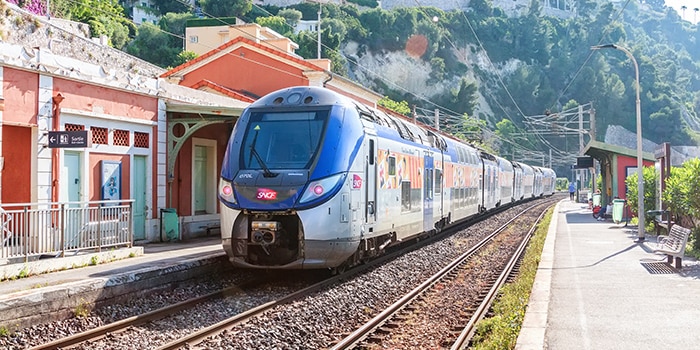 Time – 5 h 45 min
Price – $24
Comfort – 5/5
The train is unquestionably the main rival to flying from Paris to Nice. It can match the airlines on price, costing as little as $24 (at least if you get onto 12Go.co really early and book in advance). It trumps planes on the comfort front (more on those lovely SNCF locomotives below). It's also generally less hassle, with no changes and no security or bag check-in required. The one thing it can't compete on is travel time, which hovers around the six-hour mark from station to station.
Services start from Paris' Gare de Lyon early on (the first is 7.13am) and finish at just after 5pm, with a total of seven per day. The vast majority of them are run on the uber-swish TGV trains. They are duplex, with two floors and really comfy seating. First Class will cost considerably more, but adds stacks of legroom. Both classes have access to good onboard dining, along with in-seat sockets and WiFi. (There are also two daily Ouigo trains. They prioritise low fares, so might be cheaper but are sure to be a tad less comfy.)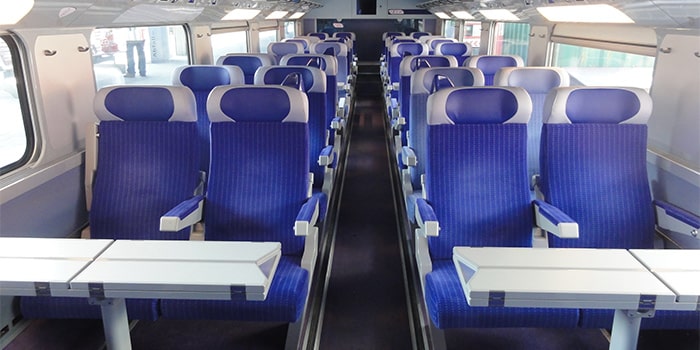 The train is a seriously beautiful way to travel through the heartlands of France from Paris to Nice, especially when the weather's nice.
And the scenery? Well…let's just say there's a Cannes Film Festival worth of viewing to be done. It all starts with the bucolic countryside hamlets of Burgundy and the outline of the Jura mountains before Lyon. Then, those sitting on the left-hand side of the carriage might be able to spy out the shimmering tops of the French Alps looming to the west. Trains push on to cross the Rhone by the ancient city Avignon. And there's a final crescendo as you hit the coast. Views from the right of the carriage past Marseille are broadsides of the turquoise Mediterranean Sea, occasionally broken by the likes of yacht-filled marinas or the hardy Chateau d'If castle (where the Count of Monte Cristo himself was imprisoned).
Paris to Nice by bus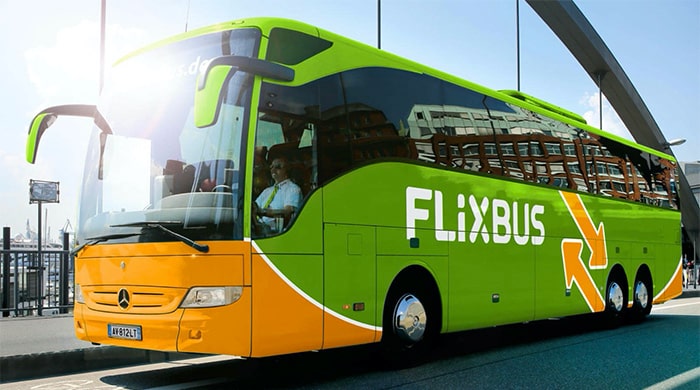 Time – 15 to 18 hours
Price – $38+
Comfort – 2/5
With whopping travel times of up to 18 hours on the road from Paris to Nice, the bus is understandably less popular than its train and aeroplane compadres. Yes, it will get you to the balmy Cote d'Azur, but you'll have to be okay with long tracts of motorway driving, along with a single change along the way (usually in the Gare Perrache, in Lyon). That said, on days when airfares are soaring and the cheap advance train tickets are all gone (and those days do happen!), the coach is a backup you might be thankful for.
Buses might be best kept as a backup for when the flights and high-speed trains to Nice are all booked.
We'd recommend sticking to well-known companies like Flixbus or BlaBlaBus. They have the most comprehensive connections, which means there's less waiting around in Lyon for your onward trip. They also have a modern fleet of vehicles that typically boast onboard toilets and WiFi. Both can be booked ahead of time using 12Go.co, which is always a good idea if you're traveling in the main summer backpacking season.
The journey is likely to follow the route of the A6 south-west to join the courses of the Rhone. Then, you'll head directly south to the coast, finally stopping at Lyon Airport, which is where the long-distance buses terminate. It's possible to use local buses 98 and 99 from there to get to the main old city and the Promenade des Anglais for just a couple of euros.
Paris to Nice by car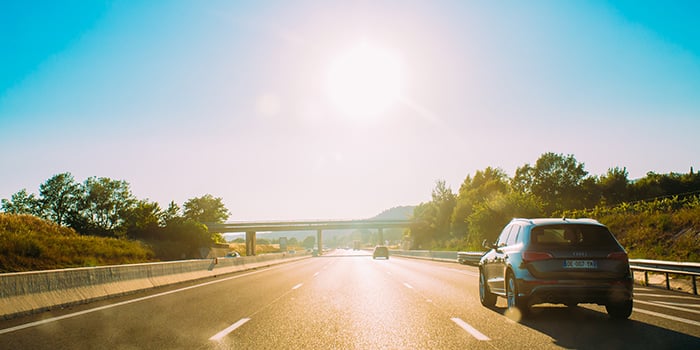 Time – Around 8.5 hours
Price – $120
Comfort – 4/5
A trip to Nice from Paris could be the excuse you've always been searching for to explore the depths of rural France, the stunning Rhone Valley, and some of Europe's most fascinating historical cities. That's precisely what's on offer to travelers who choose to hire their own wheels. Rather than completing the drive in the 8.5 hours that's possible without stops, there's scope to turn it into a multi-day adventure from city to coast.
Of course, that means paying for more time with the car. However, daily hire rates aren't too expensive in France. The majority of the fee will be for one-way travel from A to B, rather than return trips. Still, you could be looking at RentalCars.com for something in the region of just $120 for a full 72 hours. That should leave time for a break in Lyon, where you'll hop atmospheric coffee shops in the Vieux Lyon district. You'll have a chance to walk in the rugged Alpilles Natural Regional Park, a land of thyme-scented peaks. Or, you could detour to the shimmering shores east of Marseille, where pearly sands and clear seas beckon from Porquerolles to St Tropez.
---
Ready the sunhat and start dreaming of the glorious beaches of the Cote d'Azur – you'll soon be on the way from the gritty streets of Paris to one of the most gorgeous regions in all of Europe!
---
Paris to Nice FAQ
What is the cheapest way to get from Paris to Nice?
When booked in advance using 12Go.co, the train is the cheapest way to trade Paris for Nice. But we can't stress that advance purchase enough – prices will skyrocket closer to the date of travel and you'll pay loads more for exactly the same seat. Also be sure to check out the budget Ouigo trains, which could even sell for under $20 apiece!
What is the fastest way to get from Paris to Nice?
Jetting down south from Paris Orly or CDG airport is the quickest way. There are as many as 30 flights each day doing the trip, which should take about 1.5 hours in the sky (4-5 hours total). It's possible to search and book seats on all airlines with 12Go.co.
What is the best way to travel from Paris to Nice?
We've got a soft spot for the train from Paris to Nice. It is run on fancy TGV double-decker locomotives that can hit speeds of 300 kph, after all! On top of that, the views are incredible, taking in the fields of Burgundy, the foothills of the French Alps, and the pine-topped coves of the Cote d'Azur in just six hours!
How long is the train ride from Paris to Nice?
Thanks to the uber-fast TGV trains that run the route, and with minimal stops scheduled into the service, you can complete the long trip from Paris to Nice in under six hours on the train. That's almost comparable to flight times when you add on transfers and whatnot, though train fares are generally cheaper when booked in advance using 12Go.co.
Is there a direct train from Paris to Nice?
Yep. There are several every day, in fact. Find them leaving from the Gare de Lyon from 7am onwards. Most are TGV models, but some are low-cost Ouigo trains. They go all the way to Nice from Paris in a single sitting with no changes needed, taking about 5h45 in total.
Is there a high-speed train from Paris to Nice?
All of the direct trains from Paris to Nice will be of the high-speed sort. Even the Ouigo trains are repurposed TGVs that can score velocities of 186 miles per hour! Average travel times on the line are about 5-6.5 hours, so it's pretty darn quick.
How useful was this post?
Click on a star to rate it!
Average rating / 5. Vote count: