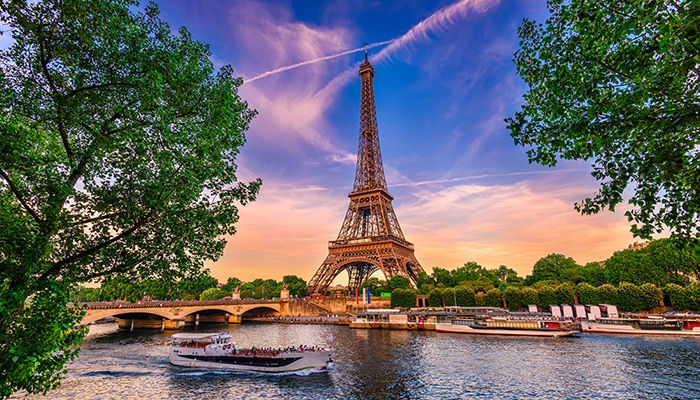 London and Paris are two of the great capitals of Western Europe. One sprawls from the snaking River Thames, past the haunting Tower of London, all the way to the grand Gothic palaces of Westminster. The other is crowned by the elegant iron-wrought spire of the Eiffel Tower, flaunts fantastic cafés, and brims with priceless art and treasures (Louvre, we're looking at you!).
These days, going from one to the other should be a breeze. You can even hop on the train in London and be stepping out of the Gare du Nord in Paris in under 2.5 hours. The trip distance is a little over 210 miles in a straight line, with southern England and the English Channel to cross along the way.
London to Paris by train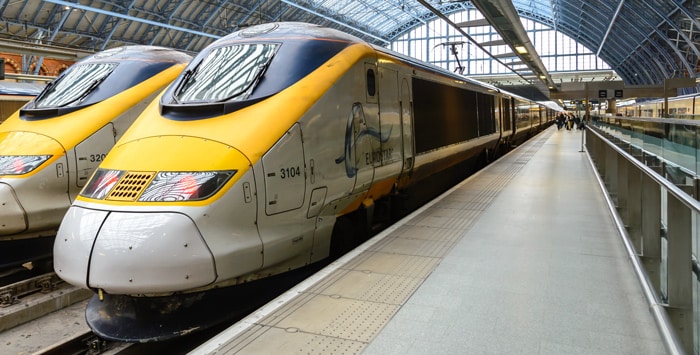 Time – 2.5 hours+
Price – $54+
Comfort – 5/5
Thanks to the pretty darn awesome engineering feat that is the Channel Tunnel, it's been possible to go from London to Paris by direct train since 1994. Since 2007, the route has been completed on high-speed Eurostar stock, which can whisk you from Big Ben to the Eiffel Tower in just a whisker over two hours.
There are as many as 15 departures every day, with the earliest option rolling out of the Big Smoke before 6am – that's one for the commuters. After that, there's typically a service at least every hour, except on Christmas Day, when the trains don't run. The origin station is big London St Pancras, which is linked to King's Cross Underground, and easily accessible from all corners of the English capital.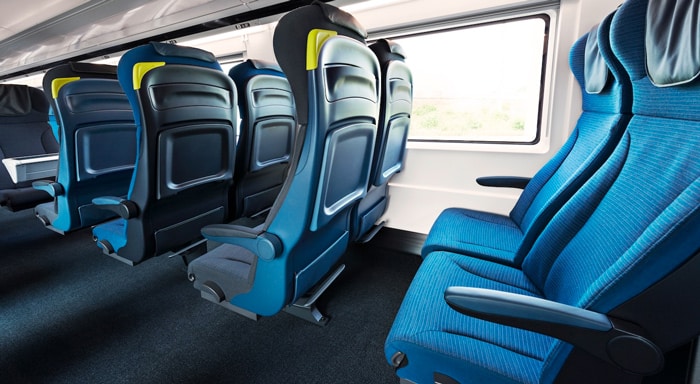 Trains are fast, reliable, and comfy, with a whizz through the Channel Tunnel en route to Paris.
One of the joys of going from London to Paris by rail is getting to ride some of the fastest trains in Europe. You'll clock up speeds of 186 miles per hour (300kph) on the countryside sections of the line. You'll see the green hills of Kent woosh by first. Then you're into the Channel Tunnel for a 20-minute crossing from Dover to Calais. On the French side, the route goes directly south-east to Lille and then south to Paris, passing the farm fields of the Hauts-de-France and then the pretty river valleys of Oise.
In addition to being quick and comfy, Eurostar trains are now up there with some of the most affordable modes of transport bound for Paris. However, to get the best bargains, you'll need to book early using 12Go.co. Advance fares are in the region of just $54 one way. That's compared to upwards of $130 for the full-price seats closer to departure.
London to Paris by plane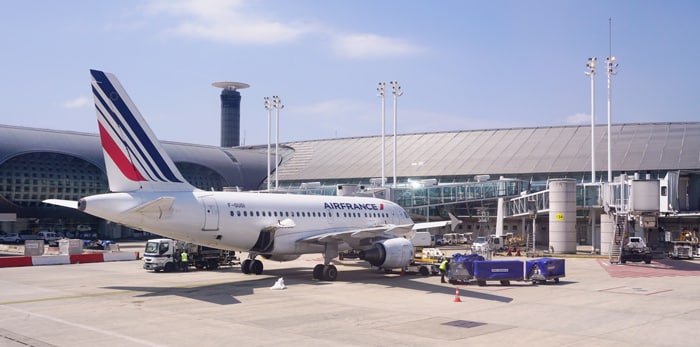 Time – 1 to 1.5 hours (flight only)
Price – $31
Comfort – 4/5
There are more flights going from London to the French capital than there are crunchy baguettes in all those Parisian bakeries – okay, maybe not that many. But still, there are lots. Tens of departures jet off the runways of all of London's major airports. They take between 1h15 and 1.5 hours in the air before typically touching down in Paris-Charles De Gaulle, the largest and busiest international airport in the country.
A whole medley of airlines run the route. The cheapest tickets will often be with budget-conscious fliers like easyJet and Vueling, but you can also crank up the cost and go with a premium carrier like Air France or BA. They can have good deals on checked baggage and bigger-legroom seats, which might save on the price of a flight if you're bringing lots of luggage in tow.
Most flights from London will take you to Charles De Gaulle, in Roissy, about 30 minutes' ride from the heart of Paris.
Aside from what airline you go with, the main thing you'll need to consider is what airport you leave from on the London side. It's possible to fly out of Heathrow or Gatwick, which are larger and better-connected to the city centre. Or, you can leave from Southend Airport or Stansted, which are usually home to the budget-friendly carriers, but over and hour's transfer by coach from Victoria Station.
Booking in advance is key to getting great deals on flights between London and Paris. Prices tend to spike the closer to your chosen travel dates you go. Use a service like 12Go to score your seats at least 90 days prior to take off and you'll usually find fares at their lowest – something around $31 without bags is doable.
London to Paris by bus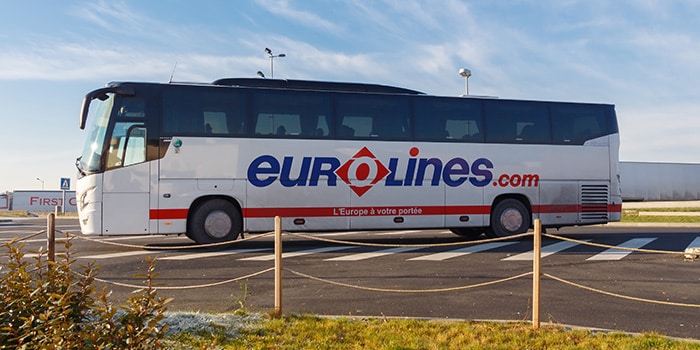 Time – 8 to 10 hours
Price – $15
Comfort – 3/5
With tickets starting at a wallet-friendly $15 each way, there's little doubt that the bus between London and Paris is the cheapest way to travel. But there are trade-offs you'll have to make. For one, the journey can be as long as 10 hours. What's more, coaches typically have less legroom and fewer frills than their airplane and train compadres. Just don't expect the advertised WiFi to work all the time, and be ready to rush to grab the best seats when you board in the Big Smoke.
But hey, who could turn down a $15 ride across the Channel to the City of Lights? The route is roughly the same as if you chose to go with your own wheels. You'll leave London going south to Dover to connect with the Eurotunnel vehicle train or the regular ferries. They take between 0.5-1.5 hours before pulling up in France. Then it's south through the handsome medieval town of Arras and onto the A1 heading for the capital. That all clocks up a total road distance of 470km.
Buses from London to Paris go from Victoria and can take anything between eight and 10 hours.
The bulk of the coaches that leave from London for Paris go from Victoria Station. Find it just down the road from the main exit of the Victoria Underground, wedged between the chic districts of Chelsea and Pimlico. Companies like Megabus and Eurolines are among the most popular names offering the connection. To save cash, be sure to search and book with those or others ahead of time using 12Go.co.
London to Paris by car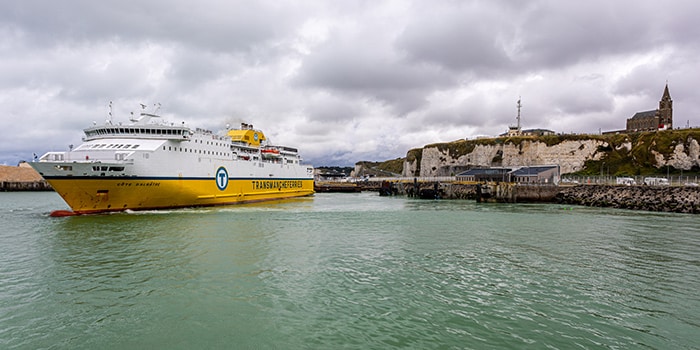 Time – 7 hours+
Price – $100+
Comfort – 4/5
Thanks to an abundance of car ferries and the Eurostar vehicle train, it's possible to rev up your engines and make it a road trip down to Paris. In all, you're looking at about five or six hours behind the wheel. But that doesn't include the crossing over the English Channel, which usually adds around an hour or two into the mix.
Paris can be easily accessed by road and ferry or train from London, but there's a scenic route worth consider that might take longer.
However, the real reason most travelers opt to do the ride on their own petrol tanks is for the adventure. For that, we'd say skip the Calais-bound crossing and go through pretty little Newhaven to Dieppe (about $37), a town of windblown Normandy beaches that's watched over by a soaring 15th-century castle. You could also drop into Arras to see gorgeous UNESCO architecture, or old Rouen, famed for its filigreed Gothic churches.
Cost wise, you're probably looking at between $100-200 for the ride. But remember that's for the complete car. You'll gain the freedom to make pitstops wherever you fancy, and can pack in the whole family for the escape. Just beware of Paris's infamous traffic, and be sure to switch the side of the road you drive on once you're across in France!
---
Loire Valley wines, salty blue cheeses, the turrets of Notre Dame, the romantic domes of the Sacre Coeur, the bucket-list Eiffel Tower and the culture-packed Louvre – there's loads beckoning you down to Paris. Plan and book your trip right now using the transport tips above.
---
London to Paris FAQ
What is the cheapest way to get from London to Paris?
The coaches of companies like Megabus and Eurolines come up trumps on the cost front. They offer trips over to the City of Lights for as little as $15 each way. Amazingly, those rates can include the ferry or train crossing, so you won't have to worry about forking out extra to get from England to France. By far the best way to score real bargains is to book long in advance using 12Go.co.
What is the fastest way to get from London to Paris?
Whizzing from London to Paris at speeds of over 180 miles per hour, the Eurostar is the quickest link by a long shot. It's actually even faster than traveling by air into Charles De Gaulle, because there's no need to arrive in time to check in your baggage, and you'll be taken straight to the Gare du Nord in the heart of the French capital.
How much is the train from London to Paris?
Check out 12Go.co as early as you can for tickets on the trains from London to Paris if you're eager to score a bargain. Dynamic pricing on the route means you'll pay as little as $54 for an advance ticket, but upwards of $130 for a last-minute seat. That's a whole load of baguettes and red wine, folks!
How long is the train ride from London to Paris?
Just over two hours is all it takes to hop from London to Paris on the train these days. That's almost quicker than the flights, but without the need to hit the airport and catch annoying transfers either side. That all adds up to make it a popular trip, so be sure to book early using 12Go.co.
Is it cheaper to fly or take the train from London to Paris?
That all depends on what deals you can unearth! We'd recommend searching nice and early on 12Go.co. Advance tickets booked online could cost as little as $54 for the train and $35 for a flight, but expect those average fares to soar skywards the closer you get to your dates of travel.
How much is a plane ticket from London to Paris?
The cost of flights between London and Paris runs the gamut from $30 fares to $150 fares. The cheapest ones are usually with low-cost airlines like easyJet out of airports like Southend or Stansted. The pricier seats mean premium service with carriers like BA, typically leaving from Gatwick or Heathrow.
How much is a bus from London to Paris?
London to Paris buses are the way to go if you're looking to leave more euros in the budget for red wine on the side of the Canal Saint-Martin. They can cost as little as $15. However, you're more likely to pay closer to the average fare of $25-35. That's still a whole load less than for flights or trains, so get a-searching now on 12Go.co.
How useful was this post?
Click on a star to rate it!
Average rating / 5. Vote count: