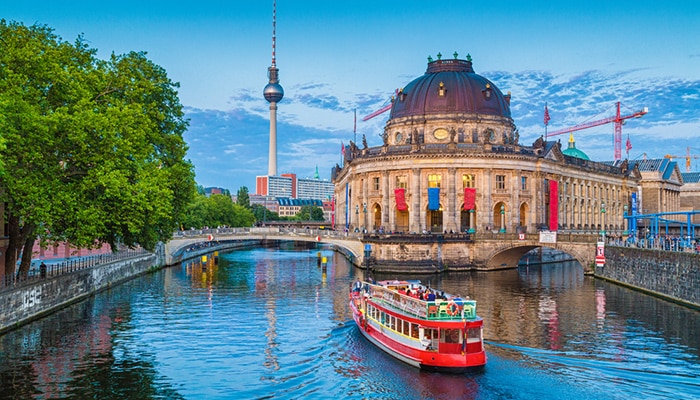 Loads of travelers each year plan to make the hop straight from Paris to Berlin. The reason? It's a jaunt that will let you take in two of Europe's – nay, the world's! – most awesome capitals. You'll start by wandering the Louvre in search of the Mona Lisa and finish with glimpses of the Neo-Classical Brandenburg Gate, swapping fine Bordeaux wines in bistros with frothy German beers in the cool bars of Friedrichshain as you go.
Don't be put off by the 877km that separates the two metropolises. They are actually really well connected, and this guide can help you organise the train, the plane, or the bargain-friendly bus that's needed to get you from A to B.
Paris to Berlin by plane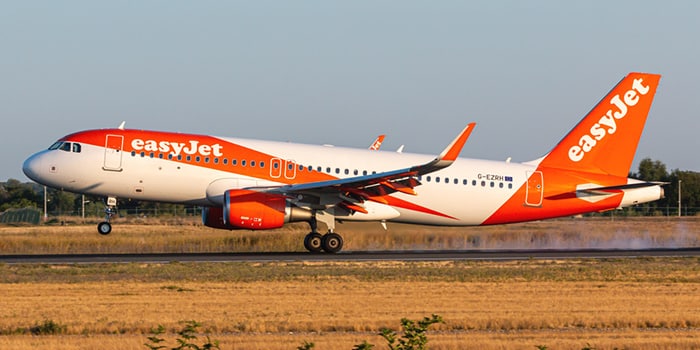 Time – 1.75 hours (flight only)
Price – Around $32+
Comfort – 4/5
One obvious way to look at getting from Paris to Berlin in a hurry is by air. Given that these are two of the continent's major capital cities, you shouldn't have trouble finding direct flights going between them. Sure enough, both budget-orientated carrier easyJet and premium flier Air France have scheduled services all throughout the year. They typically have around 10 departures daily, with the earliest around 6.05am and the latest jetting off from the City of Lights at 9.05pm.
The main difference between the various routes is the airport they originate at. Some go from Orly Airport (ORY), some 15km to the south of the Eiffel Tower. Others leave from larger Paris-Charles De Gaulle on the northern edge of town. The first can be reached by RER and the Orlyval trains for around 12 EUR ($13) per person, taking about an hour in total. The latter is connected to the Gare du Nord station in central Paris by direct inner-city metros that take 30-35 minutes, costing 9.50 EUR ($10.20).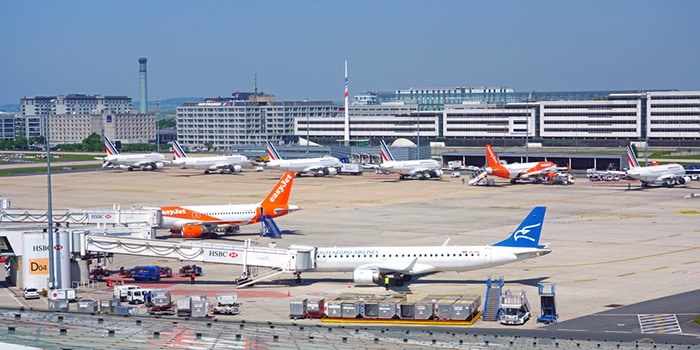 Thousands of people fly from Paris to Berlin each year, making the most of affordable airfare between these two major capitals.
The flights you can take into Berlin land at Berlin Brandenburg Airport. It's the main air hub of the German capital, boasting a direct train link into Berlin Central Station in the heart of downtown for just 9 EUR ($10). Berlin Brandenburg Airport also has a direct bus link for just 2.80 EUR ($3).
Flights are notoriously unpredictable when it comes to prices. You'll sometimes unearth mega deals for connections from Paris to Berlin that cost under $20 per person. Other instances see fares soar to over $100 each leg (usually during the height of summer and around the Christmas period). Booking early using a service like 12Go.co is one way you can usually keep things on the cheaper end of the spectrum, but it also helps to concentrate on budget carriers like easyJet.
Paris to Berlin by high-speed train

Time – 8.25 hours
Price – $43+
Comfort – 5/5
These days, high-speed railways cross countries from Paris to Berlin and even beyond. They can help you smash this capital-to-capital trip in just over eight hours in total. However, there are no direct services, so expect a change and a break in a station somewhere along the way. You'll be using a mixture of SNCF French railways and DB German railways, both of which are generally punctual and comfy – in fact, they are some of the most punctual and comfy in Europe!
There are actually a few different routes that can get you eastwards to Berlin. They either involve a quick TGV Duplex or a German ICE train straight out of Paris, followed by a DB ICE train the rest of the way. Or, it can be a trip of two ICE trains. The real difference is where you'll have that changeover. Early morning TGVs go to Frankfurt Hauptbahnhof, where you can switch for services to Berlin that arrive just before 3.30pm. Others connect through Mannheim to arrive before 6pm. Or, there are ICE links via both cities. We'd recommend using the search feature over on 12Go.co to compare and contrast all the schedules to pick the one that best suits you.

German and French high-speed train connections join up to offer a speedy blast across the heart of Europe from Paris to Berlin.
The good news is that all the high-speed trains used on these lines are of top quality. The French TGVs might be two-storey with plush 1st Class areas that have spacious two-one seating formats. The DB trains are wide and bright, with a mix of open-plan and compartment areas. Both boast fantastic onboard dining, so you can watch the German countryside roll on by with a cold beer and a plate of regionally inspired food.
Some of the scenic parts of the ride you'll want to watch out for include the jaunt up the Rhine Valley past Baden-Baden to Mannheim, where castles top the wooded hills. Then there's the stretch across the wonderful provinces of Lorraine and Moselle before the France-Germany border, where meandering rivers pass under grass-green hills. Tempted? You're going to want to book early. Tickets for all high-speed links go up as you approach the departure date. But get in there for that discount deal and you might pay just $43 for this whole ride!
Paris to Berlin by night train

Time – 13-14 hours
Price – From $107
Comfort – 4/5
There are basically two ways you can use night trains to get from Paris to Berlin during the darker hours of the day. Option one: Use an evening TGV service out of the French capital to cross the German border and hop off in the grand city of Karlsruhe, finally catching a comfy ÖBB sleeper all the way to Berlin. Option two: Take the Russian Railways Paris-Moscow Express from Gare de l'Est direct. Both have their pros and cons…
Night trains are a great way to travel, helping you save the cost of a hotel while knocking off that journey from Paris to Berlin.
The temptation to travel without any changes on the way means lots of travelers might want to look to the Russian Railways sleeper first. There's no question it's an experience, with a lot of the fellow passengers headed for connections through Moscow for the Trans-Siberian Railway! You'll need to search and book a ticket just for Berlin, though, choosing between a particularly luxurious 1st Class berth with two beds or larger four-berth cabins that cost less. Be aware that this train only leaves Paris once each week, on a Thursday evening. Standard fares here start at about 120 EUR ($129).

A little cheaper and way more frequent are the TGV-DB connections. Yep, these ones are on offer every night of the week, while total costs can be as low as 99 EUR ($107) per person if you use 12Go.co to book all the lines in advance of travel. What's more, the trains are comfy, especially the Austrian Nightjet, with its six-bed couchettes or dedicated sleeper cabins. You'll arrive in Berlin just before 8am, fresh and ready to go.
Paris to Berlin by bus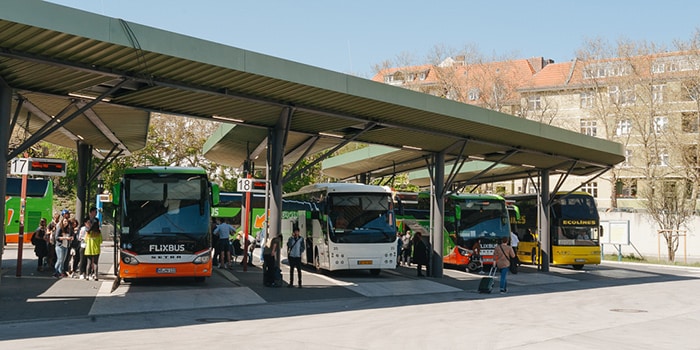 Time – 17-22 hours
Price – $22+
Comfort – 2/5
There are buses linking the home of the Louvre and the Eiffel Tower to the German capital. Sadly, they take so darn long that it's a pretty big ask for any traveler. You're looking at journeys of upwards of 17 hours, with most A to Bs taking around 20+ hours, including at least a single changeover en route. Meanwhile, prices can be as low as $22 each, however you will need to book uber-early on 12Go.co to score those, and usually dodge peak summer periods to boot. More likely are rates around the $45-60 mark.
Those who do throw in with the coaches should keep their eyes open for the offers with major cross-Europe companies like Flixbus and BlaBlaBus. They tend to be the most popular choices on the line. Services will often leave from the big station in Bercy Seine in Paris and get into the Zentraler Omnibusbahnhof Berlin (ZOB), which you can find on the far eastern edge of the city, close to the Messe Nord/ICC S-Bahn station.
---
It's a long, cross-European odyssey on the road from Paris to Berlin. It's one that will see you trade the magic of Montmartre for the buzz of cool Friedrichshain, no matter if you want to go by train, night train, plane, or bus. Enjoy the ride!
---
Paris to Berlin FAQ
What is the cheapest way to get from Paris to Berlin?
There's a chance it will be the buses, which have fares that start at around $22 per person. However, you'll need to book real early on 12Go.co to be in with a shout of scoring those advance rates. If that's not possible, we'd recommend checking both the trains and the planes, which can often be as cheap as $32!
What is the fastest way to get from Paris to Berlin?
Because these two capitals are a whopping 877km apart, the quickest way to get from one to the other is by plane. Flights are offered by both easyJet and Air France and take 1.75 hours in the air. That's a total journey length of about four or five hours from city centre to city centre.
What is the best way to go from Paris to Berlin?
That really depends on how you like to travel. 12Go.co often has good deals on flights, which are the fastest way from capital to capital. But then there are those vintage night trains, which can offer something more memorable, taking you through the heartlands of Western Europe on a scenic journey that lasts up to 14 hours.
How much is a train ticket from Paris to Berlin?
If you want to score a ride on the high-speed TGV and ICE connections from Paris to Berlin, you're going to need to book as early as you can on 12Go.co. Prices can drop to as little as $43 per person if you do that, but will increase considerably if you leave it late. For night trains, it's about $110-130 for the whole ride, but remember that they save the cost of a night in a hotel.
How long is the train ride from Paris to Berlin?
During the day, it takes about 8h15 to get all the way from Paris's Gare de l'Est to Berlin Hbf, but only if you use the quick connections on the TGV and ICE trains. If you opt for a night connection, you're looking at rides that take between 12 and 14 hours in total.
Is there a high-speed train from Paris to Berlin?
Yep. The French and German railway organisations have teamed up to offer high-speed trains all the way from capital to capital. Just be sure to search for the ICE and TGV lines when looking for your tickets online on 12Go.co.
Is there a sleeper train from Paris to Berlin?
There's only one direct sleeper per week. It's actually run by Russian Railways and is scheduled to cross the whole of Europe on its way to Moscow. It's possible to book tickets for just the leg that goes Paris-Berlin using 12Go.co. The train leaves on Thursdays and costs around $130 per person.
Is it better to fly from Paris to Berlin or take the train?
That depends if you're in a hurry. Business travelers who simply want to drop into Berlin for a meeting before returning back to Paris will surely prefer the flight. However, the train is a true adventure, and can showcase some lovely parts of Europe, from the rustic backcountry of Lorraine to the romantic hills of the Rhineland.
How useful was this post?
Click on a star to rate it!
Average rating / 5. Vote count: